Royals #crowned kings in New Yor(KC)
Fans find ways to get to clincher, celebrate first title since 1985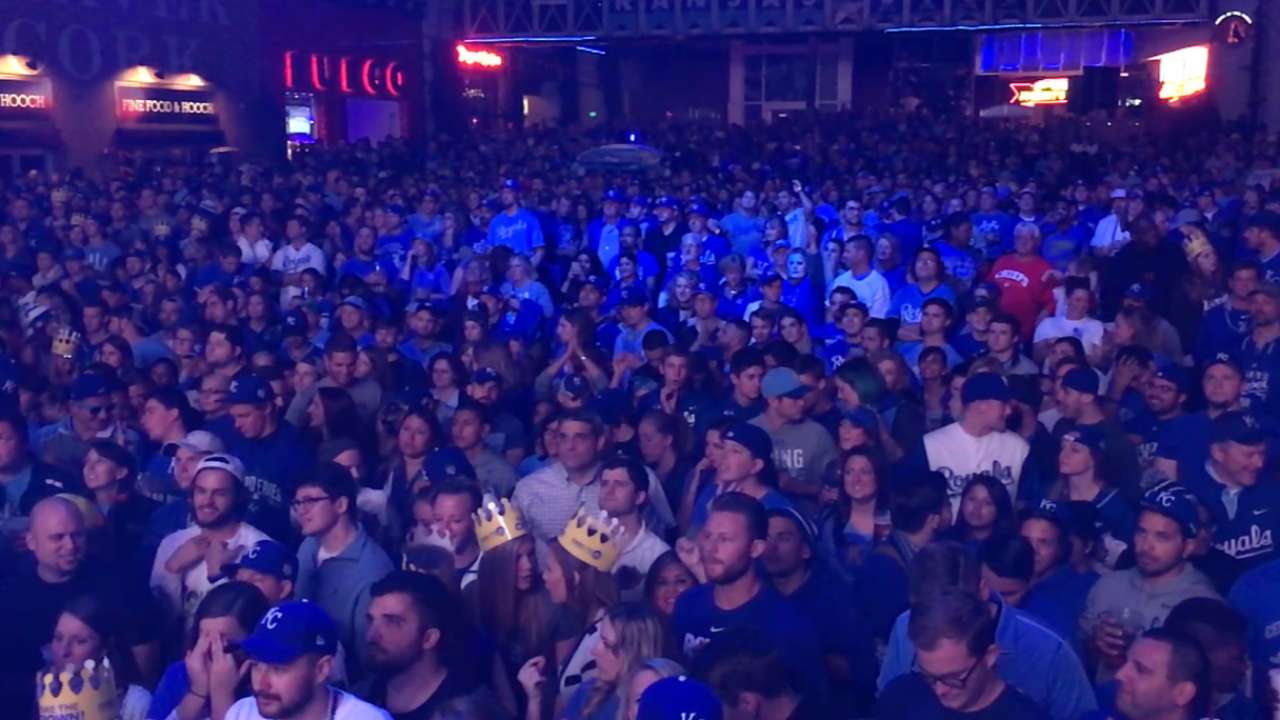 NEW YORK -- They wore paper crowns and plastic crowns and shiny golden metal crowns. There were moose ears, tiaras and tears. But mostly, Kansas City fans simply enjoyed a respectful celebration in the stands behind the third-base dugout after their Royals beat the Mets, 7-2, in 12 innings on Sunday night in Game 5 to win the 2015 World Series on the road at Citi Field.
"I think this is a quiet moment of reflection about everything we've been through to get here," said Kansas City native Kevin Stalder. "Whereas, if we had clinched at home, it would have been totally nuts."
• Shop for Royals World Series champs gear
Stalder attended Game 5 with his wife, Morgan, and his high school classmate and college roommate Sean Ludwig. All three currently live in New York.
Cell phones were held up like lighters at a rock concert, recording video of the on-field festivities. Fans with dead cell phone batteries traded numbers with other fans who graciously took their pictures with the Royals' on-field celebration behind them. They chanted "MVP" and "Salvy" when catcher Salvador Perez came out onto the field, and "Let's Go Royals" when the trophy made its appearance.
"This is a very Midwestern-type celebration," said Columbia, Mo., native Scott Murphy. "We have a very calm sensibility."
• World Series parade set for Tuesday
Murphy was at Kauffman Stadium for Game 6 of the 1985 World Series, the last season the Royals won it all. He was 15 years old and saw the infamous call by Don Denkinger with his parents and his brother. Thirty years later, he brought his 10-year-old son, Duke, to Game 5.
"We heard the Mets' interior defense was a weakness, and it came back to hit them," Murphy said. "This is a heartbreaker for the Mets, they have a great team, but we lived their side of this last year and I couldn't be more excited this year."
• Crown town: KC treasures 1st title since '85
Kansas city natives Jim Eddy and Mike Haverty and their wives were fresh off a European cruise on the Queen Mary II. They arrived back in New York in time to watch Eddy's daughter, Jamie Hurt, run her first New York City marathon on Sunday morning, then managed to acquire tickets to Game 5 while their wives went to a Broadway show.
Hurt, whose knee was so swollen she could hardly walk, was also at the game with her husband, Mike, sister Andrea and sons Townshend, 12, and Tabor, 13.
"My day started at 5 a.m., I'm exhausted and I've definitely done something to my knee, because I was not ashamed to accept a wheelchair ride from the first-base side to the third-base side to watch this celebration," Hurt said. "I'm banged up, but it doesn't matter, it's totally worth it!"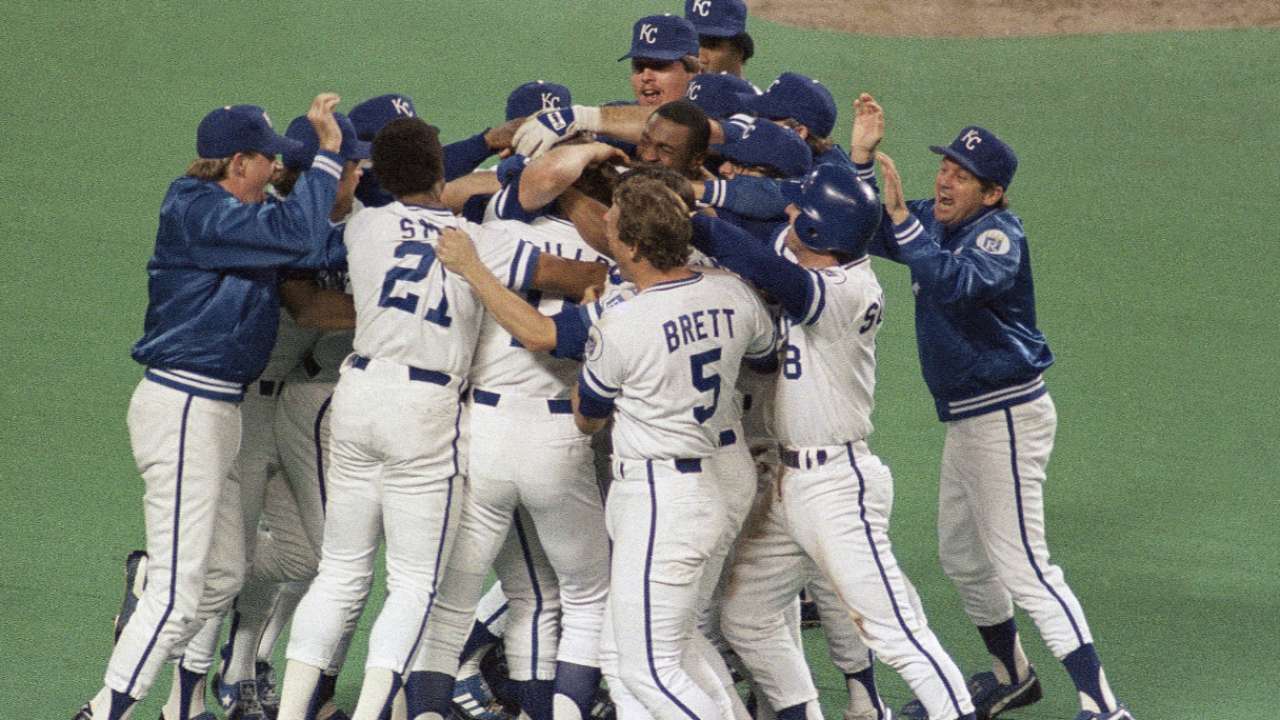 Abby Arnold, 35, was 4 years old when the Royals won the World Series in 1985. Her father, a doctor, was on his way to Game 7 with Abby and her siblings waving goodbye from the front porch when Abby fell and hit her head. Her father hustled back up the steps, inspected the bleeding wound, declared she needed stitches and promptly left for the game.
"He went and saw them win then, and now we got to see them win now," said Arnold, who flew in from Columbus, Ohio, to attend Game 5 with her brother, Jacob. "We only go when the Royals win."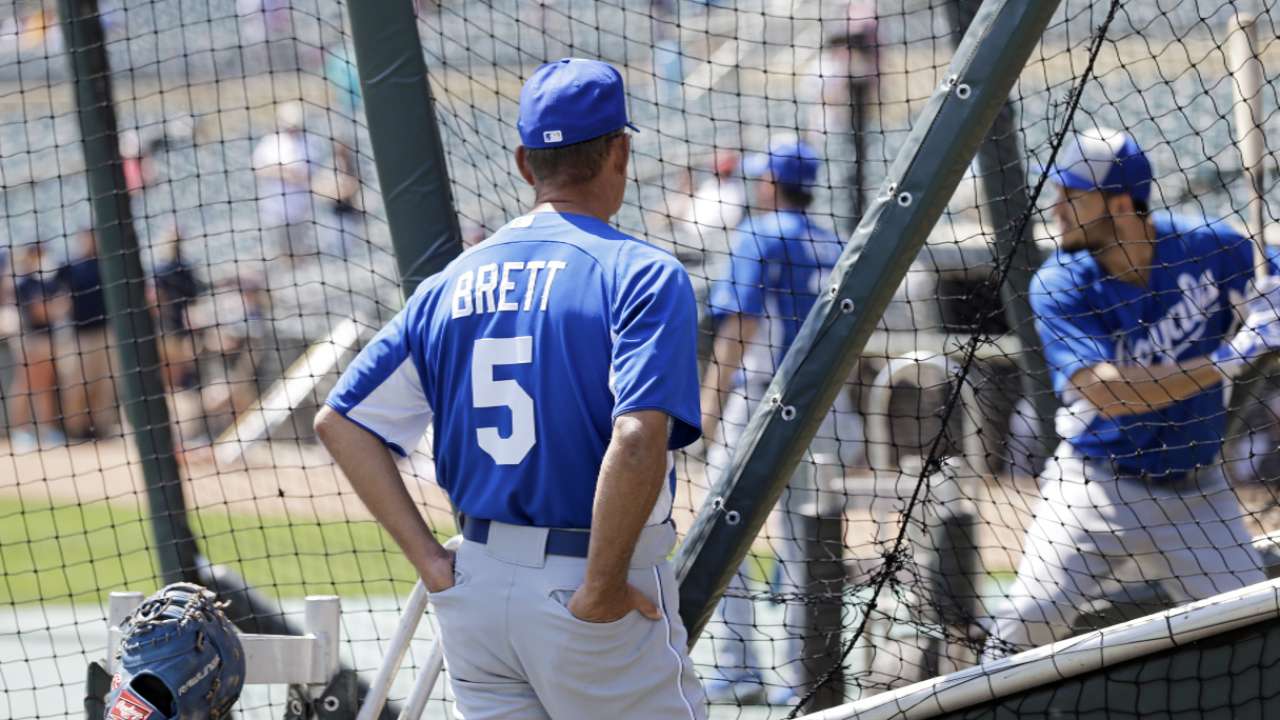 Jaclyn Zarifa flew to New York for the weekend with no tickets, crashed with her friend, Andrew Bissonnette, in Brooklyn and trolled the Internet all night before purchasing standing-room only tickets for $350 each. "I couldn't believe how many Royals fans were on our subway car on the way to the ballpark," Bissonnette said.
KC-native-turned-New-Yorker Matt Hoffman named his 9-year-old son Gordon after Alex Gordon and turned his Yankees-fan wife, Claudia, into a Royals fan.
"There was no way it was going to work," she says. "He had our sons' rooms decorated Royal blue from the very beginning."
Cari Pattison attended Game 4 with one brother, who then left her to drive back to Ohio. She attended Game 5 on her own, with a second brother in Kansas City connected via FaceTime for much of the game.
"I so wish you could be here, but I'm totally surrounded by Kansas City people, so I'm all good," Pattison said into her phone. "I can't believe this even happened. It's just the best thing ever."
When Jarrod Dyson ran out onto the field with the World Series trophy and brought it to Royals fans who lined up near the dugout, one Kansas city native got close enough to touch it. And, he kissed it.
"It's almost like I want to cry," Joe Zwillenberg said. "I grew up with them and to be here and to witness this ... this city deserves this. We deserve this as fans. The Mets are a great team, but we deserve this."
Lindsay Berra is a reporter for MLB.com. This story was not subject to the approval of Major League Baseball or its clubs.