Duda's hurried throw changes course of Gm 5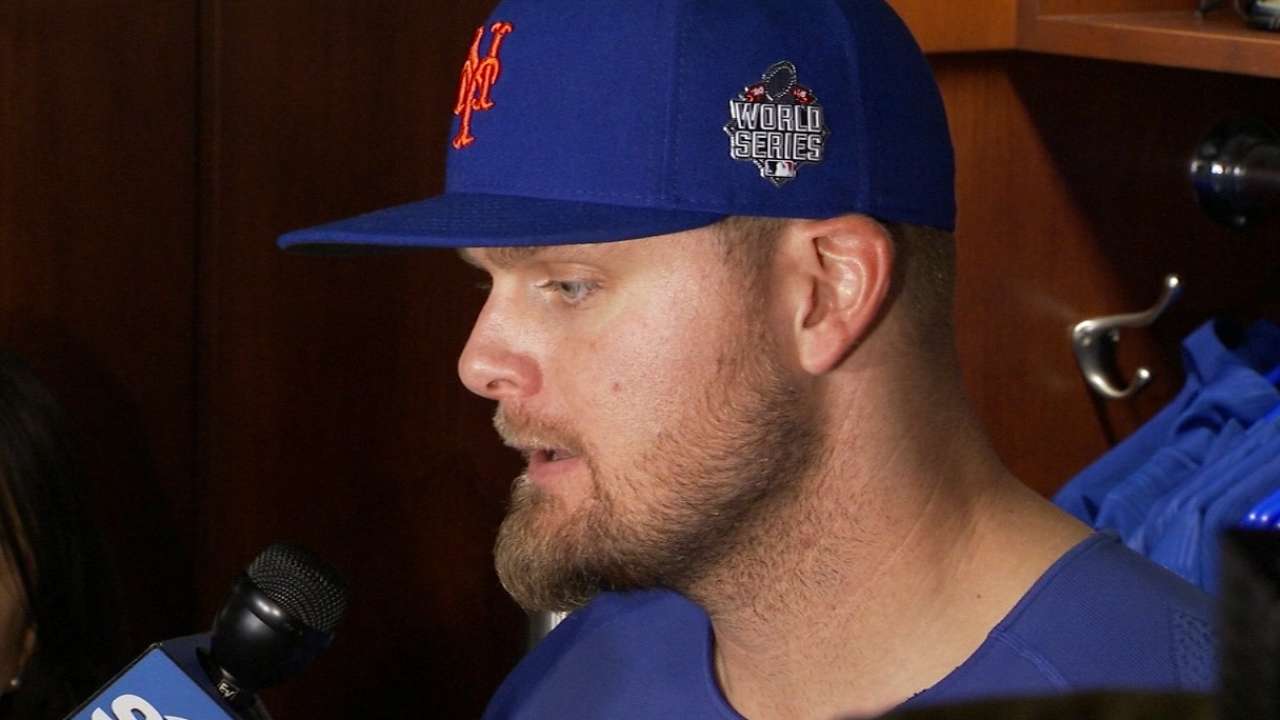 NEW YORK -- After all of the hugs and backslaps had been exchanged in the clubhouse, along with promises to keep in touch and some muted congratulations on the season that was, Lucas Duda said that he had not yet viewed a replay of his off-target throw in the ninth inning.
He won't be able to avoid it for long, though, as it has entered the annals of World Series history. Duda fired wide of catcher Travis d'Arnaud as Eric Hosmer raced home with the tying run, helping to set up the Royals' championship-clinching 7-2, 12-inning victory in Game 5 of the World Series at Citi Field.
"I think you've got to tip your hat to Hosmer right there," said Duda, who was a "little bit" surprised that Hosmer took off. "It took some [guts] to do what he did. I didn't make a throw. No excuses. I didn't make a throw."
Sloppy defense haunted the Mets in this Fall Classic, overshadowing the fact that they held leads in every contest; Duda chipped in on that front on Sunday, lifting a sacrifice fly off Kansas City starter Edinson Volquez in the sixth inning.
Matt Harvey's dominant effort seemed to promise that the Series was heading back to Kansas City, but the atmosphere turned in the ninth. With one out and Hosmer dancing off third base, closer Jeurys Familia shattered Salvador Perez's bat to induce the grounder he wanted. Third baseman David Wright fielded the ball cleanly and gave Hosmer a quick glance before tossing to first base, which Hosmer took as an invitation to break for home.
"I tried my best to check him, try to freeze him at third, but obviously, that's tough to do when there's nobody over there covering," Wright said. "You can't get anybody over there covering. They definitely were ultra-aggressive on the bases, and more often than not, it worked out for them."
An accurate throw likely would have nabbed Hosmer, but Duda instead sent d'Arnaud sprawling toward the first-base dugout as Hosmer dove headfirst into the plate.
"A good throw, he's out," manager Terry Collins said. "Luke's got a great arm, and threw the ball wide."
d'Arnaud spotted Hosmer in motion after Wright's flip across the diamond, and after a summer of watching Royals games here and there on television, he recognized that Hosmer's daring effort fit right into the club's character.
"That's just how they play," d'Arnaud said. "Ever since I've heard about them, that's all I've seen, even watching them on TV, in the playoffs, during the regular season, on Sunday Night Baseball. That's just how they play. They take chances, and it paid off for them here."
Familia was charged with his third blown save of the series, and the second one in which his defense let him down, following second baseman Daniel Murphy's error in Game 4. Wright and Yoenis Cespedes committed miscues earlier in the series, and Duda's wild toss was just another opportunity that Kansas City took advantage of.
"We felt pretty good with Jeurys coming in," Duda said. "Jeurys got the ground ball. I didn't make a throw. Tip your hat to Hosmer, to the Royals. They played outstanding. They deserve to be where they are."
Bryan Hoch is a reporter for MLB.com. Follow him on Twitter @bryanhoch, on Facebook and read his MLBlog, Bombers Beat. This story was not subject to the approval of Major League Baseball or its clubs.