Christian single: KC's huge hit historic
Colon delivers go-ahead run in first postseason at-bat
NEW YORK -- Christian Colon, a former first-round Draft pick and now the backup infielder for a Royals team that plays in the American League, hadn't stepped inside the batter's box this entire postseason. He hadn't seen a live pitch in 28 days, and hadn't driven in a run in six weeks. Then Royals manager Ned Yost approached Colon at the start of the 12th inning in Game 5 of the World Series from Citi Field and told him to grab a bat. He felt ready.
"I've been ready," Colon said after the title-clinching 7-2 win that he helped spark. "I don't need to get ready. When you study for a test, you're ready to go. And I was ready to go."
• Shop for Royals World Series champs gear
The Royals' World Series triumph ultimately came on the strength of a five-run 12th inning. And it was Colon, who was the No. 4 overall pick in 2010 -- three spots ahead of Matt Harvey -- but is known mostly as a translator in these playoffs, who helped make it all possible. With a runner on third and one out, Colon drove in the eventual winning run with a sharp single to left and later declared: "I'm more than just a translator for the Latin guys."
Colon is now, forever more, a Royals legend.
He has two postseason hits in his career, but they both came in the 12th inning, and they're both at the center of the two most memorable events in franchise history. The first one tied the 2014 American League Wild Card Game. The second ignited Kansas City's first championship in 30 years.
"That's the crazy part, to go from not really playing much to going in that situation, but I lived it," said Colon, who also scored the winning run in last year's Wild Card Game. "I went to bed, really, almost every night getting ready for this moment, and being ready for my brothers and my team and my family and everybody. I'm not surprised that I got the opportunity when I did. I was prepared for it."
Colon was summoned because Yost's top pinch-hitter, Kendrys Morales, had already been used and because the pitcher's spot was due up third in the 12th inning, with the game still tied at 2. He got set to bat forLuke Hochevar, then watched Salvador Perez lead off with a single and Jarrod Dyson come in as a pinch-runner, stealing second and moving to third on a groundout.
Then Colon stepped into the box to face Addison Reed.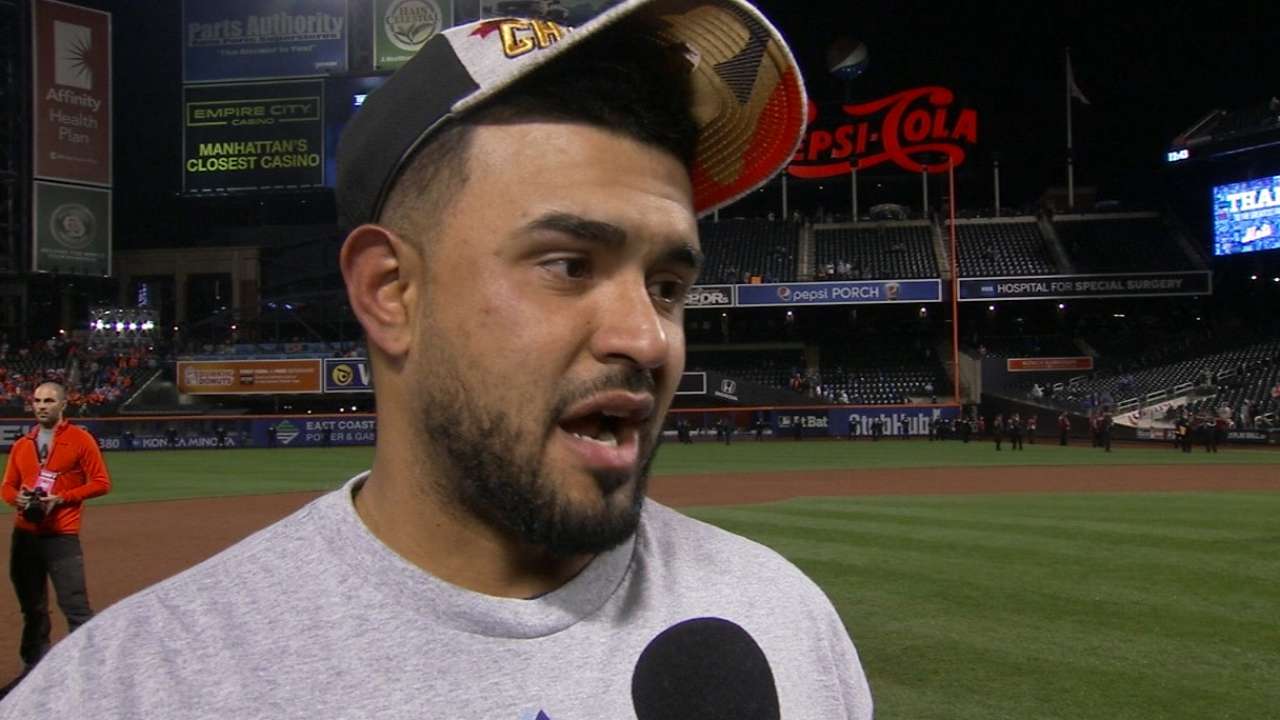 "I wasn't even thinking about my timing," Colon said. "I was thinking about, 'You have to get it done. Just like the Wild Card Game, you have to put the ball in play.'"
Before the Royals made him the fourth overall pick of the 2010 First-Year Player Draft, Colon starred at Cal State Fullerton. They love to bunt there, and he and Dyson talked about a potential suicide squeeze in that situation. But Colon preferred to take the first pitch, because somehow, despite his recent inactivity, he felt comfortable hitting with two strikes.
"I felt fine," Colon said. "I felt fine because I felt like I could just put the ball in play."
Colon saw four consecutive sliders from Reed, and with the count 1-2, he anticipated a fifth, while confident he could move his hands quickly enough if a fastball came, instead. He got that slider, low and away, and extended his arms long enough to pull it into a vacant left field.
Alcides Escobar called it "the best at-bat of the World Series."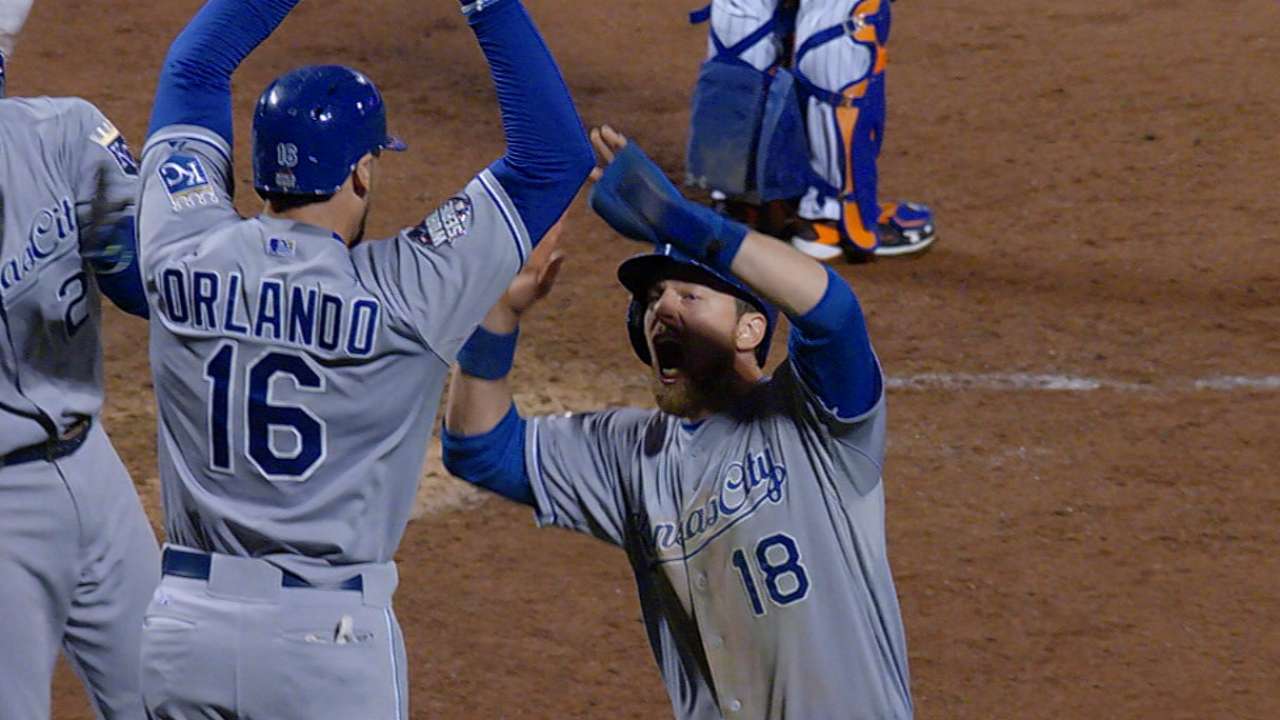 "He doesn't get any at-bats," Escobar said of Colon, "and he comes in in that inning and gets a base hit. That's the best at-bat."
Not long after Colon's heroics, the Royals pulled away. Mets second baseman Daniel Murphy, who made a costly error in Game 4, committed another miscue. Escobar then lined an RBI double down the left-field line, giving the shortstop a record 15-game hitting streak in a single postseason. And after an intentional walk of Ben Zobrist, Lorenzo Cain cleared the bases with a three-run double in the left-center-field gap off Bartolo Colon.
"I was definitely fired up," said Cain, who entered that at-bat just 4-for-21 in the Fall Classic. "Honestly I've been struggling this entire World Series. I haven't been swinging the bat the best. To come through with a double there -- I just wanted to hit something hard, and fortunately it hit a gap for me and scored everyone. It was definitely a nice feeling."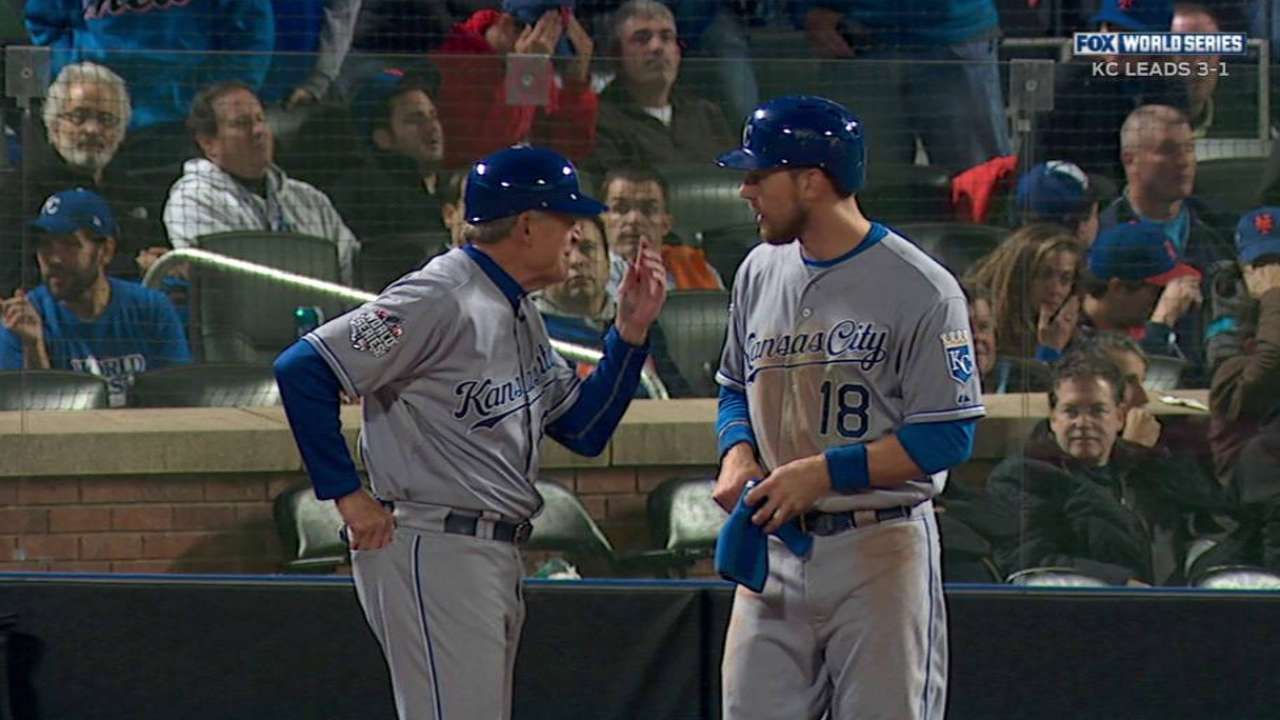 It was an even nicer feeling for Colon, who has spent the last five years waiting for an opportunity like this -- for an opportunity of any kind.
The 26-year-old has batted a solid .303/.361/.382 in the Major Leagues, but it has come over just 168 plate appearances spread out over two seasons. The Royals drafted him three spots ahead of Mets ace Matt Harvey and nine spots ahead of White Sox left-hander Chris Sale, and for years now, Colon has carried that with him.
Until now.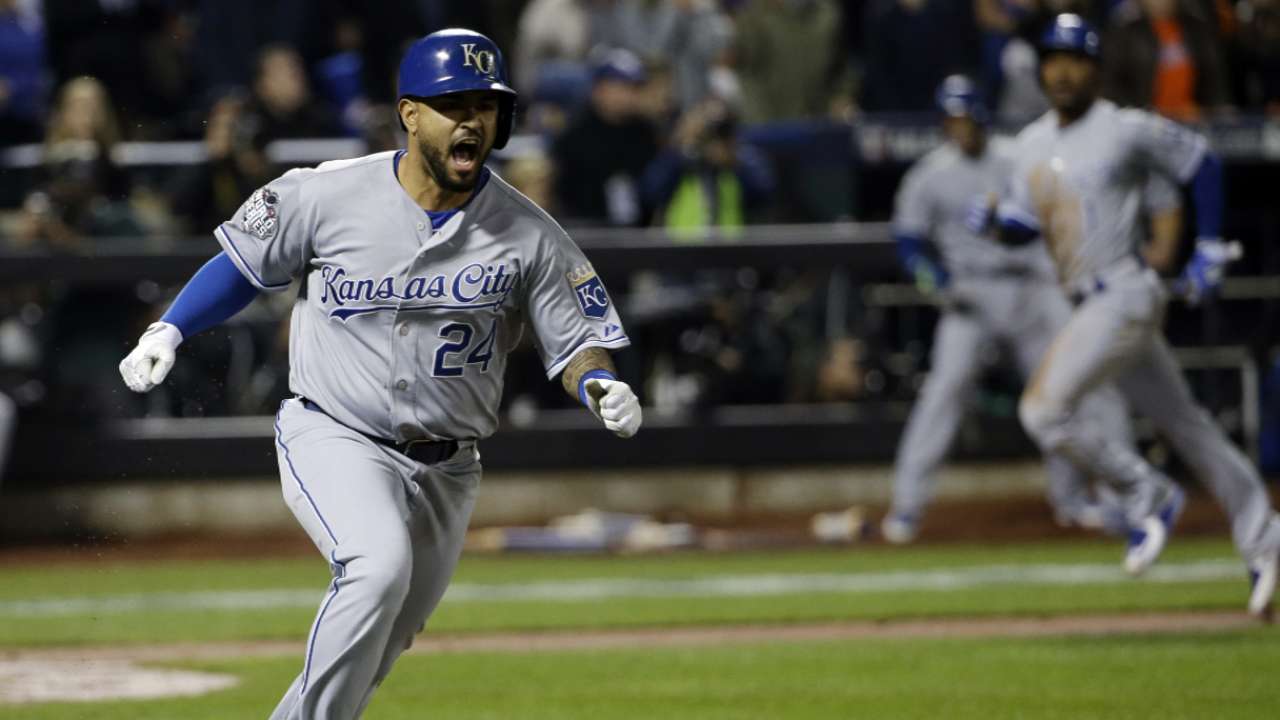 "I can't speak on their behalf because they're in different organizations, and they got their break," Colon said. "They got their opportunity to perform, to go out there. All I can do is worry about me and make sure that I'm ready when my name is called, and that's what I've done."
Alden Gonzalez is a reporter for MLB.com. Follow him on Twitter @Alden_Gonzalez and Facebook , and listen to his podcast. This story was not subject to the approval of Major League Baseball or its clubs.