Nov. 1 Ned Yost postgame interview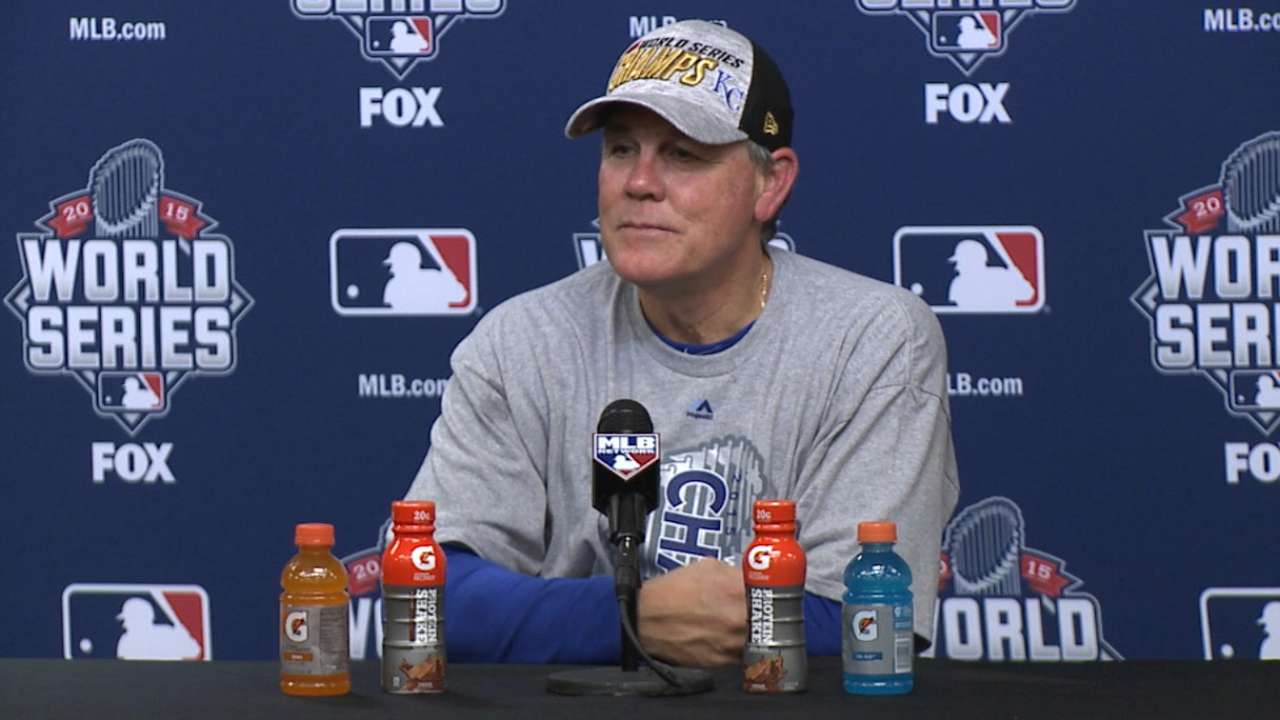 Q. What could you say about Volquez's performance tonight, given everything on his mind?
NED YOST: I thought it was phenomenal. You know, he gave up a home run to Granderson in the first inning, on a changeup that was kind of up in the zone. For him to pitch the way that he pitched, get us through six innings. He had the bases loaded there, but he did what he did so well all year long, is he limited the damage and held them to one run. It was a phenomenal performance by him.

You look at our performances, Volky was unbelievable. Herrera with a three-inning stint; he hadn't had one of those all year. And Hoch coming back on his third day for two innings to get the win. And Wade to close it out, our pitching was absolutely unbelievably good.

Q. You look at Salvador Perez's performance, especially with your background as a catcher, and his ability to stay in there despite taking foul tips off it seems off of every body part, and still put up those numbers at the plate, helping the tying rally, the go-ahead rally.
NED YOST: He just had a phenomenal series. I think if I had one regret during the whole playoffs was I had to pinch-run for Sal there in that inning. But it opened up the door for us to score five. I really wish that Sal could have been out there to jump in Wade's arm when we got that final out.

Q. Could you talk about your club, the way you endured from last year, and the way you just built into this year in the championship.
NED YOST: You know, last year was such a hard defeat for us in Game 7. And everybody came to Spring Training, I mean, as determined of a group that I've ever seen. That they were going to get back and they were going to finish the deal this time. So from day one there was no doubt in my mind that they wouldn't accomplish it. There was no doubt in their mind that they wouldn't accomplish it. And the cool thing about this team is everything they set out to accomplish they did. They wanted to win the division; they won it by 11 games. He wanted to win home-field advantage for the playoffs; they did. They wanted to win the World Series; they did.

So it's just a special, special group that doesn't come around very often.

Q. For you personally this year after going through losing in seven last year, did this moment of winning it live up to what you thought it would be?
NED YOST: Of course it does. Like I said before the game, this is my eighth World Series; I've lost 7 of them. So to be able to win this is very, very special, with this group of guys, with their character, with their heart, with their passion, with the energy that they bring every single day, I mean, they leave everything on the field. It was very, very special to be able to watch these kids grow up from A-ball to Double-A to Triple-A, get to the Big Leagues, go through their struggles, have their successes, go through their struggles, and develop the point to be world champions is extremely satisfying.

Q. Quite simply, who is Christian Colon? And what were his emotions like coming off the field after the inning in which he gave you guys the World Series?
NED YOST: You can imagine his emotions. He's a guy that last year we took off the World Series roster because he broke his finger, and we didn't think he was throwing well.

This year we kept him on, and the reason we kept him on because we felt as a staff, as an organization, that he was a clutch-type player. He's a winner. And you put him in a situation, and he's going to give you everything that he's got. And for him to come through tonight and get the big hit was just -- it was special.

For Hoch, who's been through Tommy John surgery, been here from the beginning, to be on the mound to get that last out and get the win in Game 5 to make us world champions for me was special.

So you kind of celebrate as a manager all those little achievements that are so special.

Q. What did you say to Dayton Moore when you saw him afterward?
NED YOST: Took me a long time to see him, but I just hugged him. I thought back to when I was managing Milwaukee. Dayton and I were in Atlanta together. A good friend of ours, outfield coach named Jim Beauchamp had passed away from cancer, and both of us were at the funeral. And I was managing in Milwaukee at that time, and Dayton was a new GM in Kansas City. And I saw Dayton, I shook his hand. They were looking for a manager and I said, "What are you looking for?" And Dayton looked me square in the eye and said, "I'm looking for somebody just like you."

So for us to be reunited and for us to accomplish this thing together is probably one of the greatest achievements in my life.

Q. How appropriate is it that you won tonight in the fashion in which you won, coming back and grinding it out, and using a guy who hasn't played all month to get the game-winning hit?
NED YOST: Not important.

Q. Not "important", how "appropriate"?
NED YOST: You've got to forgive me because I don't hear so well anymore.

You know what, our guys, you never count them out. And Harvey pitched, I mean, unbelievably. He had four pitches that he was throwing for strikes - fastball, great curveball, great slider, great changeup. And for us to go into the ninth inning down two, it never entered my mind that we were not going to score two or three to take the lead at that point. He was just dominating us up until then.

But for our guys to go out and find a way to score two at that point, we felt great. And we've said it all along, if we can tie the game, lighten the game, we love our bullpen. We feel like our bullpen is going to be able to hold the fort until we can find a way to score. And Herrera came in and did a superhuman job, three innings. I don't think he's pitched three innings all year. And Hoch, his third straight day, coming to give us two great innings to get us to Wade. It's just a team that never quits, never panics. They just find ways to win baseball games.

Q. How happy are you for a guy like Alex Gordon, who's been here so long, played on some not very good teams, and after almost a decade of being one the game's most underrated players, finally comes through and wins the World Series?
NED YOST: I'm extremely happy for Alex, and I told Hoch both, because both of them were here from the beginning that I'm so happy for those guys. I couldn't have written a better script than Hoch getting a win for this game, after everything he's been through. And for Alex to finally endure everything that he's endured, become Gold Glover, All-Star and to finally win a world championship. I'm extremely proud for both of those guys.