MLB.com Columnist
Lyle Spencer
Offseason opens with stacked free-agent class
Price, Heyward, Upton headline group of stars looking for new contracts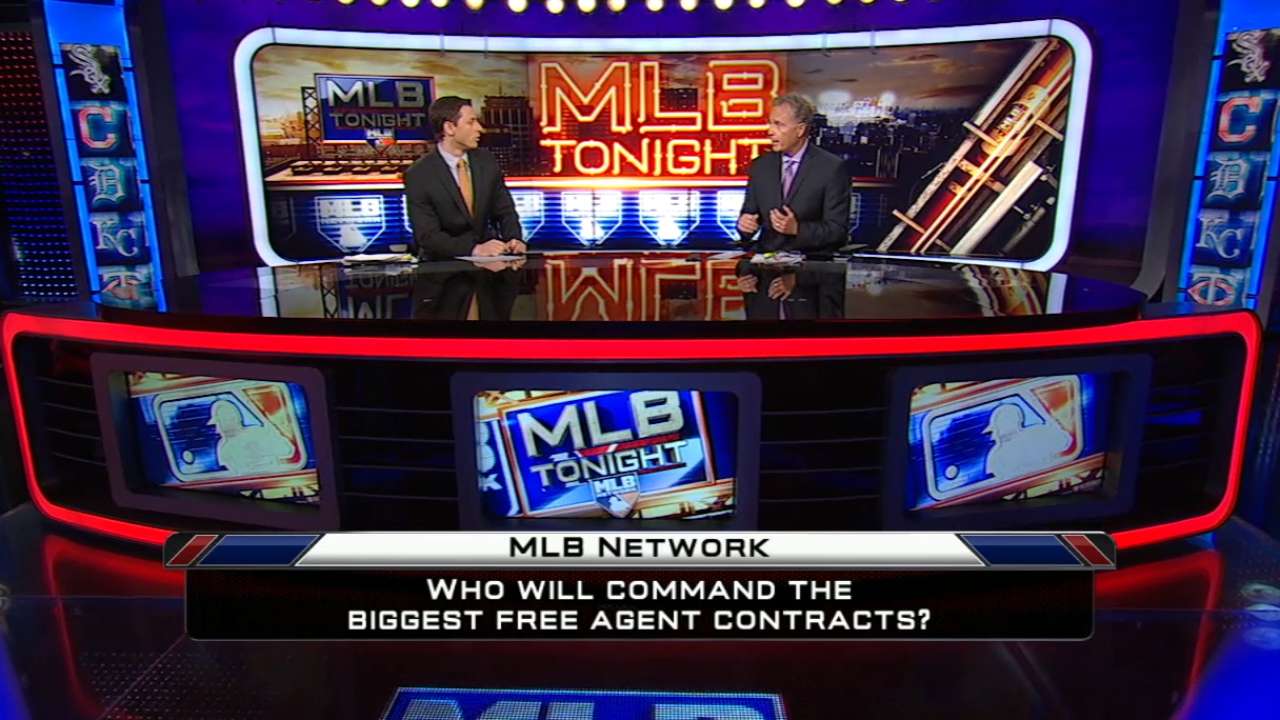 Gentlemen and ladies, start your laptops -- and cell phones. The offseason officially has arrived, bringing the promise of heavy action as 29 Major League Baseball clubs take aim at the 2015 World Series champion Royals.
The first orders of business are the declarations of free agents and pursuit of a class that figures to rank with the best in years. Rarely in recent years have so many high-profile performers hit the market, from aces to position players capable of transforming lineups.
Yoenis Cespedes, Jason Heyward, Justin Upton, Chris Davis, Ian Desmond, Alex Gordon, Matt Wieters, Daniel Murphy, Ben Zobrist, and Howie Kendrick are among a wealth of athletes who should be in demand.
But -- no bulletin here -- pitching remains the name of the game. That will be abundantly evident in the weeks ahead, highlighted by the Dec. 7-10 Winter Meetings in Nashville, Tenn.
Zack Greinke, David Price, Johnny Cueto and Jordan Zimmermann, starters capable of leading any staff to exciting places, are expected to headline the free-agent market. But there is no shortage of front-end arms beneath the top tier.
Yovani Gallardo, John Lackey, Jeff Samardzija, Mike Leake, Hisashi Iwakuma, Marco Estrada, Doug Fister, Scott Kazmir, Ian Kennedy, Wei-Yin Chen, Kyle Kendrick, J.A. Happ, Brett Anderson and Colby Lewis are among those who figure to draw attention. How could anyone overlook big Chris Young again after what he did for the Royals?
The market for relievers, featuring the Orioles' remarkably consistent Darren O'Day, isn't as rich in names as starters. But there is enough depth to keep general managers up nights assessing the histories and futures of closers, setup artists and middlemen.
When the free-agent dominoes begin to fall, the trade market will start sizzling in peak fashion. Clubs generally like to have a handle on their resources before they seriously explore trades.
The National League champion Mets, faced with the possibility of losing Cespedes and Murphy from the heart of their lineup, could be actively involved in both free agency and the trade market. No team is better equipped to move arms for bats, even if personnel maven Sandy Alderson hates to move young pitchers.
Given Billy Beane's recent history of stunning moves as the Athletics' general manager, the industry can't help speculating if Sonny Gray, a young arm with few equals, could be had for a prospect-rich package. Certainly nobody expected possible 2015 American League Most Valuable Player Award-winner Josh Donaldson to leave Oakland for Toronto.
The Rockies' Carlos Gonzalez is a name expected to be heard frequently in trade rumors. The Mets loom as a fascinating option if Cespedes departs.
If the Padres make closer supreme Craig Kimbrel available again, as they did at the non-waiver Trade Deadline, there will be at least a dozen suitors. Perhaps the Astros, with young pitching to dangle, will get involved again and upgrade a bullpen that didn't hold up as well as hoped in the club's remarkable postseason run.
Alex Anthopoulos, the GM responsible for lifting the Blue Jays to the top of the AL East with blockbuster acquisitions of Donaldson, Russell Martin and Price, stands tall among the free agents. Yes, Anthopoulos himself, after he parted ways with Toronto shortly after his team's season ended.
Perhaps no team will be more intriguing to watch this winter than the San Francisco Giants, victimized by a run of injuries in their unsuccessful pursuit of the Dodgers in the NL West.
The Giants have shed significant payroll with six free agents on the market, including Tim Lincecum, Ryan Vogelsong, Tim Hudson and Jeremy Affeldt. While they ponder how and whether to retain Leake, acquired from the Reds in July, it's instructive to recall how they chased Jon Lester last winter, thinking big before the southpaw chose the Cubs.
Looking to give Madison Bumgarner a partner of similar standing, the Giants could be players for Greinke. Coming off a magical season, he is expected to opt out of the remaining three years and $71 million on his Dodgers contract.
Greinke and Bumgarner could give San Francisco its version of Greinke and Clayton Kershaw. This possibility could lead to an epic bidding war by the eternal California rivals. Because Greinke loves the total game, including swinging the bat, it seems logical that he'd prefer to stay in the NL -- and in the West, a division he has dominated. But Washington, another team that may have money to spend, could also seek to add Greinke to its own impressive stable of starters.
There are those who see Price, similarly, as a dream compadre for Jake Arrieta on Chicago's North Side. Price has a relationship with Cubs manager Joe Maddon from Tampa Bay, but he's also very familiar with former Rays GM Andrew Friedman, now calling the shots for the Dodgers.
How about Kershaw, Greinke and Price, if the Dodgers want a rotation truly for the ages? The fellow who replaces Don Mattingly as manager surely would have no objections.
The Yankees and Red Sox will be elephants in every room. Neither franchise likes it when an AL East rival steals the media thunder.
As for the newly crowned kings, visionary GM Dayton Moore made slick moves (Kendrys Morales, Edinson Volquez, Young, Zobrist) adding quality to a balanced roster. More of these Moore gems are anticipated.
The Royals are so deep, they conceivably could lose Gordon -- as hard as it would be on the faithful -- and Alex Rios and replace them with Jarrod Dyson and Paulo Orlando, spectacular athletes, or a free agent such as Austin Jackson or Gerardo Parra.
Will clubs suddenly emulate the new champs in seeking speed and contact hitters?
Another compelling offseason is upon us.
Lyle Spencer is a columnist for MLB.com. This story was not subject to the approval of Major League Baseball or its clubs.