Cespedes escapes knee scare with bruise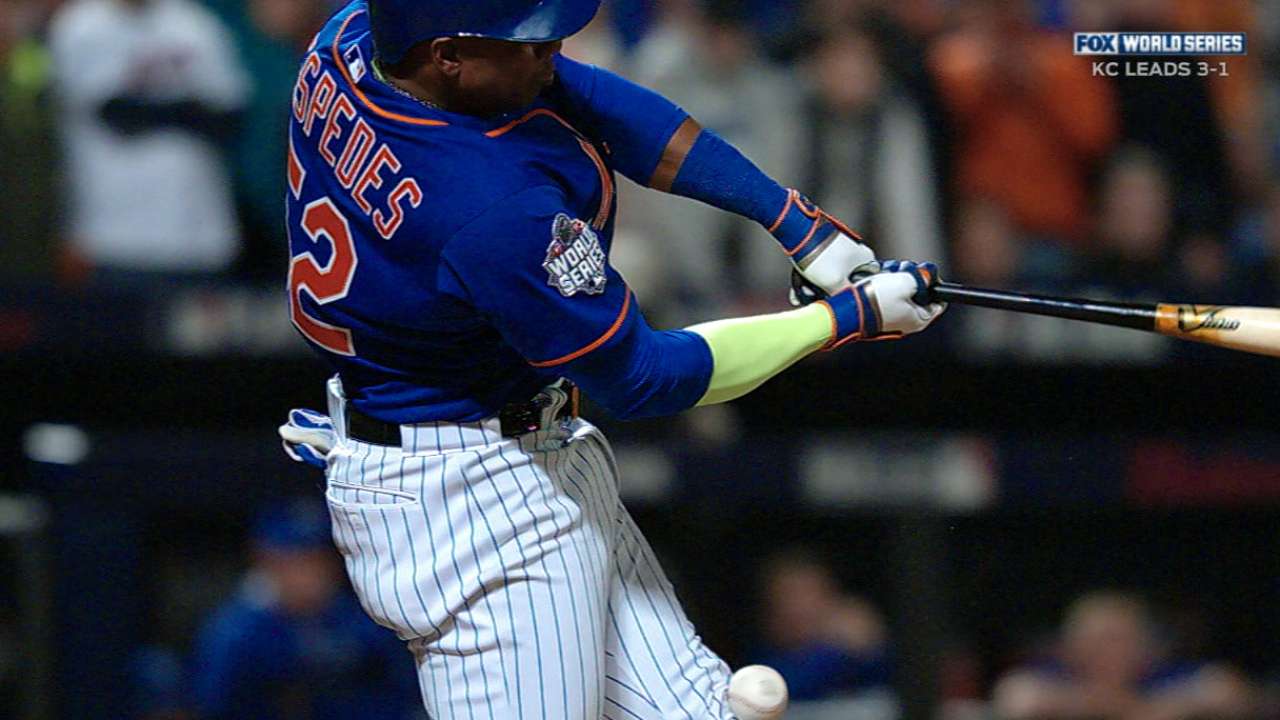 NEW YORK -- Yoenis Cespedes did not suffer any broken bones after fouling a ball off his left knee in the sixth inning of Sunday's Game 5 of the World Series, the outfielder said, just a heavy bruise.
"It hurts a lot and it's really swollen," Cespedes said through translator Melissa Rodriguez after New York's season ended with a 7-2 loss to Kansas City. "I really wanted to keep playing. I really thought I could. It just didn't work out that way."
With the bases loaded and the Mets up, 1-0, Cespedes knocked a 95 mph sinker from Edinson Volquez off the inside of his left leg and fell to the ground. He remained there for several minutes in obvious pain. However, he stayed in the game to finish his at-bat, popping out two pitches later.
Cespedes limped back to the dugout and was replaced in center field in the next half-inning by Juan Lagares. In the clubhouse after the game, Cespedes had catcher Kevin Plawecki wheel him to his locker in a rolling chair because he couldn't walk from the shower. He conducted interviews standing, but holding on to his locker for support.
"I knew he was done when he came out of the batter's box," Mets manager Terry Collins said. "He said he was OK, thought he could hit, and at least he had a little feel for the game. We are just looking for a sac fly there anyway."
Cespedes finished his first World Series 3-for-20 with one RBI and six strikeouts, while committing several lapses on defense and the basepaths. The free agent-to-be hit .222 in 54 at-bats this postseason, with two home runs, eight RBIs, 17 strikeouts and two curious plays in center field. Game 4 ended with Cespedes, representing the tying run, being doubled off first base on an infield line drive.
The production marked a steep dropoff from the .287/.337/.604 line Cespedes posted in 57 regular-season games after being acquired by New York prior to the non-waiver Trade Deadline. He became a sensation in Queens, hitting 17 home runs in two months and making spectacular throws from the outfield while the Mets stormed to their first division championship since 2006. Cespedes battled lingering injuries to his hand and shoulder this postseason that he admitted affected his play.
"I don't think mentally I'm tired but I think my body is tired," Cespedes said. "I wish I could have kept playing in order to contribute to the team. I did the best I could."
Joe Trezza is an associate reporter for MLB.com. This story was not subject to the approval of Major League Baseball or its clubs.