Harvey's dominant start shouldn't be forgotten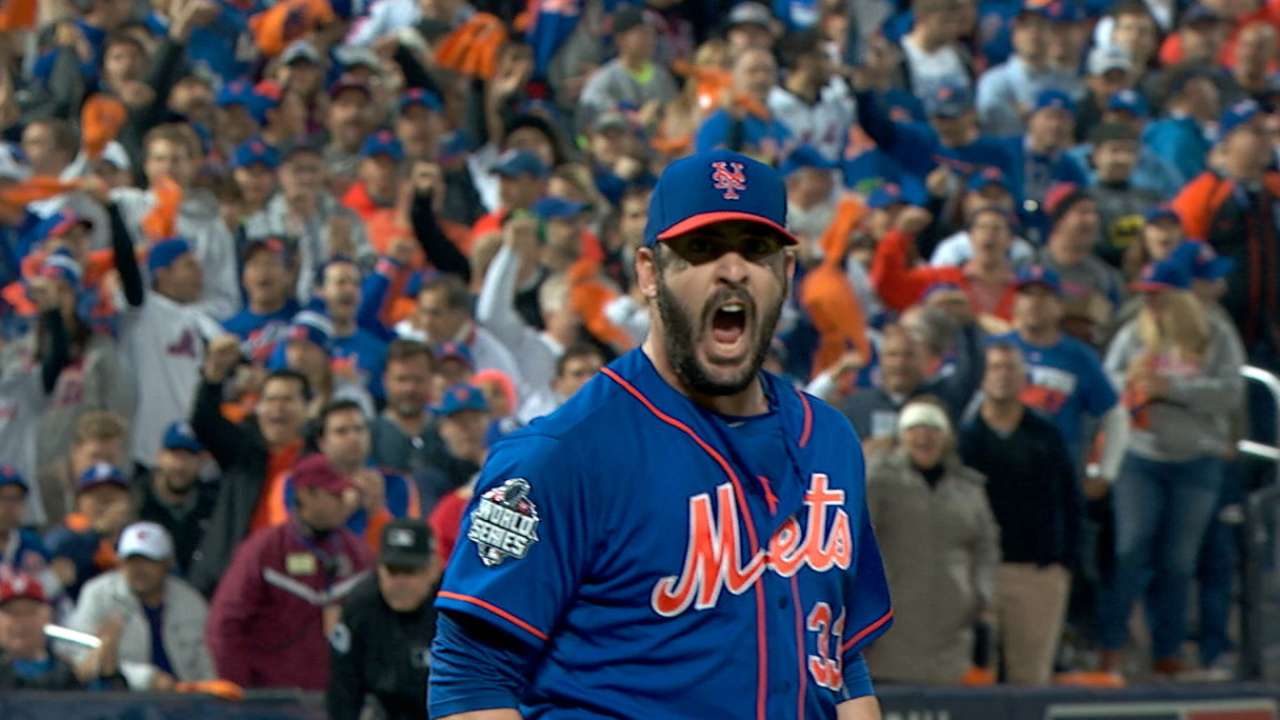 NEW YORK -- Darkness fell early over Gotham on this first night of November, with the clocks turned back an hour overnight and time running out for the Mets. The largest crowd in Citi Field history howled for a hero, and for eight electric innings, their Dark Knight delivered.
Matt Harvey talked his way back to the mound for the ninth inning of Game 5 of the World Series in an attempt to finish the definitive performance of his season -- equal parts joy and angst -- on a night that included heavy doses of both. Manager Terry Collins honored Harvey's wish, only to see a two-run lead vanish with a Royals rally that tied the score and sent the game into extra innings, where New York lost in 12 innings, 7-2.
The Royals are World Series champions, leaving Harvey and the Mets to lament how quickly those first eight brilliant innings were wiped away.
"Going into the ninth, I felt great," Harvey said. "My mechanics, everything was right where I wanted it to be.
"As a competitor and a person, I always want the ball. That's what I've said all year long. In this situation, I wanted the ball."
As the Mets batted in the eighth inning with a two-run lead, Collins and Harvey engaged in a spirited discussion about the matter. Collins told Harvey, "That was enough," and said it was time to turn to closer Jeurys Familia. Harvey looked in his manager's eyes and said, "I want this game in the worst way."
Later, while the Royals were spraying Champagne, Collins said, "I let my heart get in the way of my gut."
Harvey ran to the mound for the start of the ninth inning to a roar that was quickly turned to silence. Lorenzo Cain led off with a walk and stole second base, then Eric Hosmer deposited an RBI double into left field, halving the lead and ending Harvey's night.
Enter Familia, who induced a groundout that pushed the tying runner -- Harvey's runner -- to third base. Salvador Perez then followed with a groundout to third baseman David Wright. Wright checked the runner and threw to first, but Hosmer safely bolted home, Lucas Duda's throw sailing to the backstop.
• Duda's hurried throw changes course of Gm 5
Harvey settled for a heartbreaking no-decision and this pitching line: eight-plus innings, five hits, two earned runs, two walks and nine strikeouts.
"He looked like a whole different human being tonight with how focused he was," said catcher Travis d'Arnaud, contrasting Sunday's gem with Harvey's hard-fought start in Game 1. "He just went out there and did a tremendous job."
Harvey's first eight innings were dominant. The 13 pitches in the first inning ranged from a changeup at 87 mph to leadoff man Alcides Escobar to a fastball at 97 mph to retire Hosmer on an inning-ending swinging strikeout with a runner at second base. That was among the 15 swings and misses in his outing, more than doubling the seven he induced in a two-strikeout performance in six innings of Game 1. In the top of the fourth inning alone, Harvey induced six swinging strikes, more than any starting pitcher in any inning against the Royals this postseason.
After Cain's two-out single in the first inning, the Royals' only hit off Harvey during their first two turns through the order came from the opposing pitcher, Edinson Volquez, who threw his bat at a fastball in the third inning for a single that floated into right field. Harvey erased that injustice with an Escobar double play, and then struck out the side in both the fourth and fifth innings.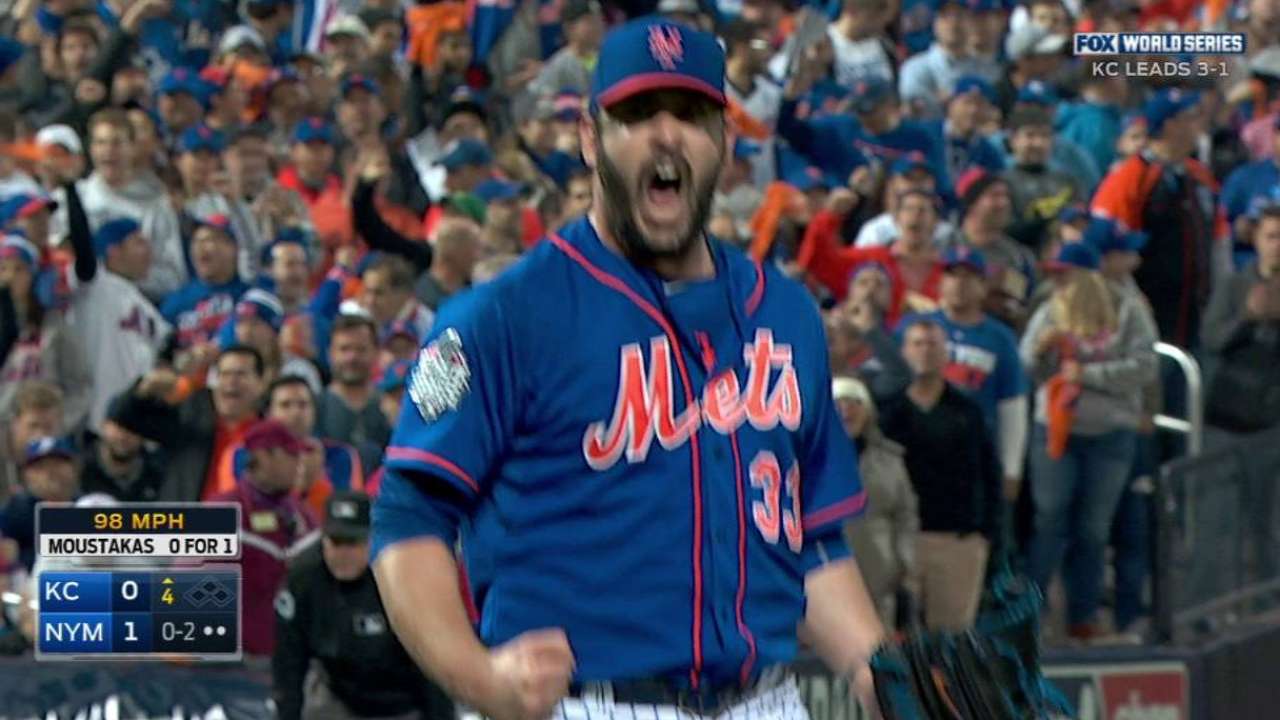 Through five innings, Harvey had 14 swings-and-misses and eight strikeouts. When he got through the seventh with his shutout intact, he pumped his fist and yelled to the Mets' dugout. By the time calmly strode off the field after retiring the Royals in order during a nine-pitch eighth, he had thrown 102 pitches.
"When you looked in this kid's eyes," Collins said, "I mean, he's been through a tough summer. He's been beaten down, and I just trusted him. I said, 'You got it. You've earned this. So go get 'em.'
"So it's my fault. It's not his. That's who he is."
Harvey logged 216 meaningful innings in 2015, including the regular season and postseason. He threw zero innings in 2014 after undergoing Tommy John surgery, and endured a very public discussion in late August and early September about the risks of such a sudden return to such a workload.
Once the Mets reached October, that discussion diminished. Harvey wanted to pitch every inning he could get.
Asked whether the innings issue affected his decision to fight for the ninth, Harvey said, "No, not at all. I wanted the ball because I felt great. I felt like I could go out there and get the last three outs. If I was tired at that moment, I would obviously say something different, but I felt good. I felt I was controlling the game pretty well, and I wanted to go back out."
Harvey plans to take a few days to ponder his season, in which he went 15-8 with a 2.75 ERA in 33 regular season and postseason starts.
"I had so much fun tonight," he said of the way Sunday began. "The energy was incredible; unfortunately, I just couldn't finish what I started."
Adam McCalvy is a reporter for MLB.com. Follow him on Twitter @AdamMcCalvy, like him on Facebook and listen to his podcast. This story was not subject to the approval of Major League Baseball or its clubs.