'Trust' key to Royals' comeback gene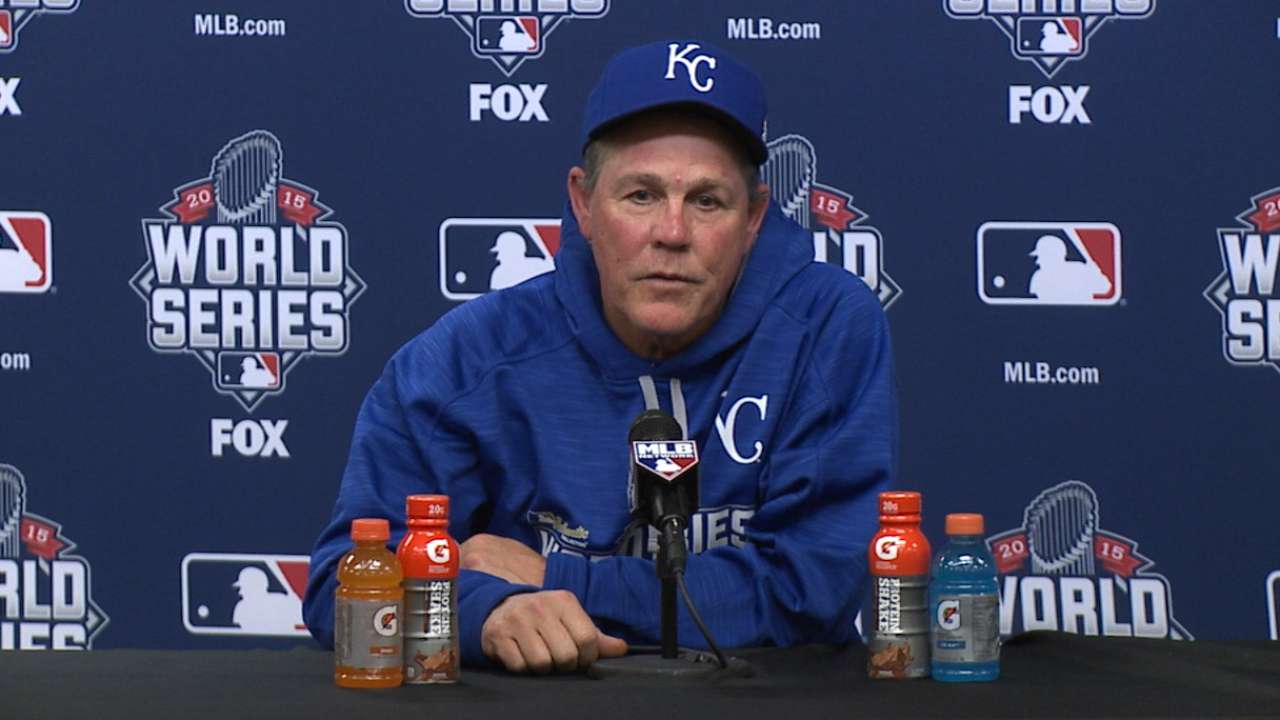 NEW YORK -- The big question regarding the Royals this postseason? How do they do it?
How do the Royals keep coming back in games? After an eighth-inning rally produced a stunning 5-3 win over the Mets in Game 4 of the World Series, they now have seven come-from-behind wins in the postseason.
The Royals say it's all about approach.
"It's just guys that trust in each other and believe in their teammates," first baseman Eric Hosmer said. "We all realize that when you're down four or five runs late in the game there, that not one person can get you back in with one swing. So you try to work a walk, you try to work the count, you try to do whatever you can to get on base.
"I think a big benefit for us is knowing that if we're late in the game and even if we tie the game, we still have an advantage because of how good our bullpen is. I think that's one thing mentally that we all use that kind of just makes a comeback -- it doesn't seem that far-fetched when you have a bullpen, and you realize all you've got to do is tie the game and you still have a really good chance of winning it."
The Royals also are particularly adept at putting the ball in play and pressuring opposing defenses.
"I think we do it better than other teams," manager Ned Yost said. "And I don't know, you know, there were times last year and the year before [when] we would drive everybody crazy swinging at everything. Well, 'Why don't they take more pitches? Why don't they try to get in better counts? Why don't we do this? Why don't we do that?'
"But it's not our style, you know. It's like I told Esky (Alcides Escobar) when I put him in the leadoff spot, 'Don't change a thing. You be yourself.' … But they've just gotten to a point now that they continue to grow and evolve and get better. They're putting more balls in play. They're starting to become a little more disciplined [at the same time]. Those two walks that Lorenzo Cain and Ben Zobrist had last night were huge. It set that whole inning up.
"But it's just the fact that they continue to grow as young Major League players, and they continue to get better and they continue to get better and they continue to get better."
Digging the Royals
The Royals have noticed that their aggressive style of play has been attractive to fans everywhere.
"Yeah, we really, we play with a lot of emotion as a team," Hosmer said. "We play with, I think, it's a lot of energy we play with, and I think a lot of people like to watch that. Obviously, a lot of our games, especially this postseason in general, have been really exciting. And I think the resiliency of this team and the way we can come back and the way we just count ourselves in every single game, I think it makes for a fun team to watch. It's definitely a fun team to play for.
"So like I said, I think our fan base and our team share a real special bond. I think that's grown throughout the whole entire world, I think as the fans have watched us compete throughout this postseason."
Jeffrey Flanagan is a reporter for MLB.com. Follow him on Twitter at @FlannyMLB This story was not subject to the approval of Major League Baseball or its clubs.