MLB.com Columnist
Jonathan Mayo
Fall Stars Game rosters flush with elite talent
Watch 10th annual meeting of top AFL prospects live on MLB Network, MLB.com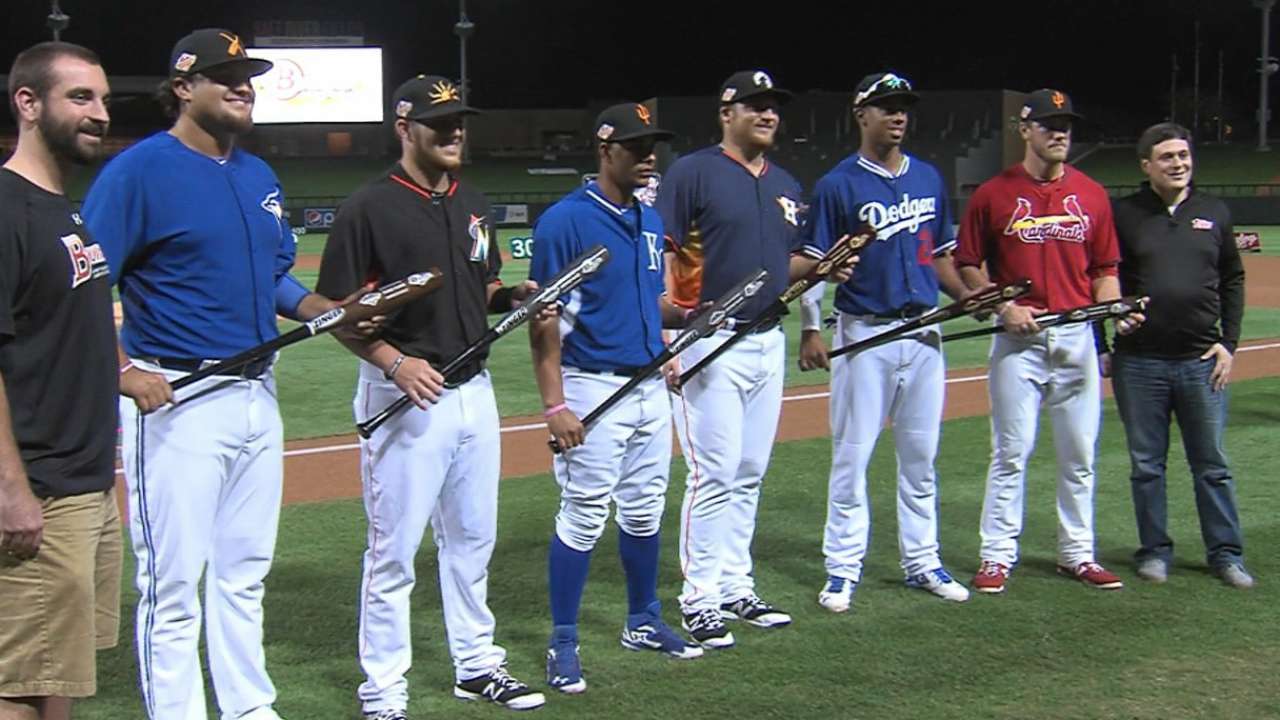 On any given day this fall, fans can head to an Arizona Fall League game and see some of the best talent Minor League Baseball has to offer. On Saturday, the AFL gives everyone the chance to do some one-stop shopping, courtesy of the 10th annual Fall Stars Game.
The game, which starts at 8 p.m. ET and will be broadcast on MLB Network and streamed live on MLB.com, features the best of the best in the prospect world. With seven members of MLBPipeline.com's Top 100 Prospects list and a total of 37 players on their team's Top 30 lists, it's the Fall League version of the SiriusXM All-Star Futures Game.
Mariners first baseman D.J. Peterson, who is on the West Division team, will be playing in his second straight Fall Stars Game. The M's No. 3 prospect is very much looking forward to another chance to show what he can do on a national stage.
"I'm very excited to represent the Mariners," said Peterson, who went 0-for-2 in last year's contest. "Doing it two years in a row, I'm hoping I can get something more out of it. It's great to get to interact with all the guys from other teams."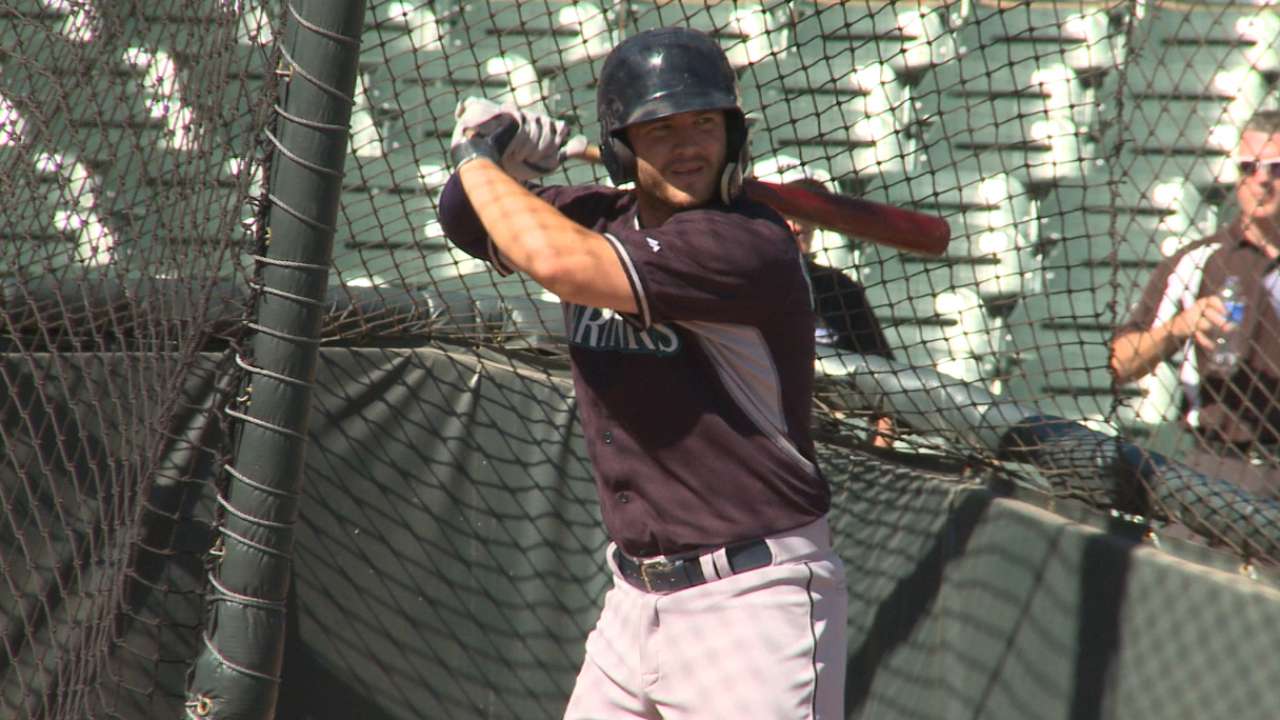 Cardinals right-hander Alex Reyes is the highest-ranked player in this year's game, and the No. 16 prospect has peformed well, striking out 14 batters over 15 innings, despite a shaky outing that pushed his ERA on the season to 3.60 over four starts. Pirates outfielder Austin Meadows is the highest-ranked hitter (No. 22) in the game, followed by fellow Georgia high school 2013 first-round pick Clint Frazier (No. 35) of the Indians. Daniel Robertson of the Rays (No. 79) and the Rockies' Raimel Tapia (No. 99) round out the Top 100 representatives. Dominic Smith of the Mets (No. 92) was initially named to the East squad but was later replaced by Toronto's Rowdy Tellez.
As part of the Arizona Fall League's Final Two Fan Vote, Cubs No. 20 prospect Jeimer Candelario and Brewers No. 18 prospect Yadiel Rivera were added to the rosters. For the first time, fans were able to select a 26th player for each Fall Stars team.
This year's rosters are chock full of former first-round picks, with eight taken in the opening round of the Draft. The list, which doesn't include supplemental first-rounders or those taken under the new rules in the Competitive Balance Rounds, is led by six selections from the first round of the 2013 Draft.
Lucas Sims, Braves, 2012 (21)
Frazier, Indians, 2013 (5)
Meadows, Pirates, 2013 (9)
Smith, Mets, 2013 (11)
Peterson, Mariners, 2013 (12)
Reese McGuire, Pirates, 2013 (14)
Christian Arroyo, Giants, 2013 (25)
Kyle Freeland, Rockies, 2014 (8)
Alex Blandino, Reds, 2014 (29)
Last year's game not only featured top-level talent, but it served as a crystal ball into who some of the impact rookies in the big leagues this past season would be. The Dodgers' Corey Seager, the Indians' Francisco Lindor, the Braves' Jace Peterson, the Twins' Eddie Rosario, the Yankees' Greg Bird (the AFL MVP a year ago), the D-backs' Archie Bradley and the Cubs' C.J. Edwards all played in the 2014 edition of the Fall Stars and all made contributions -- some larger than others -- to their parent club during this past regular season.
"I'm sure this year's roster will have guys who'll make that jump and play in the big leagues next year," Smith said, upon being named to the team. "It tells me what's possible. If you keep playing hard, anything is possible."
Smith has been one of the better performers in the AFL this season, hitting .400/.542/.571 over his first 35 at-bats. While Smith won't be one of those guys who jumps from the Fall Stars Game right to the big leagues, this experience is clearly getting him ready for the jump out of Class A ball to the upper levels.
"I'm just trying to keep it pretty simple," Smith said. "Work counts, swing at good pitches. When you swing at good pitches, good things happen. I'm trying to show I can perform at this level.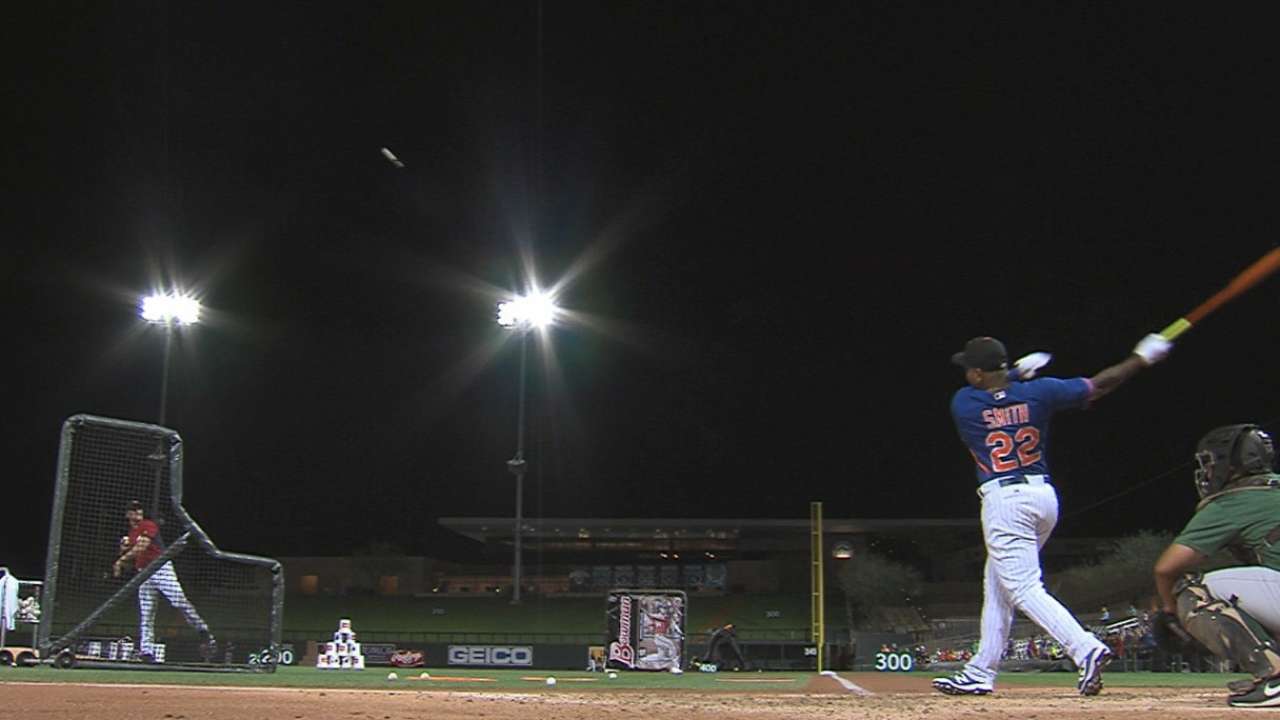 "This experience is definitely preparing me for Double-A and beyond. A lot of guys in this league will be in the big leagues next year and beyond. I'll be facing these guys in the future for sure. Playing against the competition of the future, getting to compete with them now, it's making me a lot more comfortable going into next season."
D.J. Peterson also feels more comfortable, especially compared to a year ago, when he struggled in the AFL. More energized this fall, Peterson has rediscovered his joy for the game. Like Smith, he's trying to keep things simple -- something he hopes will help him in the Fall Stars Game, when the natural inclination might be to try to do something special.
"I feel like this year, the mindset is completely different," Peterson said. "I just want to go out and have fun. That's what I've been doing every day here.
"I think you keep your same approach in the Fall Stars Game -- try to see something [over the] middle part of the plate and put a good swing on it and do some damage. The guys in this game are really good, so if you miss that pitch, they're going to get you."
EAST DIVISION
Pitchers
Corey Black, Cubs
Ray Black, Giants
Nick Burdi, Twins
Abel De Los Santos, Nationals
Kyle Freeland, Rockies
Perci Garner, Indians
Chad Girodo, Blue Jays
Greg Mahle, Angels
Sean Manaea, A's
Adam Miller, D-backs
Adam Ravenelle, Tigers
Catchers
Willson Contreras, Cubs
Oscar Hernandez, D-backs
Infielders
Christian Arroyo, Giants
Jeimer Candelario, Cubs
JaCoby Jones, Tigers
Renato Nunez, A's
Chad Pinder, A's
Daniel Robertson, Rays
* Dominic Smith, Mets
Rowdy Tellez, Blue Jays
Sam Travis, Red Sox
Outfielders
Jake Bauers, Rays
Austin Dean, Marlins
Clint Frazier, Indians
Ramiel Tapia, Rockies
Adam Brett Walker II, Twins
WEST DIVISION
Pitchers
Jacob Barnes, Brewers
Ralston Cash, Dodgers
Donnie Hart, Orioles
Chaz Hebert, Yankees
Robinson Leyer, White Sox
Damien Magnifico, Brewers
Edubray Ramos, Phillies
Alex Reyes, Cardinals
David Rollins, Mariners
Lucas Sims, Braves
Eric Yardley, Padres
Catchers
Reese McGuire, Pirates
Gary Sanchez, Yankees
Infielders
Alex Blandino, Reds
J.D. Davis, Astros
Andrew Knapp, Phillies
D.J. Peterson, Mariners
Jurickson Profar, Rangers
** A.J. Reed, Astros
Yadiel Rivera, Brewers
Ramon Torres, Royals
Patrick Wisdom, Cardinals
Outfielders
Adam Engel, White Sox
Phillip Ervin, Reds
Derek Fisher, Astros
Austin Meadows, Pirates
** Michael Reed, Brewers
Mike Yastrzemski, Orioles
** A.J. Reed and Michael Reed were replaced by Phillip Ervin and Andrew Knapp on the West Division roster.
** Dominic Smith was replaced by Rowdy Tellez on the East Division roster.
Jonathan Mayo is a reporter for MLBPipeline.com and writes a blog, B3. Follow @JonathanMayo on Twitter. This story was not subject to the approval of Major League Baseball or its clubs.