Granderson, Wright highlight Game 3 GIFs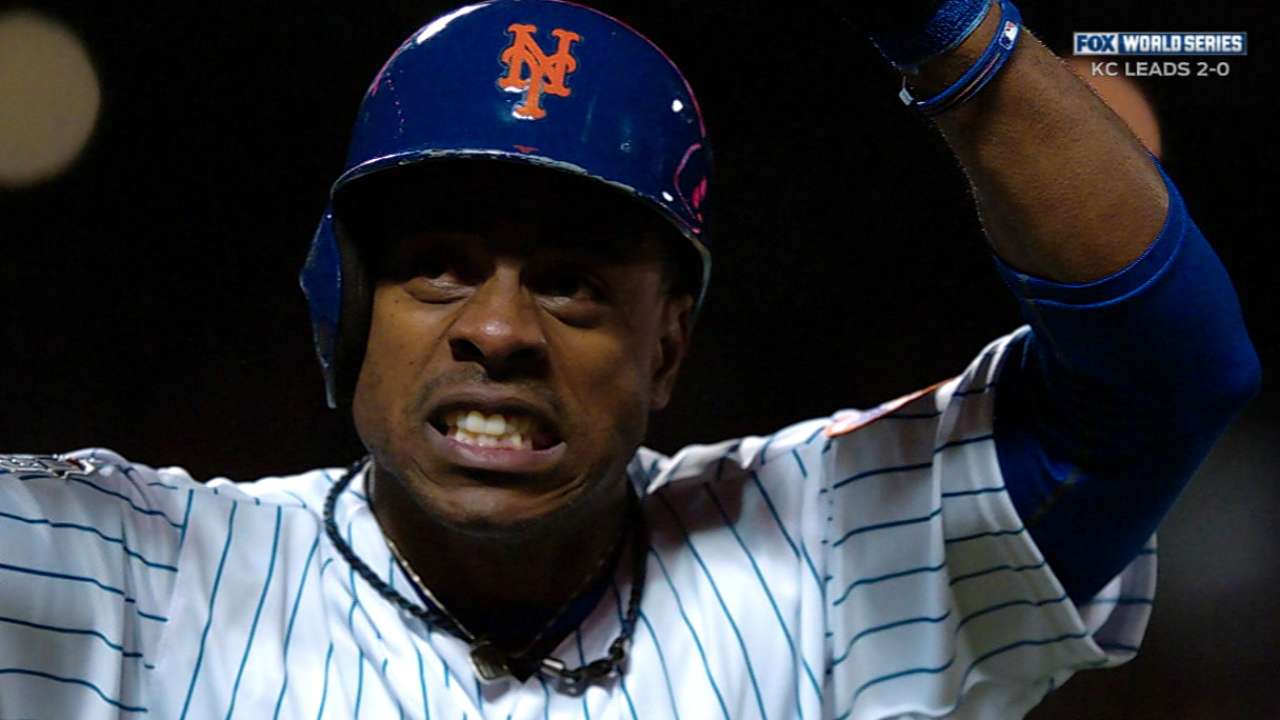 Mets third baseman David Wright says left fielder Michael Conforto is safe at first base on an RBI infield single in the fourth inning. Conforto's hit scored Lucas Duda and gave the Mets a 5-3 lead.
2. Lagares slides home
Mets center fielder Juan Lagares slides home safely to score on Juan Uribe's RBI single in the sixth inning.
3. Wright, Grandy get it done
Wright and Curtis Granderson, who both homered, acknowledge each other after Wright's two-run single in the sixth inning gave the Mets an 8-3 lead.
4. Nowhere to throw?
Royals reliever Franklin Morales is unsure what to do after fielding Granderson's comebacker in the sixth inning, allowing the Mets to load the bases with one out.
5. The Wright stuff
Wright hits his first World Series home run, a two-run shot to left-center field off Yordano Ventura in the first inning, giving the Mets an early 2-1 lead.
6. No laughing matter
Comedians -- and Mets fans -- Chris Rock and Jerry Seinfeld take in the moment after Granderson's two-run homer in the third inning gave the Mets a 4-3 lead.
7. A Grand blast
Granderson homers off Ventura in the third inning, putting the Mets back on top with a two-run shot.
8. Stand Up To Cancer
The Mets, Commissioner Rob Manfred and everyone else at Citi Field take part in Stand Up To Cancer, holding placards in support of the fight to end cancer.
Adam Berry is a reporter for MLB.com. Follow him on Twitter at @adamdberry. This story was not subject to the approval of Major League Baseball or its clubs.