Escobar's wild homer highlights Game 1 GIFs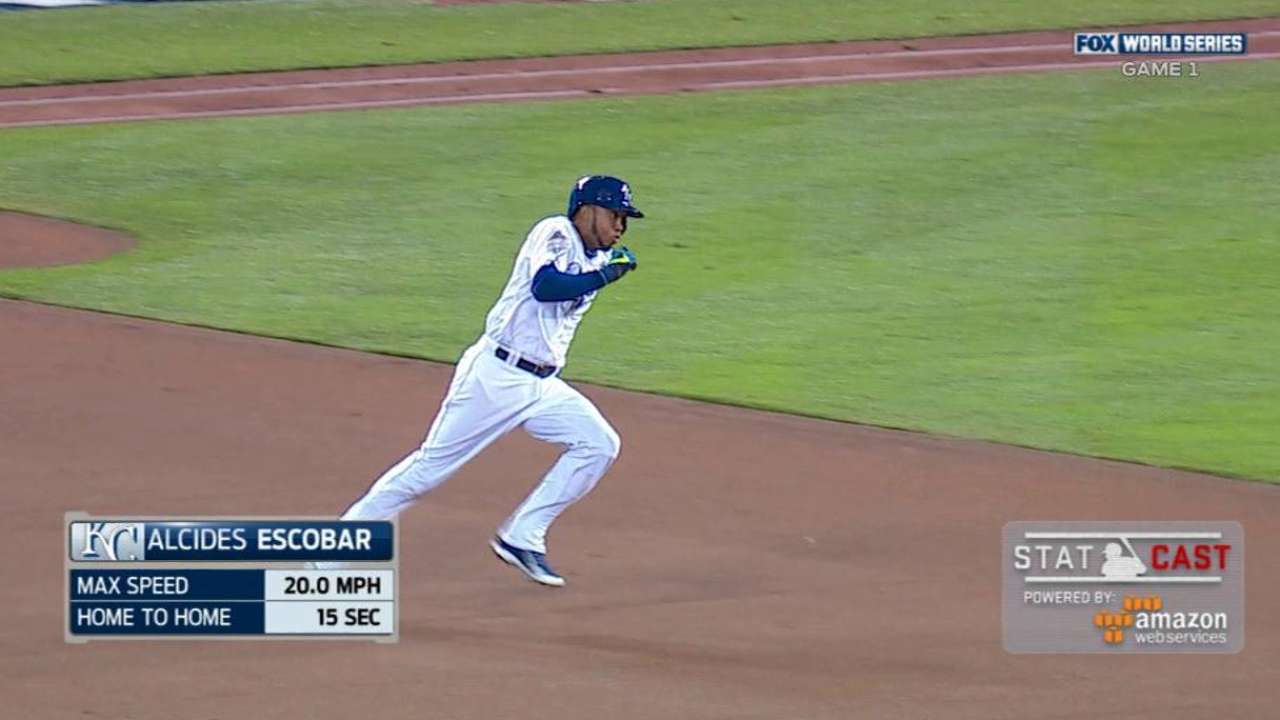 Tuesday's World Series Game 1 -- a 5-4 Royals win over the Mets in 14 innings -- had plenty of drama. What follows is just a sample of the highlights, courtesy of @MLBGIFs.
1. Escobar circles bases
American League Championship Series MVP Alcides Escobar came through yet again for the Royals, leading off the bottom of the first with an inside-the-park home run. Escobar swung at the first pitch from Mets starter Matt Harvey and cruised around the bases for the first World Series inside-the-park homer since 1929.
2. Gordon ties it late
Alex Gordon helped send this one into extra innings with a game-tying solo homer in the ninth. The 14-inning contest was the longest Game 1 in World Series history at five hours and nine minutes.


3. Mets take advantage
An error by Royals first baseman Eric Hosmer handed the Mets a 4-3 lead in the eighth. Hosmer would redeem himself in the 14th, however, driving in the game-winning run with a sacrifice fly.
4. Murphy face
Daniel Murphy reacts at the plate after his Mets dropped Game 1. Murphy went 2-for-7 with a pair of singles and a run scored, seeing his postseason-record six-game homer streak come to an end.
5. Davis dominates
Kansas City closer Wade Davis fanned all three batters he faced in the 10th inning. Davis has struck out 13 through 7 2/3 scoreless innings this postseason.
6. Escobar shows off athleticism
Escobar continued his impressive postseason not only at the plate but also in the field, making plays like this impressive throw.
7. Fan catches foul ball:
This neon-clad Royals fans stands out in the Kauffman Stadium crowd, providing a nice target for souvenir foul balls.
Chad Thornburg is a reporter for MLB.com. This story was not subject to the approval of Major League Baseball or its clubs.