Manfred interacts with fans in Chatting Cage
Commissioner answers questions about game pace, fan safety, World Series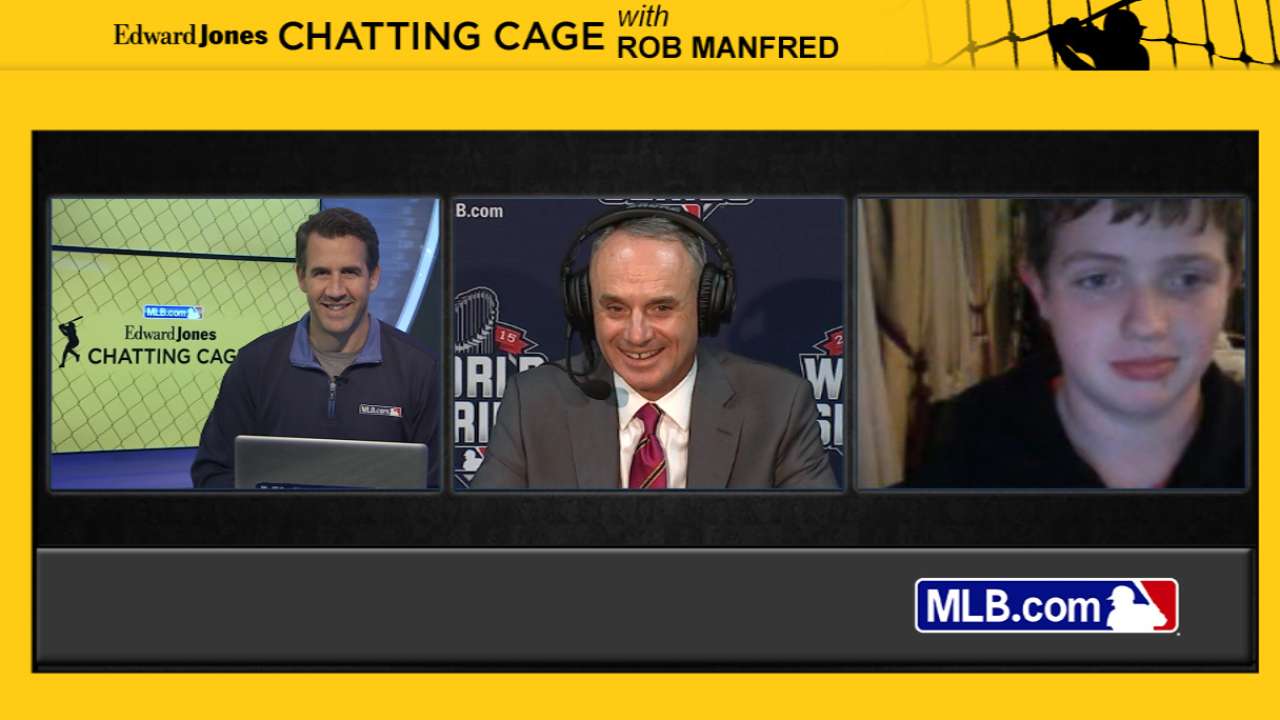 KANSAS CITY -- Commissioner Rob Manfred fielded questions ranging from competitive balance, fan safety and diversity to his goals and what aspects he's enjoyed most in his first year on the job during a special edition of Chatting Cage before Game 1 of the World Series.
Manfred took queries from fans directly and via Twitter on Tuesday from the interview room at Kauffman Stadium.
• Shop for championship gear: Mets | Royals
The session started with a fan wondering about the Commissioner's priorities going into the 2016 season.
"One of the things that's at the top of my list, I want to continue to make progress on the issue of pace of game," Manfred said. "We got off to a great start this year. We knocked six minutes off the game time. But I think it's important that we try to keep the momentum up and continue to make the games as tight as we possibly can."
A caller named Alfonte asked about the possibility of baseball adding additional netting next season to protect fans from foul balls and broken bats and wondered if MLB would take measures to prevent them from becoming obtrusive.
"Your question is one that really raises an important balance. Obviously, we're very concerned about fan safety. And as a result, a major topic of conversation at our November Owners Meeting will be whether we should have additional regulations relating to netting in the stands," Manfred replied. "But it's also important not to lose sight of the fact that there are a lot of fans out there who prefer to view the game without having netting in front of them. And that netting can be an impediment to interaction between players and fans, which is really important for us. Hopefully we'll have the wisdom to find the right balance between those two important objectives."
Ross asked about the biggest challenge of his tenure so far.
"I think the biggest challenge has been promoting diversity with respect to significant on-field baseball operations positions, general managers and managers," Manfred said. "We have a very small number of jobs, a very small number of jobs that become available. It's been difficult for us to get to the kinds of numbers baseball aspires to and that we think are appropriate to an institution that has always been a leader in the area of diversity."
On Twitter, Nick asked what it meant to have the Royals facing the Mets in the World Series.
"I think there are several things about this matchup that are important to point out," Manfred said. "We actually have one of our smallest markets playing our largest market, which is a nice sign in terms of all types of markets' ability to compete in our game, which is what fans want to see. I think it's also interesting in terms of our economic system that the Royals' payroll is actually higher than the Mets' payroll and that our game, in terms of whether you win or not, is not about payroll. It's about whether you have a strategy, do you stick to that strategy and do you make good decisions? I think that makes a great product for our fans."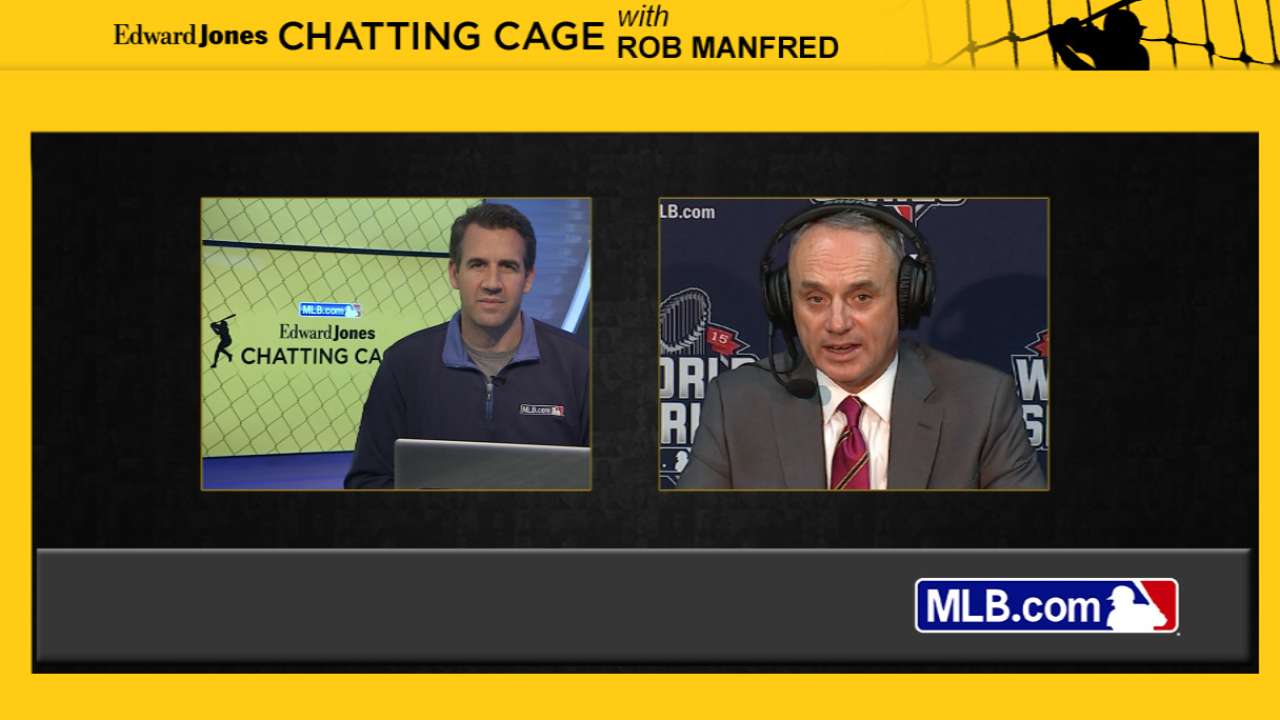 Manfred was also asked more personal questions about how he's enjoying being Commissioner.
"I've had a year full of really exciting days. My first day on the job. My first All-Star Game. The first regular-season game and now my first World Series game. But I have to tell you, each of them has built in terms of the level of excitement and there's nothing quite like our postseason," he said.
"[The most enjoyable part] is actually something I got to do earlier [Tuesday]. I did a visit at one of the Boys & Girls Clubs here in Kansas City. They had a Play Ball event ... and the kids got an opportunity to interact with the game and it was really fun to see how much they enjoyed the game. It's really been the favorite part of my first year."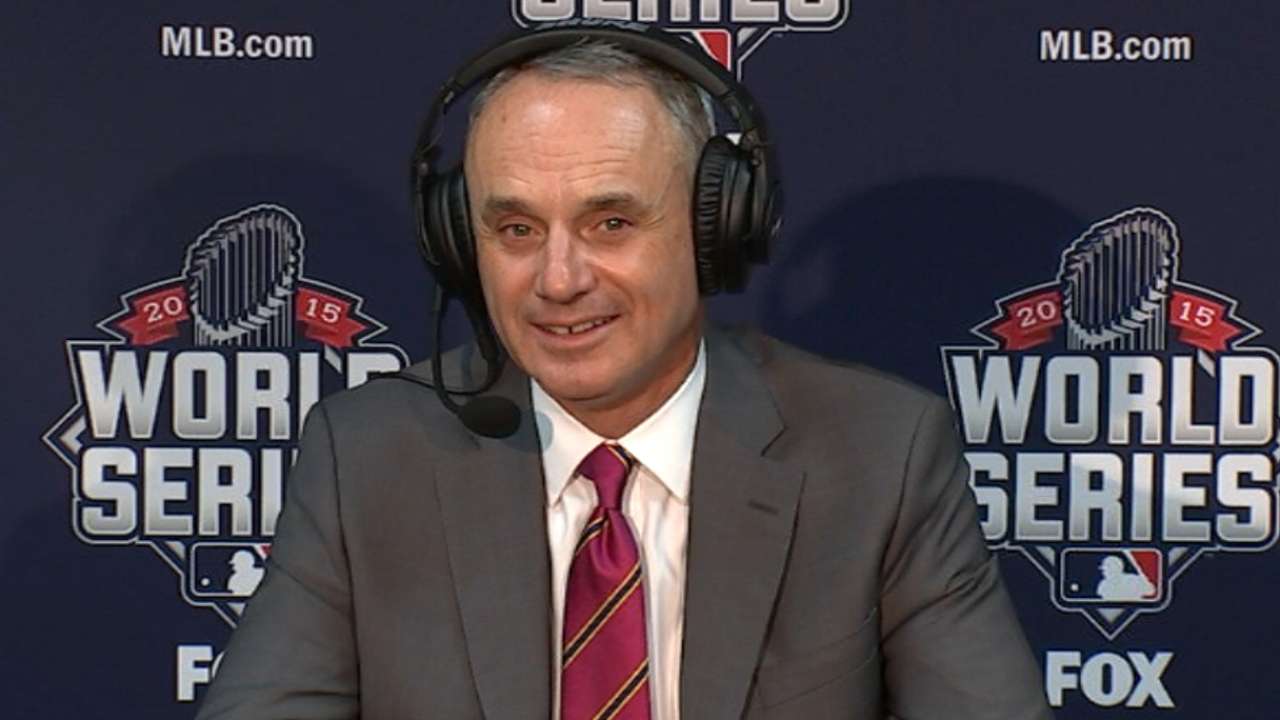 No questions were off-limits, but there was one Manfred wouldn't answer. Robert wanted to know who the Commissioner thinks has an edge in the World Series.
"That's a question Commissioners don't answer," Manfred said with a laugh. "But we're purely neutral. It's one of those may-the-best-team-win things. ... That's one of those questions, if you answer it, you're probably losing your tenure. So I'll avoid that one if I can, OK?"
Paul Hagen is a reporter for MLB.com. This story was not subject to the approval of Major League Baseball or its clubs.