Escobar's inside-the-park HR one for the ages
Leads off Royals' first inning with 12th such World Series homer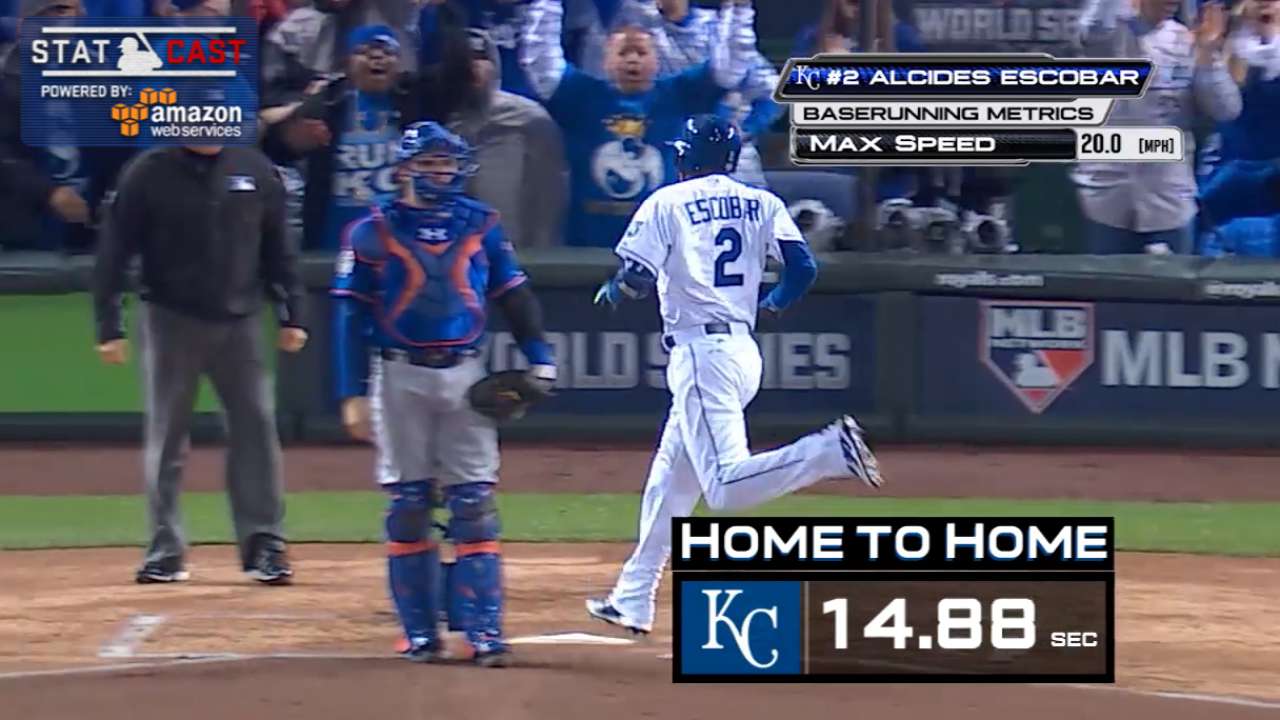 KANSAS CITY -- World Series home runs are the stuff of dreams, but Royals shortstop Alcides Escobar didn't dare dream about the inside-the-park homer on the first pitch of the bottom of the first during Tuesday night's 5-4, 14-inning Game 1 victory over the Mets.
When one runs that far, that fast in a dream, he usually wakes in a cold sweat.
• Shop for Royals World Series gear
"Nobody wants to hit one inside the park," Escobar said, after the Royals took a 1-0 lead in the best-of-seven set, which continues Wednesday on FOX (air time 7:30 p.m. ET, game time at 8 p.m.). "When you hit it, you say, 'Maybe that's a double or a triple.' When I touched home plate, I said, 'Wow. That's a long run right there.'"
Escobar had another important run, the game-winner on Eric Hosmer's sacrifice fly to right against Bartolo Colon in the bottom of the 14th. Escobar coasted, and Curtis Granderson's throw almost beat him.
"[Jarrod] Dyson was giving me a sign like, 'Slide! Slide!'" said Escobar, who didn't. "When I saw the replay, I thought, 'Ah, that's close.'"
• Did you know? 14 facts about 14-inning Game 1
Assisted by the confusion of Mets center fielder Yoenis Cespedes and left fielder Michael Conforto, as well as the derring-do of Royals third-base coach Mike Jirschele, Escobar ran breathlessly into the World Series record books.
The 12th inside-the-park home run in World Series history, Escobar's feat was the first since George "Mule" Hass' three-run sprint helped the Philadelphia A's overcome an 8-0 seventh-inning deficit in a 10-8 victory in 1929 that went down as part of the Chicago Cubs' tragic lore.
Brooklyn Dodgers center fielder Hi Myers had a first-inning inside-the-park homer, with two outs, off Boston's Babe Ruth in Game 2 in 1916, so two of the three 14-inning World Series games in history featured inside-the-park homers.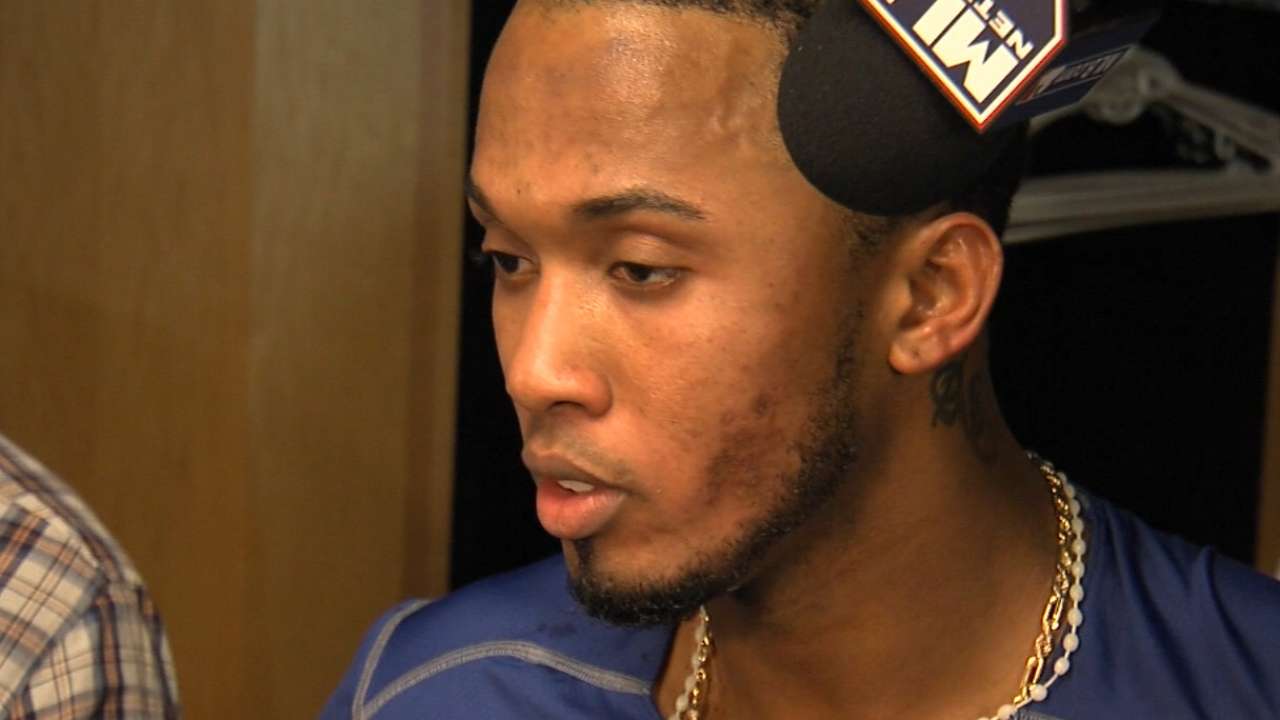 Escobar's was just the second first-pitch homer in Series annals. The other belonged to the Yankees' Derek Jeter in Game 4 in 2000 against the Mets.
Conforto said he didn't "want to make an excuse," but he thought Cespedes called for the fly ball in left-center.
Cespedes, who made an awkward stab and knocked the ball into the left-field corner, said, "I didn't say anything."
The ball hit Cespedes' inner right ankle and Escobar said he lost sight of the ball when it was rolling along the warning track and fence.
"Then I saw my third-base coach, and he sent me to home plate," Escobar said. "I said, 'Wow. Where's the ball?'"
There was not even a throw home.
"Yeah, it should have been caught," Mets manager Terry Collins said. "But it wasn't caught."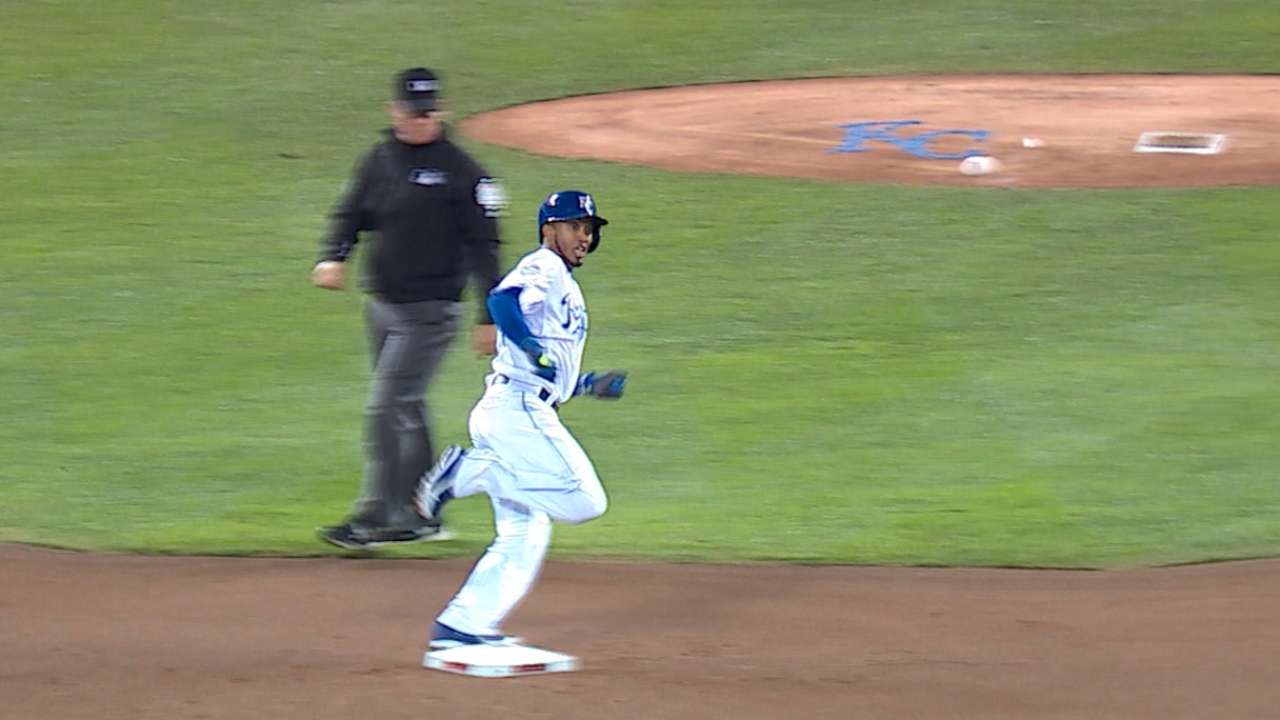 Escobar rounded the 360-foot diamond in 15.086 seconds, according to Statcast™. Of the nine inside-the-park homers in the Majors this season, Escobar's was fourth-fastest, behind the Marlins' Dee Gordon (14.241 seconds on June 30), Dyson (14.719 seconds on July 8) and the Phillies' Aaron Altherr (14.901 seconds on Sept. 25).
Dyson, whose round-tripper came when the Rays' David DeJesus missed a diving attempt at a short fly ball in left, was entertained by Escobar's sprint -- and happy it wasn't him.
"That's something I don't get to see often, seeing guys run hard," Dyson said. "When I do, I take advantage of looking at it. It looked good from the side."
In the 14th, Escobar reached on an error on a ground ball off the chest of Mets third baseman David Wright. In going to third on Ben Zobrist's single, Escobar turned his right foot slightly while stepping on the bag. But he was ice-free and in sandals postgame and insisted it's not a concern.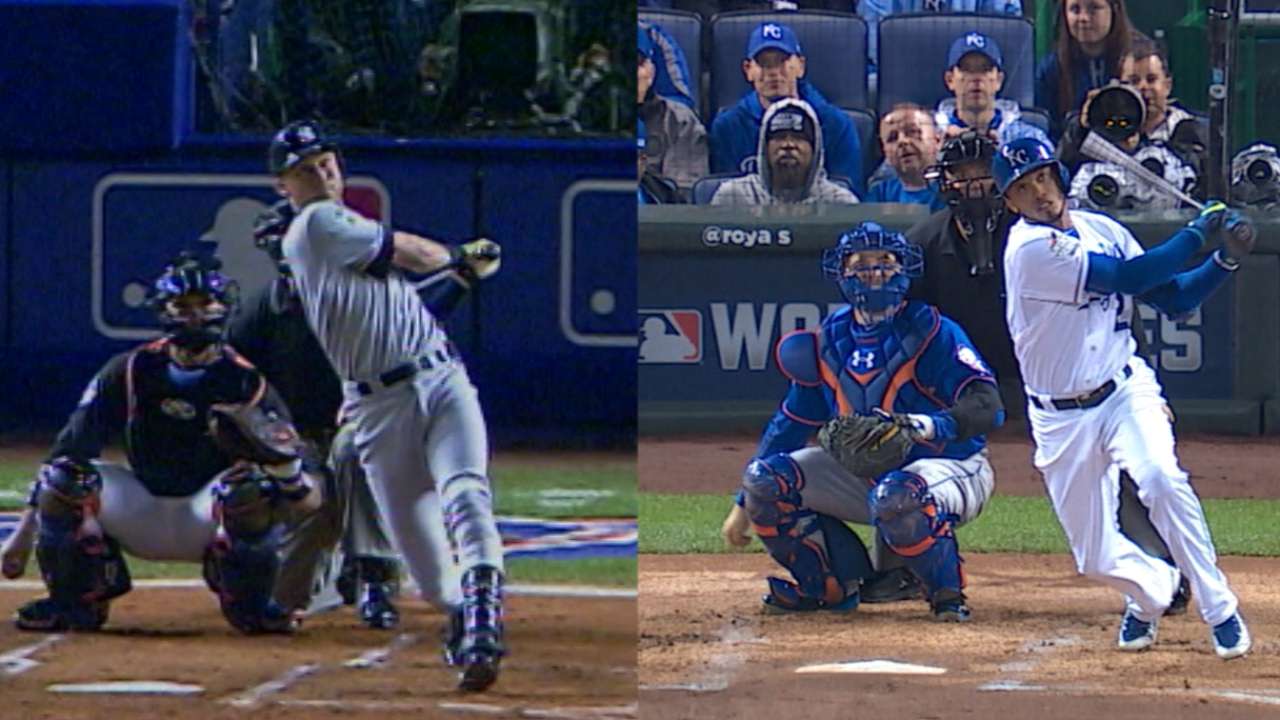 From beginning to end, it was an eventful night that required more work than expected.
"Nobody wants to play 14 innings," Escobar said, smiling. "Everybody wants to play nine innings. But it happened tonight and we'll get ready for tomorrow."
Thomas Harding is a reporter for MLB.com. Follow him on Twitter @harding_at_mlb, and like his Facebook page. This story was not subject to the approval of Major League Baseball or its clubs.