Twins fan favorite Hunter announces retirement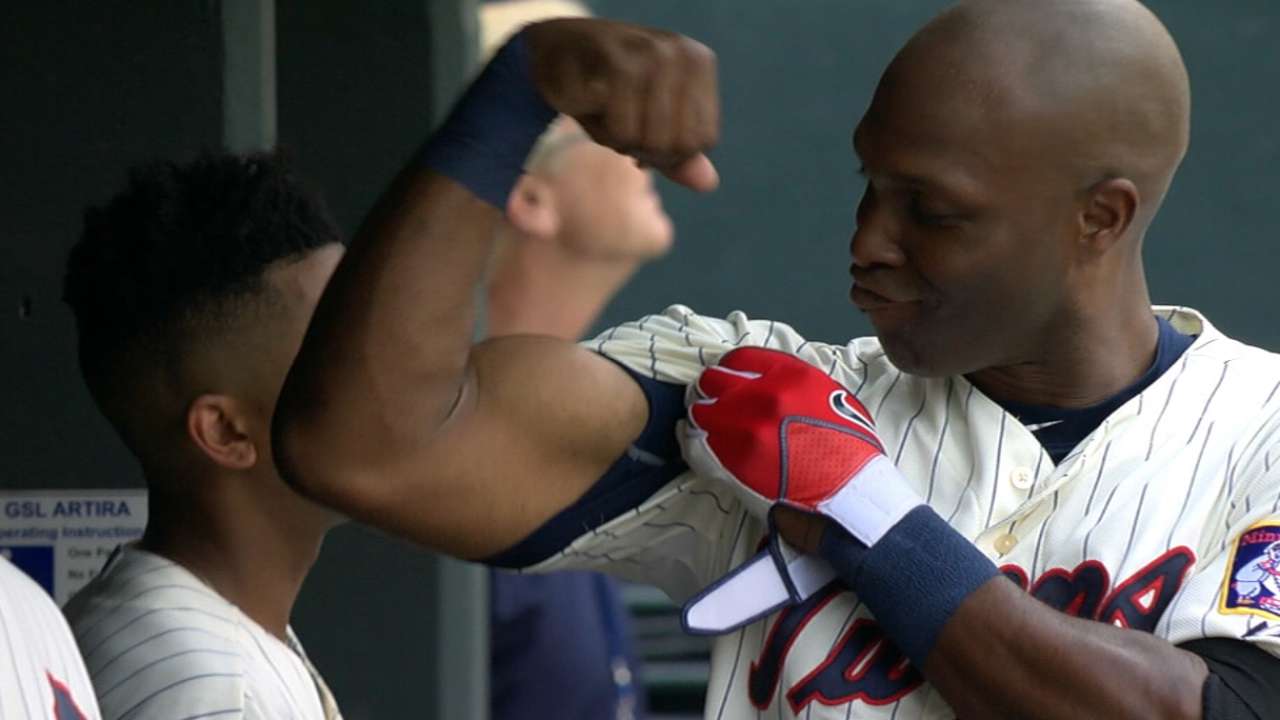 MINNEAPOLIS -- After a 19-year Major League career that saw him win nine Gold Glove Awards and be named an All-Star five times, veteran outfielder Torii Hunter announced his retirement on Monday.
Hunter, 40, played 12 years with the Twins, including last season, when he came back on a one-year deal to be the club's regular right fielder after playing five seasons with the Angels and two with the Tigers.
"My family and I feel as though the time has come to close the door on this chapter in my life," Hunter wrote in an Instagram post. "I've been married to the game for many years and now it is time to start a new chapter. I have learned a lot during this journey, and I appreciate the opportunity that God has given me to play this great game. Some will say that I am retiring from baseball; but I will say that I am transitioning, because baseball will be a part of my life forever."
Hunter, taken by the Twins with the No. 20 overall pick in the 1993 Draft, finishes his career a .277/.331/.461 hitter with 2,272 hits, 353 homers, 195 stolen bases and 1,391 RBIs in 2,372 games. He's one of only five primary center fielders with at least 2,000 hits, 350 homers and 175 stolen bases, joining Willie Mays, Ken Griffey Jr., Ellis Burks and Carlos Beltran, per ESPN Stats and Info. Hunter's 50 Wins Above Replacement (WAR) also ranks 21st among primary center fielders in MLB history, according to baseball-reference.com.
Congrats to Torii hunter on a unbelievable career! The game is gonna mis you big bro! Go home and enjoy your fam, I got it from here

— Denard Span (@thisisdspan) October 27, 2015
"I'm sad because it's all I've known for half of my life," Hunter told the Minneapolis Star Tribune. "This great game of baseball has done so much for me. I have learned a lot of lessons. They say baseball is life and life is baseball, and I used baseball and applied it to my life. So I got through a lot of hardships and a lot of hard times and I learned from them and I made adjustments, which you have to do in the game of baseball as well as the game of life. So baseball taught me a lot. But mentally, I think it's time. I still love the game, but time has taken a toll on me mentally and physically."
Hunter said after this season that he was leaning toward retiring, as he wanted to spend more time with his family and wasn't interested in a part-time role next season with the Twins looking to find playing time for youngsters Aaron Hicks, Eddie Rosario and Byron Buxton. After roughly three weeks of being home in the offseason, Hunter officially decided to hang up his cleats and isn't expected to hold a news conference to make the announcement.
Proud to say that I shared the field with @toriihunter48. Congrats on an amazing career man!

— Trevor May (@Trevmay54) October 27, 2015
Hunter ends his career on a positive note, as he helped lead the Twins to within three games of a postseason berth despite the fact that the club was nearly universally picked to finish last in the American League Central before the season. His 22 homers were his most since 2011, and he hit .275 with four homers and 17 RBIs over the final month of the season.
Though he never won a World Series ring or reached the Fall Classic, Hunter made the postseason eight times, including four times with the Twins. He hit .274/.340/.414 with four homers and 20 RBIs in 48 postseason games.
Hunter broke into the Majors in 1997 but didn't establish himself as a regular until 1999. He had his breakout season in 2001, clubbing 27 homers with 92 RBIs while winning his first Gold Glove. He helped lead the Twins to the postseason in '02 and was also an All-Star that year, making arguably the most memorable play of his career when he robbed Barry Bonds of a homer at Miller Park.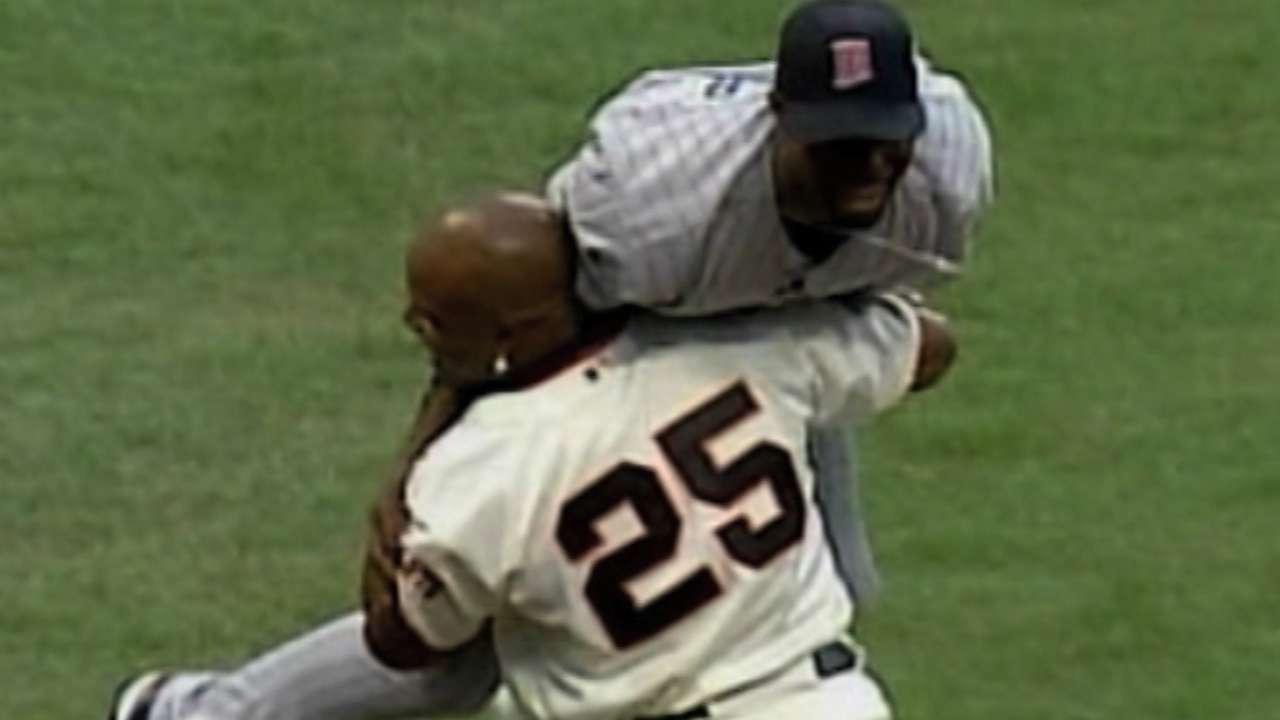 Hunter hit .271/.324/.469 with 192 homers, 126 stolen bases and 711 RBIs in 1,234 games with the Twins before joining the Angels via free agency with a five-year, $90 million deal prior to the 2008 season. While with the Angels, Hunter was a two-time All-Star, won two Gold Gloves and won his first Silver Slugger Award.
Hunter served as a mentor to Angels superstar Mike Trout during his time in Anaheim and moved to right field in 2010 to make room for Peter Bourjos in center. Hunter remained in right field for the rest of his career.
Hunter remained productive in his two seasons with the Tigers in 2013 and '14, making the American League All-Star team in '13 and winning his second Silver Slugger Award. But the Tigers were eliminated in the postseason each of those two years.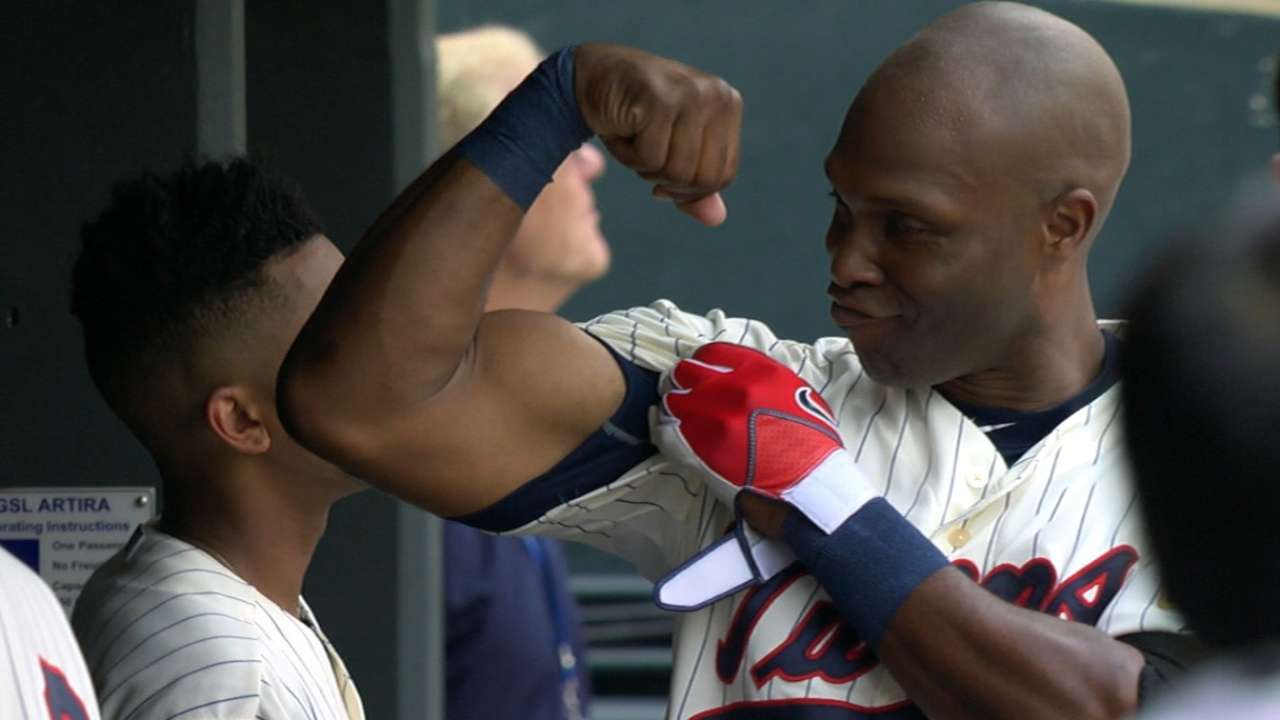 Hunter surprised some by returning to Minnesota for his final season on a one-year deal worth $10.5 million but said during his introductory news conference that he believed the Twins would be competitive, and he proved to be correct. Hunter, widely considered Minnesota's clubhouse leader, hit .240/.293/.409 with 22 homers and 81 RBIs in 139 games this season. He also helped transform the clubhouse, creating dance parties after every home win at Target Field.
Several current and former teammates took to Twitter to congratulate Hunter on his retirement, including Trevor May, Shane Robinson, Denard Span, LaTroy Hawkins and Pat Neshek.
Rhett Bollinger is a reporter for MLB.com. Read his blog, Bollinger Beat, follow him on Twitter @RhettBollinger and listen to his podcast. This story was not subject to the approval of Major League Baseball or its clubs.