Series trip testament to Collins' perseverance
In pro ball since '71, Mets manager in first Fall Classic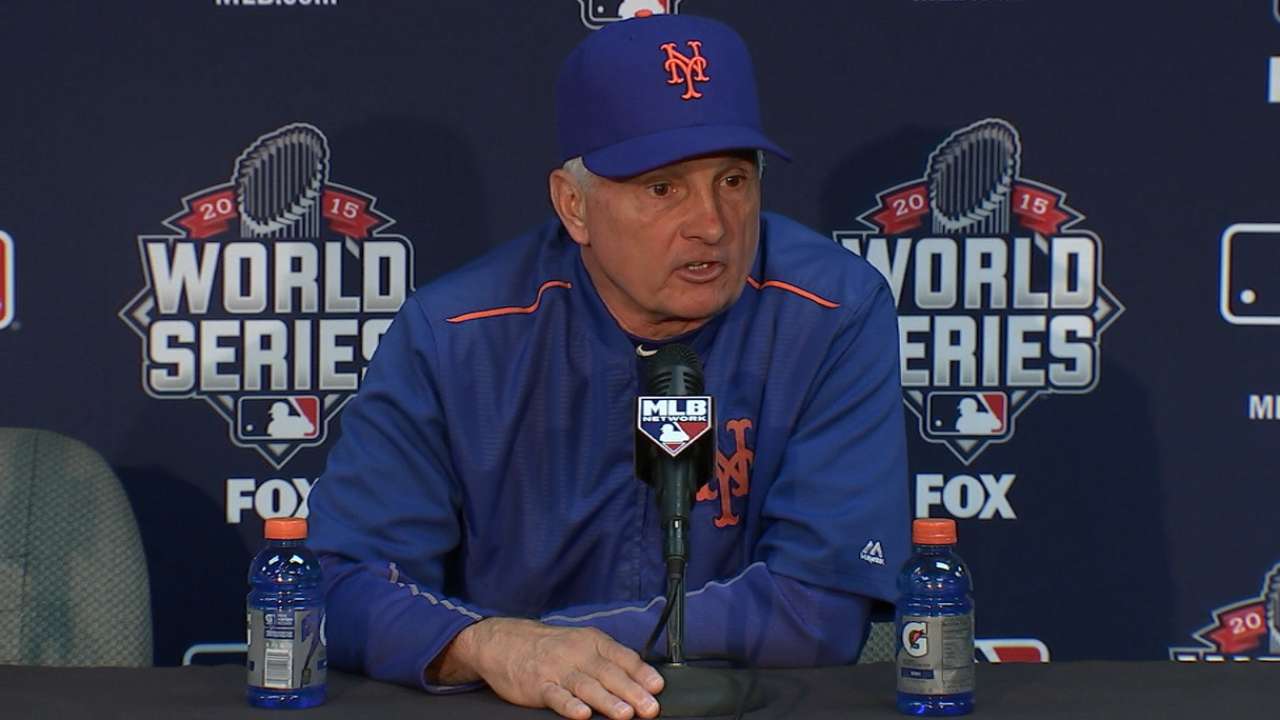 KANSAS CITY -- Back when Terry Collins was on Jim Leyland's Pirates coaching staff in the early 1990s, Leyland extended an open invitation for Collins to attend his daily media sessions. Though this was not entirely unique for Leyland, it was also not exactly industry standard. Leyland reserved the honor for those he felt held the brightest futures in baseball.
Collins qualified. Within three years, he would be manager of the Astros, then of the Angels, then finally -- after years of creating a better self in the Minors and Japan -- with the Mets.
• Dress for the World Series with Mets gear
"You could tell he just had a passion for the game," Leyland said in a telephone interview Monday, on the eve of the World Series. "He just had a real feel for it. You could tell even back then he wanted to pursue a career in it -- a long career in it. You could tell he wanted to accomplish something. And obviously, he's done that."
The road was longer than Collins would have liked. Since the Pirates drafted him as a player in 1971, Collins has spent 44 years in professional baseball. Only now has he reached the Major League postseason in any context, let alone the World Series, which begins Tuesday (7:30 p.m. ET air time on FOX, 8 p.m. game time).
But everything that happened along the way primed Collins for this, teaching him to savor the moment. As Collins stepped into his first official World Series news conference Monday, he made sure to crack a joke at two reporters dressed alike before taking a question. He reveled last weekend in a call from former National League MVP Don Newcombe, one among a sea of well-wishers to flow to him. The characters from the stories Collins likes to tell on lazy Sunday afternoons, harkening back to his summers managing in the Pacific Coast League or Japan, have come to life this week on his phone.
Popular guy? Try talking to Collins for more than 60 seconds at the Winter Meetings, baseball's annual Who's Who convention, and see if someone doesn't interrupt for a handshake. Turns out he has made plenty of friends during his four and a half decades in the game.
"I'm thrilled to death to be here," Collins said Monday at Kauffman Stadium. "I can honestly tell you, baseball for 45 years, it tells you how hard it is to get here. So you better enjoy it, and I'm enjoying it."
For Collins, the path has been circuitous. After leaving Leyland in 1994 to manage the Astros, Collins battled to a trio of second-place finishes, but landed on his feet with a job in Anaheim. There, things grew ugly when a team with high expectations finished in fourth place in 1999. Reports surfaced regarding a clubhouse mutiny. The media painted Collins as a tyrant -- an "evil devil," in his own words -- and his days as a big league manager seemed over -- if not forever, then for a very long time.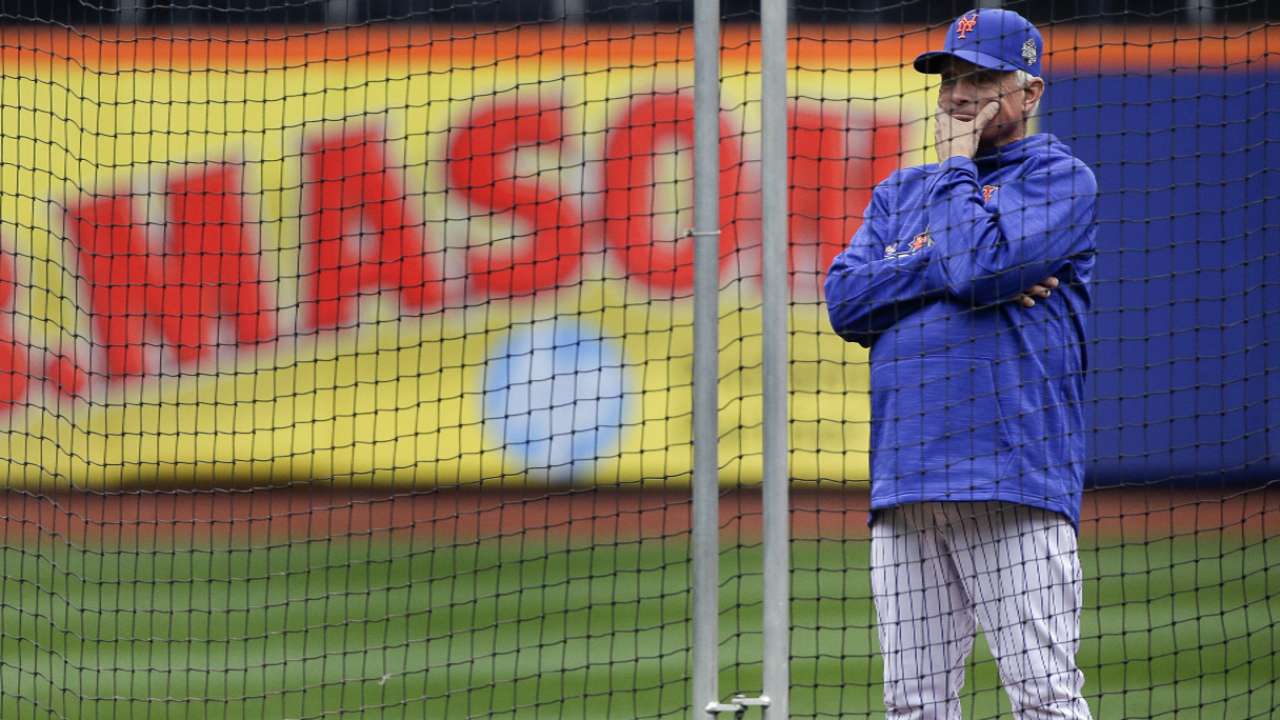 But Collins dusted himself off with a field coordinator job in Los Angeles, developing players such as Matt Kemp, Andre Ethier and Russell Martin, before eventually taking a job managing in Japan. When he returned to the States, his resume now diversified, old friend Omar Minaya came calling. That phone call turned into another field coordinator job with the Mets, who decided to interview him for their managerial vacancy.
He revels in all that's happened since.
"Especially coming in at a time when we weren't a great team, to come in and harp on attention to detail, it was tremendous," Mets-turned-Royals pitcher Chris Young said. "He's, I think, grown considerably, and their success has followed."
If there is a flaw to Collins, it is his inflexibility within games. He adores the sacrifice bunt and prefers rigid bullpen roles -- the types of things that largely new-school front offices such as the Mets do not value. But Collins has learned to adapt, working with general manager Sandy Alderson and his staff on certain issues, even leaning on a computer program to help draw up lineups. The result is an old-school manager with a bit of new-school edge, even if that's something into which he's been forced.
"Everybody's going to have their own style in terms of their personality," Mets infielder Kelly Johnson said. "But he reminds me a lot with his intensity of Bobby [Cox]. He's prepared like Buck [Showalter]. I think he lets the players and coaches do their jobs like [Joe] Maddon."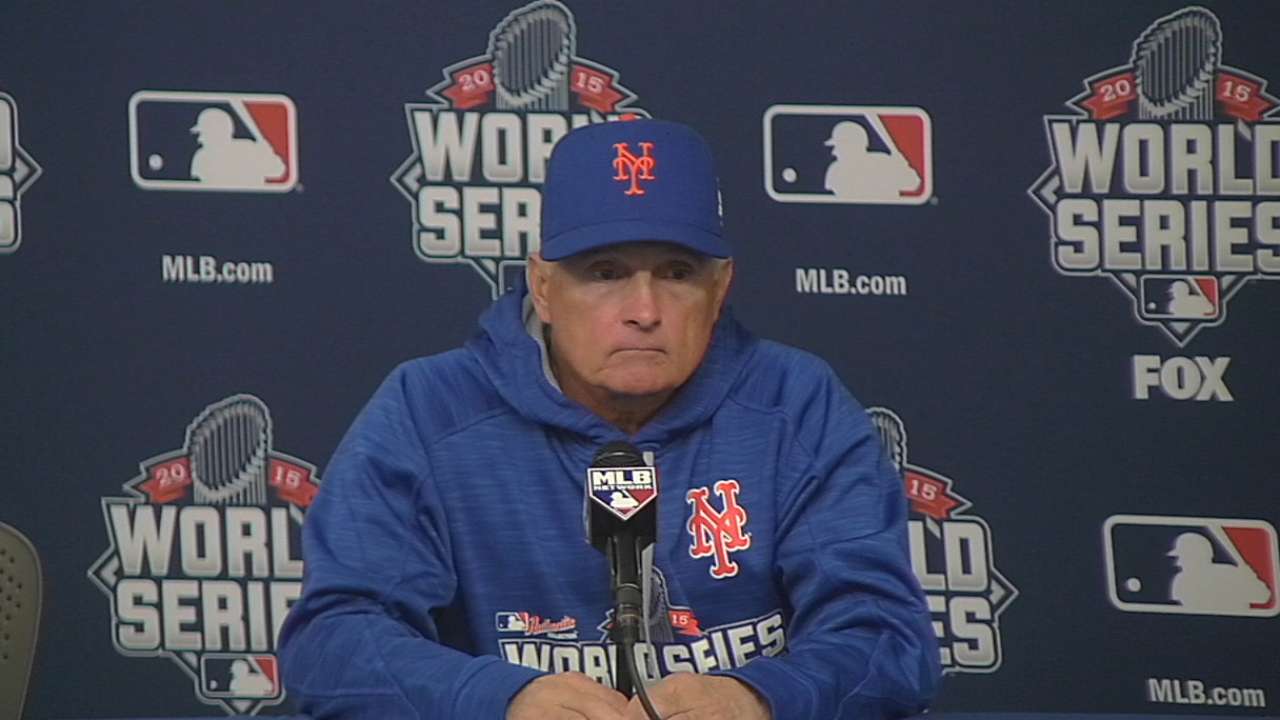 Collins, 66, is not shy in talking about his desire to leave baseball before he hits his 70s, meaning his next contract -- expect him to sign one as soon as the World Series ends -- will likely be his last. And that's just fine for Collins, who has a chance now to leave the game on his own terms, in a place he feels comfortable.
"For the fans, like the Mets fans right now, it's a party -- it's a very happy party," Leyland said. "For Terry, he's just working. He's doing his job."
Anthony DiComo is a reporter for MLB.com. Follow him on Twitter @AnthonyDiComo and Facebook, and listen to his podcast. This story was not subject to the approval of Major League Baseball or its clubs.