Madson's comeback has exceeded expectations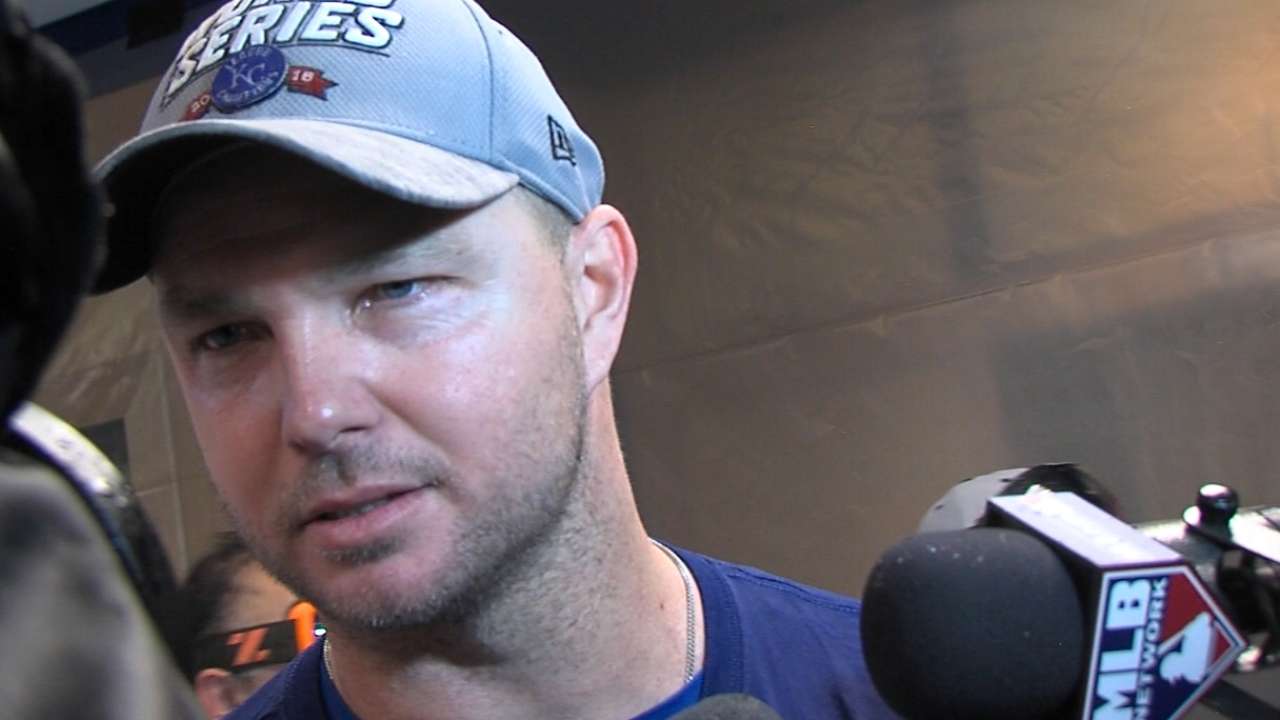 KANSAS CITY -- It was right after Christmas, atop a portable mound on the side of a sprawling Southern California home, when Ryan Madson threw his first purposeful bullpen session in nearly a year. Standing to the side was Jim Fregosi Jr., the Royals executive who signed Madson out of high school and never quite gave up on him. Squatting behind home plate was Johnny Morell, the high school junior who spent the summer training under Madson and, indirectly, helped inspire his comeback.
Madson unleashed a handful of fastballs at full intensity, and the life and the run was there.
• Dress for the World Series with Royals gear
He threw his trademark changeup, and he noticed that dive and that depth that it always had.
Then the adrenaline began to course through his body, and suddenly Madson realized there was no turning back.
"It was fun," he said, "but it was scary -- because I knew what I was getting myself into. It was that final push to go do it, and I had no idea what the future held for me."
Madson just wanted to see if he could pitch without pain, because he was still in his mid-30s and because part of him would've always regretted not trying. He never thought he would crack a stacked Royals' bullpen out of Spring Training, or that he would evolve into a setup man down the stretch, or that he would find his way back here, in the World Series, getting ready to face the Mets (Game 1 from Kauffman Stadium is Tuesday 7:30 p.m. ET air time on FOX, 8 p.m. game time).
"There's been a lot of bridges to cross," Madson, 35, said. "It's been a rough ride."
Madson pitched on this stage from 2008-09, as a setup man for a Phillies team that beat the Rays and then lost to the Yankees in consecutive World Series. Two years later, he was Philadelphia's closer amid a 102-win season. And then, over the next three years, Madson didn't throw a single competitive pitch.
He thought he had a four-year extension with the Phillies, but it fell apart. He signed a one-year, $8.5 million deal with the Reds, but he tore his ulnar collateral ligament in Spring Training and spent the 2012 season recovering from Tommy John surgery. He signed an incentive-laden contract with the Angels the following November, but got released with two months left in the 2013 season and never made it back.
Late in that year, Madson took a suggestion from then-teammate Robert Coello and visited a biomechanical facility in Phoenix called EVO UltraFit.
A man named Jay Schroeder owns it. He's 60 now, with a passion for drag-racing motorcycles that reach speeds of 215 mph. He knows nothing about baseball, but he's become an expert on the human brain.
"I'm not a baseball coach -- I never will be. I never want to be," Schroeder said. "I don't know much about baseball. What I do know is how humans are designed to move. If I put Ryan in the right position, then he can throw a baseball 96 mph injury-resistant. That's what I did with him."
Schroeder strapped Madson up to a machine that stimulated his arm with electrodes. Slowly, the discomfort began to dissolve. Over the course of the next three months, he regained the functionality in his arm, to the point where he felt ready enough to stage a tryout in front of prospective suitors in January 2014.
Madson threw in the mid-90s that day. Scouts were intrigued, but only offered Minor League contracts. His wife was pregnant with the couple's fifth child, and Madson felt "burnt out" from two full years of rehabilitation.
"My heart wasn't in it," Madson said. "So I just went home, and I thought I was done. I was 99-percent sure that I was done."
Fregosi lives eight miles away from Madson in Temecula, Calif. He signed him out of nearby Valley View High School and always felt Madson should stay involved in the game, even if he wasn't pitching in it. So around July 2014, Fregosi asked Madson if he would work with Morell, one of his son's high-school teammates.
"I just think he's a neat person," Fregosi said of Madson, "and I wanted him back in the game one way or the other."
Morell grew up a diehard fan of the Phillies teams Madson starred for. Madson charged him $125 for 90-minute sessions for the first couple of weeks, then stopped charging altogether.
Almost daily, the two would meet at Madson's mother-in-law's house, which sits on two and a half acres in Riverside County. They'd long toss, do squatting drills, and then Madson would catch Morell's bullpen sessions, occasionally stepping on the mound only to re-emphasize a technique.
"We just became good friends, and it was really fun for Ryan," said Morell, now a senior living in Arizona and committed to Grand Canyon University. "I don't think he looked at it as just having to help this kid."
Afterwards, Morell and Madson would spend about an hour talking about pitching. Morell's father would come by and tell Madson that he needed to give this baseball thing a shot again, and Madson would smile politely and bow his head.
"No, no," he'd say. "Just worry about your boy."
But slowly, secretively, Madson was starting to get the itch again. In late December, he called Fregosi and asked if he would watch him throw a bullpen session, because he knew that, at the very least, Fregosi would be honest.
Twenty pitches in, Fregosi had all he needed.
"His arm was working again," said Fregosi, a special assistant to Royals general manager Dayton Moore. "He had pretty good extension out front and he showed the ability. I didn't even take a radar gun. I wasn't worried about his velocity. I was just worried about how his arm worked and how he worked. Because I knew if he was healthy, he was going to be able to throw again. Then he threw a few changeups, it looked good, and I was like, 'OK, I'm going to call the office.'"
Fregosi signed Madson to a Minor League contract with a Spring Training invite and no other guarantees on Jan. 4. Over the next six weeks, Madson put on about 20 pounds, bulked up to 230 and continued to train at EVO UltraFit. He wasn't sure if he could survive an entire season until about late March. But somehow, Madson wound up posting a career-low 2.13 ERA and 0.96 WHIP, with a fastball that averaged 95 mph and a changeup opponents slugged only .234 against.
When Greg Holland succumbed to Tommy John surgery in late September, Madson began handling the eighth inning.
When Madson blew a two-run lead in Game 6 of the American League Championship Series, his teammates picked him up.
"They bailed me out," Madson said, smiling during Monday's media availability. "I'm looking at this Series as a fresh start."
Over the last few weeks, congratulatory phone calls and text messages have poured in for Madson. He overcame the odds to produce for a team that is now four wins away from a World Series championship, but he isn't doing much reflecting.
"I haven't looked back," Madson said. "I'm afraid to. I don't want to. I don't want to yet. It's not over yet. There's still a lot of work to do, and the most important and the hardest work to do is ahead."
Alden Gonzalez is a reporter for MLB.com. Follow him on Twitter @Alden_Gonzalez and Facebook , and listen to his podcast. This story was not subject to the approval of Major League Baseball or its clubs.