Servais eager for challenge as Mariners manager
Former Major League catcher looking forward to building winning culture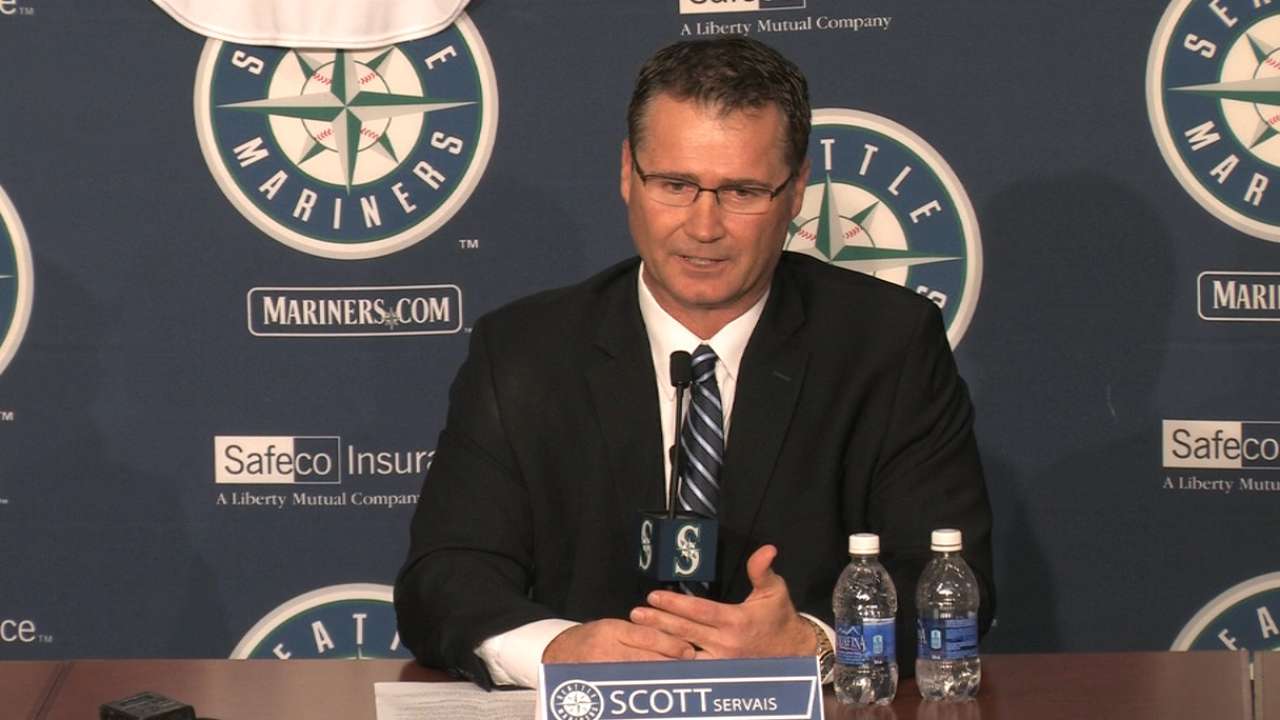 SEATTLE -- Scott Servais has never managed a baseball game in the Major Leagues, but the former catcher isn't worried about that lack of experience, nor is his new boss, Jerry Dipoto.
Servais, a 48-year-old Wisconsin native, was introduced on Monday as the 17th full-time manager in Mariners history. Servais said he's been preparing himself for this opportunity all his life, which has included 11 seasons as a big league catcher and the past 13 years as a roving instructor, scout, farm director and assistant general manager with four different organizations.
"I've learned how to develop players and more importantly, how to connect with them," Servais said during his introductory news conference at Safeco Field. "This is going to be a complete team effort. That's what it takes. Building a culture and connecting with our staff and players is what really drives me."
Servais joins a growing list of Major League managers with no prior experience in that role. Brad Ausmus of the Tigers, Walt Weiss of the Rockies, Mike Matheny of the Cardinals, Craig Counsell of the Brewers and Robin Ventura of the White Sox had never been a manager or coach before being hired. Others like Kevin Cash of the Rays, Bryan Price of the Reds, Paul Molitor of the Twins and recently dismissed Don Mattingly of the Dodgers and Bud Black of the Padres had only coaching experience on their resumes.
A month into his new job as Mariners general manager, Dipoto isn't worried about bringing on a skipper without extensive dugout time.
"I'd actually refute the idea that he's never been a manager at any level," Dipoto said. "He's been a manager at every level. Being a manager is about leading people, it's about creating a collective consciousness for the group. It's about connecting with those individuals. He has managed people, he has managed players, he has managed situations."
Servais acknowledged he'll make mistakes, like every manager, and said hiring long-time Minor League manager and coach Tim Bogar as his bench coach was important. But Servais noted he's watched 260 baseball games in the past year, as he's done every season in his player development roles, and evaluated how those games were managed as well.
"Is he using the talent in the right spots? Is he handling the players the right way? Is he letting them know what is going on?" Servais said. "I think one of the issues that comes up often is having the tough conversation with a player. It's uncomfortable. You tell a guy he's not going to play or move from the closer to the seventh inning, you have to be OK having those conversations.
"You can't fool the players. I know. I was a player," he said. "I knew when they were telling me a bunch of bull and I knew when they were being transparent and letting me know what's going on. That's how I roll. It's worked out pretty well for me in my relationship with players. They know if they ask a question, they'll get a real answer."
In that regard, Servais knows there'll be questions about whether he was hired strictly because of his long background with Dipoto. He says their familiarity is a plus.
"It's huge. It's a comfort level," Servais said. "Knowing what the expectations are and how he thinks and putting together a 25-man roster. Our relationship is well-documented. But we tend to disagree quite often and it's a good thing. There are different ways to go about putting a roster together. Different things I may see higher on the priority list than he does. But the comfort level, I know the person and he knows me. He knows where to push the buttons and I know when to push his buttons and when to back off. That's any relationship."
As for his managerial approach, Servais said he's a believer in controlling the strike zone, both as hitters and pitchers. He calls that the "line of scrimmage" for a baseball team and will preach plate discipline for his hitters and limiting walks for his pitchers. And he'll stress preparation, from the moment the Mariners arrive in Peoria, Ariz., in February for Spring Training.
"We will be prepared, I guarantee you, we will be prepared," he said. "We'll be disciplined in how we play. We will play with energy. I believe it's OK to show emotion once in a while. And we will compete every night.
"The Mariners fans deserve that. This is a chance to have a great organization and be part of building a culture. Everybody in this organization is part of building that culture and I'm going to play my role."
Servais said he'll fly to Arizona to watch James Paxton pitch in the Fall League on Friday. The skipper will head to the Dominican to catch up with Robinson Cano and Nelson Cruz, then meet with other players in the organization as well prior to Spring Training.
The man who has waited all his life for this chance doesn't want to wait any longer.
"I wish the 2016 season started tomorrow," Servais said. "I'm ready to roll."
Greg Johns is a reporter for MLB.com. Follow him on Twitter @GregJohnsMLB and listen to his podcast. This story was not subject to the approval of Major League Baseball or its clubs.