Cubs cruise beyond expectations in magical '15
Thriving rookies, clutch pitching help boost Maddon's club in impressive run to NLCS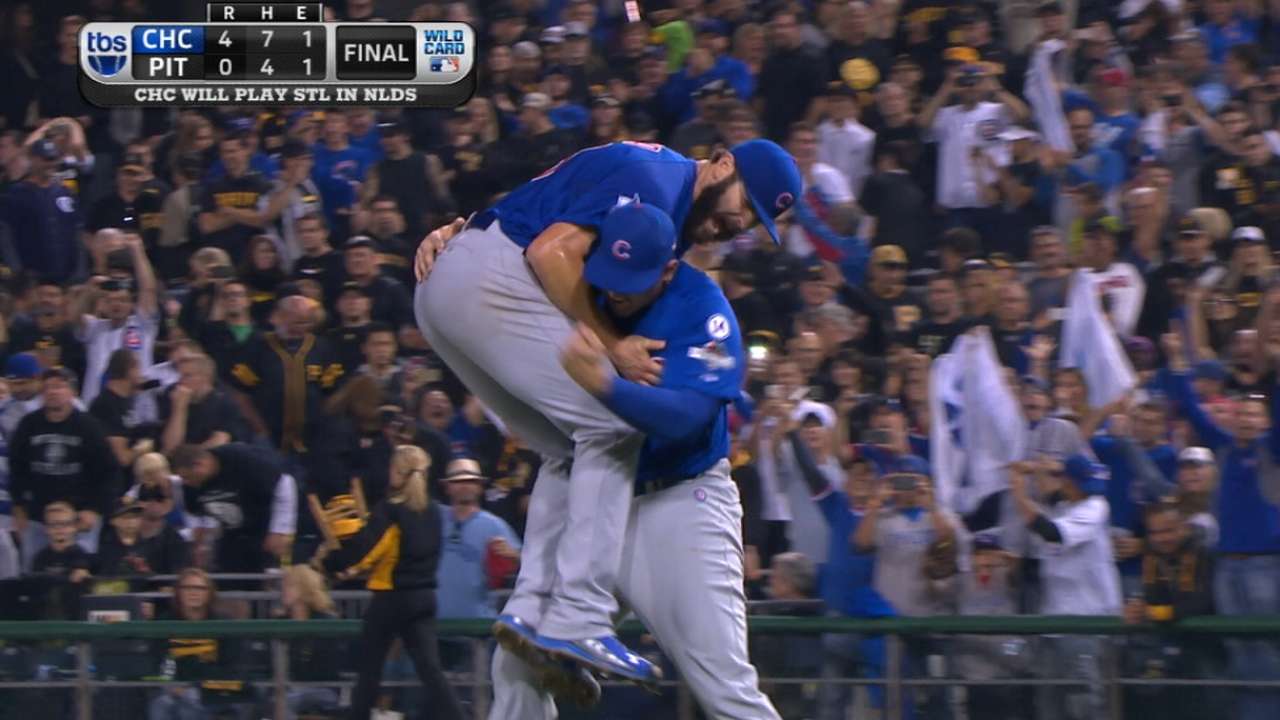 CHICAGO -- In February, just before Joe Maddon held his first team meeting, the Cubs' manager said his only expectations for the 2015 season were that his team get to the playoffs. That was a high expectation for a team that was coming off a last-place finish in the National League Central.
"I do not like playoff baseball beginning and I'm in the backyard cooking steaks," Maddon said at the time. "I want everybody else cooking steaks when we're in the playoffs in October."
• With key additions, Cubs' 2016 looks promising
This year, Maddon and the Cubs delayed their barbecues until late October, winning 97 games and a Wild Card berth. En route, they posted 13 crazy walk-off wins, watched rookies arrive and thrive and saw Jake Arrieta emerge as a force with a no-hitter at Dodger Stadium and a Major League-leading 22 wins.
They upended the powerful Cardinals in the National League Division Series, but the magical season ended when the Mets swept the Cubs in the NL Championship Series.
"The lesson to be learned here now is that they've learned how to win this season," Maddon said. "They've learned how to win at the Major League level. They were participating in the playoffs, with only four teams left, which is pretty impressive at their point of development. For me, at this point, it's been one big positive."
The Cubs had lots of fun along the way to the final four, beginning with a disc jockey in Spring Training and including a magician in New York, a pajama party in Los Angeles and zoo animals at Wrigley Field.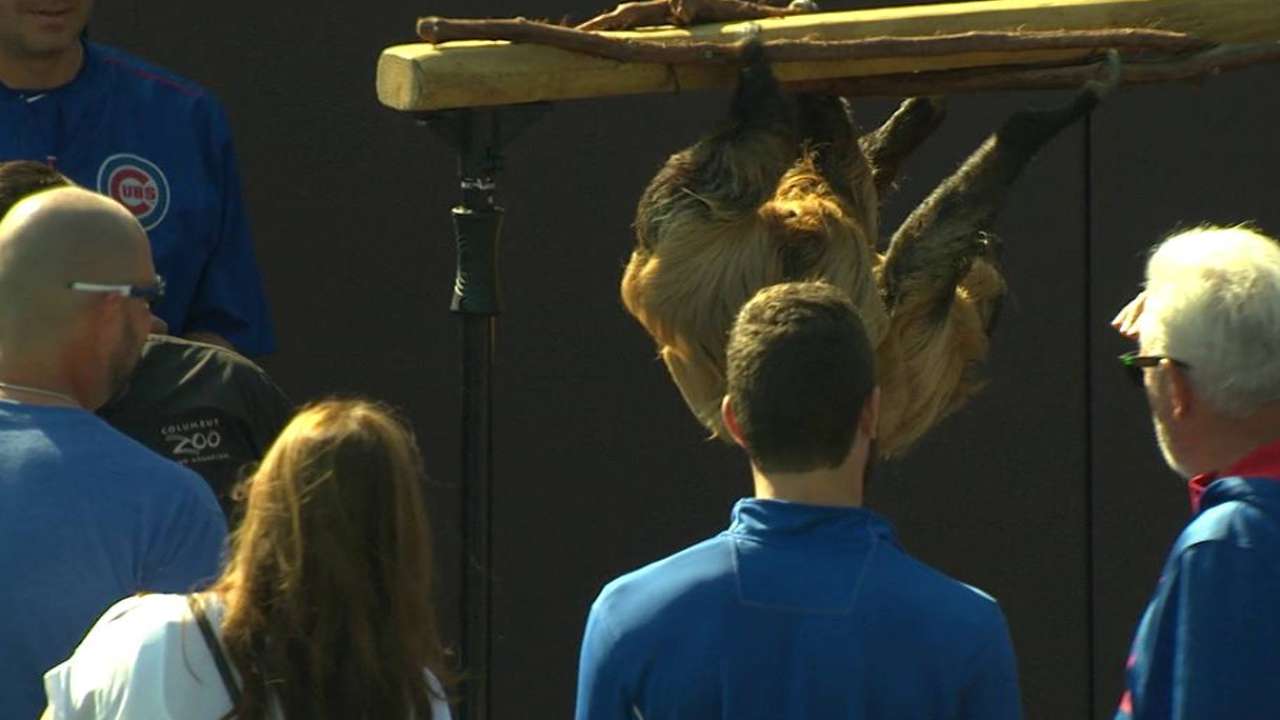 The 2015 season was supposed to be another step in the development of the kids. Guess what? They were ready, and Kris Bryant, Kyle Schwarber, Addison Russell, Javier Baez and Jorge Soler grew up before Cubs fans' eyes.
"I think we're in a place nobody expected us to be, and I think we can be proud of that," Bryant said after the last NLCS game. "We were four wins away from going to the World Series, and a lot of people didn't really expect us to be here."
Well, Maddon did. Here's a review of the wild ride in 2015.
Record: 97-65, third place, NL Central, Wild Card
Defining moment: The defending-champion Giants came to Wrigley Field on Aug. 6-9, and the young Cubs posted a four-game sweep, with the rookies driving in 16 of the 22 runs scored. In the first game, Schwarber smacked a three-run homer in the second in a 5-4 victory, which moved Chicago a half-game ahead of San Francisco in the Wild Card race. Schwarber hit a two-run tie-breaking single and Soler added a two-run double the next day to back Jon Lester in a 7-3 win. The next day, it was Bryant's turn as he hit a two-run homer and drove in another run in an 8-6 win. Arrieta capped the series, combining with Justin Grimm and Hector Rondon on a seven-hit shutout. Bryant and Russell each drove in a run.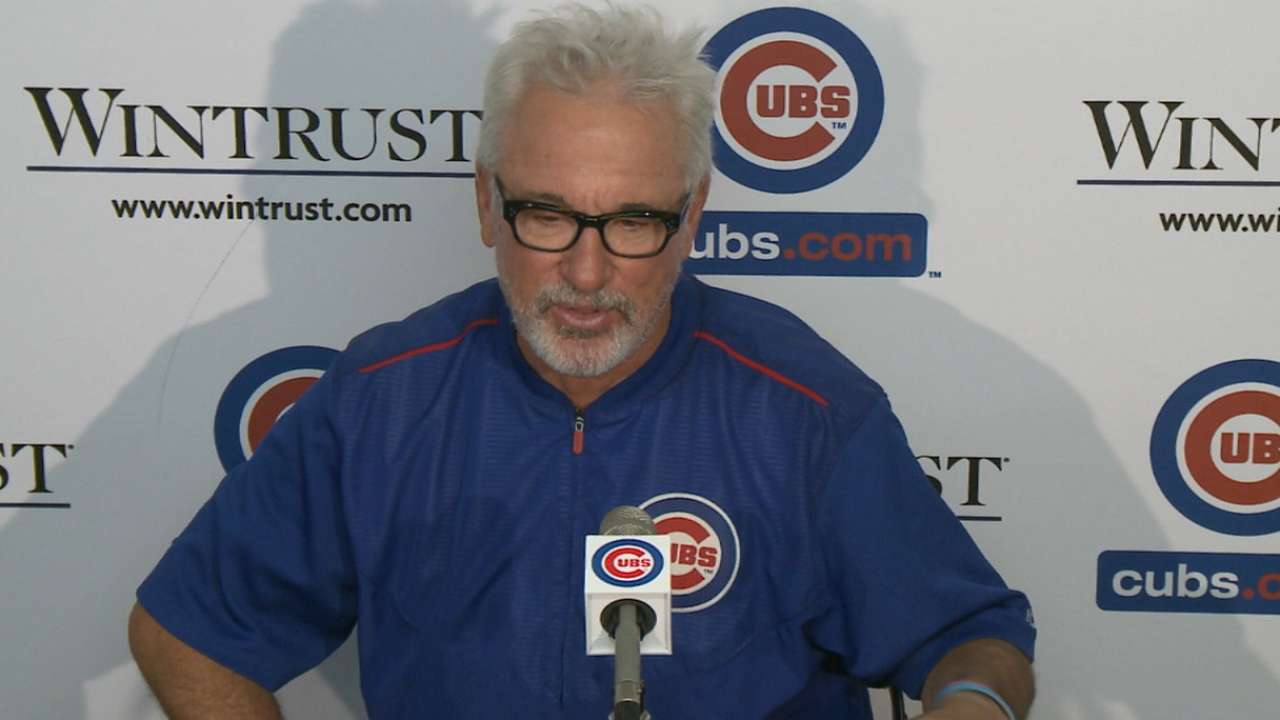 This series was also key because Maddon benched three-time All-Star Starlin Castro in the second game, opting to move Russell to short. Castro did rally, switching to second base, and led the NL with a .426 batting average in September.
What went right: The kids could play. A leading candidate for NL Rookie of the Year, Bryant led Major League rookies in several offensive categories, including home runs (26), RBIs (99), doubles (31), and runs (87) and was second in walks (77). Schwarber was promoted from Double-A Tennessee in June to be the designated hitter in Interleague games, then came up to stay after the All-Star break. He ranked among the NL leaders in home runs in the second half with 15, and he set a franchise record for most home runs in the postseason with five. Russell was stellar at second, then really shined when he was moved to shortstop. Injuries slowed Soler in the regular season, but he batted .474 in the postseason with three homers, three doubles and five RBIs.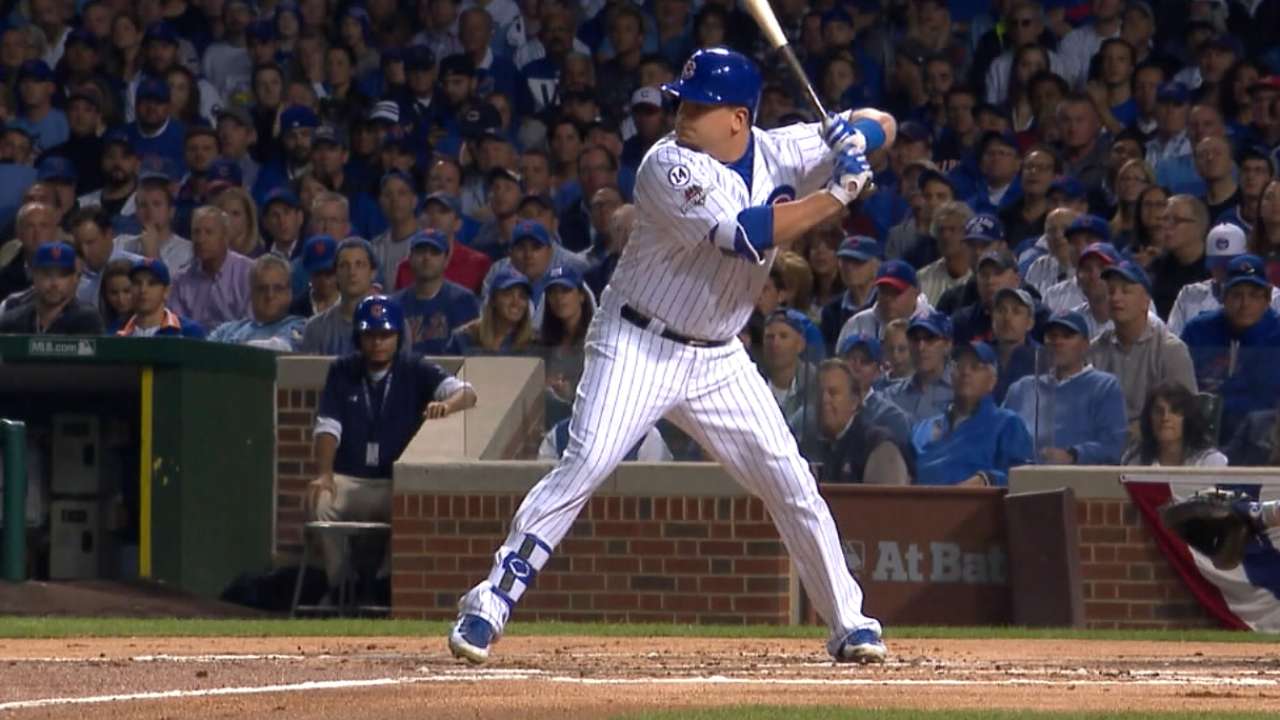 What went wrong: Not much, until the Cubs had to face the Mets in the NLCS and were outscored, 21-8. Chicago batted .236 with runners in scoring position, which ranked 14th in the NL. Cubs pitchers did rank third in the NL in ERA, but they had a tough time filling the fifth spot in the rotation. Jason Hammel had a rough second half (5.10 ERA in 14 starts).
Biggest surprise: Schwarber, 22, made it look easy in his first big league start on June 17 against the Indians, going 4-for-5 with a triple and two RBIs. In fact, the Middletown, Ohio, native did his best in his home state, and he was a combined 17-for-36 (.472) with three homers, a triple, a double and nine RBIs in nine games at Cleveland and at Cincinnati. He became a cult hero with his monster home runs, including his NLDS blast that landed on top of the right-field video board.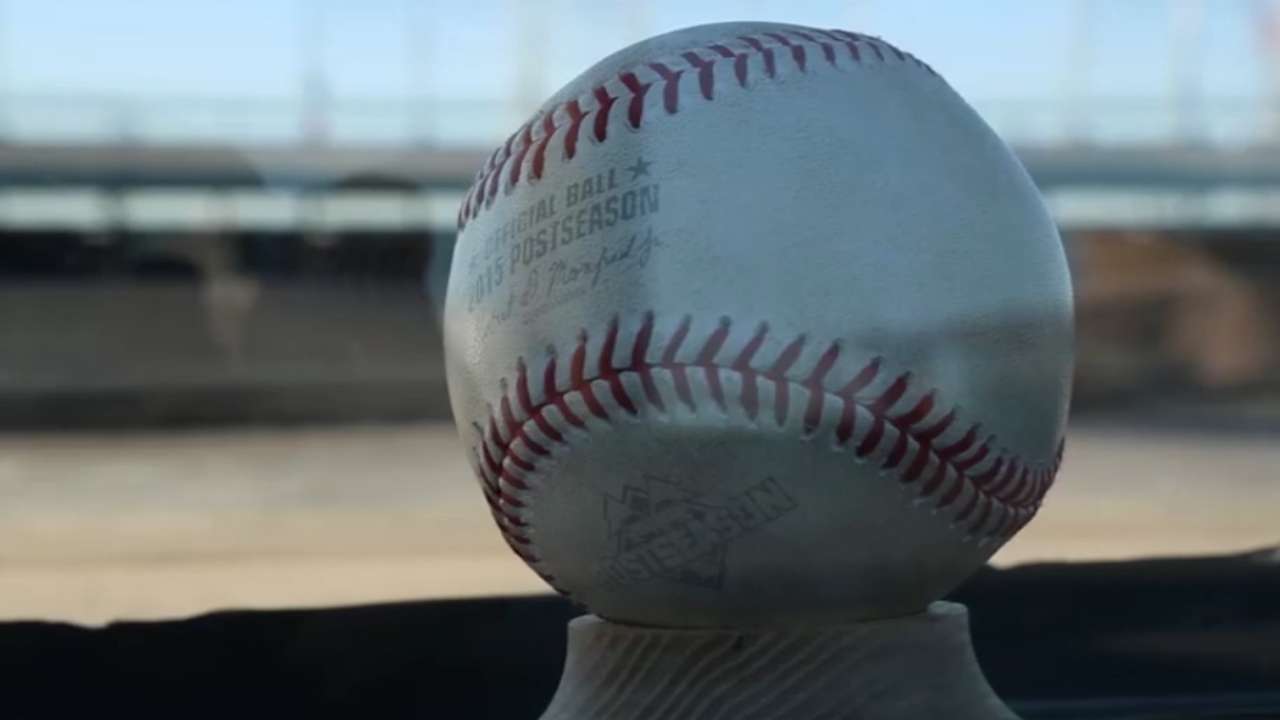 Hitter of the Year: Anthony Rizzo became the sixth left-handed hitter in Major League history to reach 94 runs, 38 doubles, 31 homers, 101 RBIs, 78 walks and 17 stolen bases, joining Babe Ruth, Barry Bonds, Ken Griffey Jr., Larry Walker and Bobby Abreu. The first baseman played 160 games, and batted .278 and showed off his glovework as well. Nothing, not even a rolled up tarp, would get in his way.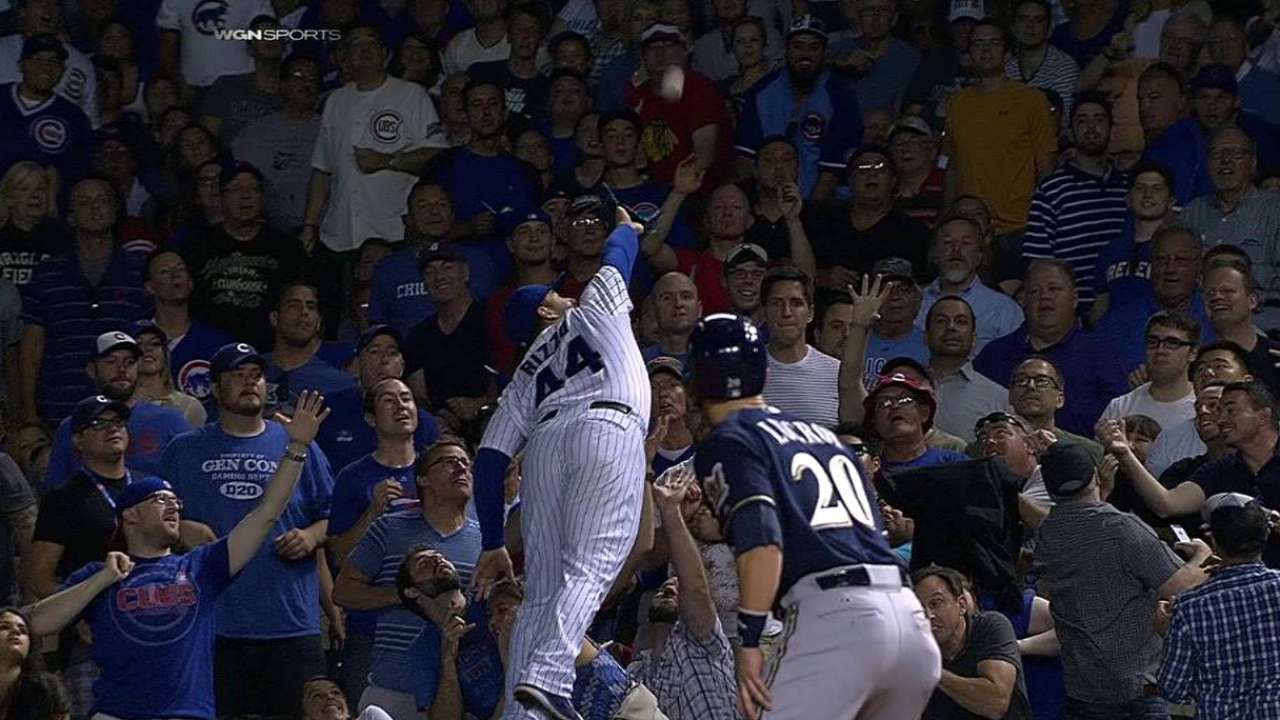 Pitcher of the Year: Arrieta led the Major Leagues with a career-high 22 wins and threw the 14th no-hitter in franchise history on Aug. 30 against the Dodgers. His 1.77 ERA was the lowest for a Cubs qualifying starter in 96 years. He's only the fifth pitcher with at least 22 wins, no more than six losses and an ERA under 2.00 since the ERA became an official stat in 1912 in the NL. His second half was mind boggling as he compiled a 0.75 ERA and went 12-1 in 15 starts. That's the lowest ERA for any pitcher from Aug. 1 through season's end since ERA became an official stat. He also is the first Major League pitcher ever to finish the year with 20 consecutive quality starts. And Arrieta didn't stop there, throwing a complete-game shutout at PNC Park in the NL Wild Card Game to beat the Pirates.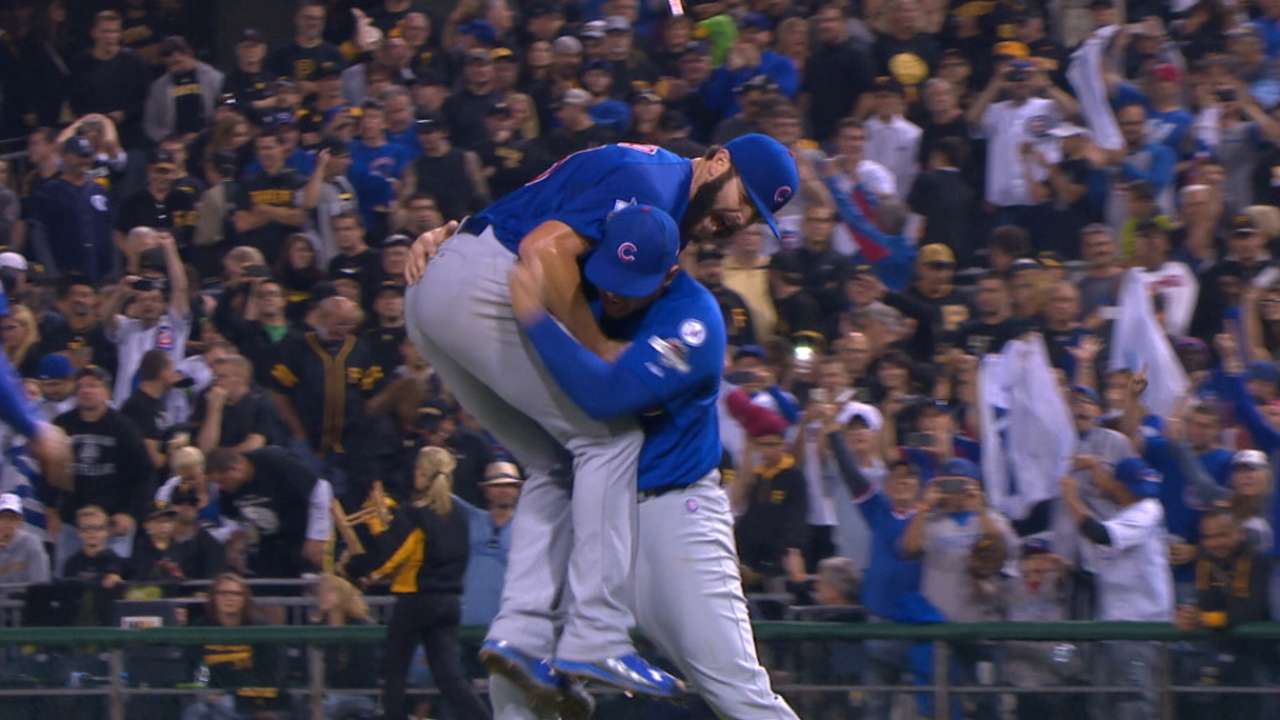 Rookie of the Year: See "what went right" regarding Bryant, 23. The third baseman totaled 17 game-winning RBIs. Since the turn of the century, only two others have done so in their rookie seasons: Albert Pujols in 2001 and Hideki Matsui in '03. And he finished the year well, hitting a two-run homer in his last at-bat in the NLCS against the Mets. Add his two homers and five RBIs in the postseason, and Bryant finished with 28 homers and 104 RBIs in his first year. Not a bad start. Honorable mention to Schwarber for his performance in the second half.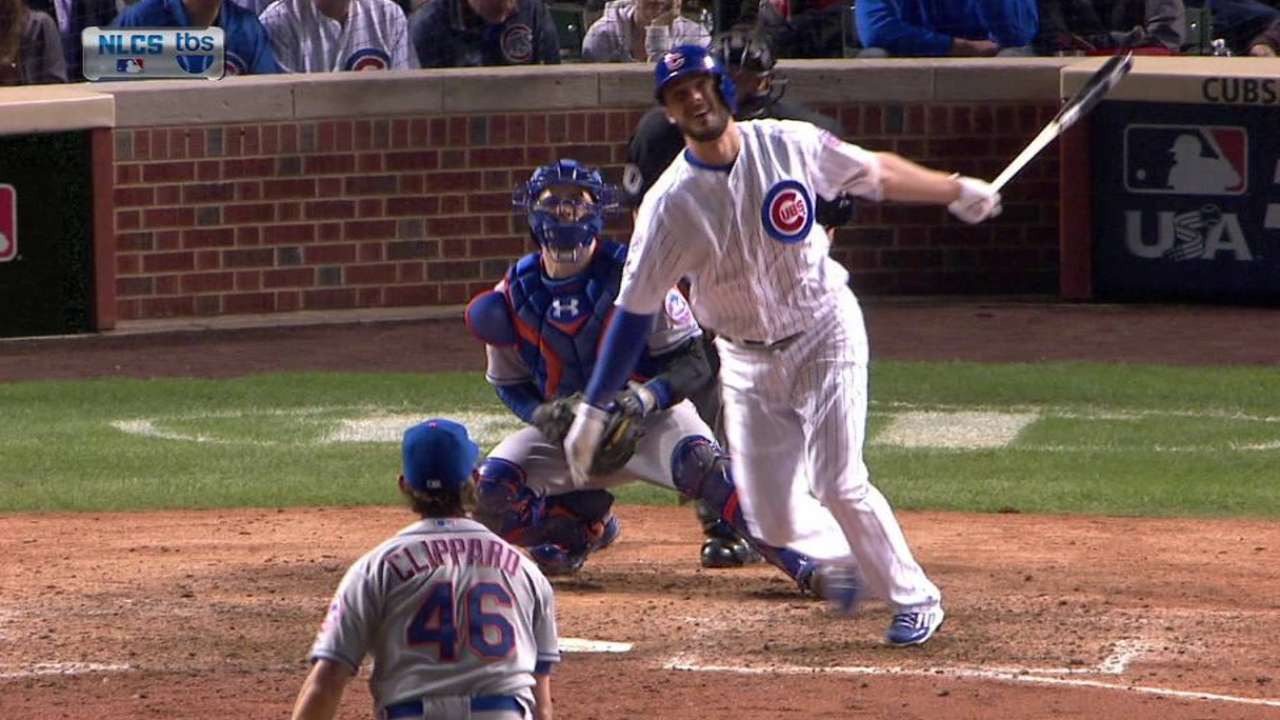 Carrie Muskat is a reporter for MLB.com. She writes a blog, Muskat Ramblings. You can follow her on Twitter @CarrieMuskat and listen to her podcast. This story was not subject to the approval of Major League Baseball or its clubs.