Mets young staff thrives under Warthen's guidance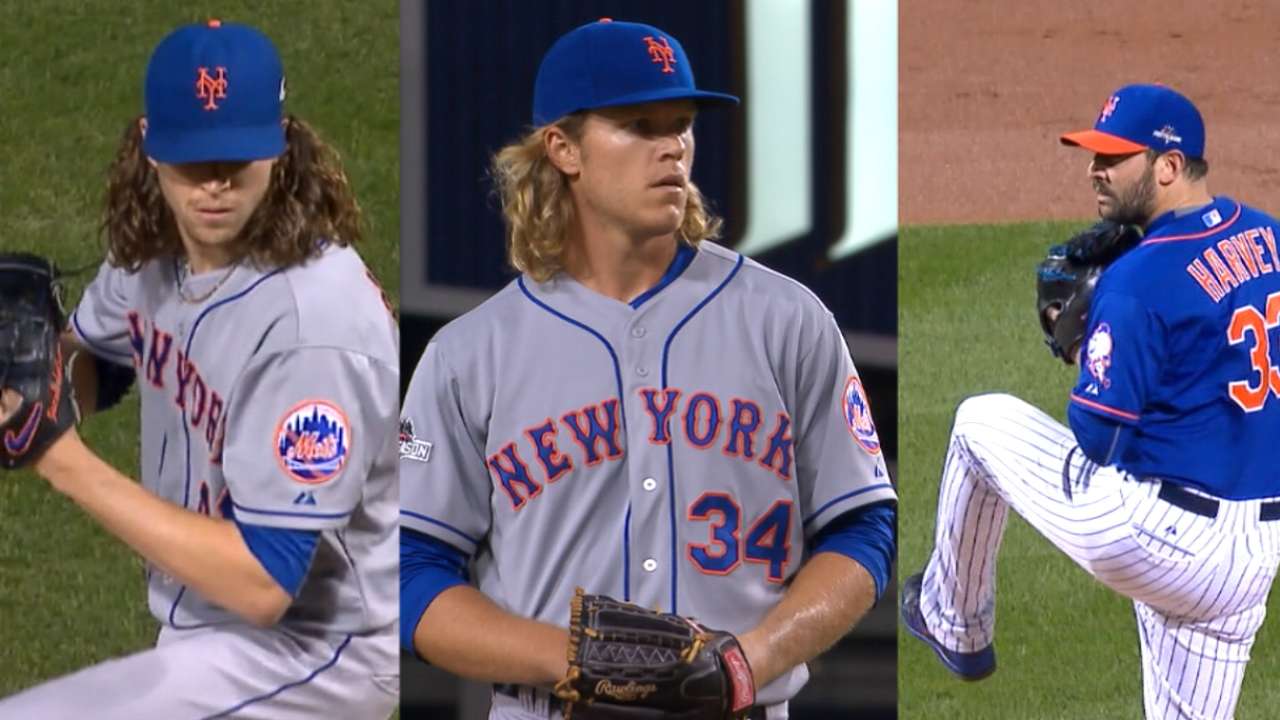 Amassing the arms was merely the first phase in the Mets' design to build a rotation anchored by its own drafted-and-developed players. They then had to choose the right man to which they could entrust the bundle of talent.
The Mets found that caretaker in Dan Warthen, former Expos lefty and longtime pitching instructor who joined the Major League staff under Jerry Manuel in 2008 and stayed on after a managerial switch a few years later. He's part pitching coach, part Papa to a group of young pitchers who have thrived under his watch.
While so many outside the organization were talking innings count, workload and stress, Warthen had his "little chickies" -- yes, those are his words -- dialed in to the same unified goal. That was to pitch the Mets back into prominence, something New York has emphatically accomplished by hoisting the National League pennant for the first time since 2000.
And aside from Daniel Murphy, it's been that pitching staff that has stolen the show. The Mets will open the World Series in Kansas City or Toronto on Tuesday with a 2.81 postseason ERA, the best of any team. After first taking down a Dodgers club that pitched a pair of NL Cy Young Award candidates twice each in a best-of-five series, the Mets held the mighty Cubs offense to a .164 batting average against in an NL Championship Series sweep.
• Celebrate World Series run with Mets postseason gear
It was dominance Warthen saw coming.
"For the last two or three years, watching these guys, knowing what was going to happen, there has really been a lot of enjoyment," Warthen said. "The incredible part of this is that we have grown together."
Warthen, 62, looks both eccentric and professorial, but he speaks like a parent. He talks particularly about the pride he has in a rotation comprised of four pitchers who entered the postseason with only 147 combined Major League starts. Almost half of those belonged to Matt Harvey.
Warthen got Harvey first, in 2012. Jacob deGrom arrived in '14. Noah Syndergaard and Steven Matz joined the group this season. While obviously working to an individual's strengths, Warthen has taken the same general philosophy to each one.
He preaches changing speeds, simplicity, open communication and first-pitch strikes, the latter something he verbally reminds his starters before each outing.
• Layoff gives Mets opportunity to set ideal rotation alignment
"He's pretty complete," manager Terry Collins said of Warthen. "He's very, very good with the mechanical side of pitching. He gets to know these guys' strengths very, very well, and then he sits down a game plan to where their strengths can be applied. ... I tell you what, our pitchers really rely on him."
Warthen, too, was once a high-round Draft pick, lured away from various scholarships offers to play collegiate football for premier programs. A second-round selection by the Expos in the 1971 Draft, Warthen debuted in '75 and went on to pitch parts of four seasons in the Majors.
Warthen doesn't detail his playing career often with his players, though they've found ways to circumvent that privacy. They've found pictures -- ones that feature their pitching coach many years younger with big hair and a distinguished mustache -- and they've marveled at what he did on the mound.
"They'll be like, 'Nine complete games in A-ball?'" Warthen said. "'Geez. I don't have one in my career.'"
Warthen has bought into the organization's philosophy of regulating workload for his pitchers because he's experienced the effects of the other alternative. He was pushed to pitch counts now considered absurd during his rookie year. Four times that season, he threw at least 130 pitches in a start. In one outing, he delivered 164.
The rest of his career was marred by arm trouble, and he retired after plummeting down to Class A Alexandria as a player/coach in 1982. His full-time coaching career began two years later.
Warthen believes he's been constantly evolving ever since.
"I think I've always done a decent job as a communicator, but I think I've become a better pitching coach," Warthen said. "Over time, you get better at noticing things and learn how to keep your mouth shut."
Warthen illustrated the latter by describing how he's found finesse to be a preferred method over force, particularly when discussing mechanics. Instead of halting a side session after three, four, five pitches to make an adjustment, Warthen will now often let his pitcher finish, even if it's a struggle.
Then comes the huddle, during which Warthen will encourage the pitcher to discard the result and get back to the process.
"Keep it simple," he'll remind them.
"He notices the smallest things," said deGrom, who won the NL Rookie of the Year Award under Warthen's watch in 2014.
On the pitch selection side, Warthen is all about diversity. The Mets followed that blueprint to great success against the Cubs in the NLCS, often pulling back from throwing heat to instead dangle offspeed offerings that Chicago's fastball-feasting offense couldn't handle.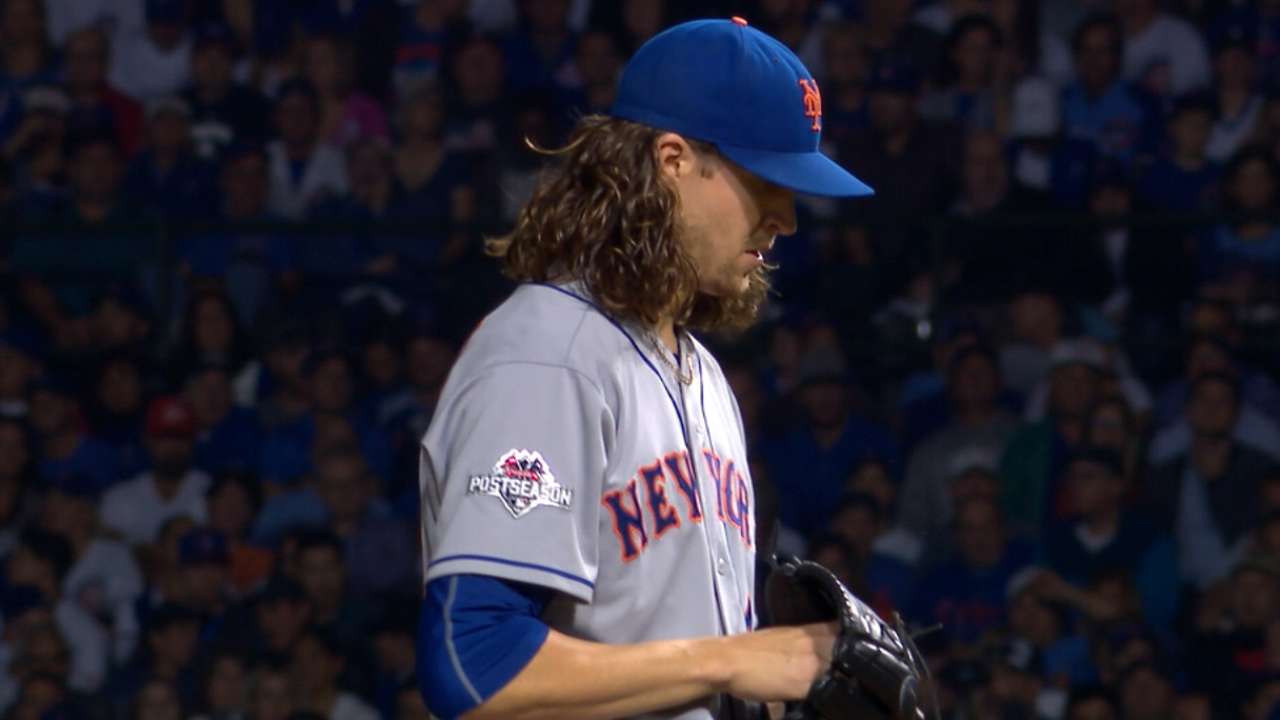 Among those offspeed pitches is Warthen's patented slider, one that he believes reduces the risk of arm injury if properly thrown.
"I just believe in using the whole baseball," Warthen said. "My philosophy is the slider should be a fastball with the middle finger getting to the front of the baseball. It gives you the tilt and it still gives you the power and you don't manipulate the baseball. And when you don't manipulate it, you don't have any stress on your elbow."
It's a slider thrown with more zip, too, as fangraphs.com calculated Harvey (89.7 mph) and deGrom (89.7 mph) as throwing the hardest sliders among all starters this season.
It's all part of the Warthen way, one that the Mets' pitchers bought into and have now ridden to the game's highest stage.
"Being able to work with Dan," Syndergaard said, "has been a true joy."
Jenifer Langosch is a reporter for MLB.com. Read her blog, By Gosh, It's Langosch, follow her on Twitter @LangoschMLB, like her Facebook page Jenifer Langosch for Cardinals.com and listen to her podcast. This story was not subject to the approval of Major League Baseball or its clubs.