Mets quartet set for appearance on 'Kimmel'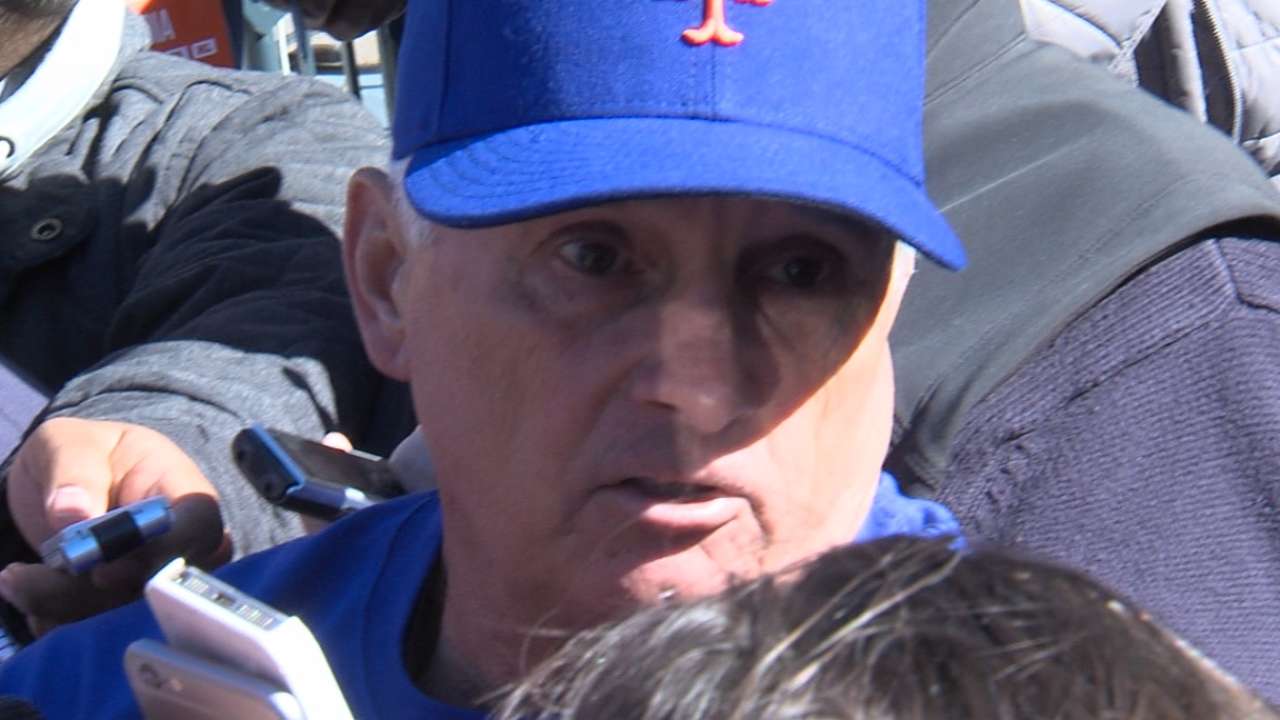 NEW YORK -- By the time the Royals and Blue Jays rekindle their fight for the right to face the Mets in the World Series -- Game 6 of the American League Championship Series is tonight at 8 p.m. ET on FS1 -- your favorite Mets will be in makeup.
Such are the perks of bringing the World Series to this side of New York for the first time in 15 years. In that light, Matt Harvey, David Wright, Wilmer Flores and Jacob deGrom are set to appear on Jimmy Kimmel Live! tonight. Kimmel, a lifelong Mets fan, is concluding a week of shooting in his native Brooklyn studio. And to ratchet up the mid-1980s nostalgia -- the Mets were last champions in 1986 -- Howard Stern and Public Enemy will appear on the broadcast as well.
The rest of the Mets will spend their evening amid an eclectic mix of plans. These are the benefits of wrapping up the NLCS almost a week early, and the Mets plan on taking advantage of the extra time. Kevin Plawecki and a few other members will enjoy the Islanders-Bruins game at the Barclays Center in Brooklyn. Manager Terry Collins, as he hopes his starting pitchers do this week, will rest. Collins was asleep by 8 p.m. during Thursday's off-day.
Tonight, though, Collins has a Friday night lineup to watch, Kimmel aside. The main event coming from Kansas City, where David Price will match up against Yordano Ventura.
"I'll watch the game tonight because we don't know these guys very well," Collins said at the Mets' voluntary workout Friday. "We played Kansas City three times last year and Toronto four times this year, so I'm going to watch the game to see what they're doing to get guys out. You don't get to see all the positioning and stuff on TV, but I'm going to watch it -- certainly to try to pick up some tips."
No matter where they are -- the studio, the rink or wherever, many of the Mets plan also to keep track of the happenings in Kansas City. All are hungry for any edge they can gain on two unfamiliar opponents.
"Everybody is going to watch the game," said Flores. "We need to know what kind of pitchers they have and what they are trying to do."
One member of the Mets who could possibly be excused, in theory, is Kelly Johnson. The utility man spent parts of the past four seasons in the AL, two as a member of the Blue Jays and two more spread out among all of Toronto's divisional opponents. Johnson is the only player ever to play on every AL East team, and he did so in a two-year span.
"I've seen a lot of the Blue Jays. I've played there, I've seen a lot of those guys and I've played in that division," Johnson said. "I've seen what that offense can do if you make a mistake. They're a tough team to pitch to. They study and they are as prepared as any lineup in the game.
"Kansas City has so much confidence that they can win. They've now done it two years in a row. That lineup is equally tough. Neither one will be easy."
Joe Trezza is an associate reporter for MLB.com. This story was not subject to the approval of Major League Baseball or its clubs.