Chapman worthy of top reliever consideration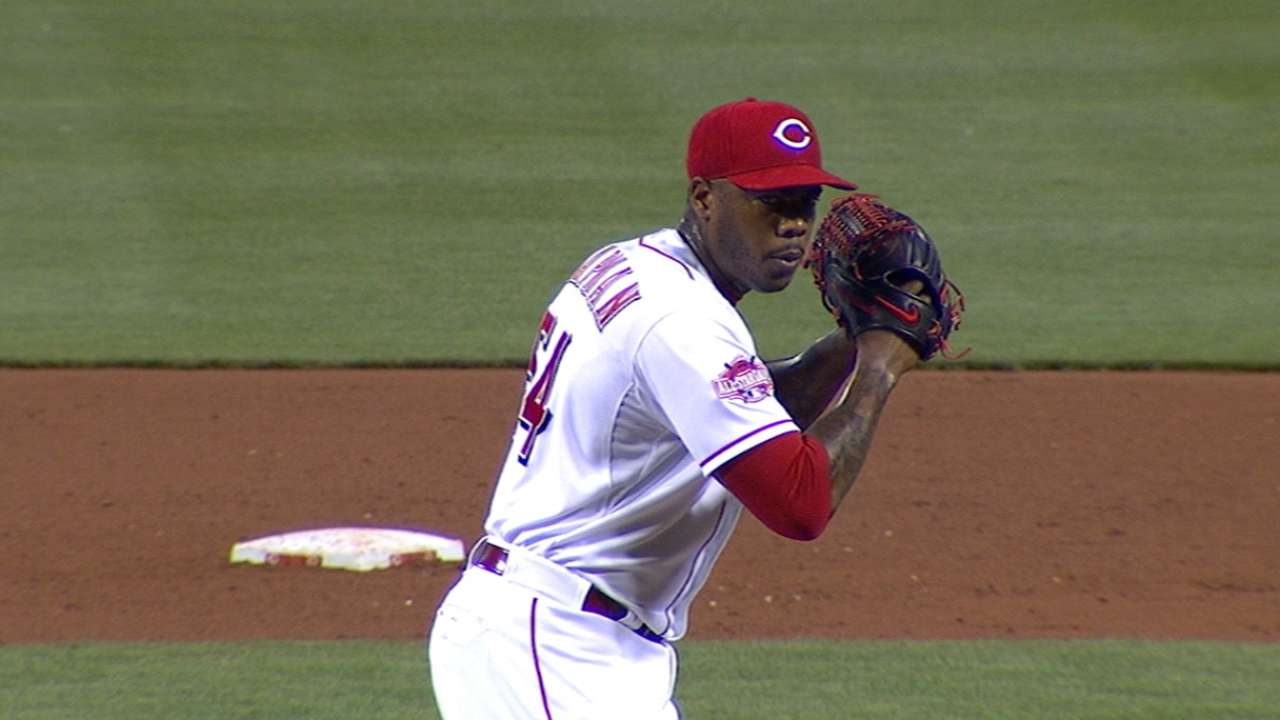 The Trevor Hoffman National League Reliever of the Year Award and the Mariano Rivera American League Reliever of the Year Award presented by The Hartford will be handed out on Wednesday, before Game 2 of the 111th World Series.
Aroldis Chapman was a runner-up to Craig Kimbrel for the NL award when it was presented last year for the first time -- Greg Holland won it in the AL -- symbolizing Major League Baseball's most important recognition of the season for a reliever, and the question now is whether all that straight invisible gas and a slew of remarkable stats for a non-contender will get the Reds' closer over the hump.
Chapman had the 61 fastest pitches (Nathan Eovaldi was No. 62) in MLB this season according to Statcast™, with an average range of 103.92 down to 102.36 mph (and 99.98 average four-seam velocity). That does not include the ninth inning of the All-Star Game, in which he struck out all three batters by throwing 12 of his 14 pitches at least 100 mph.
Beyond the sheer speed, consider this: Chapman led all NL relievers with a 2.4 WAR (according to Fangraphs.com), 1.68 ERA and 116 strikeouts. He became the first Major Leaguer to produce at least 30 saves (33 in 36 chances) and at least 100 strikeouts in four straight seasons, and the fastest to 500 strikeouts (by innings pitched) in Major League history.
While there are no official "nominees" for these awards, likely candidates could include Chapman, along with Mark Melancon of the Pirates, Jeurys Familia of the Mets and Trevor Rosenthal of the Cardinals in the NL, and Cody Allen of the Indians, Zach Britton of the Orioles, Andrew Miller of the Yankees and Wade Davis in the AL.
The awards are voted on by a nine-member panel comprised of Hoffman and Rivera, as well as fellow legendary closers Dennis Eckersley, Rollie Fingers, Goose Gossage, Bruce Sutter, Lee Smith, John Franco and Billy Wagner. The group represents the four living relief pitchers in the National Baseball Hall of Fame and is inclusive of the top six all-time saves leaders.
As part of the balloting process, all nine voters will pick three relievers from each league based solely on regular-season performance; selections are not restricted to closers. From there, a 5-3-1 weighted point system is used to determine the winners.
This hardware replaced MLB's "Delivery Man of the Year Award," which was presented to one winner in all of MLB from 2005-2013, and it continues a longstanding baseball tradition of honoring the game's top relief pitchers.
Chapman drew considerable interest from other clubs before the last Trade Deadline, and he already is the subject of trade rumors going into this offseason. But while speculation is likely in the weeks ahead, it is time for an elite panel now to look back at his 2015 season and decide whether he made enough of a difference in Cincinnati to warrant this ultimate honor.
In the 11-inning, 5-3 loss on July 19 against Cleveland, Chapman reached 500 career strikeouts in 292 innings, making him the fastest to 500 strikeouts by innings pitched. He put an exclamation mark on his season with a four-out save on Oct. 3 as he struck out Andrew McCutchen with a 2-2 fastball.
For the fourth straight season, Chapman was named to the All-Star team by player vote, making him the only Reds relief pitcher named to that many Midsummer Classics.
"I feel really happy," Chapman said through an interpreter after his All-Star showcase performance in front of hometown fans. "I can't describe it but I feel like I had so much fun. I want to do this. I'm happy I threw the ninth. I had a chance to show the fans and everybody else what they're used to seeing every night, pitching the way I do."
"He's just different from everybody else," said Taira Uematsu, the Giants' bullpen catcher who warmed up each NL pitcher after the first inning of that All-Star Game. "He was throwing way harder than [Jacob] deGrom, [Gerrit] Cole, [Clayton] Kershaw -- all those guys. I struggled to catch him. Even deGrom, he's 97-98 [mph], but it's no problem. When it comes to Chapman, it's totally different. I've never seen anything like it."
Mark Newman is enterprise editor of MLB.com. Read and join other baseball fans on his MLB.com community blog. This story was not subject to the approval of Major League Baseball or its clubs.