Colabello's HR gets Blue Jays off to quick start
Hits solo homer off Volquez in second inning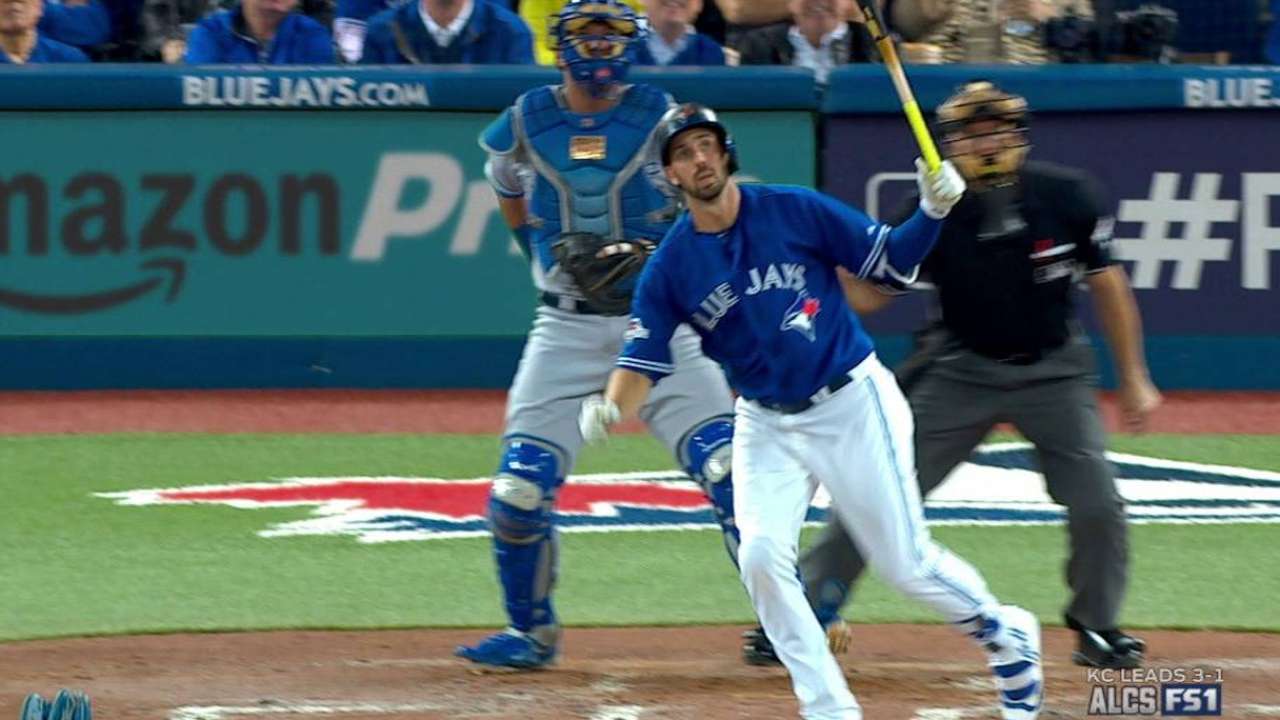 TORONTO -- Chris Colabello ran around third base, looked into the Blue Jays' dugout and let out a yell as the seats at Rogers Centre became a dizzying blur of spinning white towels. The first baseman might have even felt like kissing someone after launching another postseason home run.
Colabello has done it before, and after a blast off Royals starter Edinson Volquez, too. His solo shot to the first-deck in left field put Toronto on the board and helped ignite a 7-1 victory over Kansas City in Game 5 of the American League Championship Series, and he was in a celebratory mood as be bounded around the bases.
• Shop for official Blue Jays postseason gear
"I let out some emotion coming around third," Colabello said. "I screamed in the dugout,
'Let's go!'
"
What Colabello did not do was grab a teammate and give him an Italian greeting like he did after his blast off Volquez in the 2013 World Baseball Classic in Team Italy's tilt against the Dominican Republic. Following that shot two years ago, Colabello crossed the plate and was grabbed by teammate Anthony Rizzo, who kissed him on both cheeks before returning to the dugout.
Colabello smirked at the mention of that memory after Wednesday's win, which sends the best-of-seven series back to Kauffman Stadium in Kansas City for Game 6 on Friday night (7 p.m. ET airtime on FOX Sports 1 and Sportsnet, with game time at 8 p.m.), with the Royals holding a 3-2 advantage.
"Our bat boy is Italian, too. So, he kind of blows kisses at me," Colabello said. "Rizzo kind of took over and grabbed my head after I hit the one off [Volquez] in the WBC. I'll remember that one, too, for a long time. I'm just happy to win the game."
Volquez, who blanked the Blue Jays over six frames in his Game 1 outing in the ALCS, watched Colabello drive an 0-2 changeup into the seats, marking the first 0-2 shot of the first baseman's career. The home run had an exit velocity of 107.8 mph, according to Statcast™ -- Colabello had only one home run this season with a higher exit velocity -- and pushed Toronto to a 1-0 lead.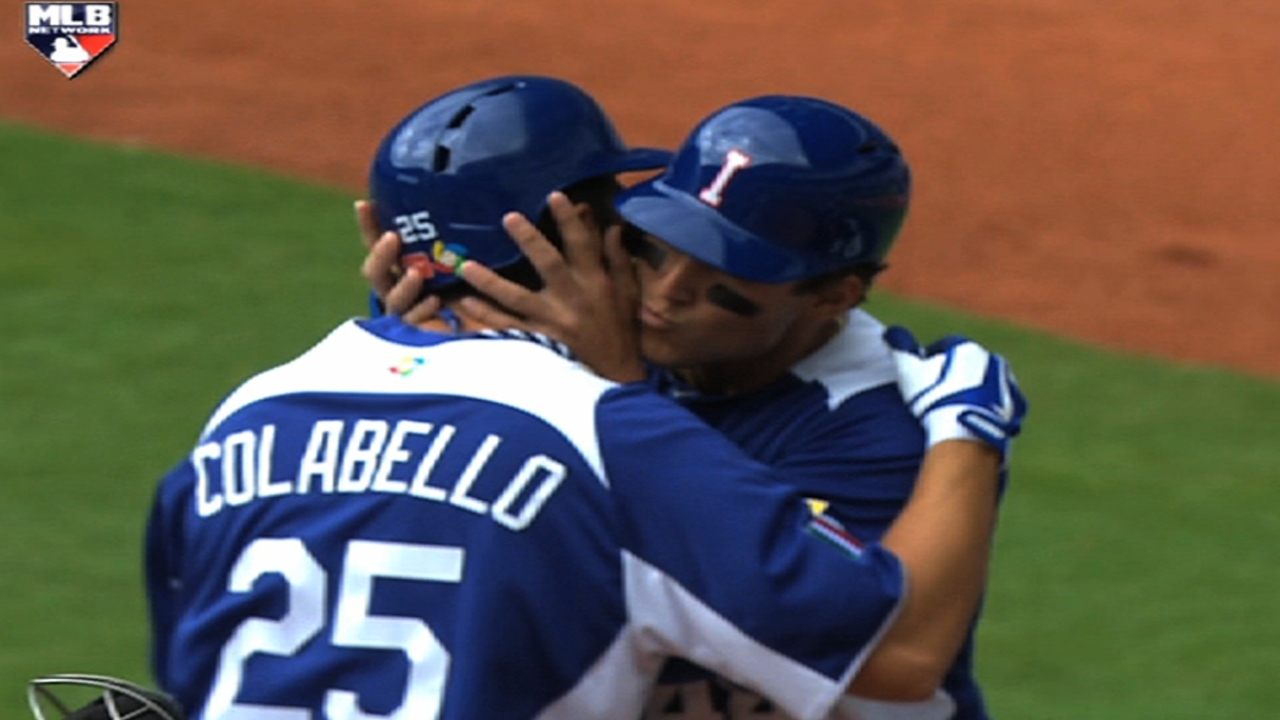 The blast elicited an eruption inside Rogers Centre from a crowd that was subdued during Tuesday's 14-2 defeat. The Blue Jays thrived from there on, breaking through with a four-run showing in the sixth and cruising to a critical win.
"He's done a terrific job," Blue Jays outfielder Jose Bautista said. "For a guy who has been playing independent ball for so long, it's amazing what he's been able to do, especially at this level and in the postseason. He's been one of those [dependable] people that we've had on the team. Big names might be outshining him, but his stats are there to back it up."
Colabello -- mired in Independent League ball from 2005-11 and claimed off waivers by the Blue Jays in December -- also stood tall for Toronto during the AL Division Series. In four games against the Rangers, Colabello hit .375 (6-for-16) with a homer and two doubles to help the Blue Jays reach the ALCS.
• Colabello really likes to celebrate HRs off Volquez
The blast marked Colabello's third career shot against Volquez, who has also given up one to the right-handed hitter in the regular season.
"Everybody's got their guys that they feel like they see the ball well against," Colabello said. "Obviously, he's a great pitcher. He's gotten me his fair share of times, too. When you develop some background with a guy, you start to understand what they're going to do to you a little better. You're always playing a cat-and-mouse game.
"I thought I had some good swings off him in Game 1. I was able to get him again today. I don't know why or how, but I'll take it."
Jordan Bastian is a reporter for MLB.com. Read his blog, Major League Bastian, follow him on Twitter @MLBastian and listen to his podcast. This story was not subject to the approval of Major League Baseball or its clubs.