Riddle leads Mesa to first AFL win
Marlins' No. 14 prospect contributes with both bat and glove in Solar Sox victory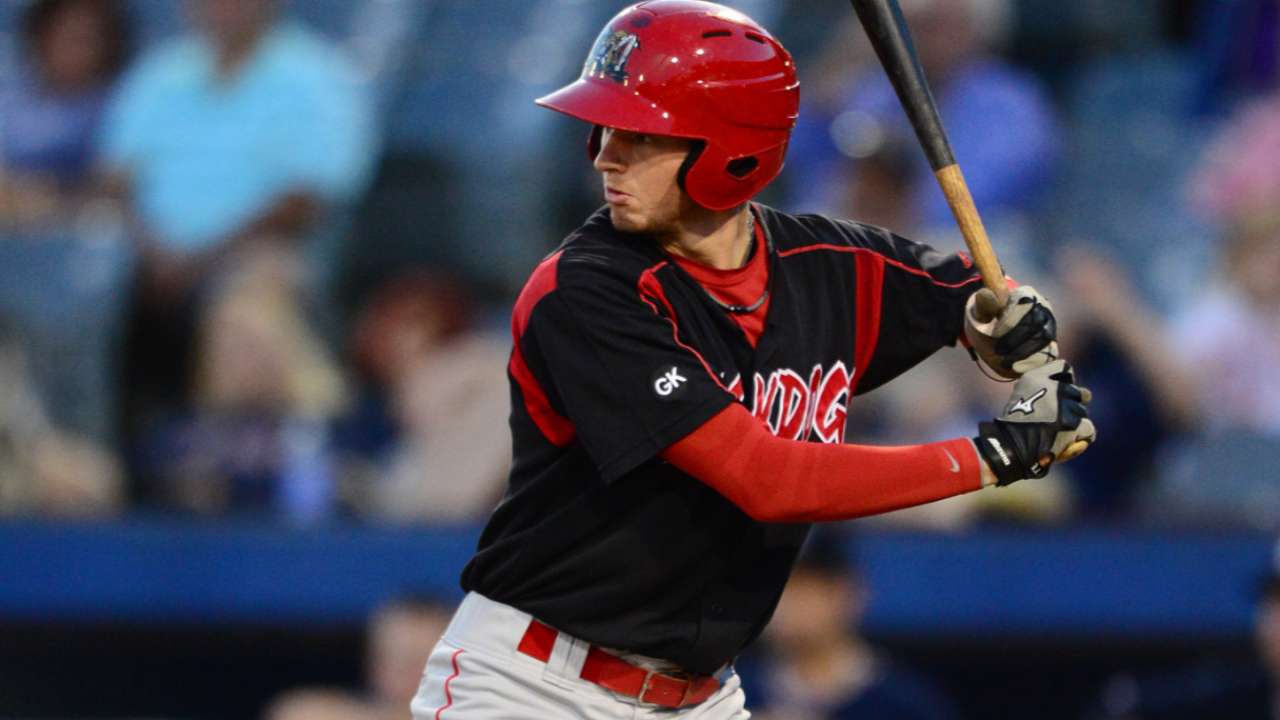 SCOTTSDALE, Ariz. -- Marlins shortstop prospect J.T Riddle prides himself in being an excellent defender, and it was that defense that helped the Mesa Solar Sox secure their first win of the Arizona Fall League season.
Riddle stole the show with both his bat and glove on Tuesday as he led Mesa to a 5-4 win over Scottsdale, snapping the club's five-game losing streak.
"It feels good to get off the losing streak that we started on," Riddle said. "Just to get one under our belt and know what it feels like to win, that's good for the team."
Riddle, the Marlins' No. 14 prospect, showed off his defensive ability with a highlight-reel play in the bottom of the seventh.
The shortstop made a diving stop up the middle to not only rob Indians No. 2 prospect Clint Frazier of a hit, but it also started an inning-ending 6-4-3 double play.
"I pride myself on defense, it's a big thing for me," Riddle said. "Hitting is going to come and go, but you can always have your glove, whether you're struggling at the plate or not. I love making the web gem plays, that's always my go-to, that's what I strive for. The routine plays are there, but when you make a web gem play, you get that feeling in you."
While the Solar Sox were trailing at the time of Riddle's glovework, the play guaranteed the game stayed within reach.
"It was a big situation right there," Riddle said. "One out, they could have scored a run or probably had first and third if we don't make that play up the middle. Props to [Elliot] Soto on the turn, he hung in there at second with the guy sliding in and [Casey] Gillaspie on the back end."
But Riddle wasn't done.
After closing out the seventh, Riddle was due up in the 8th and once again came through for his team with a game-tying solo homer run -- the highlight in his 2-for-4 evening.
"I was just looking for a fastball," Riddle said. "I've been getting behind in the count. I've been 0-2 every time it feels like, so I was looking for that first fastball and I put a good swing on it and it went over the fence."
An inning later, Athletics prospect Renato Nunez sealed the deal with a go-ahead RBI single in the top of the 9th.
Although Mesa ultimately came back and won the game, the club was in an early deficit because of Frazier and Giants pitching prospect Adalberto Mejia.
Frazier hit a three-run opposite field home run, while Mejia dominated from the mound.
The left-hander, San Francisco's No. 12 prospect, was electric to start the game as he struck out the side in the first.
However, he lost that command a bit and walked the bases loaded in the second - although he pitched his way out of the jam and allowed just one run.
When all was said and done, Mejia struck out seven and allowed one run on one hit and three walks in five innings.
"He was really good for them today, especially against me," Riddle said. "His command was well, he was on both sides of the plate, had three pitches and was throwing them all. We just couldn't get a rhythm off him. He had the second inning, where the only reason we scored that run was because he walked people, put them on base. He was really good for them today."
William Boor is a reporter for MLB.com. Follow him on Twitter at @wboor. This story was not subject to the approval of Major League Baseball or its clubs.