Pennington first position player to pitch in playoffs
Records final out of ninth inning in Game 4 of ALCS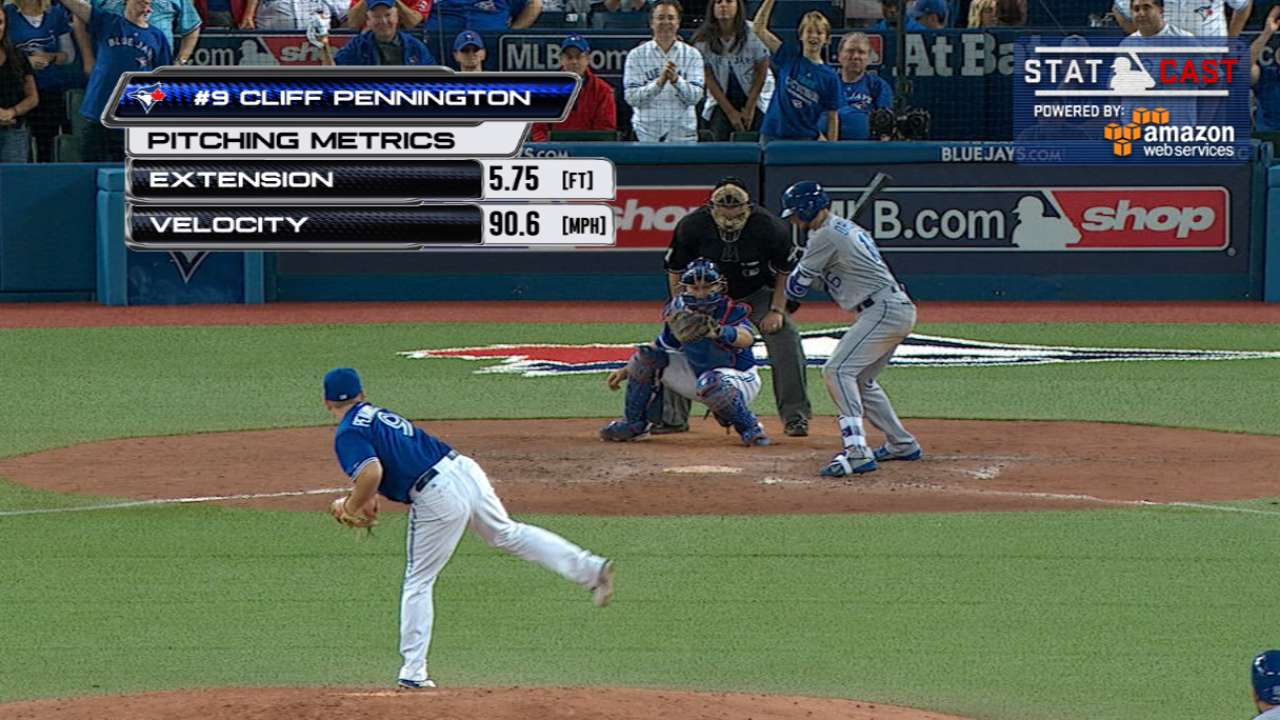 TORONTO -- Comic relief on perhaps most any other day, the sight of Blue Jays infielder Cliff Pennington emerging from the bullpen in the ninth inning at Rogers Centre on Tuesday hardly alleviated the sting of a 14-2 loss Game 4 loss to the Royals that has Toronto on the brink of elimination in Game 5 on Wednesday (3 p.m. ET air time on FOX Sports 1 and Sportsnet, with game time slated for 4 p.m.).
But it sure was necessary.
• Shop for Blue Jays postseason gear
By becoming the first full-time position player to pitch in a postseason game, Pennington provided the Blue Jays a fresh arm in a dire situation.
Already weakened with the loss of Brett Cecil to injury and Aaron Loup to a family matter, at least temporarily, Toronto's bullpen was roughed up for four runs in the seventh and three more in the eighth, increasing the Royals' lead to 12-2. Trouble found them again in the ninth, when Mark Lowe allowed a leadoff single to Kendrys Morales and hit Alex Gordon with two outs, bringing Toronto manager John Gibbons out of the dugout to call on Pennington.
"We were in a bind," said Gibbons, who will need his top relief arms, Roberto Osuna and Aaron Sanchez, at 100 percent come Wednesday.
Pennington, 31, had made appearances at second base, shortstop, third base and left field over his eight-year Major League career, but had never pitched, despite having done so through high school and at Texas A&M. Imagine catcher Russell Martin's surprise when he learned of Pennington's arsenal.
"I asked him what he had," Russell said. "He said, `Fastball, curveball, cutter, change.' I was like `Wow, that's pretty good.' He has good stuff. He has a good arm."
Pennington's fastball didn't disappoint, averaging 90.7 mph. Neither of the game's two starters came close to that mark, with Toronto knuckleballer R.A. Dickey averaging 83.2 and the Royals' Chris Young coming in at 87.9.
Pennington served up back-to-back hits to Paulo Orlando and Alcides Escobar, the second plating two runs, before getting Ben Zobrist to pop out behind the plate for his first career out as a pitcher.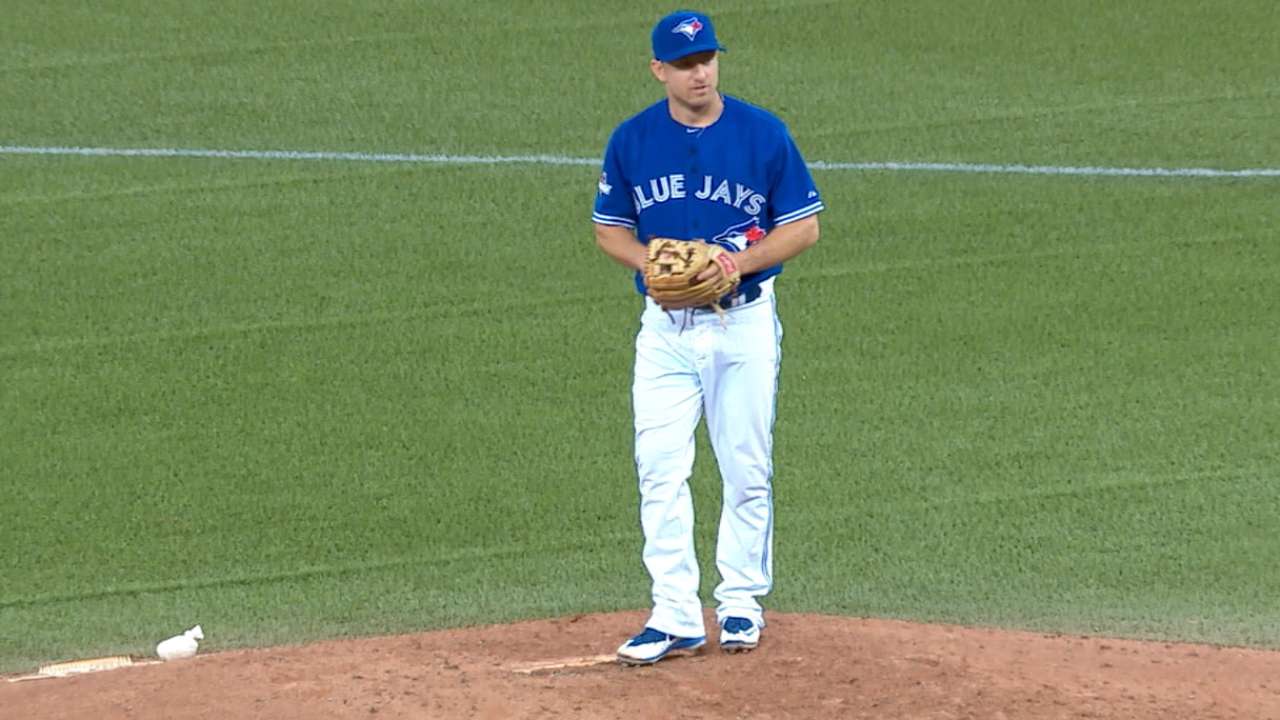 "We're going to need everybody fresh," Pennington said, "so I went in there and tried to help. I was just trying to throw strikes. In the eighth, we had a conversation about the possibility. We didn't want to burn anybody for tomorrow. It was one of things were I started moving around, staying loose."
Outfielders Rick Ankiel and Babe Ruth each made three postseason pitching appearances, though both players had also logged substantial time on the mound during regular-season play -- albeit under different circumstances.
At the time of Ankiel's three postseason appearances for the Cardinals in 2000, he had never played anywhere else at the Major League level. He later transitioned to an outfielder in 2007 and never returned to the mound in either the regular season or postseason.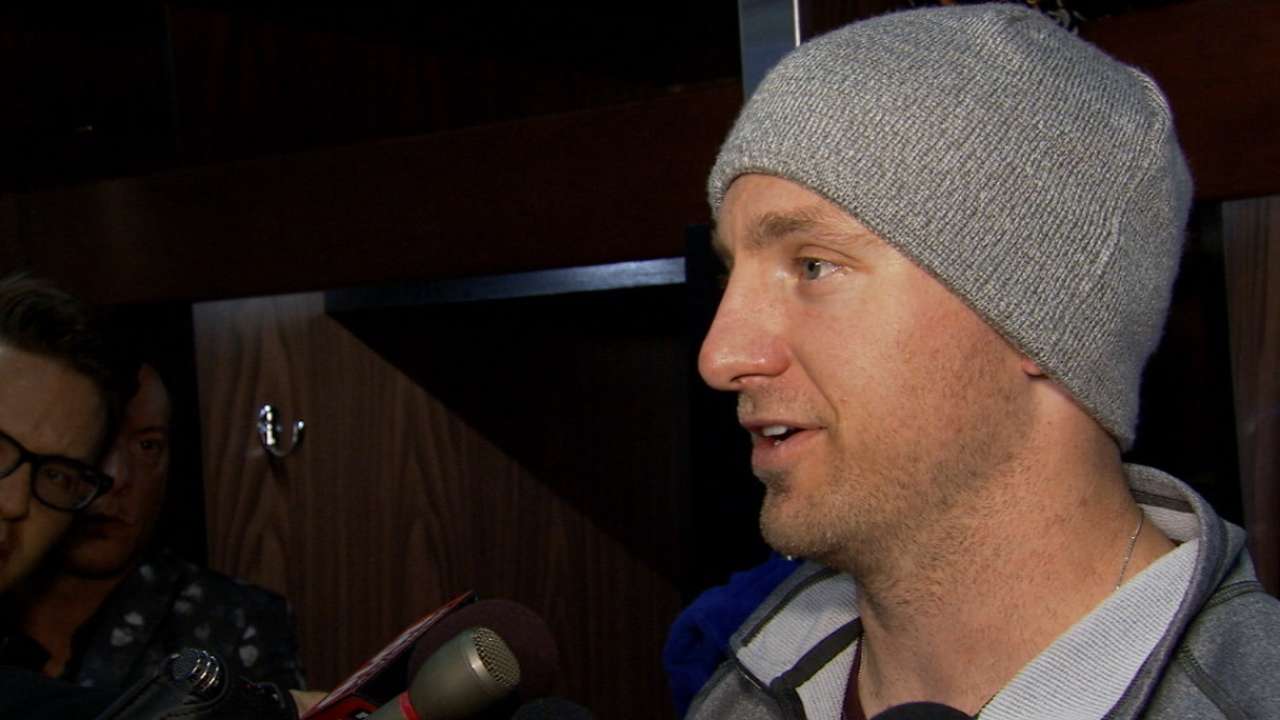 Ruth, meanwhile, made two starts for the Red Sox in the 1918 World Series after starting 19 games on the mound and another 70 in the field during the regular season. He also started one game during the 1916 Fall Classic, though he had still been used only as a pitcher at that point in his career.
"It was exciting, but I was trying to get the guys out," Pennington said. "It wasn't too bad. I was more nervous in the bullpen. Once I got out there, it was like playing [any other position]."
Jane Lee is a reporter for MLB.om. This story was not subject to the approval of Major League Baseball or its clubs.