Stroman navigates first postseason victory
Righty allows four runs over 6 1/3 in Game 3 win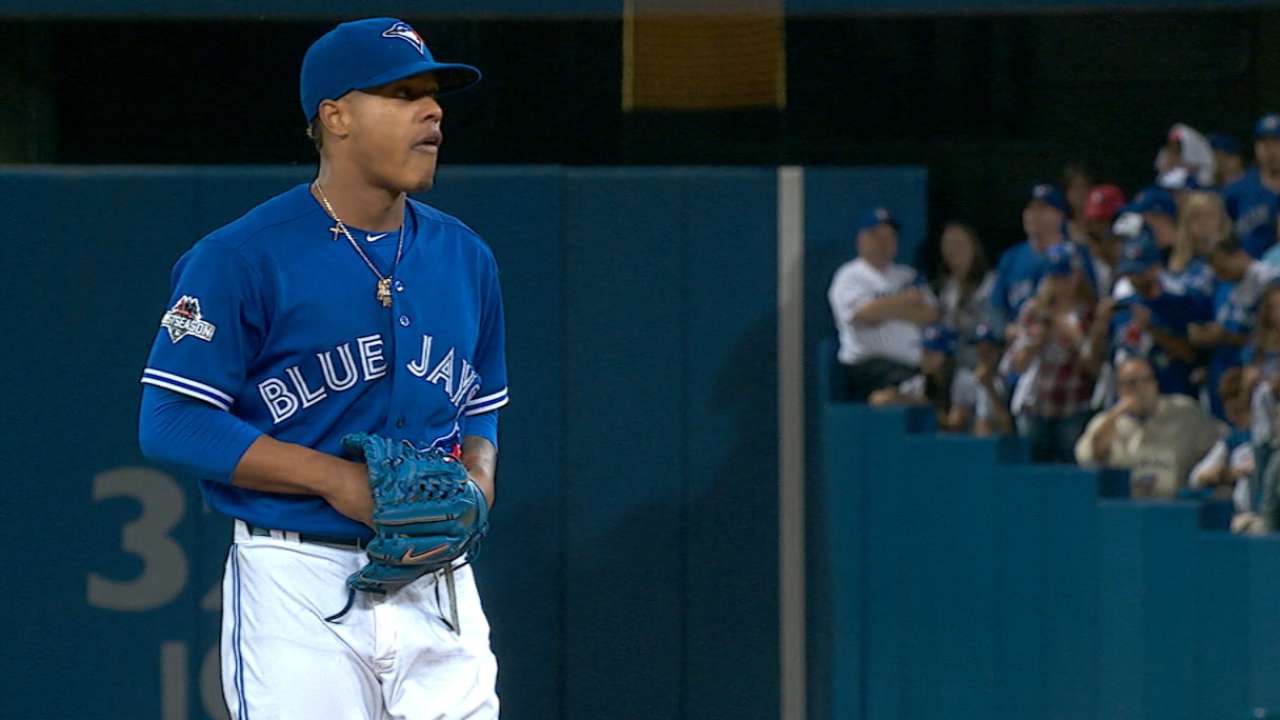 TORONTO -- It wasn't his sharpest performance, but Marcus Stroman continued to get results when it counted on Monday night. The 24-year-old, making his third career postseason start, grinded out a win in Game 3 of the American League Championship Series (Game 4, Tuesday, 3 p.m. ET air time on FOX Sports 1/Sportsnet, 4 p.m. game time) against the Royals at Rogers Centre, pitching into the seventh inning in the Blue Jays' 11-8 victory.
"It's the playoffs, you have to do everything in your power to limit the teams, put your team in a position to win," said Stroman, who earned his first postseason victory. "And I felt like I was able to do that, luckily."
• Shop for Blue Jays postseason gear
Some luck may have factored into the result. It was apparent Stroman didn't have his best stuff from the get-go. He gave up a triple followed by an RBI groundout to start the game, and didn't notch a clean inning until the fourth. The right-hander gave up 11 hits along the way -- matching his combined total from two AL Division Series starts -- and surrendered four earned runs, but still escaped with a win thanks to a bold show of support from his offense.
According to Statcast™, Stroman allowed 10 batted balls with an exit velocity of 100 mph or greater. Just five pitchers allowed more than that in a game this season. Coincidentally, the most allowed in a game was 15 by Royals starter Johnny Cueto on Sept. 13 against the Orioles.
"Stro really battled. It was a grinding night for him. They battled him hard," Blue Jays manager John Gibbons said. "He was in and out with his command, but he got the job done."
Stroman never really found a groove, but Gibbons stuck with him until Eric Hosmer singled with one out in the seventh, with the score 10-4. Stroman said he appreciated the show of confidence by his manager.
Prior to Monday, Stroman had been lights-out since returning from an ACL tear in Spring Training. After going 4-0 with a 1.67 ERA in four regular-season starts in September, he posted a pair of no-decisions in the ALDS against the Rangers, including a quality start in the decisive Game 5 on Wednesday. Stroman, well-known for his belief in his own abilities, said having a manager who reinforces his self-confidence fuels his fire.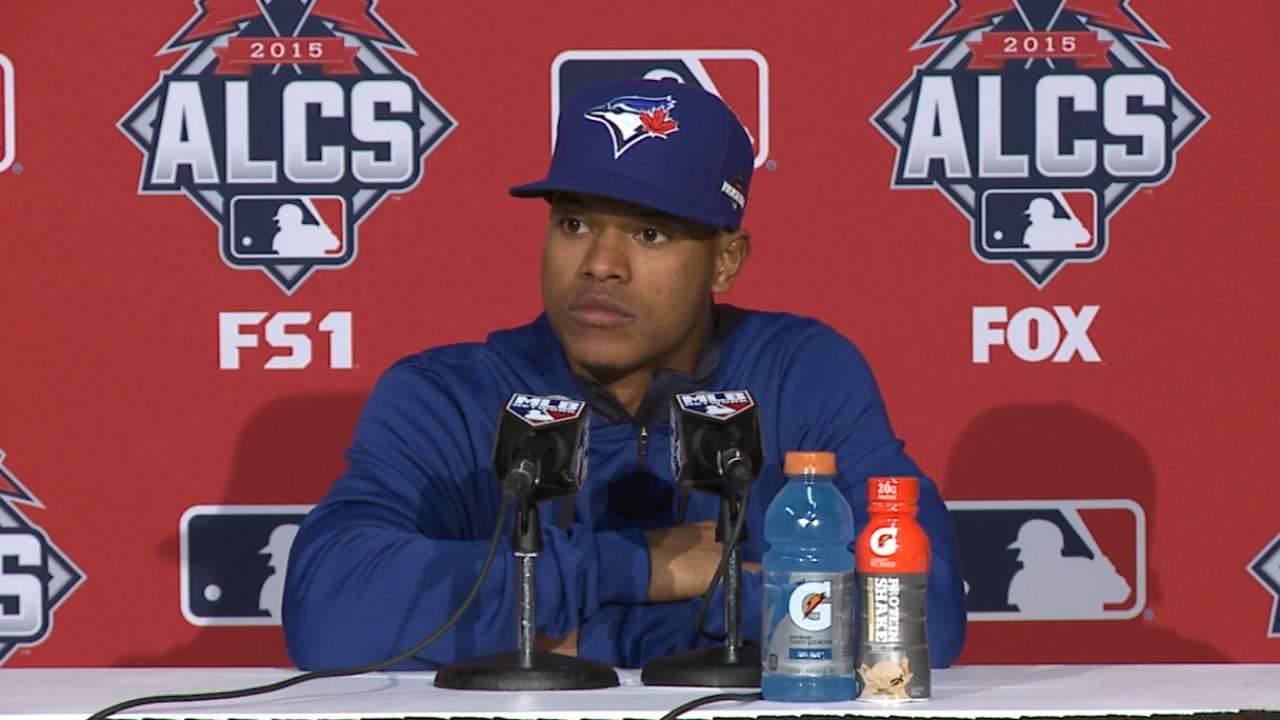 "Gibby has been -- he has more confidence in me sometimes than I think I have confidence in myself," Stroman said. "That's hard to do, because I have a lot of confidence in myself."
With three posteason starts under his belt, Stroman said he's learned one thing about playoff pitching: There are no easy at-bats.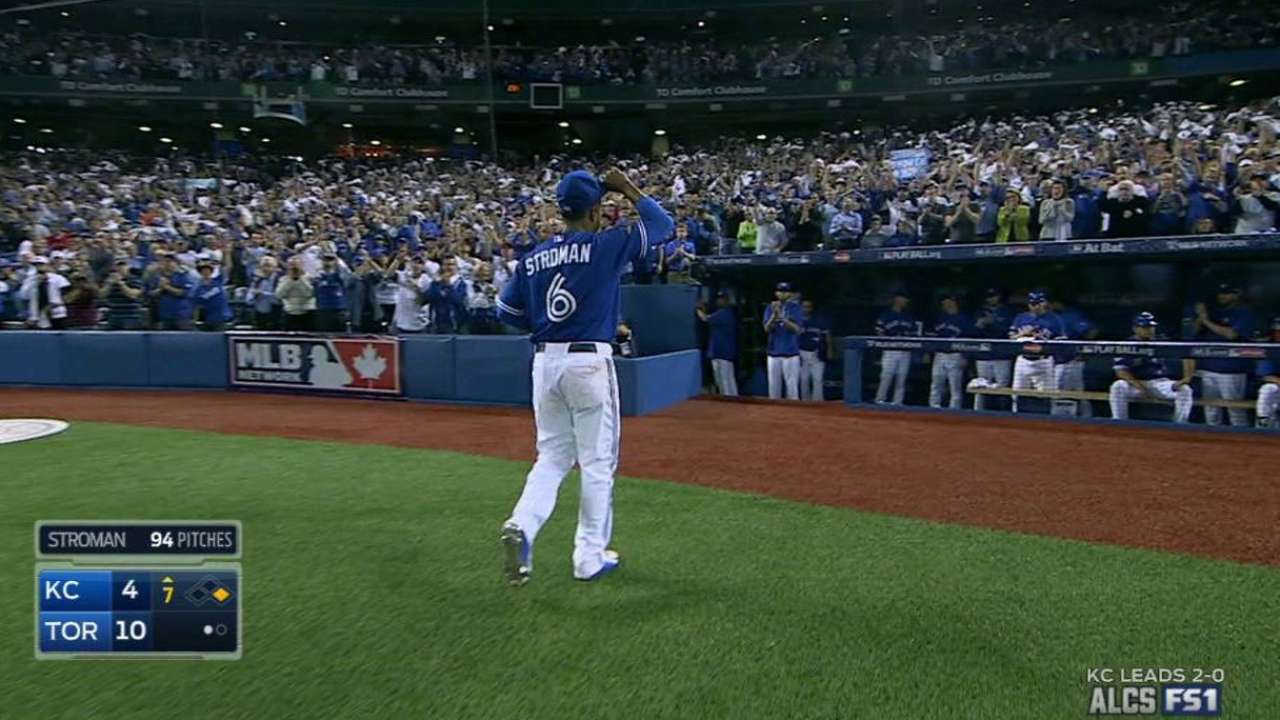 "It's a battle, you know what I mean?" he said. "Every pitch matters, and especially facing a lineup like Kansas City, who is strong one through nine, every single one battle, battle, battle, puts the ball in play. It's tough."
Jamie Ross is an associate reporter for MLB.com. This story was not subject to the approval of Major League Baseball or its clubs.