Oct. 19 Ned Yost pregame interview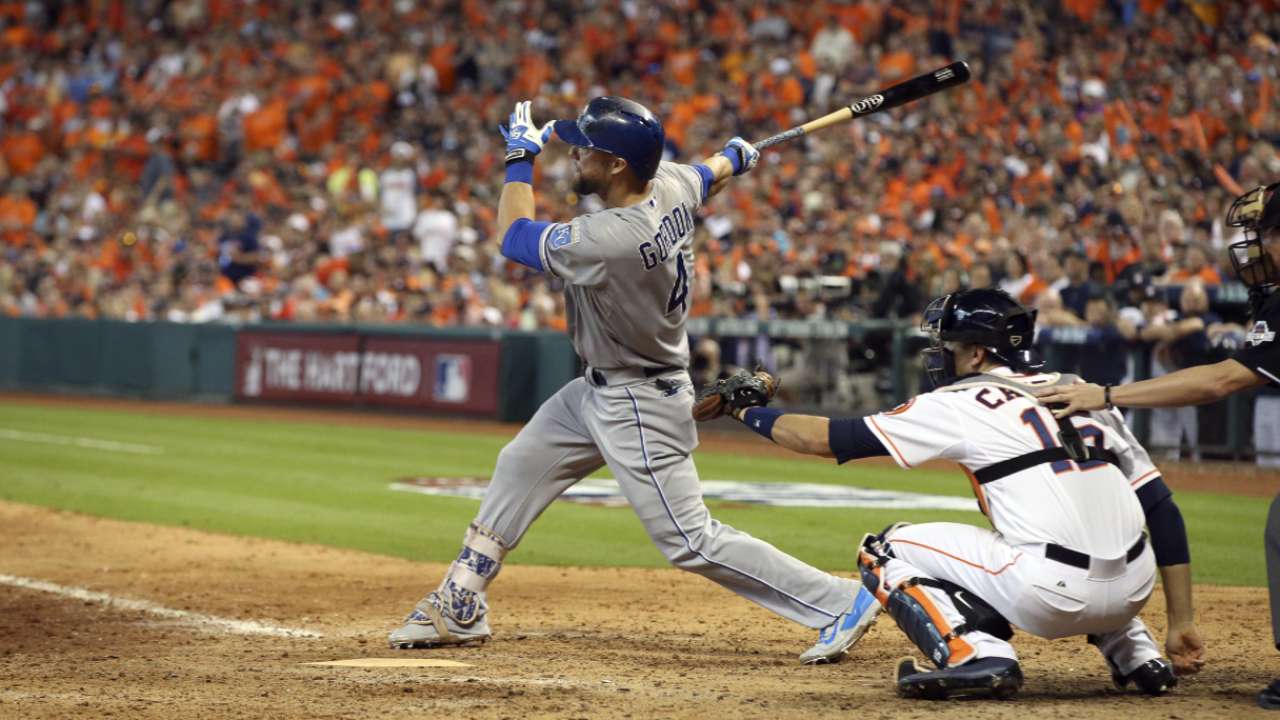 Q. Did you notice how Cueto in his last start went with more off-speed pitches, and did you think that was a better strategy in Game 5?
NED YOST: You know, I just thought he commanded everything that he threw really, really well. Commanded his fastball well, commanded his change-up extremely well. And it's got to be a balance and a mix.

That was against Houston. This is a totally different club in Toronto. And he's got a good game plan, he just has to go out and execute it.

Q. Could you talk about Chris Young and what makes him the right choice for the fourth game?
NED YOST: He's got great numbers, he's always had great numbers. He's had good success against some of these hitters. His height and his deception in his delivery, his competitiveness. He had a great outing against Houston in Kansas City and his last two starts were really, really good. He's a good choice for us.

Q. Have you been impressed with how your pitching staff has been careful with some of these hitters? Do you feel that they're willing to go for a walk rather than give them a pitch they're looking for?
NED YOST: Yeah, there's definite times, and they've done a really good job of picking through those times when not to give in, especially, too, they're #2, #3, #4, #5 hitters, those guys can hurt you. They've done a good job of not giving in. Saying, Okay, count's 3-1. I'm going to throw a pitch down the middle. No, you're going to hit my pitch and if I walk you, I walk you. They've done a good job of that.

Q. What is the difference playing in this building now that they have the softer turf?
NED YOST: The ball is just slower. Before you could drive balls into the gaps and it would go all the way to the wall. It's just a slower type turf. Ground balls are going to be a little bit slower. Balls in the outfield are going to be a little bit slower. You're going to have to charge a little bit harder to get to the ball. But it's just a little bit slower.

Q. Going back to Young there for one second. Was there any hesitation going with a fly ball pitcher in what's considered a hitter's park?
NED YOST: No, not with Chris Young. If he's got the fastball and slider going he's going to be very, very tough. Again, every pitcher has to execute. If a pitcher executes he's going to be in good shape. If he doesn't, he probably won't be in good shape. But we expect Chris to execute tomorrow.

Q. Last year in the playoff run a lot of the guys were talking about studying more video to see how pitchers are attacking them, which they weren't maybe doing as much in regular season.
NED YOST: Absolutely, yeah, absolutely. These guys are, from this time last year to now, it's totally different. These guys, for the most part every single one of them is in that video room. They're watching video. A lot of times they've got Jonny Gomes standing right behind them talking about things. They've got Dale right there, a lot of guys are doing a lot of homework on this.

Q. You don't necessarily have one guy that's going crazy in the Postseason. Is that a good sign that you're doing it through the whole team?
NED YOST: Yeah, it's a good sign. Every day is somebody different. Even starting with the Houston series, we haven't had one guy that's just been dominant. Everybody has pulled their weight and done their job. And I mentioned to the coaches the other day, it's funny how every day it's somebody different doing something special for us.

Q. How do you advise your hitters to approach a guy like Dickey with a knuckleball?
NED YOST: Again, it's just reaction. And a lot of it will have to do with Dickey. If he's executing his pitches and keeping the ball down and has good floater on his knuckleball, he's going to be tough. If he's a little bit flat with it, it's going to be a little bit easier to hit.

But we don't expect him to be flat. We expect him to be tough. You have to go up and see it and hit it. That's all you do. You can't say, Okay, if it starts at your belt, you have to let it go, because it's going to be a ball. It's just a reactionary pitch, because you can't tell. I've had experience catching a knuckleball with Charlie Hough. You just really don't know what it's going to do from pitch to pitch. You try to see it and hit it.

Q. Being up 2-0, do you manage it either way differently, either because you're ahead or because getting them 3-0 would be kind of a death sentence?
NED YOST: I don't manage it differently. My whole intent and focus is to win this game, and I don't even think about being up 2-0. The only thing that counts is today. We manage it the exact same way we do every day.