After year of top performances, LA has playoff deja vu
Kershaw reaches 301 K's, Greinke posts 1.66 ERA, but Dodgers fall in NLDS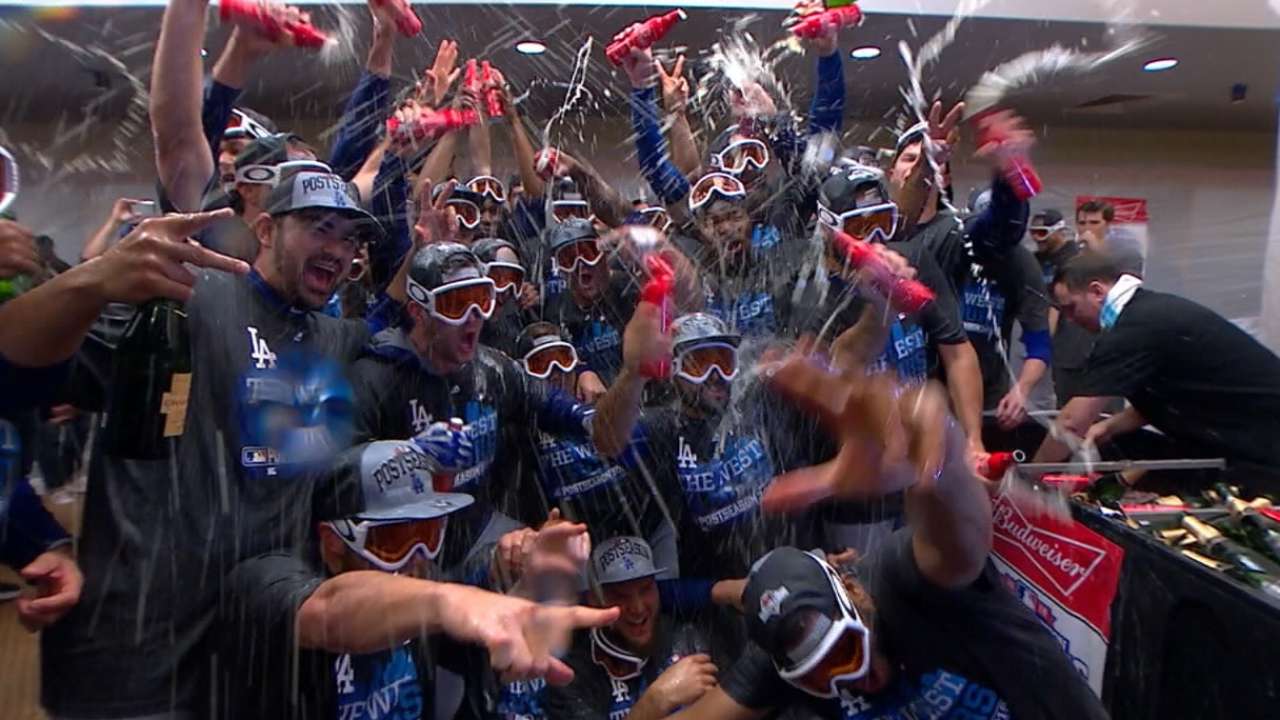 LOS ANGELES -- Don Mattingly wears uniform No. 8 in tribute to the late Yogi Berra, whose quote -- "It's like déjà vu all over again" -- applied to another elimination from the first round of the playoffs for the Dodgers in 2015.
Guggenheim ownership thought for sure it had the key to extending the season when it replaced Ned Colletti's old-school front office with the blueblood pedigree of Andrew Friedman and his analytical entourage. But even with a payroll climbing from an astounding $235 million to an astonishing $300 million, at the end of the National League Division Series, nothing really changed.
Despite finishing first for the third consecutive season (a franchise record), the Dodgers still haven't been to a World Series since the year Clayton Kershaw was born (1988).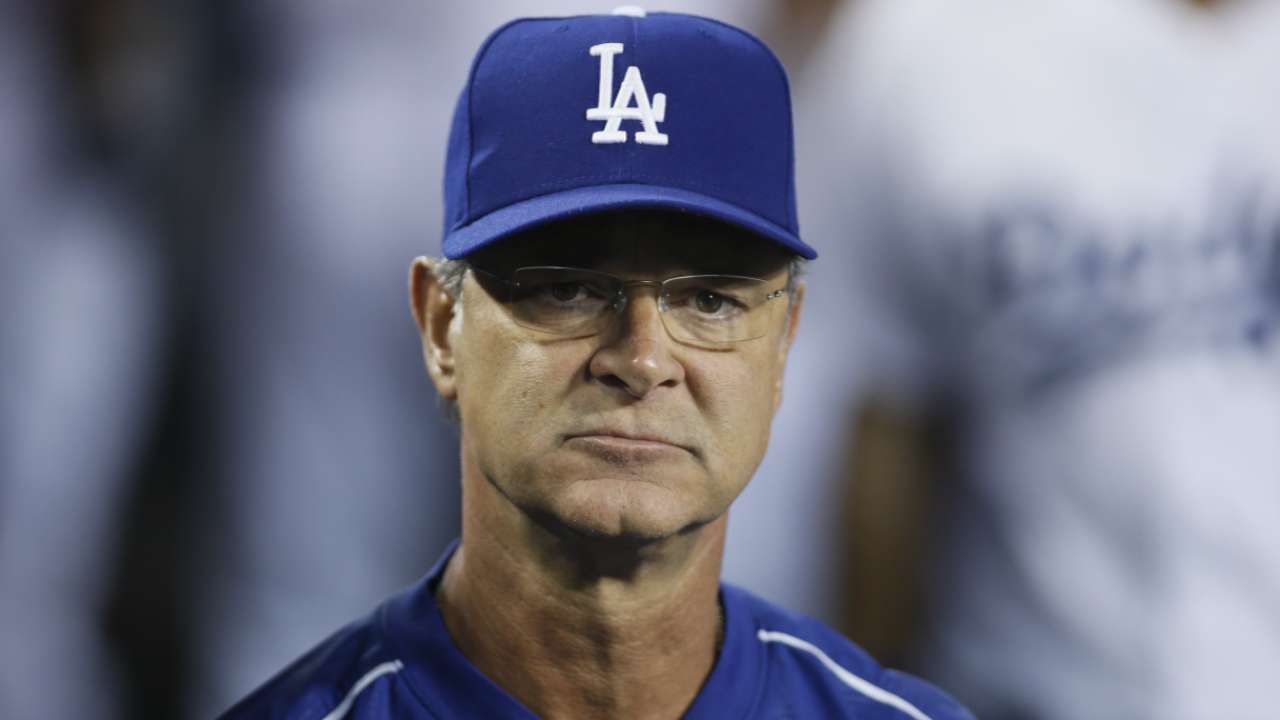 Of course, to finish first, much had to go well. They spent the final 127 days of the regular season at the top of the division and finished eight games in front, the franchise's third-largest margin since the inception of divisional play in 1969. They were especially successful within the division (46-30, .605) and showed a vastly improved defense.
The Dodgers had five All-Stars -- Adrian Gonzalez, Zack Greinke, Yasmani Grandal, Kershaw and Joc Pederson, plus Mattingly, who was selected as a coach. Greinke broke Kershaw's stranglehold on the league ERA title, Kershaw struck out 301, Gonzalez was steady as usual, Justin Turner showed for a second season that he's legit, Kenley Jansen was reliable after returning from foot surgery, Pederson was on fire for the first half, and the Dodgers were consistent enough to never have a month with a losing record.
But they weren't perfect. During its first winter in charge, management passed on every premier free agent, preferring controversial trades and incremental improvement around the edges, with mixed results. Attempts to improve rotation depth resulted in Brett Anderson's breakthrough, but also Brandon McCarthy's breakdown. At the July 31 non-waiver Trade Deadline, with starting-pitching depth dangerously thin, Los Angeles acquired Alex Wood and Mat Latos instead of Cole Hamels or David Price, which did nothing positive to position the Dodgers for the postseason.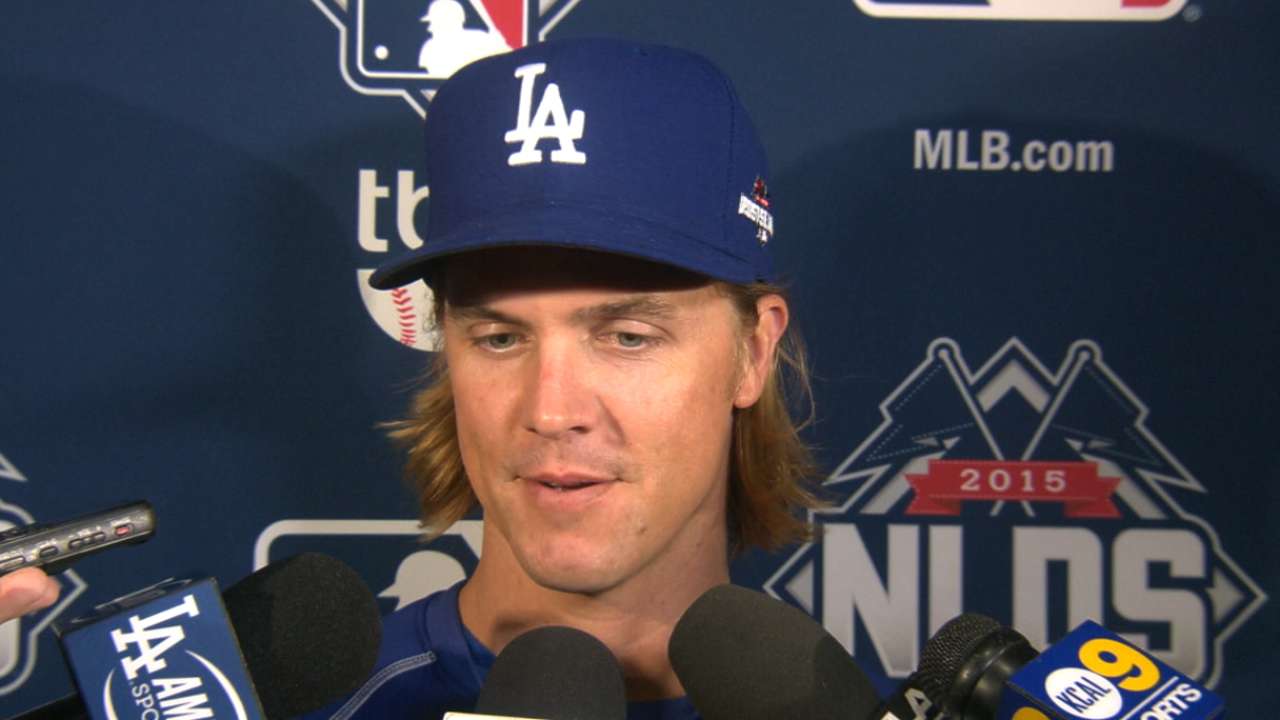 Dealing away Matt Kemp landed catching depth in Grandal, but Kemp's feared bat and RBIs were never replaced. There were no complaints about Howie Kendrick's clutch bat and play at second base, but his acquisition was the result of management disliking Dee Gordon's analytics. So Gordon took his game-changing speed to Miami and won a batting title, while the Dodgers played station to station. The Dodgers' stolen bases went the way of the dodo bird. They led the NL in home runs because they swung more for the fences at the expense of situational hitting, finishing eighth in runs scored and runners stranded. The bullpen, arguably the weakest link coming out of 2014, still is. Injuries were widespread and lasting, although incessant roster manipulation skewed the meaning of disabled-list stints.
Record: 92-70, first in the National League West
Defining moment: Kershaw's "sense of urgency" comments Aug. 23 after the Dodgers were swept in Houston was the trigger, although players overwhelmingly cited the sweep of the Giants at home in early September as the season's defining moment. Game results, however, favor Kershaw's postgame interview as the spark that was needed, because the Dodgers won five of the next six games going into that Giants series. The Dodgers won 13 of the 15 games after leaving Houston and extended their division lead over the Giants from 1 1/2 games to 8 1/2 games.
What went right: Greinke raised his game to Kershaw levels, giving the Dodgers a true two-headed monster. Anderson not only stayed healthy, but he pitched better than a fifth starter should. Jansen returned from foot surgery to re-establish himself as a reliable closer. Gonzalez was the most durable and productive player in the lineup, as usual. Turner showed that 2014 was no fluke. Pederson burst onto the scene with a first-half for the ages. Grandal again showed glimpses of an impact bat when he wasn't hurt. Andre Ethier had his best season since 2012. A.J. Ellis validated his value with a strong second half when Grandal was hurt. Kendrick was a clutch, professional bat, while Jimmy Rollins was the biggest defensive upgrade from a year ago. J.P. Howell continued to be one of the most overlooked lefty relievers in the game. September callup Corey Seager hit so impressively that management gave him the starting shortstop job at age 21. Enrique Hernandez provided needed energy taking over for Pederson.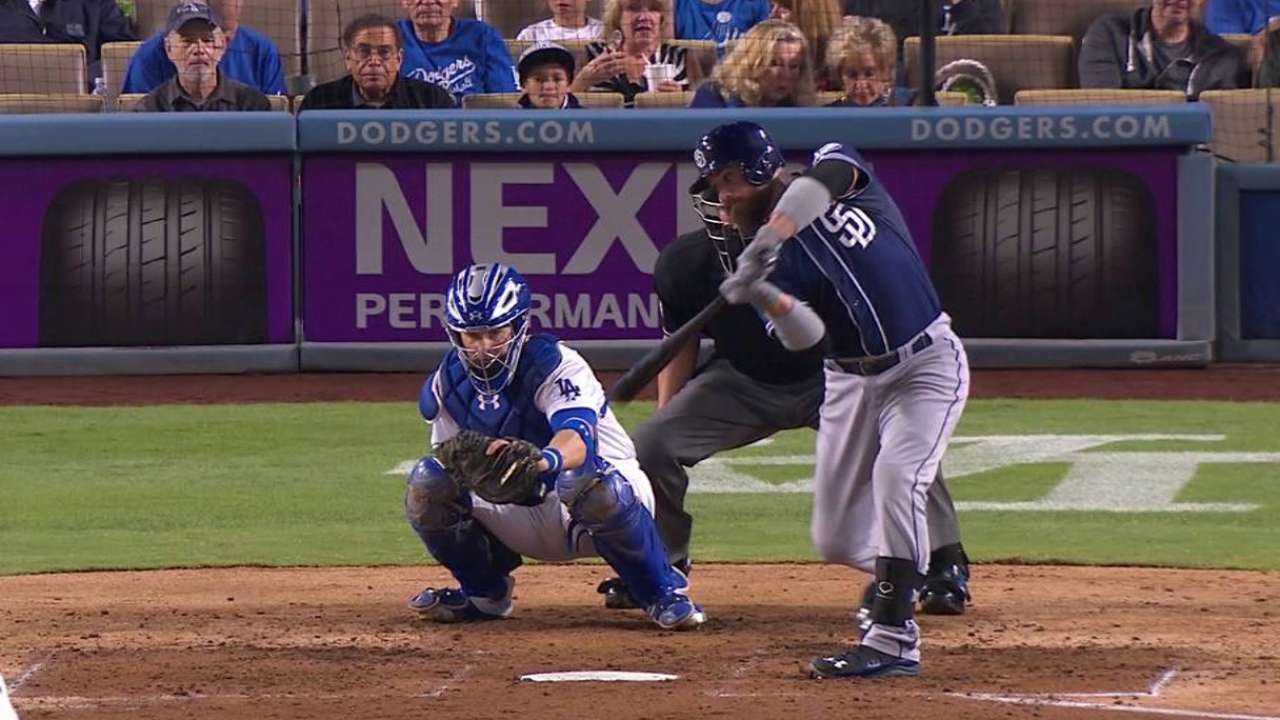 What went wrong: Hyun-Jin Ryu, a proven third starter and postseason winner, never threw a pitch and needed season-ending shoulder surgery. McCarthy, signed to a four-year contract, made four starts before having Tommy John surgery. The deadline acquisition of Latos was, to be kind, inexplicable. Wood was a decent fifth starter, but he didn't get a postseason start. Carl Crawford, who was hurt in 2014 but rallied late in the season, was hurt in 2015 and never rallied. Yasiel Puig's performance and stock plunged during a season plagued by lingering injuries to both hamstrings. Pederson couldn't adjust in the second half and disappeared offensively. Grandal's shoulder injury turned him into an automatic out. The young relievers L.A. counted on were erratic and undependable. Rollins' bat showed some signs of life late, but by then management wanted Seager to play. It took Chris Hatcher five months to get straightened out, although in September and the playoffs he looked like a legit setup man. Brandon League was injured, then released.
Biggest surprise: Anderson made 31 starts. He had a breakthrough season to shake the "injury-prone" tag. He accomplished more for the Dodgers than he had in any season since 2009, setting career highs in starts, innings pitched (180 1/3) and quality starts (18). His postseason start was forgettable, but he originally was signed to be a fifth starter. He became a third starter by default when Ryu and McCarthy were injured, and management never adequately replaced them. On the downside, now that Anderson has established a degree of health, he can leave through free agency.
Hitter of the Year: Yet again it's Gonzalez. Without having a Gordon on base to drive in, Gonzalez didn't win another RBI title. But he was again the most reliable and durable bat the Dodgers had. Turner continued his remarkable transformation into an offensive force, but for bulk numbers, Gonzalez still has no peer in this lineup. He led the team in home runs, RBIs, runs scored and doubles.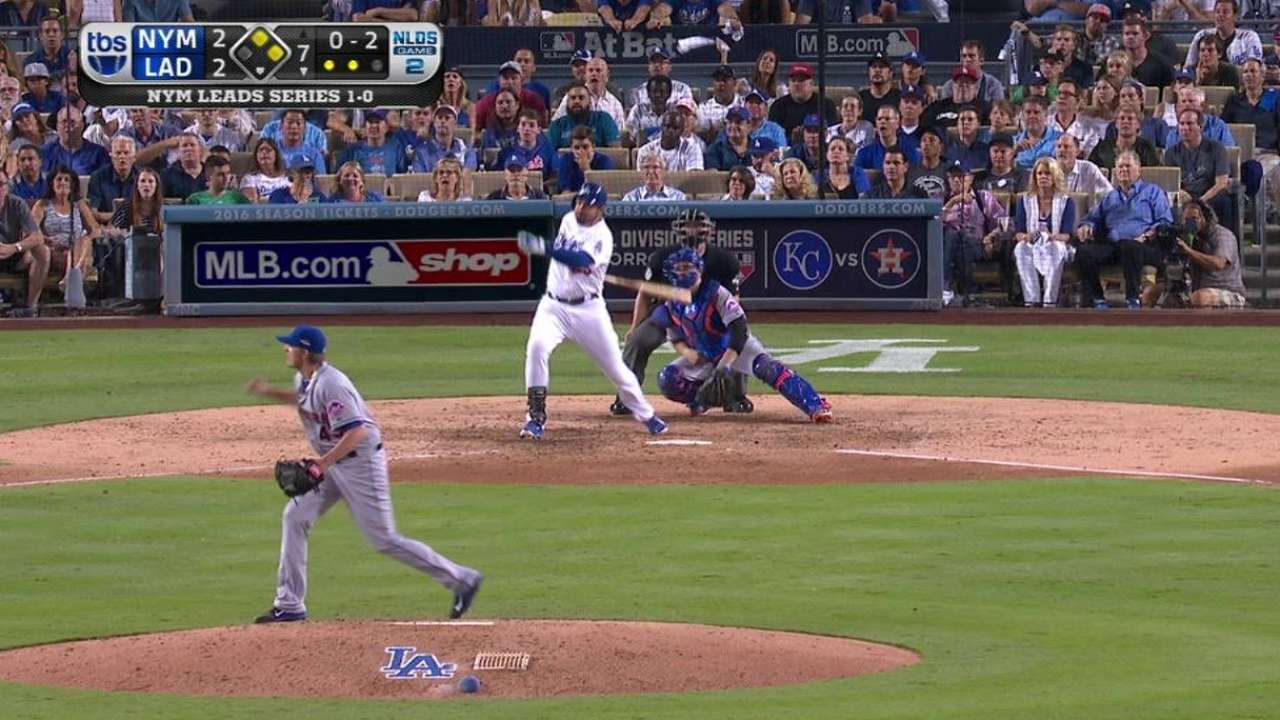 Pitcher of the Year: Greinke. It's pretty sweet when a pitcher is 16-7 with a 2.13 ERA and he isn't the best on the staff. But this year, Kershaw's glittering numbers were bested by Greinke's 19-3, 1.66. Whether or not he wins the NL Cy Young Award, he was the most consistent starter from the beginning to the end of the season. Good timing, too, as his contract opt-out lines him up for another big payday. Kershaw, though, gets an honorable mention for a season that included the best individual achievement, 301 strikeouts.
Rookie of the (Half) Year: Pederson. He easily had the strangest rookie season in Dodgers history. He rode 20 first-half home runs into being the first Dodgers rookie position player All-Star and was runner-up in the Home Run Derby. But it was boom or bust, as he also had 170 strikeouts and 92 walks. Most concerning was the .210 batting average, as he never could adjust to opposing pitchers exploiting his holes. He also left his 30 stolen-base tool at Triple-A, as he stole only four in the big leagues. Defensively, however, he was solid and sometimes spectacular in center field.
Ken Gurnick is a reporter at MLB.com. This story was not subject to the approval of Major League Baseball or its clubs.