MLB.com Columnist
Roger Schlueter
Stats of the Day: Murphy powering Mets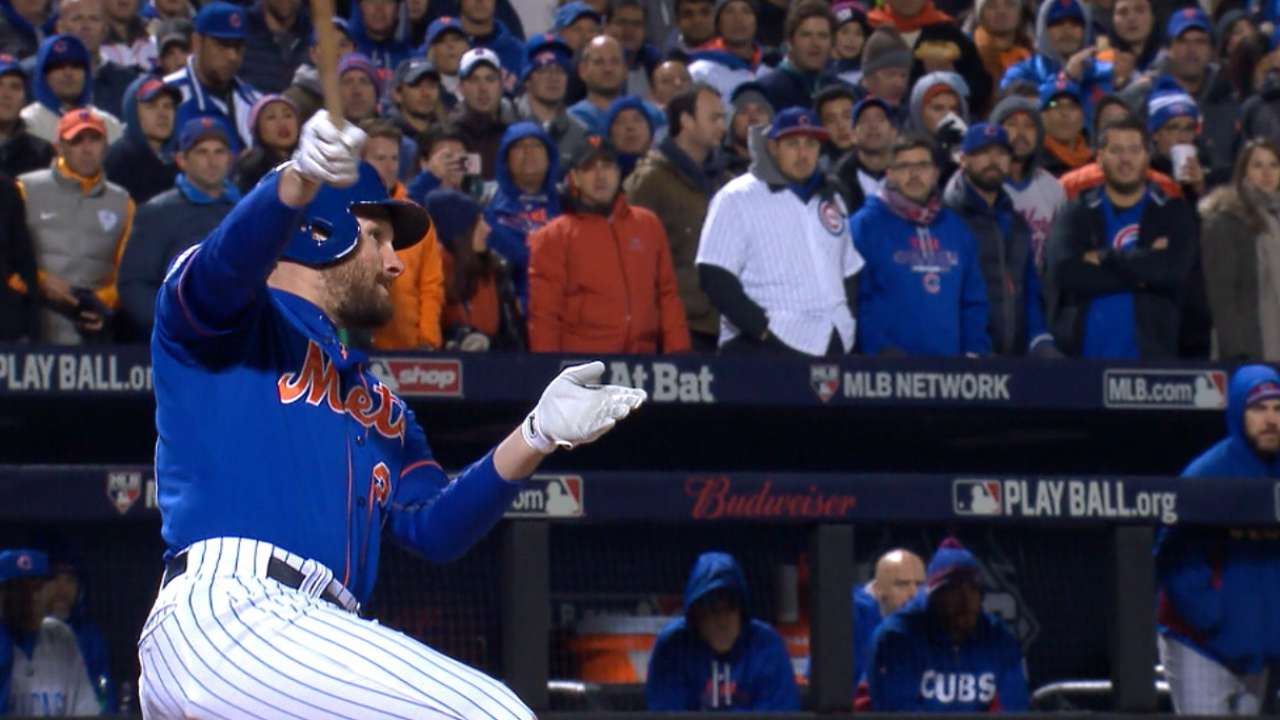 Here are five interesting items from this weekend's Championship Series games …
• On Saturday night, the Mets won, 4-2, and outhomered the Cubs, 2-1, to take the first game of the 2015 National League Championship Series. Daniel Murphy hit the Mets' first home run: a solo shot in the first. The home run gave Murphy four for this postseason and one in three straight contests. On Sunday night, the Mets again got a first-inning home run from Murphy and again scored four runs, this time a 4-1 victory in Game 2. Murphy's fifth home run of the 2015 postseason gave him a homer in four straight games -- one shy of the Major League record for a single postseason, held by Carlos Beltran (2004). With four in a row, Murphy tied Jeffrey Leonard (1987), Juan Gonzalez (1996) and Evan Longoria (2008). The five home runs through his first seven career postseason games tied Murphy for the third most. Ken Griffey Jr. had six in 1995 and Beltran produced a half dozen in 2004. In 1996, Juan Gonzalez hit five, and Melvin Upton Jr. hit five in 2008.
• Postseason gear: Cubs | Mets | Blue Jays | Royals
• Mets starters have struck out 58 of the 178 batters they have faced in this year's postseason for a 32.6 strikeout percentage. During the 2015 regular season, two pitchers qualified for the ERA title and finished the year with a strikeout percentage of at least 32.0: Clayton Kershaw (33.8) and Chris Sale (32.1).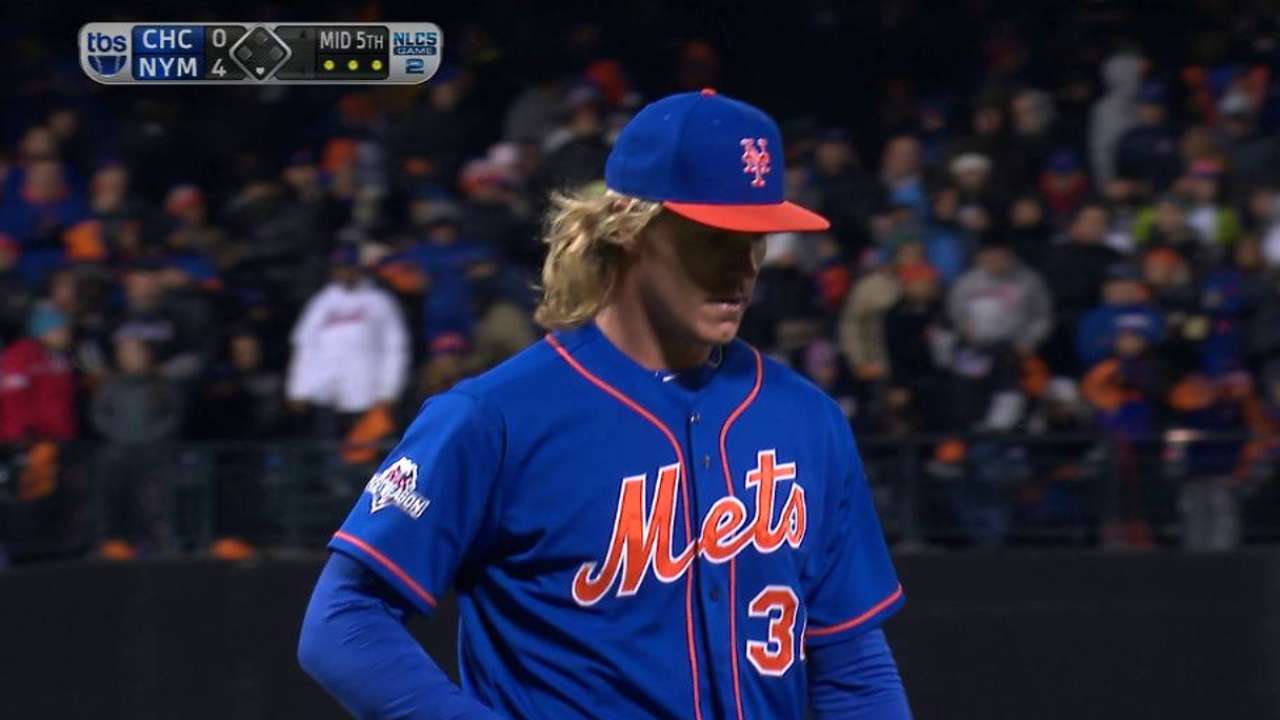 • On Friday, Edinson Volquez (6 IP, 2 hits) and three relievers combined on a three-hitter and the Royals took Game 1 of the American League Championship Series, defeating the Blue Jays, 5-0. Kansas City's three-hitter marked the 15th shutout in an LCS Game 1. Of the first 14 teams to author a Game 1 shutout, six went on to win the series: the 1970 Reds, 1974 Dodgers, 1982 Cardinals, 1983 Phillies, 2001 Diamondbacks and 2014 Giants. The Game 1 shutout teams that did not win the series: the 1973 Orioles, 1984 Cubs, 1986 Astros, 1997 Orioles, 2000 Mariners, 2006 Mets, 2008 Red Sox and 2013 Tigers.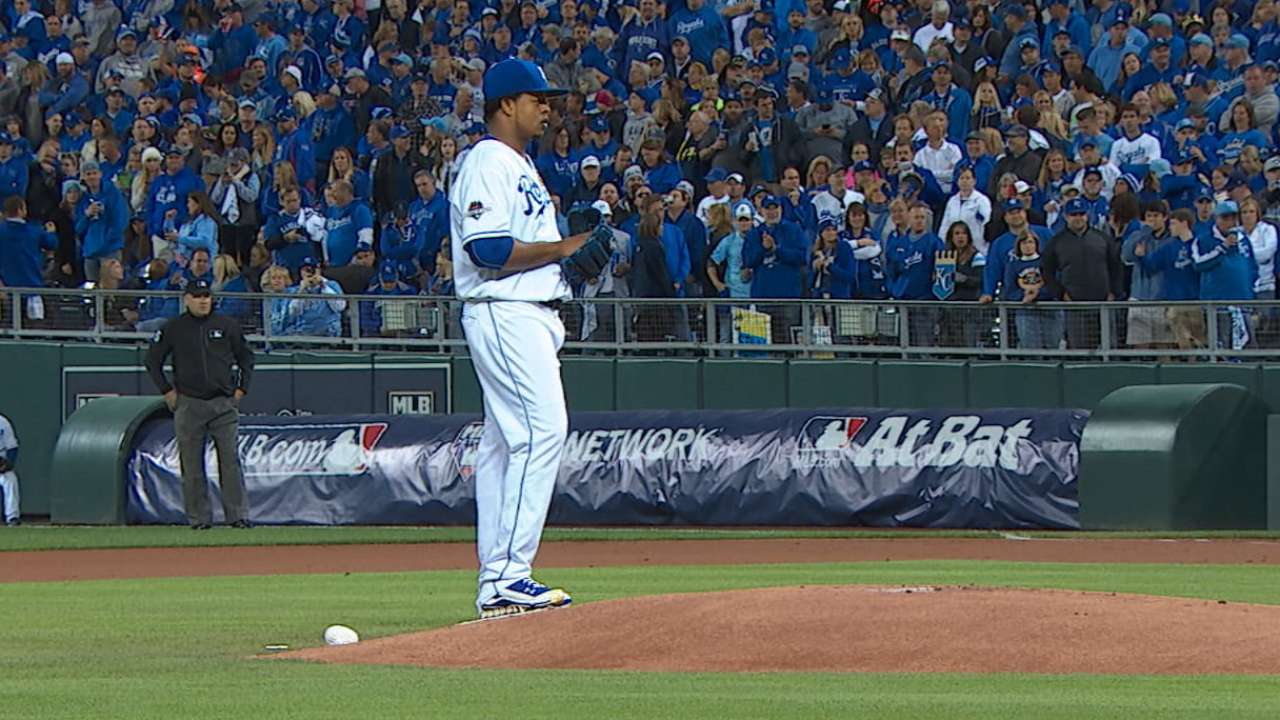 • In the second game of the ALCS, the Royals assembled a seventh inning featuring six hits and five runs and rallied from a 3-0 deficit to eventually win, 6-3. The Royals have won nine straight LCS contests. The winning streak is the second longest in history, behind the Orioles' 10-game run from Game 1 in 1969 through Game 1 in 1973. The Royals' streak dates back to Game 5 in 1985, when they defeated the Blue Jays, 2-0.
• Through the first seven games of their postseason, the Royals have outscored the opposition, 20-5, in innings 7-9.
Roger Schlueter is a contributor to MLB.com. This story was not subject to the approval of Major League Baseball or its clubs.