The secrets to beating Cueto in Game 3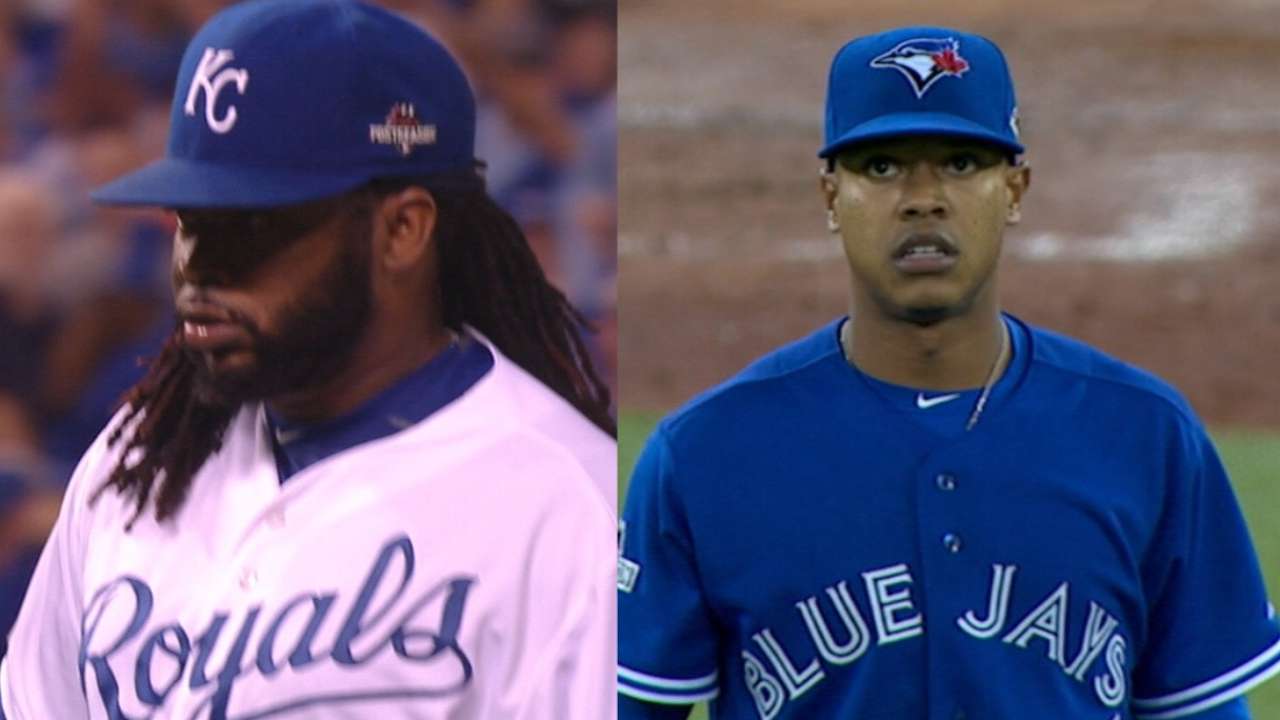 TORONTO -- Remaining patient and making the opposing pitcher throw strikes are two clichés hitters often lean on when explaining their approach at the plate. But with Johnny Cueto taking the mound for the Royals in Game 3 of the American League Championship Series on Monday (7 p.m. ET air time on FOX Sports 1 and Sportsnet, with game time at 8 p.m.), those well-worn sayings recited by Blue Jays hitters before a workout on Sunday afternoon might be worth buying into.
Cueto ranks among the league leaders in percentage of swings outside of the zone (35 percent), and considering he throws very few strikes relative to other qualified starters in baseball with a 41.2 zone percentage (68th of 78), plate discipline could factor large if the Blue Jays are to find success at Rogers Centre in Game 3.
• Shop for Blue Jays postseason gear
"Ultimately, you've got to throw the ball over the plate, and that's what we're trying to do, hit those mistakes," said center fielder Kevin Pillar, who's 2-for-3 in his career against Cueto. "Elite pitchers, you don't have a whole lot of success hitting the pitches on the edge, or their good pitches. You've got to hopefully fight those off and look for mistakes."
If his last outing was any indication, mistakes from Cueto may be hard to come by. The 29-year-old, whom the Royals acquired from the Reds ahead of the non-waiver Trade Deadline in July, was lights out over eight innings against the Astros in Game 5 of the AL Division Series, allowing only a pair of hits and two earned runs to send the Royals to the ALCS.
"He was tremendous his last outing against Houston, he clinched that [series] for them down there," Blue Jays manager John Gibbons said. "He's another one of those guys that can overpower you. When he's on, he's awfully tough."
Cueto hasn't faced the Blue Jays often over his eight-year career spent mostly in the National League, starting three games while putting up a 2-0 record with a 4.05 ERA. In his only 2015 start against Toronto, he didn't factor into a decision, going six innings while allowing seven hits for three earned runs in a Royals' loss July 31.
Troy Tulowitzki (3-for-16) and Russell Martin (1-for-17) are the only two Blue Jays with more than 10 career at-bats against the right-hander, but his pedigree as an ace is well-known in the Toronto clubhouse.
That he at times employs a delayed delivery (or a "shimmy," according to Pillar) and throws six pitches with some regularity makes Cueto a bit of an enigma. Ben Revere, who as a member of the Phillies faced Cueto in the NL, said it's hard to know what to expect from the righty.
"Looking at the film and seeing what he's going to do to us, I know he's going to have something up his sleeve," Revere said.
Blue Jays first baseman Chris Colabello said that with a pitcher like Cueto on the mound, waiting for a pitch in the strike zone is imperative.
"A guy like that is trying to get you to pay more attention to what he's doing on the mound and get you to swing at stuff that he wants you to swing at, and not stuff that you want to swing at," Colabello said.
Jamie Ross is an associate reporter for MLB.com. This story was not subject to the approval of Major League Baseball or its clubs.