Oct. 18 Jeurys Familia pregame interview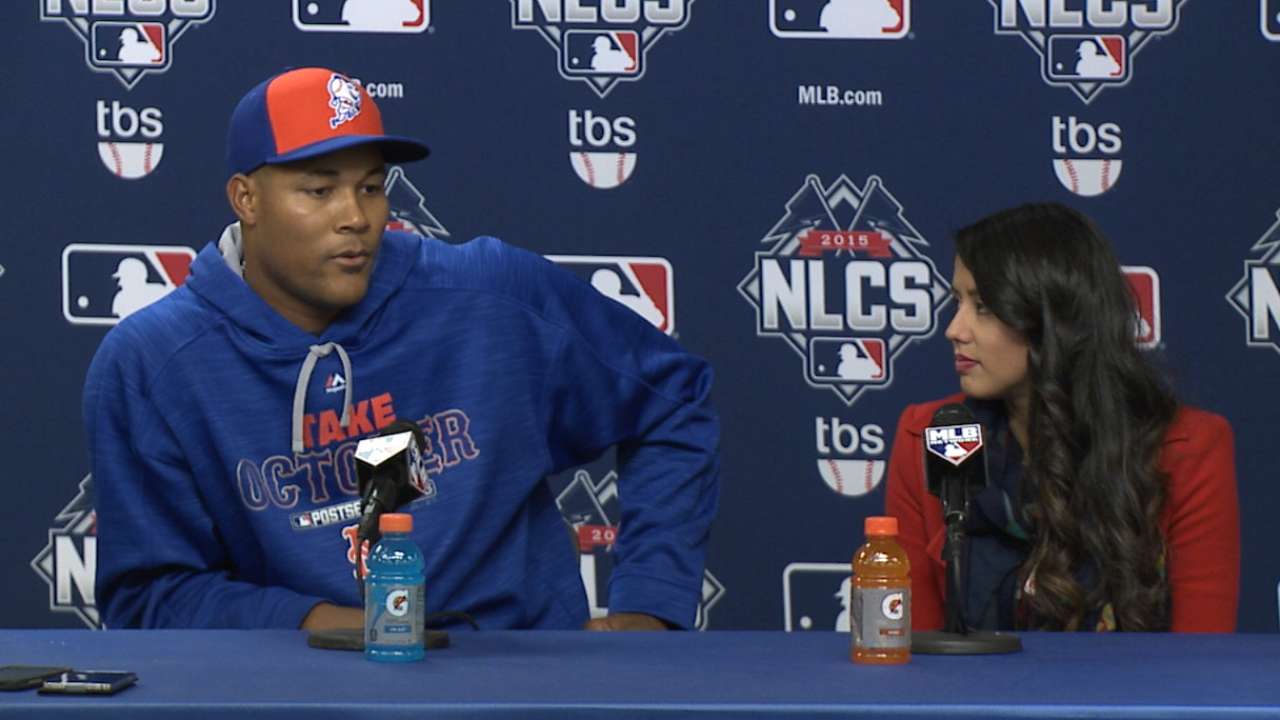 Q. I'm curious in terms of the development of your splitter this year, if there was a moment in which you sort of recognized that you had it either in a game or just consistently over the course of the season?
JEURYS FAMILIA: (In English) The splitter is something I've been working on for two years, and this year every time I am warming up to go into the game, I'm throwing it, even if I don't use it in the game. So Ricky (Bones) tells me I have to start throwing it for left handed hitters, and I started throwing it in the second half, and it's working.
Q. How do you prepare for these big postseason games as opposed to regular season games? How do you feel about your energy going into this game, and how do you feel about the atmosphere of everything going on?
JEURYS FAMILIA: I've had the good fortune of being around many veterans such as Bartolo and LaTroy Hawkins, so I've talked to them a lot about what this experience is like. I also just talk a lot with all of my teammates in general, and they've really build up my confidence. They've really helped build up my confidence, I can't stress that enough. I also to prepare for these games treat it as a regular season game. Same preparation as any other game.
Q. It's been a great season for you, can you talk about the journey from the beginning of the season when, obviously, Mejia went down and you had to do his job, and what's happened to you throughout the season, and how much fun this year has been for you?
JEURYS FAMILIA: Obviously this year, we've had our struggles, but I can't stress enough again just teammates, the atmosphere in the clubhouse, the people around you, it's really put me in a good place, which is why I think I've succeeded this year. And I'm thankful to God and the team for giving me the opportunity to step into this role.
Q. Can you talk about your previous experience with basketball as a kid, how has that translated to your baseball career?
JEURYS FAMILIA: As I've mentioned before, basketball was the sport I really grew up loving. I played from when I was 9 through 15. It was at that time though that I started to see all my friends play baseball. That kind of, I guess, drew me in. Though I couldn't say that it was my passion. Once I really though started paying attention and seeing how well the Dominican players were succeeding here in the U.S. and where that could really take you if you pursued that route, that's really what drew me in.
And after I signed in 2007 I just got it in my head I wanted to be like a Pedro Martinez. I wanted to be like a David Ortiz. I wanted to push myself to get to the greatest levels of this sport, and now it's my passion and I'm so glad to be here.
Q. Terry Collins has talked a lot in the past couple days about your relationship with Bartolo Colon. You've alluded to it before. How has he helped you? Terry said you guys spend a lot of time during batting practice and pregame stuff. What's Bartolo done to help you and how it's shown in your game?
JEURYS FAMILIA: (In English) Bartolo the last two years we hang, he's one of the guys that helps me not just in baseball, but as a person, too, to be a better person. I've got an opportunity to be close to him and learn from him because he's been in baseball a long time. I just try to ask him whatever question I have about baseball or life, I ask Bartolo. For me he's like another brother.
Q. Have you felt fatigued at any point with the long season? Has it in any way challenged you mentally when you know you have to get more than three outs?
JEURYS FAMILIA: I'm very strict with myself day to day. I don't allow myself to do certain things. Just to take care of my arm and take care of myself and my health. I'm ready for this. I don't feel in any way challenged when I have to go longer than what I was throughout the regular season.
Q. How do you feel after having the manager have the confidence in you to go two innings?
JEURYS FAMILIA: This is one of those examples where I think Bartolo has really helped me. I come in prepared always mentally every day. I know I'm going to pitch the 9th, but I'm going to prepare myself that anything could happen before the 9th, and I need to go in there and do whatever the team asks of me. Again, Bartolo always reminds me to come prepared for any situation.
Also, when you go in, it doesn't matter what the score is. If it's 10 0, I go in thinking it's 1 0, and I prepare myself for whatever is needed.
Q. Is there any other example of how Bartolo has really just affected this whole pitching staff, and all the young pitchers? How has he helped you get through the season and into the postseason?
JEURYS FAMILIA: Bartolo's just a presence in the clubhouse. It's a person that we all know, not just the young guys, but the veterans. We all know we can go to him. He's an open ear, he's a friendly face. He's open with all of us. We know he is always on hand for us to approach him about anything. He knows the game better than anyone, so it's really great to have him around.
Q. Really quick, you've talked to Terry tonight. There are no restrictions on your usage tonight?
JEURYS FAMILIA: No, no.
Q. You seem to project a sense of calm out on the mound. I'm wondering whether you feel that? And if so, what you do mentally to get to that moment of calm?
JEURYS FAMILIA: So the way I go about it when I'm out there is I pretend as if there's no one out there, just me. Just me throwing the ball. I take my time. I don't rush into anything. I block everything out. I know it's a high pressure game, and I know there's a lot of crowds and a lot of media, but I just take my time. I pretend it's just me out there, and unless I throw that ball, nothing's going to happen.