MLB.com Columnist
Tracy Ringolsby
Gordon, Hochevar reflect on KC's baseball revival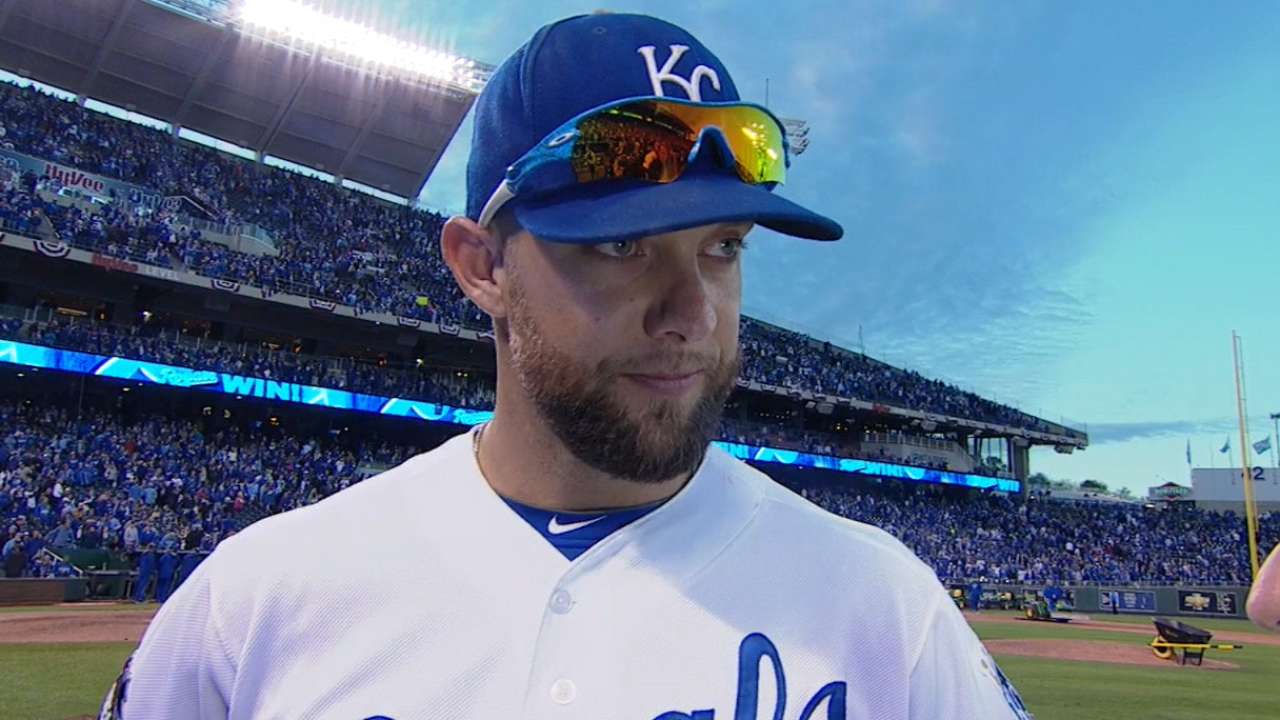 TORONTO -- Alex Gordon and Luke Hochevar know all about the bad times in Kansas City. They lived through them.
Not all 29 years of postseason-less baseball in K.C., mind you, but some of the worst of it, such as the two-year stretch from 2009 to 2010 when the Royals averaged 66 wins.
And those lean years give them a deeper appreciation than any of their teammates on the transformation of the franchise into the defending American League champions who are two wins away from their second straight World Series appearance.
• Dress for the ALCS with Royals gear
"Luke and I talk about it," said Gordon, whose club will look to take a 3-0 lead against the Blue Jays in the AL Championship Series on Monday night (7 p.m. ET air time on FOX Sports 1, with game time slated for 8 p.m.). "Both of us had our tough times, along with the team. It makes what is happening mean so much more because of what we went through. You learn a lot from your struggles. It's a test of who you are."
Gordon and Hochevar passed the test.
They are the two players on the Royals' ALCS roster whose ties to the organization predate even the hiring of Dayton Moore from the Braves to become the general manager who undertook a complete overhaul that has returned the Royals to success.
Gordon was the second overall pick in the 2005 MLB Draft, and when Moore was hired on June 8, 2006, Gordon was in the midst of hitting .325 with 29 home runs and 101 RBIs at Double-A Wichita in his first full pro season.
The Royals had a worst-in-baseball record of 537-759 in Gordon's first eight years in the organization, losing a franchise record 106 games in 2005.
Hochevar was selected by the Royals with the first pick overall in the 2006 Draft, two days before Moore became the general manager, and his signing two months later was one of first significant deals of the Moore era.
Those last-place finishes seem like ancient history now, and last year's magical run from the AL Wild Card Game to Game 7 of the World Series has completely changed the baseball culture in Kansas City.
That's part of the reason why Hochevar re-signed as a free agent last offseason. He had been an observer in 2014, recovering from Tommy John surgery, and as he put it, "It was so special to be around a year ago, even though I couldn't be part of it, and I felt like it would be even better to feel like I did contribute [this year]."
Hochevar saw no reason to look for a fresh start with another team. Sure, things haven't been as eye-popping as many anticipated when he was the No. 1 pick in the Draft. He has been moved to the bullpen, where he is a middle man, bridging gaps that develop between a starter and the Royals' relay team that covers the seventh, eighth and ninth.
And he did come up big in the first two ALCS games, working the final inning of a 5-0 Game 1 victory to allow closer Wade Davis a day of relaxation, and getting the call with one out in the sixth and the Blue Jays having taken a 3-0 lead on Saturday. He retired the two batters he faced, leaving the bases loaded.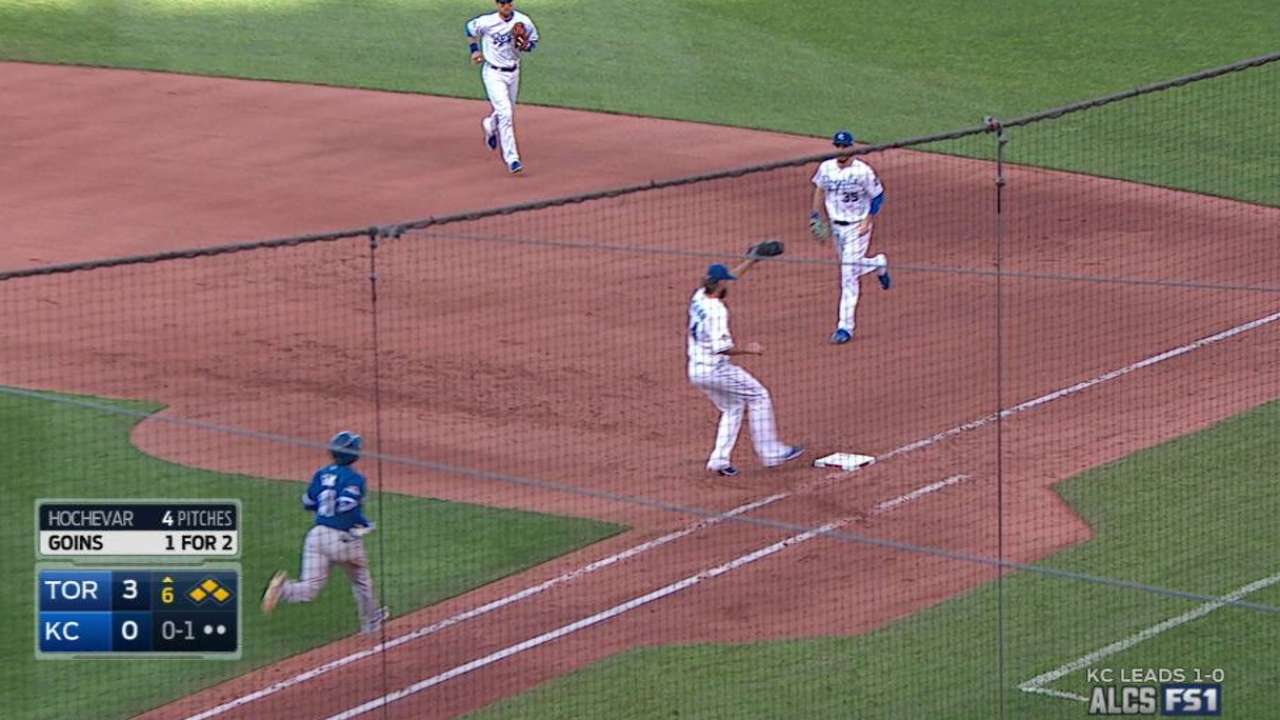 Gordon, meanwhile, drove in the go-ahead run in Saturday's 5-4 victory.
It is a special time for the Royals in general, and Gordon and Hochevar in particular. They have a friendship that actually began their sophomore year in college when Gordon, who attended Nebraska, and Hochevar, who attended Tennessee, were teammates on Team USA. The relationship has grown during their years with the Royals to the point "we've been together so much we're like family," Gordon said.
"Our wives are best friends. He has two boys and I have two girls, and they are best friends. We spend so much time together."
They even share three lockers in a corner of the Royals' clubhouse.
They are so close that when the subject of Gordon's pending free agency is broached, Hochevar good-naturedly warns, "Tell him I'll kill him if he ever leaves."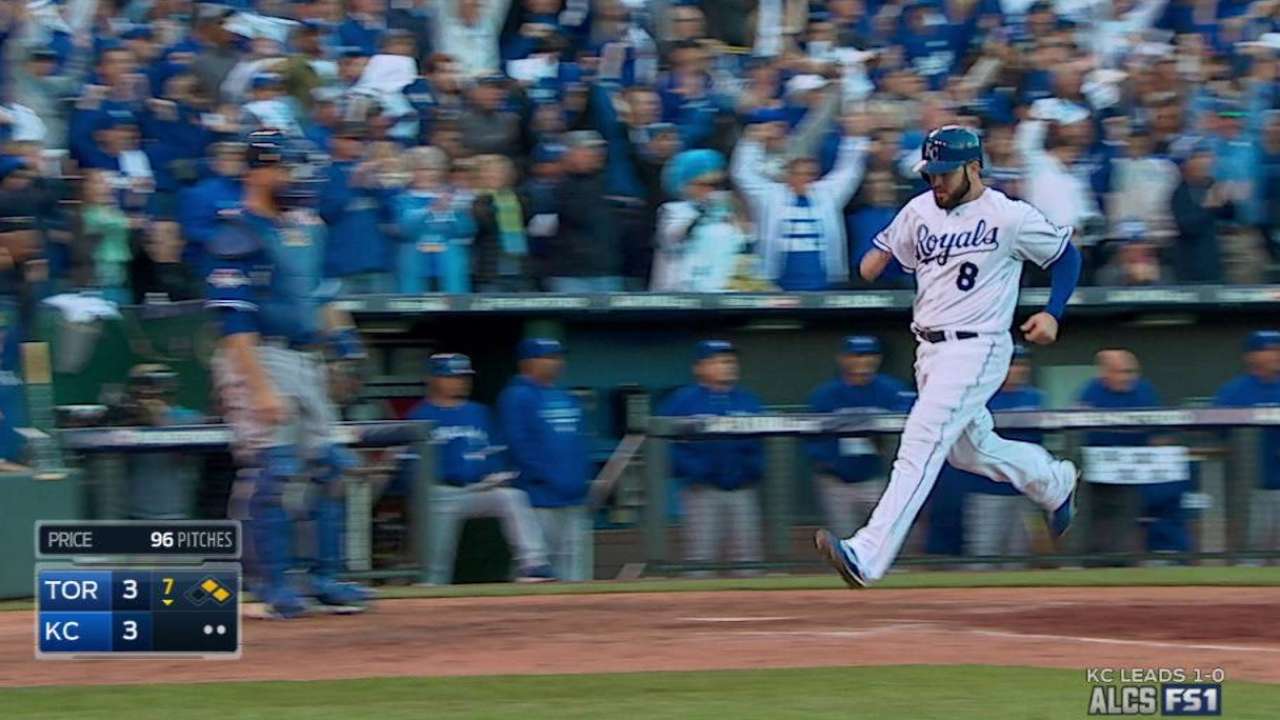 Leaving the Royals would be a major adjustment for Gordon, who has developed a strong belief in the leadership of Moore.
He admits some doubts in where the franchise was headed initially, but in 2009 he spent some time in the Minor Leagues on an injury rehab assignment, and he had an extended stay at Triple-A Omaha in '10 when he was sent down to make the transition from third base to left field.
"I saw the talent that was coming through the system," Gordon said. "I knew Dayton was developing something special. This hasn't happened by default. Dayton came in with a plan and believed in it enough to stick with it."
And when that talent began to surface in the big leagues, it had an impact on Hochevar when he had his free-agent opportunity.
"Kansas City was all I knew and all I needed to know," he said. "Dayton was able to put the pieces in place. It was a no-brainer for me to come back."
No sense walking away from a good thing.
Tracy Ringolsby is a columnist for MLB.com. This story was not subject to the approval of Major League Baseball or its clubs.