Blue Jays support Goins after Game 2 loss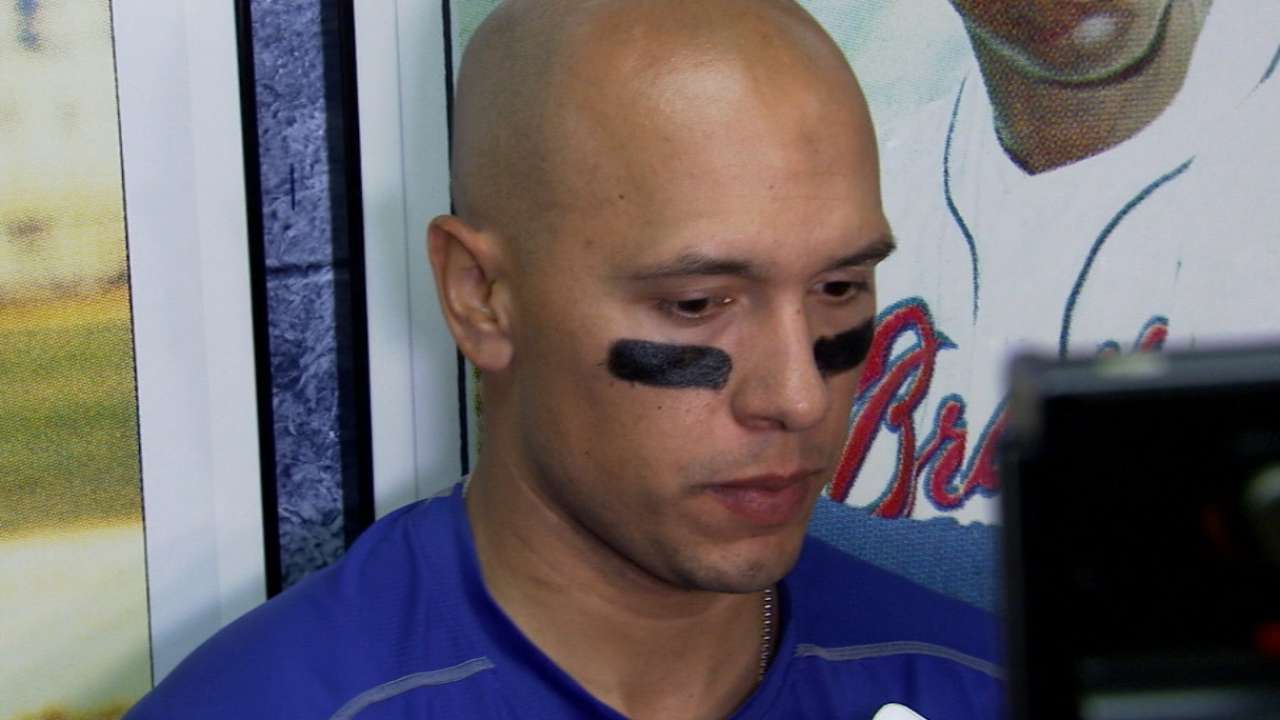 TORONTO -- Ryan Goins was down on himself after a key defensive misplay in the Blue Jays' 6-3 loss in Game 2 of the American League Championship Series to the Royals on Saturday.
The Blue Jays' second baseman blamed himself for letting a pop fly fall for a base hit in the Royals' five-run seventh inning, annulling a 3-0 Toronto lead that gave Kansas City a two-game lead in the best-of-seven series.
• Shop Blue Jays postseason gear
He was in a better headspace ahead of Sunday's team workout, though, thanks in large part to a show of support from his teammates.
"It was awesome that my teammates had my back, and that they believe in me still," Goins said.
• Watch Game 3 of the ALCS on Monday, Oct. 19 on FOX Sports 1 and Sportsnet; airtime 7 p.m. ET, game time 8:07 p.m. ET
Outfielder Kevin Pillar, first baseman Chris Colabello and manager John Gibbons were among those who spoke out in support of Goins. The consensus among them was that pinning the loss on one play was unreasonable.
"There's no reason for him to put the blame on himself," Gibbons said. "You win as a team and you lose as a team. It's one of those freak plays that you normally make, you know. But under the circumstances, with the loud crowd, it was kind of in the perfect spot. It happens."
"One play is never gonna be the defining moment in a game," Colabello said. "It's gonna look like it in a lot of people's eyes. There's gonna be a lot of cameras in your face, if you happen to be the guy involved in it, but I know where his heart and effort level is every day. The play happened, whose fault is it? It doesn't matter. It's one play in a baseball game."
Goins tracked a Ben Zobrist fly in that fateful seventh inning and called off right fielder Jose Bautista as the two converged. But at the last second, Goins let up, thinking he'd heard someone yell for it.
In a post-game interview, Bautista described the sequence, saying "there was no confusion" on the play.
Those comments led to criticism on social media that the star outfielder had left Goins to bear the brunt of the blame for the loss. Bautista then took to Twitter to defend his comments.
I challenge ANYONE to play the full tape of my post-game interview and then make your own conclusions. Nice try.

— Jose Bautista (@JoeyBats19) October 18, 2015
Goins quashed the suggestion that Bautista didn't support him, telling Ken Rosenthal of FOX Sports that the Blue Jays slugger was the first teammate to speak to him on the flight back to Toronto.
"He was nothing but supportive of me," Goins said.
Jamie Ross is an associate reporter for MLB.com. This story was not subject to the approval of Major League Baseball or its clubs.