ALCS matchup a family affair for Buteras
Sal is a coach and scout for the Blue Jays; Drew is a catcher for the Royals
TORONTO -- Sal and Drew Butera are taking the father-son rivalry to an entirely new level this week as they do battle on opposite sides of the field during the American League Championship Series between the Blue Jays and Royals. Game 3 is scheduled for Monday (7 p.m. ET air time on FOX Sports 1 and Sportsnet, with game time at 8 p.m.) at Rogers Centre.
Sal is a former Major League catcher and current scout with the Blue Jays who recently joined the big league team to help out in a coaching capacity. He already has one ring after winning the 1987 World Series with the Twins and is looking to add another to his collection. Drew broke into the league in 2010, serves as the backup to Royals catcher Salvador Perez and is still searching for the ultimate prize.
The duo is on different ends of the spectrum, and while both have plenty on the line this week, it's not going to get in the way of their strong bond. No matter what happens, don't expect anyone else in the family to pick sides. Everybody will just simply wear blue.
• Postseason gear: Royals | Blue Jays
"We're a strong, close-tied family and you always want to see everybody do well," Sal said. "In this case, it's a very unique situation having to go up against him on opposite ends. My wife says it's a win-win because she'll be in the World Series."
The Buteras began their hectic ALCS week the same way they spend a lot of the offseason, by sitting down for a nice dinner. They drove to Kauffman Stadium together prior to Game 1, but -- at least during this time of the year, with these kinds of stakes -- baseball is rarely discussed.
That will change when the series is over, no matter what happens. Sal lets the Royals handle all of his son's coaching duties, but he's always there for a critique or advice whenever it's asked of him. They don't get to see each other as much during the season as they would like, but remain in touch over the phone almost every day.
It's a tight bond that includes regular rounds of golf during the offseason, and the way Sal sees it, "we're buddies." That close relationship might become a little strained in a light-hearted kind of way this week, but even though there's a lot on the line, neither one has lost sight of the big picture.
"It's a really cool experience to have another family member on the field," Drew said. "Most people don't experience that in a lifetime. It's special for me."
Drew made his postseason debut during Game 4 of the AL Division Series against the Astros, when he came in after Perez was lifted for a pinch-runner in the seventh inning. He drew a pivotal walk that extended the Royals' now legendary five-run rally in the eighth inning. Sal did his best to keep his emotions in check as Kansas City survived that potential elimination game, and it's clear the goal all along was for these two teams to meet in this round.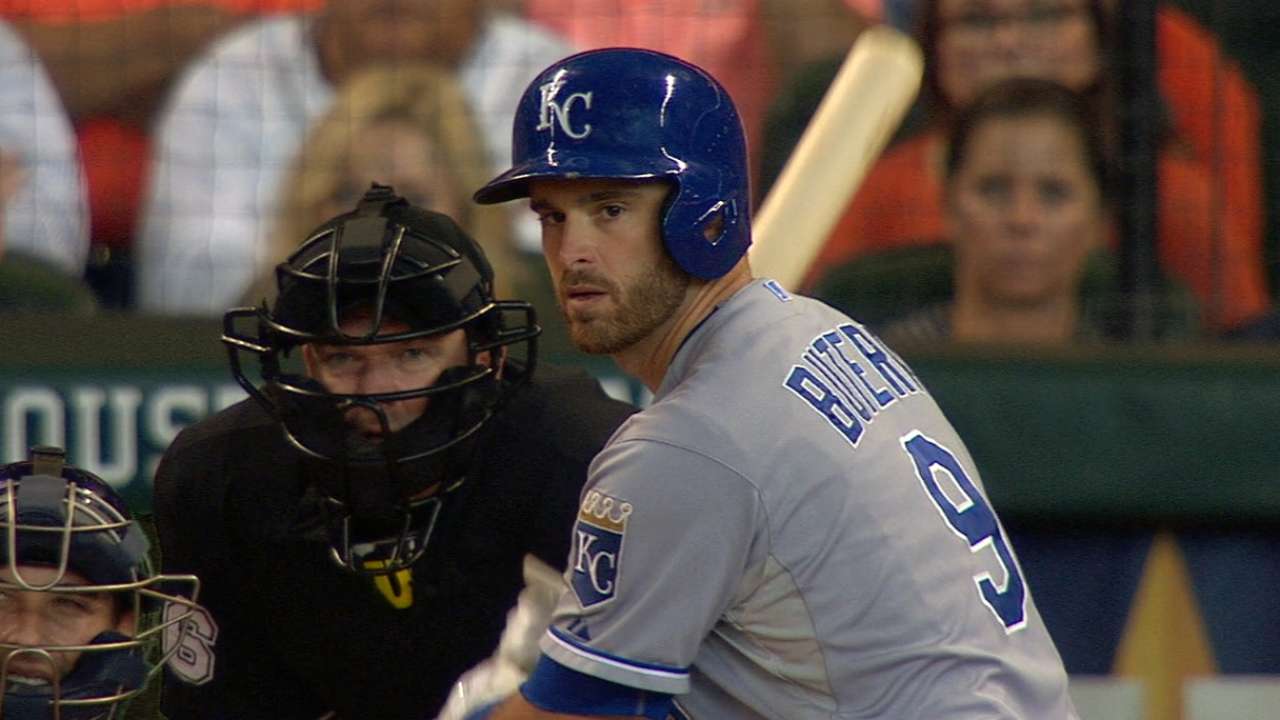 So what will happen if Drew gets into a game during this series? Will it be hard for Sal to put aside his family ties?
"The same emotions that I always have when he comes up," Sal said. "It's one of like any day -- it's pensive, it's heart throbbing. At the same time, it's just fun to watch him play at this level, which is fabulous.
"Embrace it, enjoy it, take it all in because it goes so fast sometimes you don't realize what happens until after it's over. I told him, 'Have a great time, this is a fabulous time.' And hopefully we win, but if we don't then certainly I'm pulling for him."
Gregor Chisholm is a reporter for MLB.com. Read his blog, North of the Border, follow him on Twitter @gregorMLB and Facebook, and listen to his podcast. This story was not subject to the approval of Major League Baseball or its clubs.