Oct. 18 Terry Collins pregame interview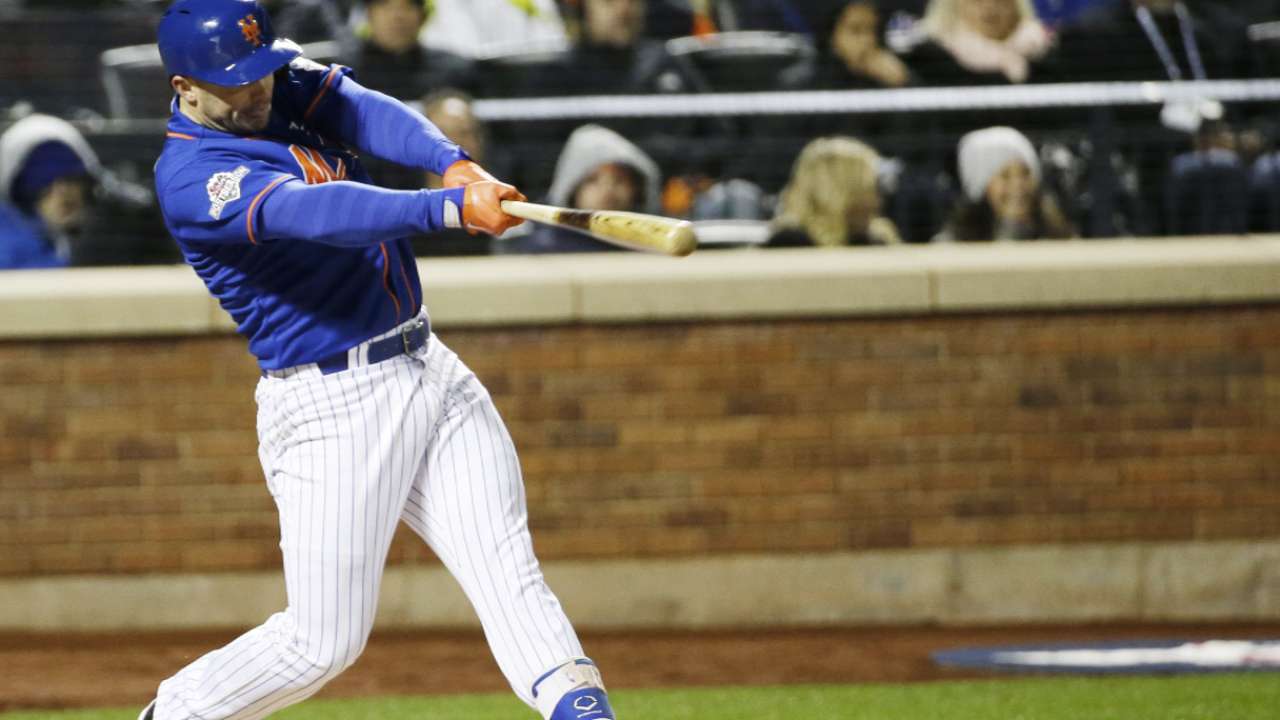 Q. Some of my New York colleagues tell me you've changed and that you're a better communicator, whatever that means. Is that possible? And have you changed your techniques as far as dealing with players?
TERRY COLLINS: Well, I've always thought my whole life that I've had the ability to hold a conversation (laughter), but in recent years I think I spend more time in conversations with my players than I ever have before. When I first came here, one of the things that I absolutely worked on every single day was to talk to every player on the team. And the other thing that I do here is my players have a say in stuff. They have a say in the rules. They have a say in dress codes. I want them to be a part of this whole thing.
So, yeah, in my opinion, that's communication. That's being a better communicator. Where years ago I wrote the rules, I put down the policies, I don't do that anymore. So I think that the fact that the players know they have a voice that they can come in my office at any time. I have no ego. I wasn't a star player. I don't have to worry about ‑‑ I don't get caught up in headlines. I get caught up in go have fun playing. That's all I ever wanted to do was play the game. So, yeah, I think I've changed. No question about it.
Q. Does cold weather this time of year change the way the game is played for pitchers, batters, fielders?
TERRY COLLINS: Well, there's so much energy in the ballpark that it always changes because you just get stiffer. The pitchers are a little stiffer. You saw two guys last night that pitched under tough conditions. The wind was blowing as hard as it was, and you saw some balls hit last night, a couple took off, a couple the wind grabbed.
So, yeah, cold weather changes the game. But that's October baseball and everybody knows it. So I think as long as ‑‑ we've got all the paraphernalia to stay warm, as warm as you can possibly be. But both teams got to play in it, so I don't think it makes a big difference.
Q. So with Jeurys I'm just curious if there was a moment this year where you sort of understood just what you had. You had this kind of closer or someone you could go to for five, six outs, if necessary?
TERRY COLLINS: Well, you know, he's been a starting pitcher in the past, so I know he has the ability to go multiple innings. You look at the job he did last year, he was a multiple‑inning guy. He's big, he's strong. We have, again, I really believe our pitching coaches have done an unbelievable job of making sure that hey, look, if they need days, we give them days. So we looked down the stretch, his workload wasn't huge down the last ten days of the season, so I think he's rested, and I think he's able to do it.
There was no one time. I've always known this kid could go multiple innings. What you try to do during the season is have him as many days in a row as possible, so you don't want him to get so many outs in one night.
Q. Well, I just meant even for dominance as well, even more so.
TERRY COLLINS: You've got that kind of stuff, they're hard to hit. This guy throws the ball 98 miles an hour, 97 miles an hour with tremendous sink, a power slider. Now he's got the split‑finger, and if he throws strikes, I don't care, he's hard to hit. He's just flat hard to hit. So he's got a chance to be dominant.
Q. Two questions on Harvey: One, how is he today after taking that shot off his arm last night?
TERRY COLLINS: Well, I haven't seen him. He didn't come in early for treatment, so I guess he's going to be okay. I saw it after the game last night and there was that picture of Murph, the ball that Murph hit with the label on his bat, there were some stitches on Harv's arm last night. So he'll be sore today.
Q. So you and Sandy both said on Friday that he was game to game on what you were going to do with him. Did he pass the test last night? Is he ready to pitch Game 5 in your mind?
TERRY COLLINS: Well, we'll see how he is with the bruise and how it's going to affect him. But he only threw 95 pitches last night, which is very, very good. If you're going to come back on four days' rest, keeping his pitch count where it was, I think it will be fine for him.
Q. When you guys acquired Syndergaard and d'Arnaud, what do you remember about the first time you saw them? They were both very young players, but what was your first impression of them?
TERRY COLLINS: Well, I mean, I talked to a number of people about d'Arnaud because he was obviously the closest guy that we thought could help us. When he first came up I was really impressed with the fact that he worked so hard to try to work with the pitchers. The first and foremost thing he wanted to do was be a catcher that called a good game. So he worked very hard at talking to the guys, what they needed and wanted to do during a game. He talked during the game with them, and therefore, I think his offense wasn't what we thought it was going to be because he worked so hard at being a defender.
Then last year when we actually sent him down because he wasn't hitting, he went down and just found the confidence. Hey, look, I'm going to attack. I'm going to go up and attack. Instead of just feel for the ball, I'm going to swing the bat, and he came back and he's developed into a heck of a player. The first time we saw him, I was impressed that he wanted to be a really good catcher.
When I first saw Syndergaard throw, again, you see those great big guys and they've got good arms, now you want to know if they can corral it. Is this guy just going to be a power arm? Is he going to be able to command his stuff? Because as you know, a lot of times those big, tall guys, there's a lot of moving parts. So he came up here this year and has always ‑‑ he hasn't had control issues at all, and that's been the thing that I've been most impressed with.
Q. Can you talk a bit about the make‑up of your roster and how it's been helpful for you to have a blend of veterans and young players and also home‑grown players versus acquisitions.
TERRY COLLINS: Well, we'll start with the veterans. You've got to have leadership. You've got to have strong leadership, especially in the postseason because there's going to be some bad nights, and those veteran guys know how to help those young guys get through it. The energy the young players bring this time of year is priceless because the veteran guys have been through this and they know how long the season is. When you bring young players up here, they're energizing. So that keeps the energy up in the clubhouse. They're excited about everything that happens. The veterans have taken these chartered planes for ten years or seven years. The young kids come up here and they're excited to see you get popcorn on the plane. That's thrilling to them, so it keeps the energy up.
So you get into postseason, that blend is helpful. As you know everybody wants to try to help. When you're winning, everybody wants to be a part of it, and so you've got that good mix. I tell you, our veterans, they help our rookies a lot to be able to deal with the pressures of playing in the postseason.
Q. Sort of similar to that question, specifically Granderson and Colon, both in their second years as Mets, and in addition to their on‑the‑field contributions, how much do they specifically contribute to elevating that culture you're talking about?
TERRY COLLINS: Guys have talked about it all year long. Bartolo has been a blessing for Jeurys Familia, a blessing. So you look, here we are, game what, 190 of the season, and I will bet you 190 times those two have stood in the outfield some place or have been some place together where they talk. His leadership with those young guys, and then when you add the humor of Juan Uribe, that's been huge.
But Curtis Granderson, he's just one of those quiet guys that goes about his job. I tell all the young players that come up here, If you handle the game like Curtis Granderson does because you're talented, you're going to be successful, because he never has a bad day. This guy's got a smile on his face every day; if he's playing, if he's not playing. You wouldn't know if he's 0‑for‑40 or if he's 30‑for‑40, same guy every day. That persona on a star, and young players see it, it helps a lot.
Q. Is Dan's ability to recall minute details of every game unusual? It seems like this postseason he's recalled every single detail of every game.
TERRY COLLINS: Dan Warthen?
Q. Murphy.
TERRY COLLINS: Oh, that's Murph. I will tell you, the first time I met Dan Murphy I was the field coordinator here and he got his knee torn up in the last game of Spring Training, and I didn't know him. I would go through, on our travels I'd go to St. Lucie to see our teams down there, and Dan Murphy's at the Rookie League game in the morning and the St. Lucie game at night. And all he talks about is baseball, so I'm not shocked that Dan Murphy is aware of every single pitch that happens during the game.
Q. I may be a little late to this, but I've noticed you've taken infield before batting practice a lot this postseason. Have you been doing that all year? Where did that start?
TERRY COLLINS: Five years.
Q. You don't see that a lot out there. What is sort of the genesis of that?
TERRY COLLINS: Well, again, the game has changed a little bit. Obviously, batting practices have changed. But I still think I'm a big ‑‑ I think defense is huge. I'm in the minority probably today in baseball. I think there is a real place for defense. So I think the more you do it, the better you become at it.
So I've asked Tim (Teufel), who buys into it also, that every day we take our ground balls, we turn our double plays. Tom (Goodwin) makes the outfielders throw to the bases two to three times a week, because there's going to be a time they've got to be able to do it. If you just don't do it anymore, when you're asked to react, you can't expect them to be perfect, and we don't.
But I don't have a formal infield. We just take that 10 or 15 minutes, and there's no balls flying around, like during batting practice, so guys are not worried about catching a ball and the ball's coming off the bat. So we get it out of the way and we do it early.
Q. Have you seen some of the pressure with David's struggles at the plate getting to him in the past few days?
TERRY COLLINS: I spent 20 minutes with him last night when the game was over. There's no pressures. They're not getting to him. I will tell you, this is David Wright, okay? He said to me last night, I said, "How you doing?" He said, "Okay." I said, "Are you stiff?" He said, "Terry, it was 35° out there, we're all stiff." I said, "No, how are you?" He said, "I'm fine." He said, "Now I suck, but I'm fine." (Laughter). And that's him.
So are they getting to him? No. He's a baseball player. He's been in this environment a long time. I just keep saying, hey, look, keep putting those good at‑bats on because it's going to happen. He's just too good a player.
Again, as much as you want everybody to hit, guys, who we've had to face lately, there's not going to be a lot of good ABs. Outside of Justin Turner, I think the Dodgers were going back to the dugout saying the same thing, God Almighty, we've got to face these guys again? So David's going to continue to play as long as he physically can, I'll tell you that.
Q. You've seen a lot of the Cubs a lot of good young hitters, but to see what Schwarber's doing this postseason with his age and his experience, how impressive is that?
TERRY COLLINS: Well, it is pretty impressive. You talk about some bat speed. I mean, he's got some bat speed. Those two balls he hit last night, up the middle and the one home run, he's just a good young hitter. I can see why he's up here as fast as he got here. He's going to be a danger. He's going to have to hit for power. So there are guys who come on the scene who are going to be destined to be great players, and he looks like he's going to be one of those guys.
Q. You were talking about Daniel down in 2010 when he tore up his knee. I remember talking with him down there, and he didn't seem like he was prepared to be shipped off to another team. What stood out with you with him to you back then? Did you know him before that?
TERRY COLLINS: I did not. I tell you what I still like about Dan Murphy: Dan Murphy likes baseball. He loves to play baseball. There are people in our game who do this because this is what they can do best. And if they could do something else they might because of the pressures, and the time, and the effort, and banged up. Dan Murphy is a baseball player. He loves baseball. He talks baseball 24/7, and that's what I liked about him. When you sit there in the stands and he's analyzing everybody's swing. He's analyzing what the pitchers are doing. He's talking about games he saw on TV. He's a baseball junkie. You know, when you spend as much time as I have, like I have in the game, you love those guys. So that's why I love being around Dan because it's about playing the game.