Oct. 18 Marcus Stroman workout day interview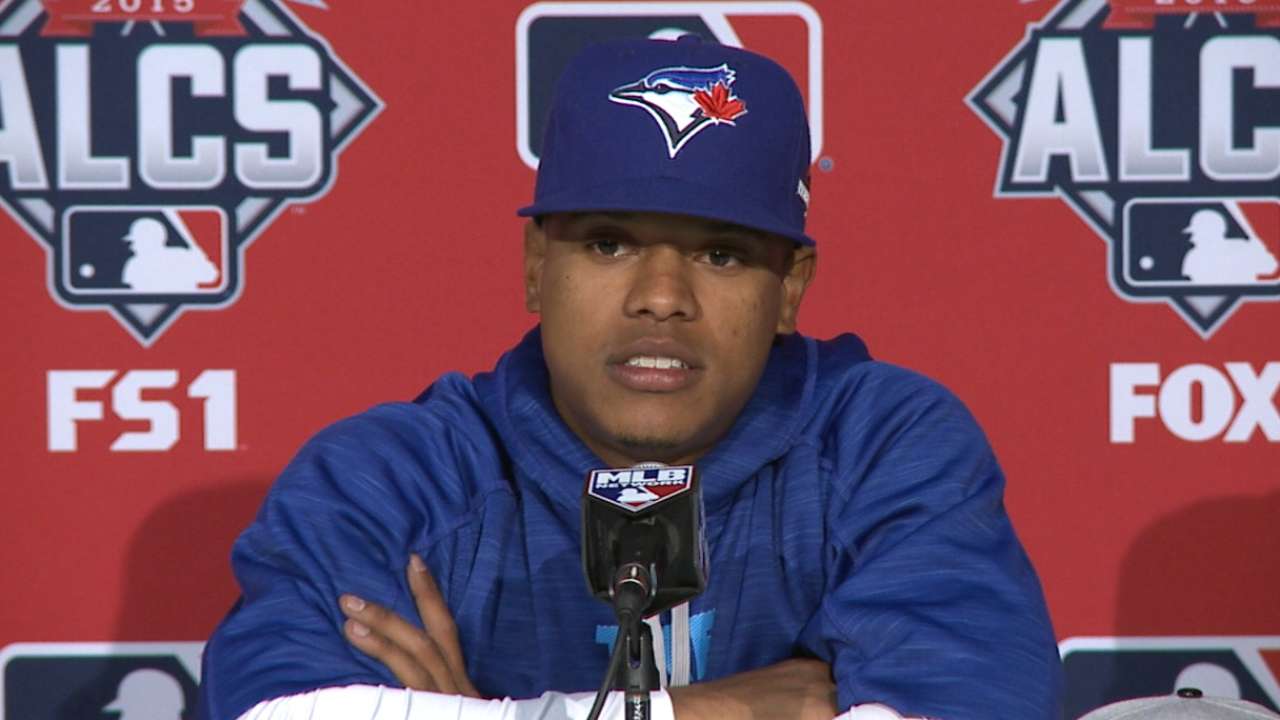 Q. You've overcome a lot of adversity this year with the ACL and you guys coming back from down 0-2. Is facing that kind of adversity something you can ever get used to?
MARCUS STROMAN: I mean, it's one thing when you're playing with your backs against the wall.

But, yeah, we faced a lot of adversity like you said. And I feel this team is a great team to face adversity because of the camaraderie and the confidence in every single guy in the clubhouse. We don't get down. We might get down in the series, but you could never tell if you walked in our clubhouse. We keep an upbeat, very positive nature, and we know we're capable of getting the job done.

Q. It seems like every time you're given the ball in these playoffs it's almost a do or die situation. You say you relish the idea but you haven't had an easy go yet, and is that something you're perfectly happy with?
MARCUS STROMAN: Yeah, this is fun. This is what you dream about when you're a young kid growing up. So I'm happy to be in this position. I want to be the one to have the ball in these games. That's what all the preparation and all the hard work is to be able to take the ball and go out in pressure situations. And I feed off the energy of the crowd and my teammates and I'm looking forward to being out there.

Q. Following up on that, Gibby said not every player likes the pressure situations. What is it about the pressure situations that you enjoy or thrive on?
MARCUS STROMAN: It's just something that I feel like I'm able to lock in more. The bigger the crowd, the bigger the moment. I feel like I'm able to put myself in a position that I excel better. I don't know if that's the nature of how I was raised or I feel like pressure situations don't necessarily phase me. They excite me more. And they make me pitch better and they bring out the best in me.

Q. You're the type of team that is an oddity compared to teams in baseball. Does that change how you go about them?
MARCUS STROMAN: I mean, to be honest with you, I go over my game plan with Russell and my pitching coach, Pete Walker, and I focus on my strengths, and do everything to go out and compete and keep my team in the game. I don't analyze lineups or situations. I do everything in my power to pitch my game and do everything I can to limit runs and to keep our high-powered offense in the best position.

Q. After the craziness of that Game 5, how much are you looking forward to getting out there?
MARCUS STROMAN: I look forward to going out every single situation, no matter what it is. I love this game, and I only get to play every five days or sometimes more than that. When game day comes along, I'm extremely happy, I'm like a little kid on Christmas Day. It's fun. I wouldn't want to be anywhere else except at the Rogers Centre at the mound in a pressure game. I love it. I know we're ready. I know we're ready to swing the bats, to get back out there and compete and it should be fun.

Q. You say you like to stick with your game plan, but how much does this Royals team kind of change that game plan?
MARCUS STROMAN: Yeah, you have to be more conscious and more careful when guys are on base, doing everything in your power to let Russell have the opportunity to throw guys out, because he's the best in the game.

Like you said, they're a great team. They battle. I know it's going to be a grind, it's going to be a battle out there, and I'll do everything in my power to keep those runners off the base. That's the best way to handle that team.

Q. Can you explain the hat?
MARCUS STROMAN: HDMH, it's my trademark. Stands for "Height Doesn't Measure Heart." It's kind of being the small guy in the room all growing up and being able to overcome stereotypes, and being able to just kind of get the message out there to every undersized athlete in the world: You don't have to be 6 foot 2, 6 foot 4, 6 foot 5 to do anything in the world.

A lot of times I see young kids get discouraged solely based off their height or physical stature. And it's unfortunate, because you have a bunch of baseball analysts and all these people who preach 6 foot 4 for pitchers. I'm just here to show them that you don't have to be 6 foot 5 to go out there and be an awesome pitcher in the big leagues. Height doesn't measure heart, something I always live by.