MLB.com Columnist
Bernie Pleskoff
Scouting profile: Joey Wendle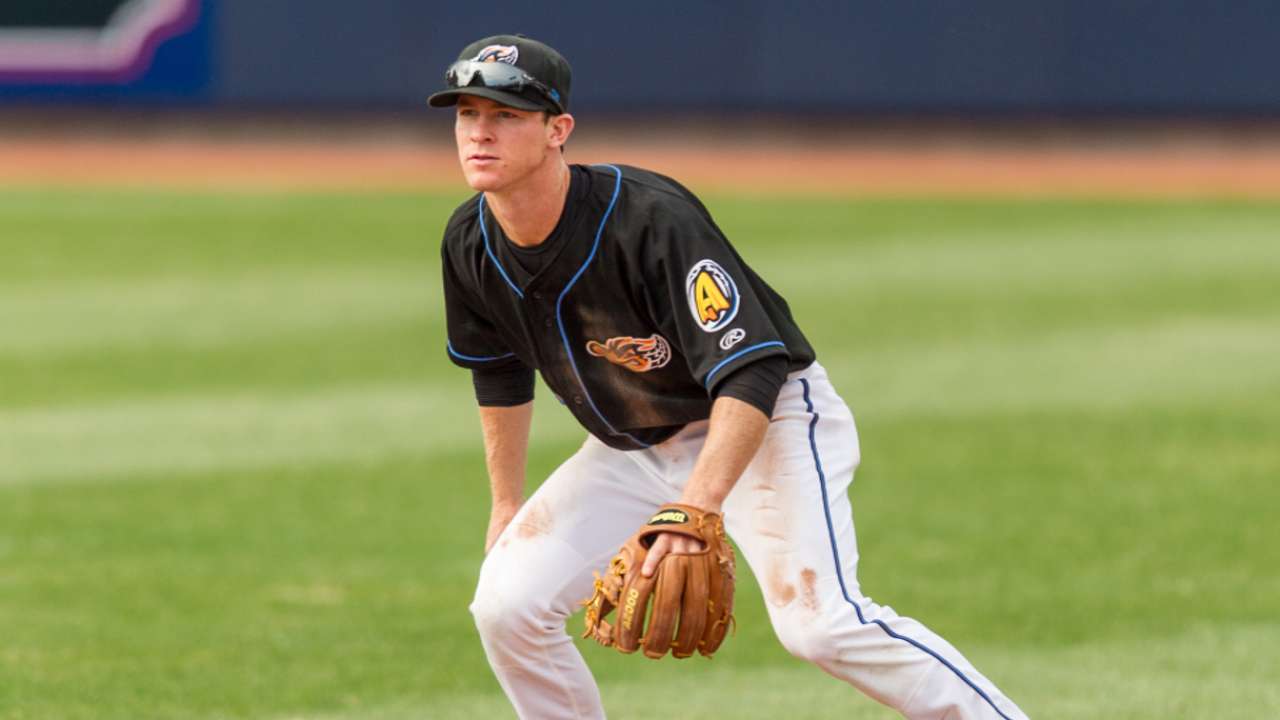 Background
Left-handed hitting, right-handed throwing Joey Wendle has always been able to hit. Although he plays solid, dependable defense and runs well, his hit tool stands out.
Wendle's consistently good batting average was evident to scouts when he attended West Chester University in Pennsylvania after leaving Avon Grove (Pa.) High School.
Wendle played four years at West Chester, leading his club to an NCAA Division II national championship with his .399 batting average, 12 home runs and 59 RBIs in his senior season. The Cleveland Indians selected him in the sixth round of the 2012 Draft.
Wendle, 25, is 6-foot-1, 190 pounds. He can play both second base and third base, but he profiles much better as a second baseman.
Due to their need to add power, the Indians traded Wendle to the Oakland Athletics in December 2014 for Brandon Moss. The trade was a surprise at the time, as Moss was coming off a serious injury and Wendle had not yet played Triple-A baseball. It was a deal that was designed to help the Indians for the present and the Athletics for the future.
Wendle is No. 16 on the Athletics Top 30 Prospects list.
Hitting
Wendle's development was stalled for a bit when he broke a hamate bone and missed part of the 2014 season. He recovered well and went on to complete the year playing for the Indians' Double-A team in Akron.
Wendle has a short, measured stroke that results in him using his pull side well, but also taking pitches to all fields. His approach is very steady without much extraneous movement. He realizes he is not a power hitter, so he approaches hitting accordingly. However, as a result of his good mechanics, he does get his share of extra-base hits. A tough out, he will not waste an at-bat. He thrives on making things happen and making every pitch matter.
Much more than a slap hitter, Wendle broke out this year at Triple-A Nashville when he smoked 42 doubles, the most of his four-year Minor League career. He also added eight triples and 10 home runs while driving in 57 runs.
Wendle makes good contact and can get the barrel of the bat on the ball. His good career on-base percentage is more a product of his hitting tool as opposed to him accepting bases on balls. He doesn't walk that often.
Defense
I think Wendle's agility and first-step quickness are a plus at second base. He isn't flashy, but he makes the routine plays. He doesn't show the type of range that will play at shortstop, however, which makes second base his best defensive option.
Additionally, his arm is strong enough to play both second and third.
Strengths
Wendle can be a solid offensive contributor as a second baseman. He knows how to hit and make the most of his abilities.
Wendle can run well enough to steal some bases and put some pressure on the pitcher and catcher. He will likely average low double-digits in steals if he plays regularly.
Weaknesses
Wendle really doesn't have the type of power that can change a game, but he does some flash some pop. And he has the type of hitting tool that can set up a rally or drive in an important run with a crucial and timely base hit. And when it is least expected, he can drive the ball to the gap or even over the fence from time to time.
Wendle's value will come from getting on base and scoring runs. His offense is his calling card.
I find this interesting
Wendle was not drafted out of college as a junior at West Chester. In fact, he wasn't drafted at all until after his senior year when he and his team earned attention by winning the NCAA Division II championship.
The future for Wendle
Wendle had a great season in 2015 and could very easily be in the conversation to play second base for the Athletics. I think he will be successful as a big league infielder with a solid bat and sneaky power.
Wendle in a word
Scrappy
Bernie Pleskoff has served as a professional scout for the Houston Astros and Seattle Mariners. Follow @BerniePleskoff on Twitter. This story was not subject to the approval of Major League Baseball or its clubs.