4 ingredients for Blue Jays winning the ALCS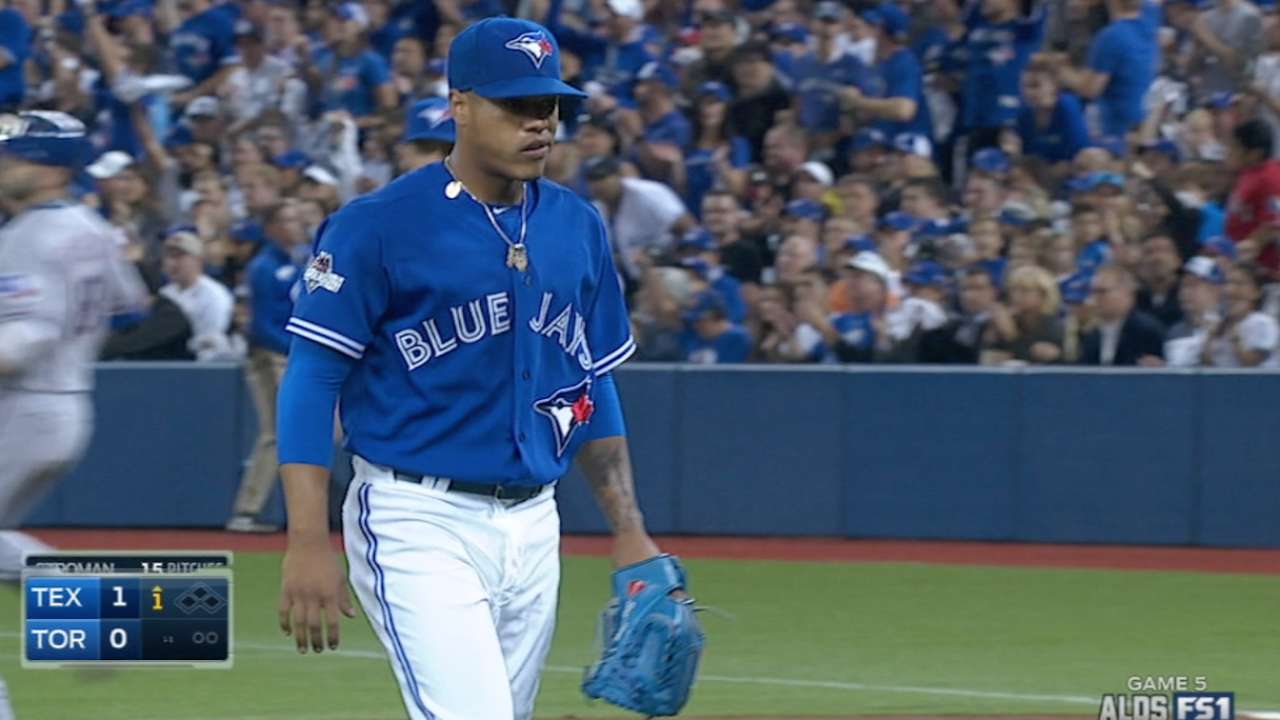 TORONTO -- The Blue Jays are not officially facing a "must-win" situation in Game 3 of the American League Championship Series, but Monday's affair (7 p.m. ET air time on FOX Sports 1 and Sportsnet, with game time at 8 p.m.) against the Royals is about as close as it gets.
Toronto returns to Rogers Centre trailing, 2-0, in the best-of-seven series, and the club can ill afford to put itself in an even bigger hole. Overcoming a two-game deficit is difficult enough, coming back from a 3-0 deficit has only been done once (2004 Red Sox).
The glass-half-full approach is that the Blue Jays have been in this situation before and only have to reflect on last week's AL Division Series against the Rangers for reasons this matchup against Kansas City isn't even close to being over.
There's also this: Of the three teams that have come back from an 0-2 deficit in a seven-game LCS (1985 Royals and Cardinals and 2004 Red Sox), all three of them, like the Blue Jays, lost the first two games on the road before mounting their comeback at home.
Here's a look at four key ingredients to the Blue Jays making this a series:
1. Marcus Stroman
While Stroman, Toronto's Game 3 starter, is one of the more inexperienced pitchers in the postseason, he has already shown a knack for coming through when the Blue Jays need him the most. He knows what it's like to be pitching with his team's back against the wall, and instead of wilting under the pressure, he rose to the occasion in the ALDS.
In a win-or-go-home Game 5 against the Rangers, Stroman came through with six strong innings, and while he didn't get the win, Toronto would not have been in a position to rally late if it wasn't for him. One thing Stroman needs to avoid is the first-inning runs that plagued him in each of the first two postseason starts.
2. Edwin Encarnacion
The injury to Encarnacion's left middle finger has been an ongoing issue for several months and the problem isn't going away any time soon. The sprained ligament clearly has affected his swing at times, but he'll need to grind through the pain and find a way to produce if the Blue Jays' lineup is going to produce up to its capabilities.
Encarnacion did a good job of that in Game 2 by going 2-for-4 with a pair of singles and an RBI. That was an encouraging sign, and he'll need to be a factor because it's clear that the Royals will do everything they can to avoid Jose Bautista. Bautista walked four times in the first two games, and if that trend continues, Encarnacion will have to make Kansas City pay.
3. Troy Tulowitzki
The most positive development to emerge for the Blue Jays in Game 2 was that Tulowitzki finally showed some signs of life at the plate. Prior to Saturday, Tulowitzki's lone contribution with the bat came on his three-run home run in Game 3 of the ALDS. Outside of that one swing, he was having a rough time, but the shortstop now has some positives to build on.
Tulowitzki went 2-for-4 in Game 3, and if he can continue to hit, he provides an entirely new element to Toronto's lineup. The star shortstop deserves credit for playing through a cracked shoulder blade that clearly has been an issue, but the warrior mentality won't mean much unless the Blue Jays continue to see better results at the plate.
4. Home-field advantage:
No, the Blue Jays don't have home-field advantage in this series, but they at least have it for the next three games. Toronto finished the regular season tied with the Astros for the best home record (53-28) in the AL, and a return to Rogers Centre could help what ails this team.
Toronto has the slight advantage of being familiar with the turf, and the hitter-friendly ballpark is well suited for the Blue Jays' lineup. The comfort of home could cause a resurgence in power, and that's good news for a team that is waiting to break out offensively.
Gregor Chisholm is a reporter for MLB.com. Read his blog, North of the Border, follow him on Twitter @gregorMLB and Facebook, and listen to his podcast. This story was not subject to the approval of Major League Baseball or its clubs.