Cubs don't regret sending Castro home
'Give Cespedes credit' for great throw to nab runner in Game 1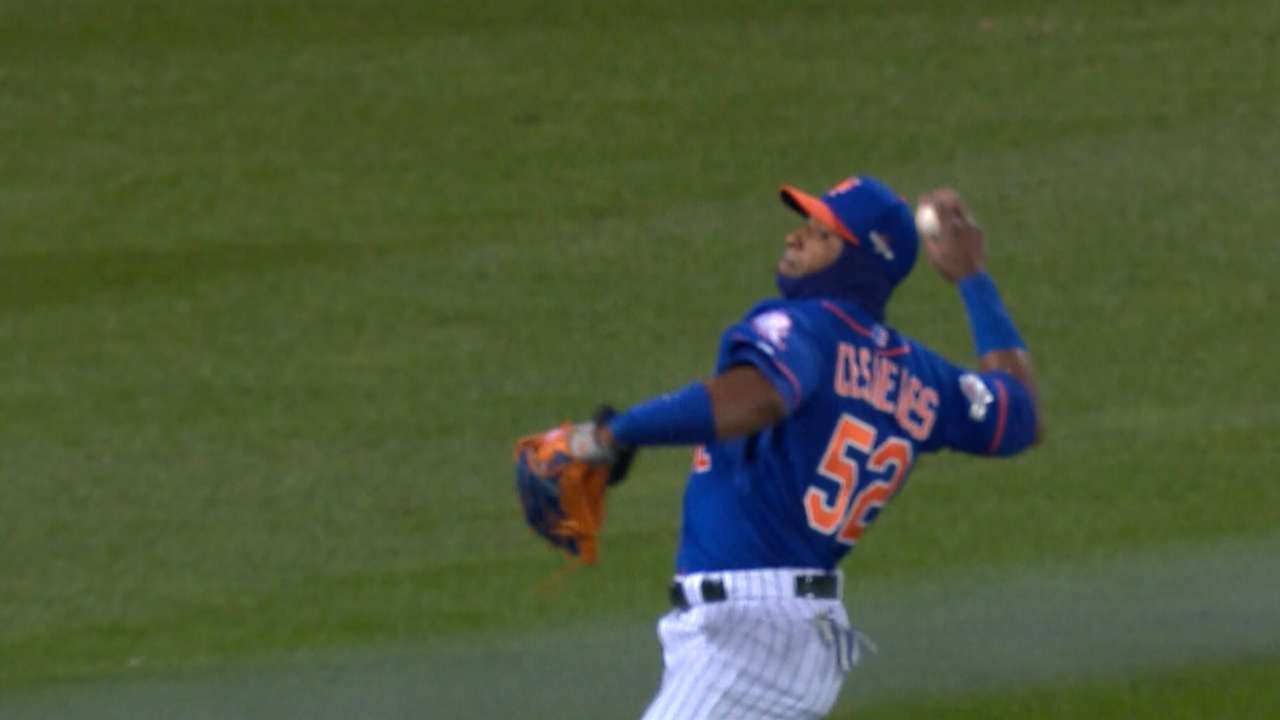 NEW YORK -- Given a chance to do it again, Cubs third-base coach Gary Jones says he would windmill his right arm with the same enthusiasm.
Jones stood by his decision to test Mets left fielder Yoenis Cespedes' strong throwing arm at a key juncture of Game 1 of the National League Championship Series, despite knowing in hindsight that Starlin Castro was out at home, killing a Cubs rally and helping the Mets' Matt Harvey regain command of what became a 4-2 Cubs loss at Citi Field.
• Shop for Cubs postseason gear
"I thought we had a shot," Jones said. "I've been sending guys all year with that same play. [Cespedes] had to make not only a strong throw, which I knew he probably would, but it was also accurate.
"It's one of those things where you take a chance. I took a shot, and he made a nice play. You give him credit."
Jones had been a lonely man until that moment in the fifth inning. Harvey retired the first 12 Cubs he faced before an inside fastball plunked Anthony Rizzo's right upper arm leading off the fifth. Harvey's next pitch was a slider, which Castro smacked to the center-field wall for a run-scoring double that tied the game at 1.
Castro held at second base on Jorge Soler's groundout, but was off and running when Javier Baez grounded a single between shortstop and third base. As Cespedes charged and scooped up the bouncing baseball, Jones waved Castro home.
"The ball got to [Cespedes] quickly," Jones said, "but he was still pretty deep."
Cespedes' arm strength is no secret. He most famously flashed it in Anaheim in 2014, when Cespedes played for the A's. After fumbling a base hit in the left-field corner, he recovered to make an amazing throw all the way to the plate, reaching the catcher on the fly to retire the Angels' Howie Kendrick.
Saturday's throw was not nearly as dramatic, but produced the same result. As Castro made a wide turn of third base and chugged home, Cespedes' on-target throw bounced to catcher Travis d'Arnaud. Castro tried to sidestep the tag, but was easily out.
"I did everything good after they hit the ball," Castro said. "When I saw the ball, the first step is back to the base because there's less than two outs. I don't want to be out if [the infielder] catches the ball. With two outs, it's different. But after taking my two steps back, I was just running hard in case [Jones] sends me."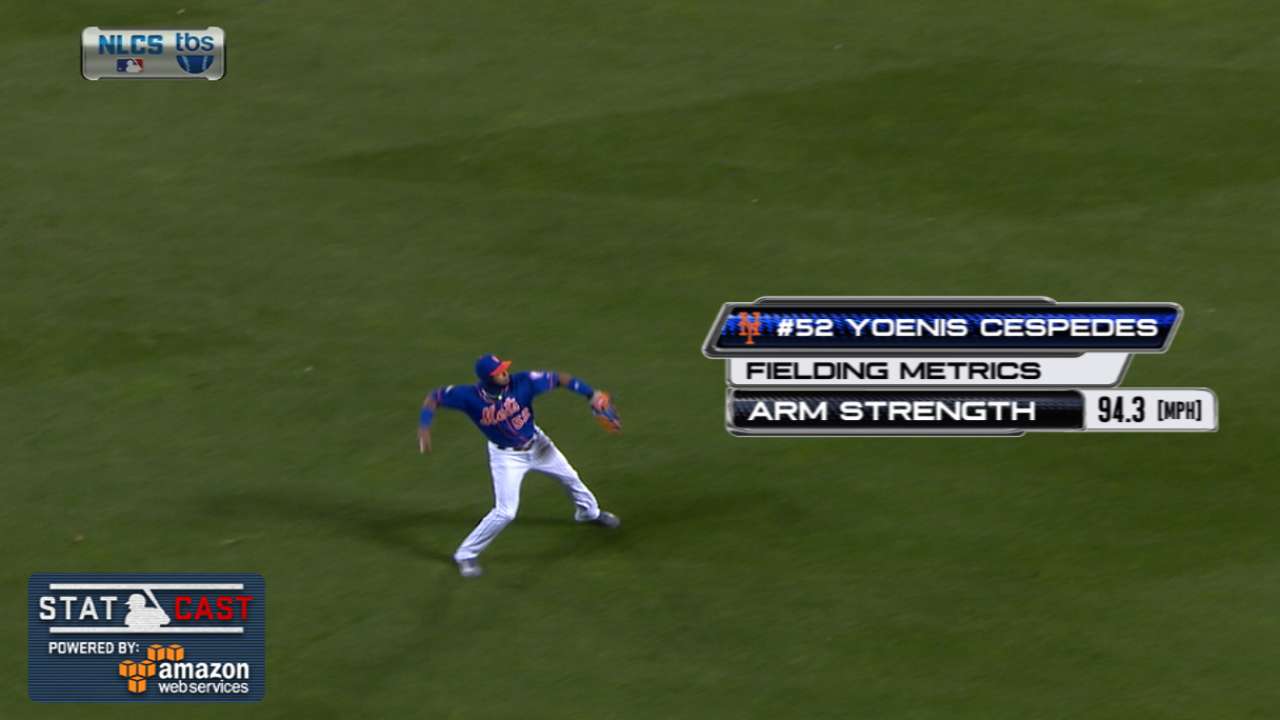 Asked whether he was surprised Jones tested Cespedes, Castro said, "I think we just took a chance to see if we would score that run right there. We know -- everybody knows -- that guy has a cannon."
Was it the right call?
"You could say possibly not send the runner," Cubs manager Joe Maddon said, "but we did, and it was just a good baseball play on their part. [With eight-hole hitter David Ross due to bat next], there's different things you could possibly do, but Jonesy has been aggressive all year. He's been a great third-base coach all year and I never second-guess him."
Harvey took advantage of Cespedes' assist. Baez stole second base and took third on an error charged to d'Arnaud, which allowed Harvey to intentionally walk Ross and pitch to Cubs pitcher Jon Lester instead. Lester struck out to end the inning.
"Give Cespedes credit," Jones said. "I thought we had a shot."
Adam McCalvy is a reporter for MLB.com. Follow him on Twitter @AdamMcCalvy, like him on Facebook and listen to his podcast. This story was not subject to the approval of Major League Baseball or its clubs.