MLB.com Columnist
Mike Bauman
Dark Knight stops batmen, shows how to beat Cubs
While easier said than done, strong starting pitching featuring command can neutralize power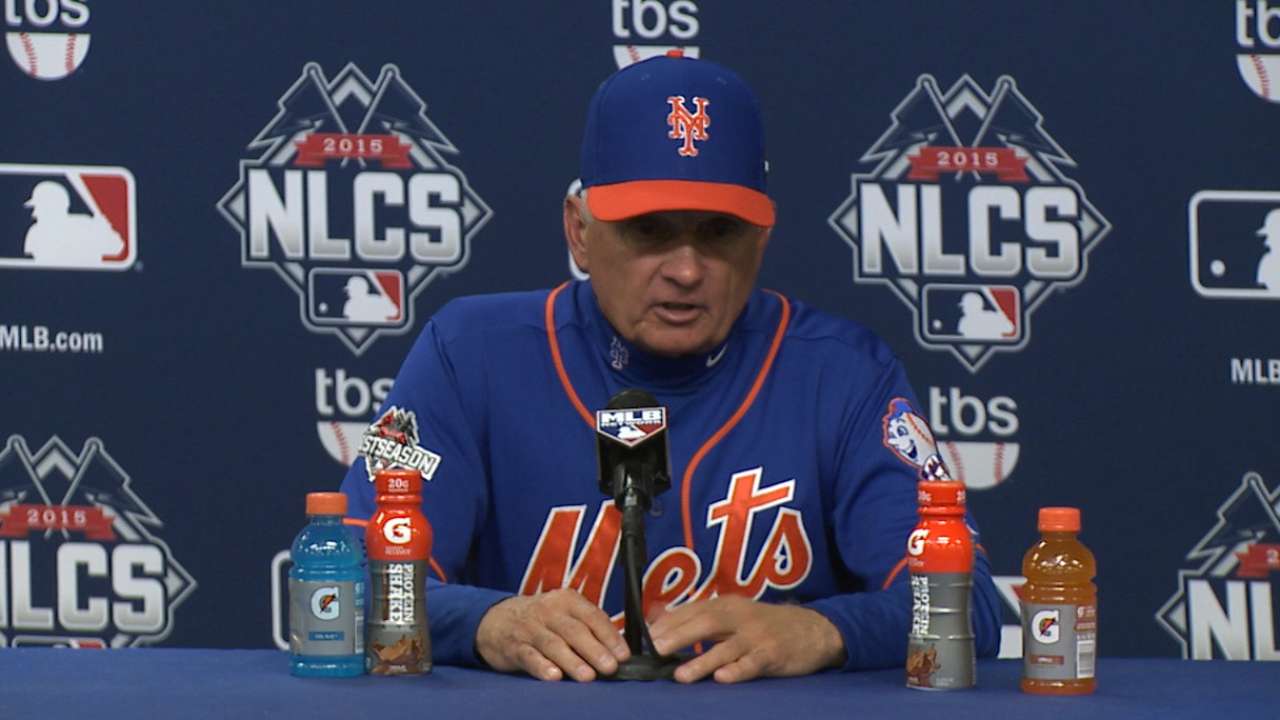 NEW YORK -- The blueprint for how the Mets could beat the Cubs was on display at Citi Field on Saturday night.
There it was, the path through the National League Championship Series, leading all the way to the World Series, in public view for all to see. The main component is getting a start dominant enough so that the Cubs' power hitters cannot take over the game.
• Shop for Mets postseason gear
Matt Harvey produced exactly that kind of game in the series opener. He opened up semi-untouchable, retiring the first 12 Cubs he faced. He gave up a hit-by-pitch and a double to open the fifth, but that was all the Cubs could manage against him until Kyle Schwarber hit a solo home run with two outs in the eighth. That blast landed a projected 459 feet away, but the only impact it had in this game was to change the final score from 4-1 to 4-2.
The Mets did not exactly pummel Cubs starter Jon Lester, but there was a Daniel Murphy home run, which is becoming a postseason staple, in the first. Then New York chipped away for solo runs in the fifth, sixth and seventh for the eventual 4-2 victory.
But the central theme of this game was that Harvey was too good on this night for even the Cubs' impressive array of run producers. Over his 7 2/3 innings, he gave up two runs on four hits, walking two while striking out nine. If he was the Dark Knight, then the Cubs were pretty much the Penguin in this one.
The idea of controlling the Cubs' offense with superb pitching is solidly in the easier-said-than-done category. Ask the Cardinals, owners of the Major Leagues' best record, winners of 100 games, with a season built primarily on the strength of their pitching. Their staff was battered by the Cubs and beaten in four games in their NL Division Series.
But it is conceivable that the Mets could control the Cubs' attack, because of the quality of New York's starting pitchers. It is not merely the work of imagination that Harvey, or Jacob deGrom, or Noah Syndergaard, or Steven Matz could neutralize the Cubs' offense often enough for the Mets to win this series and the NL pennant.
"I love our pitching staff," said Mets manager Terry Collins. "I mean, I love these young pitchers. They're going to be so good."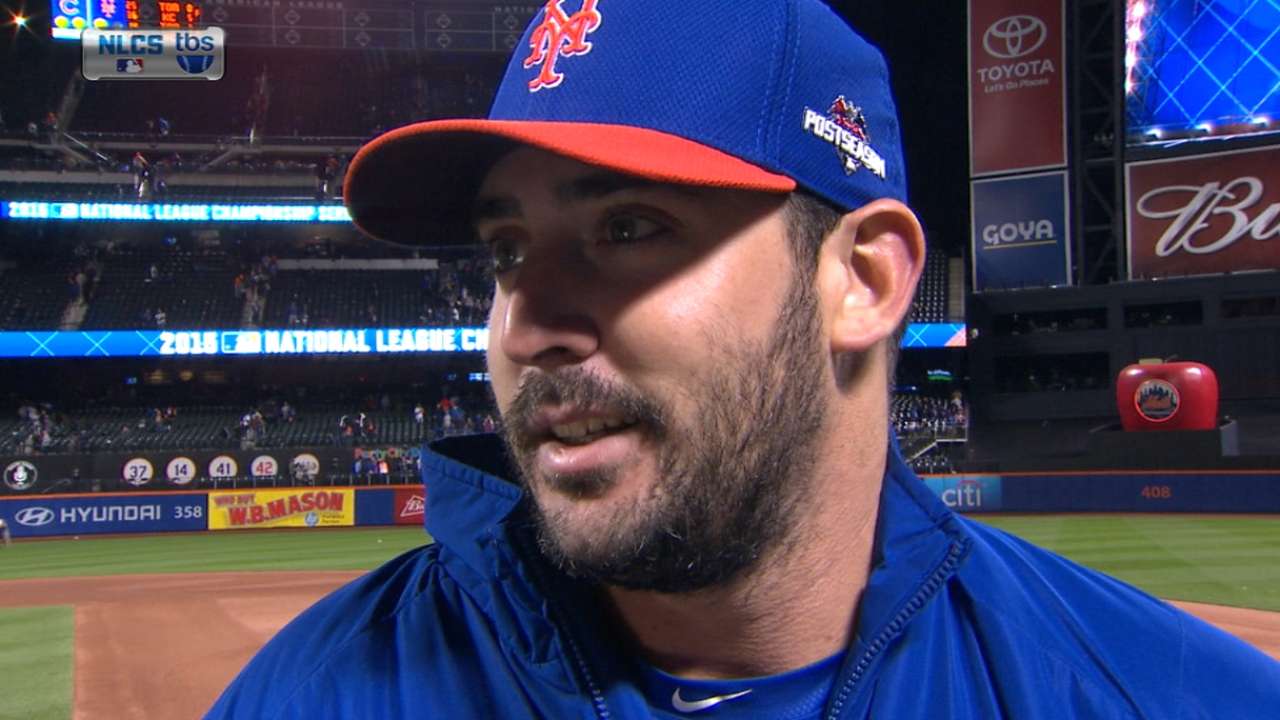 They've already traveled well down the road toward "so good." Take Harvey on Saturday night. Cubs manager Joe Maddon was asked how he thought his team had reacted to the big moment on the big stage.
"Beautifully," Maddon responded. "If Harvey wasn't pitching, it would have looked a lot better. He was outstanding tonight. Give him credit, because he had about as good of command as you possibly can of all his pitches. His stuff is always good, but the command was outrageous tonight. Therein lies the game, because Jon pitched well, too.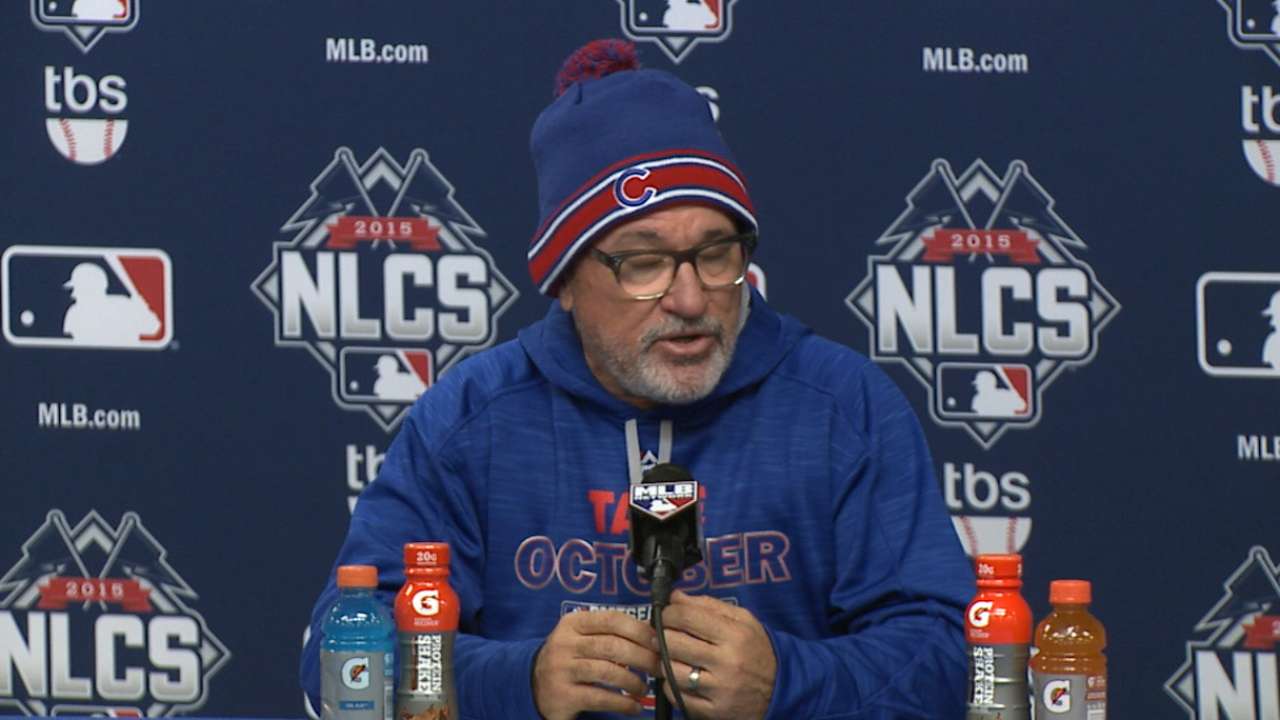 "I thought we were fine, absolutely fine. I just think that he was absolutely on top of his game tonight."
The weather was relatively cold, so Harvey established his secondary pitches early.
"I think what we talked about earlier today and going into this game was to try to get him some consistency and a routine, and the result is better command of his stuff, and you saw it tonight," Collins said of Harvey. "He had better command. His changeup was outstanding early. He threw some curveballs, good curveballs early. On a night like this, you're not going to really have your real, real good fastball. The weather just isn't conducive to it."
Collins sent Harvey back out for the eighth, a move he might not normally have made.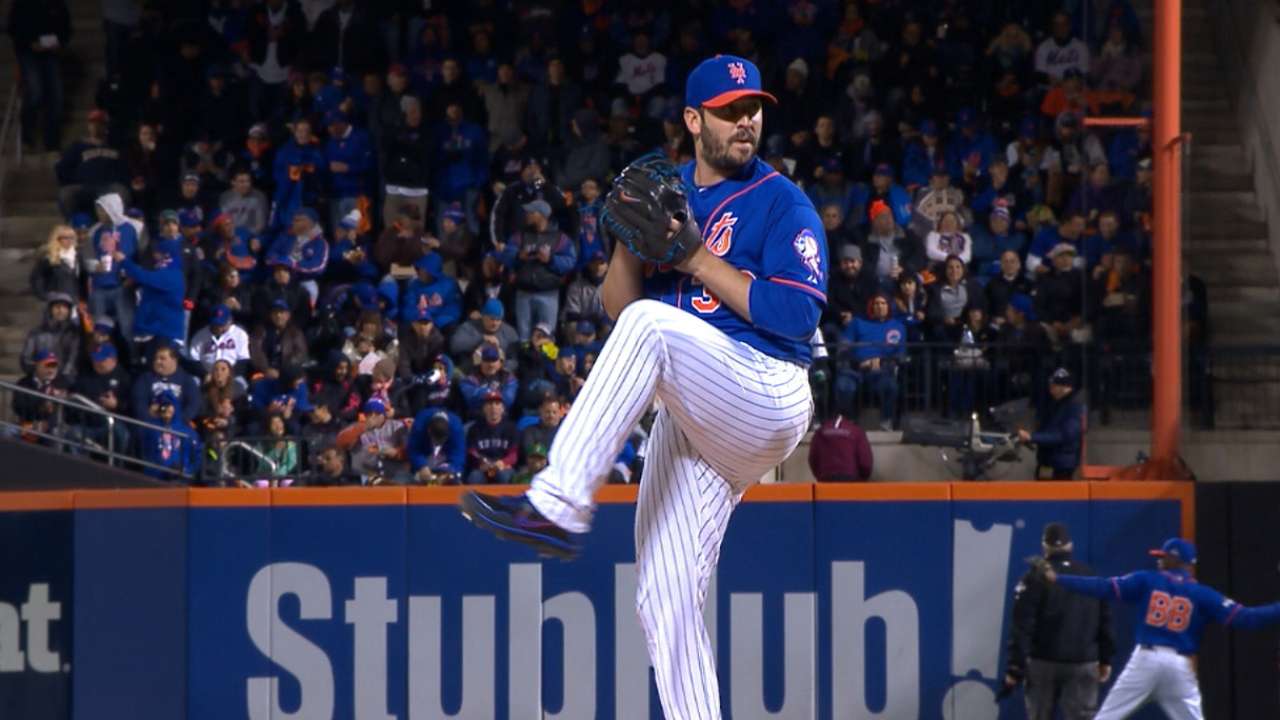 "Once in a while you've got to throw him a bone, and tonight was that time," the manager said.
Harvey allowed the long homer to Schwarber, but that was the first home run given up by a Mets starter in this postseason. And Collins went to closer Jeurys Familia for the four-out save. The ideal Mets pitching usage in this series might be the four starters and Familia, but again, that's asking a great deal.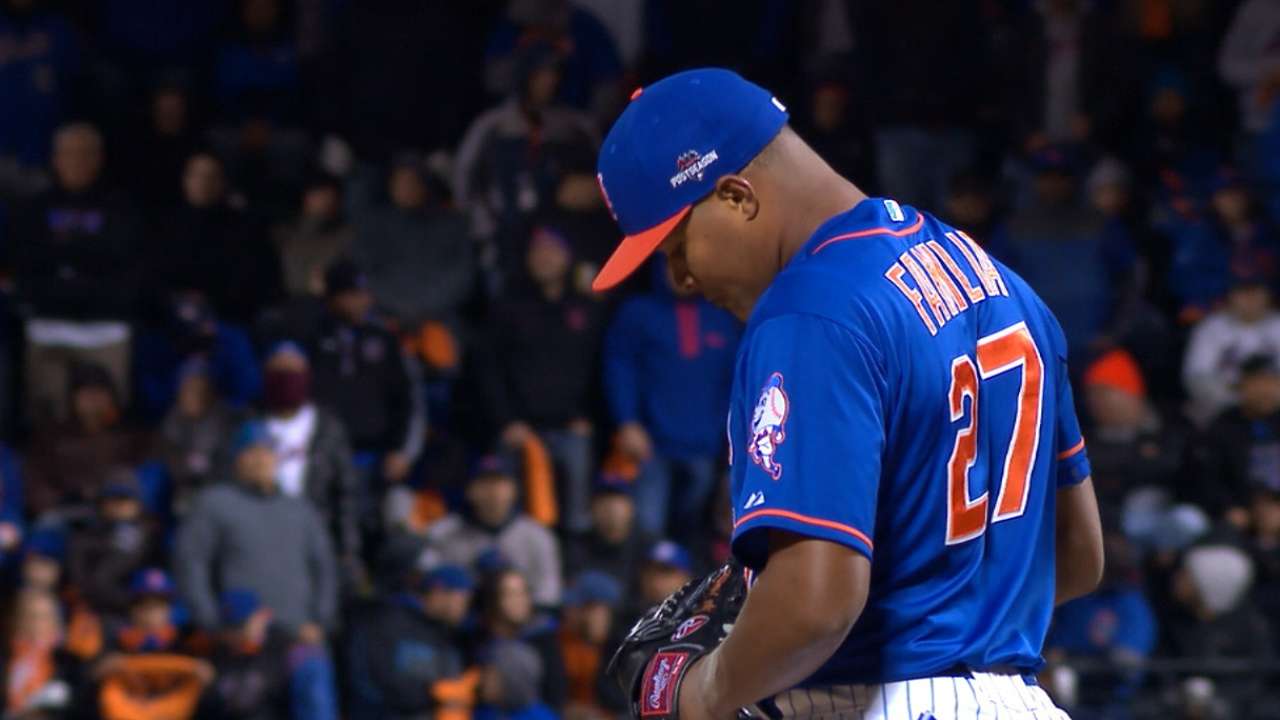 With this performance, the earlier controversy about an innings limit for Harvey became strictly rear-view mirror stuff.
"I knew I had to kind of set the tone early," Harvey said. "I know there's been a lot of speculation or talk going around the past month, but I kind of wanted to kind of stop all that and really go out there and do everything I could for the team and help us, like I said, start off right. Fortunately enough we put up some runs and I was able to do that."
That's putting it mildly. What Harvey did Saturday night was show how the Chicago Cubs could be beaten in the NLCS. It was just one game, but the example could last longer than that.
Mike Bauman is a national columnist for MLB.com. This story was not subject to the approval of Major League Baseball or its clubs.