Montero explains position at plate on sac fly
Cubs catcher unable to apply tag on Lagares in 7th inning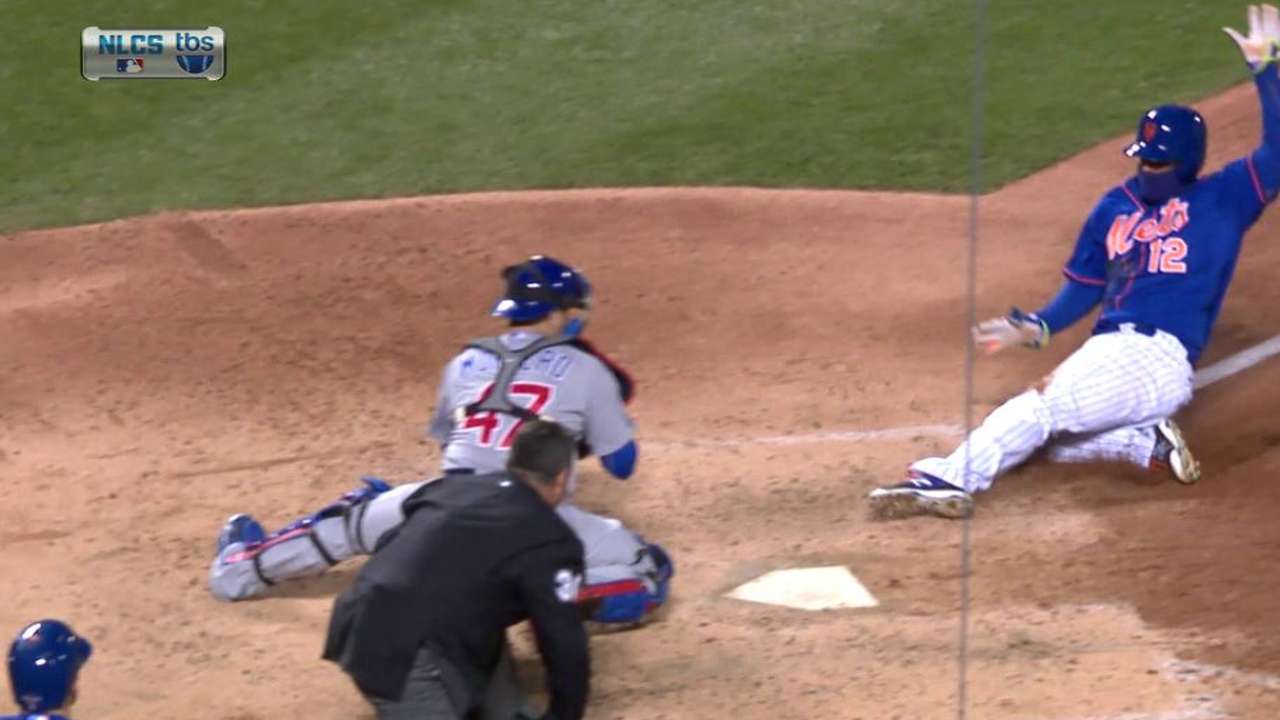 NEW YORK -- Miguel Montero has been on the receiving end of throws from the outfield thousands of times. And he knew right away that this one was going to be trouble.
The Cubs catcher understood the situation. His team was already trailing the Mets by two runs in Game 1 of the National League Championship Series on Saturday night at Citi Field. It was the bottom of the seventh. The Mets had Juan Lagares on third base with one out.
• Gear up for the NLCS: Cubs shop | Mets shop
Keeping that extra run from scoring was important. And when Curtis Granderson lifted a fly ball to Kyle Schwarber in left, it looked like Chicago might hold the score right there. The ball wasn't too deep. Lagares tagged up and sprinted toward the plate, but Schwarber got off a strong, accurate throw that actually beat the runner.
But Montero knew he was in trouble, that he was caught in between two unpalatable options. He could come up and try to catch the ball on the fly, but that would be a difficult catch. Or he could stay back and make sure he secured the ball. But that would leave him off the plate and out of position to make a quick tag.
He chose the latter. Lagares slid safely under his belated tag. The Mets went on to win, 4-2.
"I read it in the air. We catch so many throws in Spring Training that you have a pretty good idea what the throw is going to do," Montero said. "I knew it was going to be an in-betweener. So, I either go and get the ball, and if I go and get the ball to catch it in the air, the runner was going to be past me. And if I go back to catch a good hop, it was going to be a close play. Which it was. I really didn't have many options, to be honest.
"I decided to actually try to catch the ball and see what happened. And we saw what happened."
The Cubs then appealed to see if Lagares had left third base too early. Third-base umpire Paul Emmel quickly signaled that he had not. Many observers quickly jumped to the conclusion that Montero had set up too far behind the plate.
That rush to judgment failed to take into account several factors, in addition to the way that the ball arrived.
Catcher David Ross, who had started behind the plate before being lifted for a pinch-hitter in the seventh, was still in the dugout when the play occurred. He mentioned that the swirling winds added a degree of difficulty.
"You didn't know if it was going to carry or not because the wind was kind of at [Schwarber's] back. It came out of his hand a little high, so you didn't know if it was going to fly all the way or short hop. Those are the toughest plays for a catcher," Ross said.
"The ball was really getting knocked down to left. The wind is tricky here. You've got to figure that out. I don't think that played much into the outcome of the game, but there was a lot of wind where you're trying to figure out which way it was blowing."
Montero also pointed out that the throw didn't miss Lagares by much.
"The ball was kind of right next to the runner. So you don't know if the ball might hit him or might not, so you really couldn't get in his way. It was a tough one, a really tough one," he said.
It also may have been in the back of his mind that, under the new rules, he's not allowed to block the plate without the ball. Montero said he wasn't consciously thinking of that in the moment, though.
Schwarber is a catcher by trade who has been playing left field to get his bat in the lineup. He agreed that it was the throw, not where Montero caught it, that tipped the scales.
"I just tried to get it up out and throw it hard to Miggy, but I short-hopped him. That's the reason why he had to go back on the ball -- it was short-hopped. Coming from a catcher, there's not a lot you can do there. It's a tough play all around, and it just didn't go our way," he said.
Cubs manager Joe Maddon agreed.
"[Montero] had to be there because of the throw and how it was going to bounce," Maddon said. "I mean, I'm all for the catcher getting on the front edge of the front corner of the plate and taking the plate away from the baserunner. I'm all for that.
"But I just think the throw took him [back] more than anything. It wasn't like he wanted to catch it there. The throw took him there in order for him to catch the ball at all. That's how he explained it to me, and that's what I saw form the side."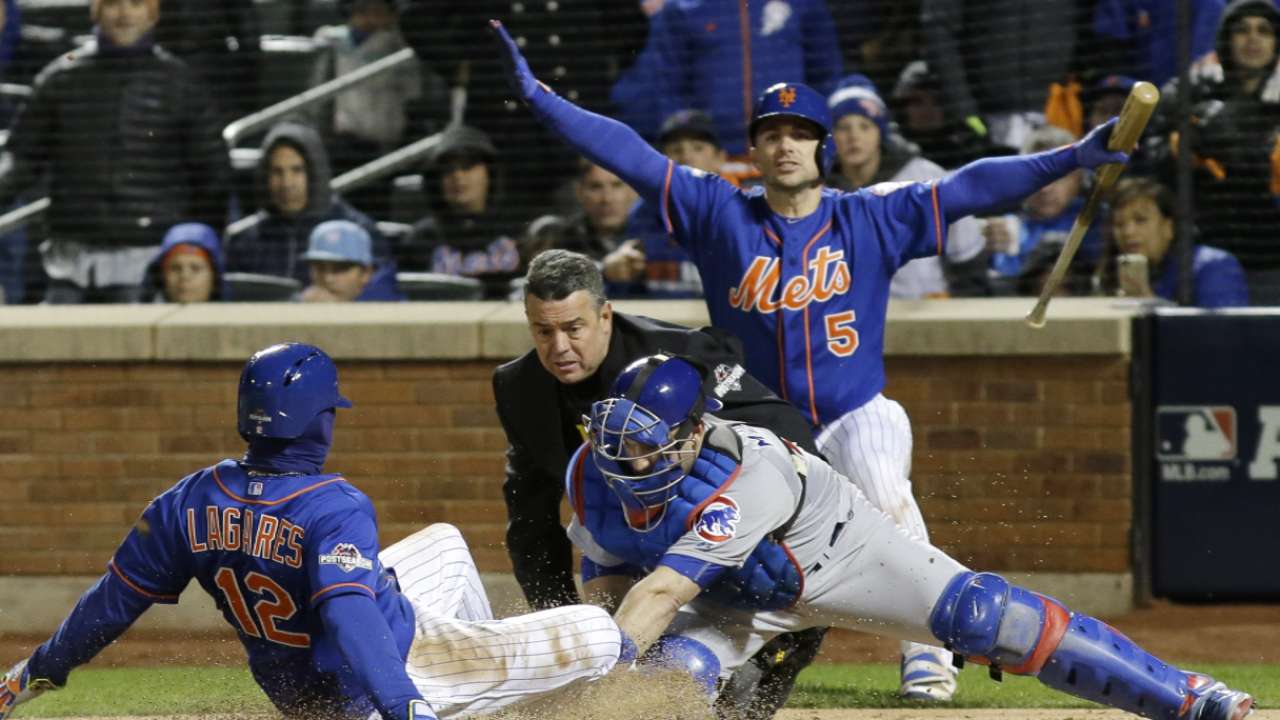 Montero said he knows he didn't look good on the play but hopes people will appreciate what really happened.
"There's not much you can do there. If I go get it, I have no shot. Or I kind of wait and look for the good hop. And if I do that it's obviously going to be behind the plate," he said. "Lagares has good legs. He's pretty fast. So it was a tough one. It's like an infielder. You've got to read the ground ball, right? So I read it. I read it right. I didn't want a short hop. It was a tough play to stay on the plate and make the tag because it was a short hop. The throw had some life to it.
"If I stayed on the plate, I'm pretty sure I wasn't going to catch. And that would have looked even worse."
Paul Hagen is a reporter for MLB.com. This story was not subject to the approval of Major League Baseball or its clubs.