MLB.com Columnist
Phil Rogers
Lester seeking victory on big stage for Cubs
After dropping Game 1, veteran lefty ready to make postseason mark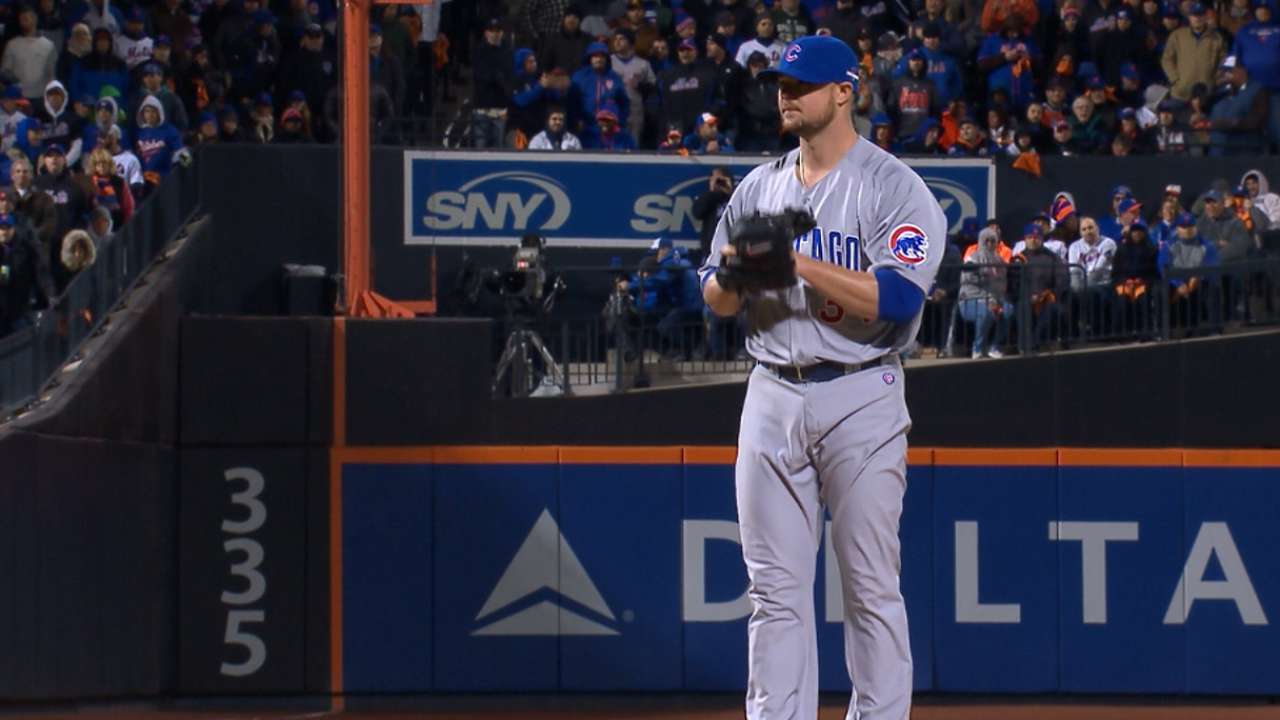 NEW YORK -- So here's how Jon Lester's first season with the Cubs has gone, if you want to boil it down to when the most people were watching.
He lost to Adam Wainwright on Opening Night. He lost to his old Red Sox teammate John Lackey in the National League Division Series. And on a cold Saturday night at Citi Field, he lost to Matt Harvey in the NL Championship Series.
You better believe he didn't walk out of the clubhouse with a smile on his face.
• Gear up for the NLCS: Cubs shop
"Go back to work tomorrow," Lester said after the Mets' 4-2 win in Game 1. "That's all that I can do. Obviously it [stinks] and I hate to lose, but you can't sit here and dwell on it and beat yourself up about it. We have plenty of other chances to come back. This is just one game. We just have to come back and fight. Hopefully we can leave New York with the series tied, 1-1."
As Lester was speaking, he already was turning a mental page. He was circling Thursday on the calendar.
That's when Game 5 is scheduled (7:30 p.m. ET air time on TBS, 8 p.m. ET game time) and, barring a New York sweep or something equally as unforeseen, he'll be on the mound at Wrigley Field, working to stare down Daniel Murphy, Curtis Granderson and Travis d'Arnaud. David Wright and Yoenis Cespedes, too.
Don't be surprised if Lester does something special that night. He's the guy who twice beat Wainwright in the 2013 World Series, the guy who won a World Series game when he was 23 and no-hit the Royals when he was 24. His decision to come to Chicago last winter had as much to do with jump-starting the Cubs as the hiring of Joe Maddon.
Lester has done everything he was supposed to do this season. He just hasn't had his moment yet. But it's not time to stop working toward one.
Lester has been overshadowed this season by the Cubs' Game 2 starter, Jake Arrieta, who he helped to a 22-win season and a possible NL Cy Young Award by sharing his experience, such as how to come through under the glare of baseball's brightest lights.
• Arrieta rested, confident heading into Game 2 start
"Well, we've talked about these types of moments since we've known each other and as a group," Arrieta said Saturday. "Obviously, with David [Ross] and Jon doing the things they did together, it's kind of nice to relive some of those experiences, even though it's through those guys. There is a lot of experience to be gained from that."
Arrieta had no doubt that Lester would be locked and loaded in what was his 34th start of the year. He was working on eight days' rest -- and, sure enough, the extra rest may have cost him some sharpness on his breaking pitches -- but in familiar territory, as he's making his sixth run into the postseason, in search of a third trip to the World Series.
"Just how steady he is, how prepared, how mentally tough he is, he's ready for these moments,'' Arrieta said. "He's showed us so many times in the past. Any time you can learn and try to develop an understanding of the types of environments you're going to face in the postseason, it's nice to do, especially from a guy like Jon."
Lester missed some time late in Spring Training with a "dead arm," and it showed in April. But he finished 11-12 with a 3.34 ERA, topping 200 innings for the seventh time in eight years. He expected a better season from himself when the Cubs signed him to a $155 million contract last December, but his issues holding runners on and mistakes at the wrong time have proved costly.
Lester had all of his pitches working in Game 1 of the NLCS in St. Louis, keeping the Cubs to a 1-0 deficit through seven innings, but Lackey was better. Lester struggled throughout his 6 2/3-inning stint on Saturday, with Murphy driving a fat cutter over the right-field wall in the first inning.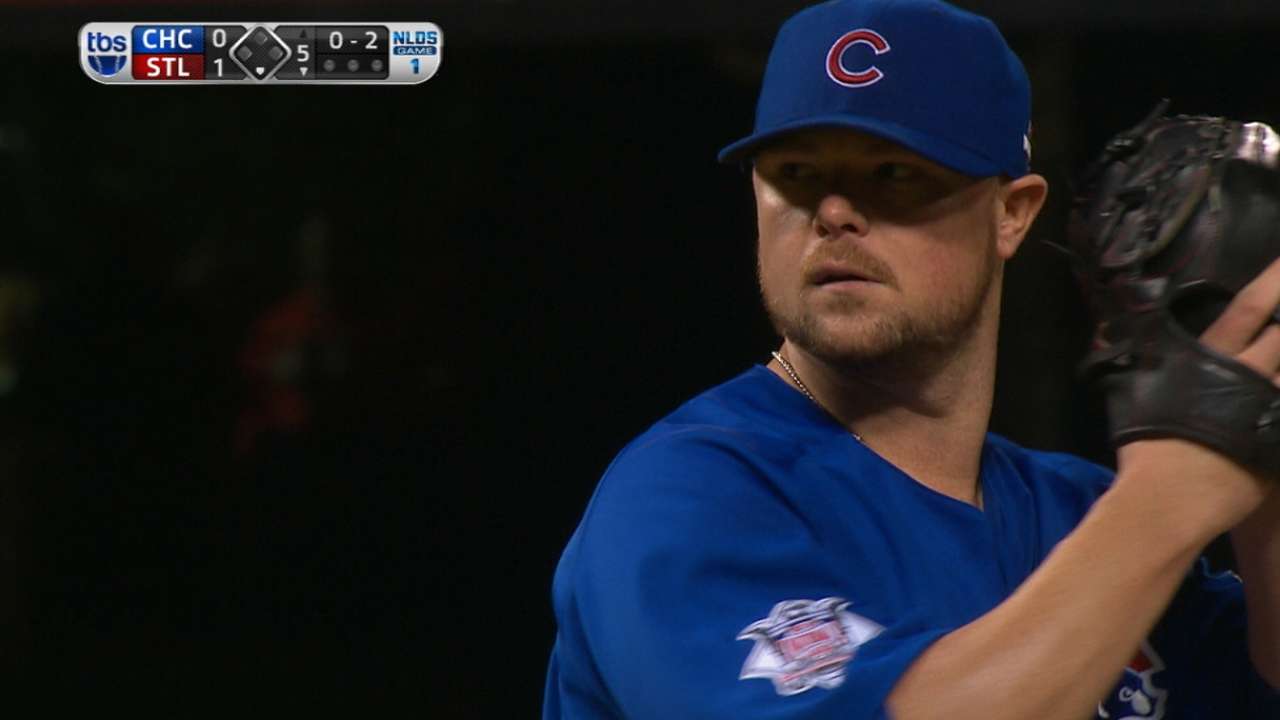 The last run he allowed was the result of Juan Lagares stealing third base, the second of two bags the Mets swiped off him. Lester wound up allowing four runs on eight hits, including d'Arnaud's homer on another pitch he left over the middle of the plate.
"They both just caught too much of the plate," Lester said. "They had good action but caught too much of the plate. That's what these guys do when you catch too much of the plate."
Ross, his personal catcher, said Lester competed well but didn't have good stuff.
"He was OK. Probably not his best outing," Ross said. "Battled with some stuff that wasn't as sharp. His cutter wasn't as sharp as it normally is. I thought he pitched really well for what he had today, to be honest with you."
As well as anyone, Ross knows what Lester can do when he's at his best. He'd love for him to put that on display in a game on a big stage.
"He hasn't come out with any W's," Ross said. "He threw good in St. Louis, just gave up [three] runs, but we didn't give him any support. He just got outpitched by Lack. You can ask him. I think he's probably looking for more results. Maybe it's his next start. I hope so."
Time might be running out for Lester. Or things might just be getting interesting. Either way, he'll be ready.
Phil Rogers is a columnist for MLB.com. This story was not subject to the approval of Major League Baseball or its clubs.