MLB.com Columnist
Mike Petriello
Home-field advantage huge for Blue Jays' pitchers
Toronto's home BABIP of .259 is third lowest in Wild Card era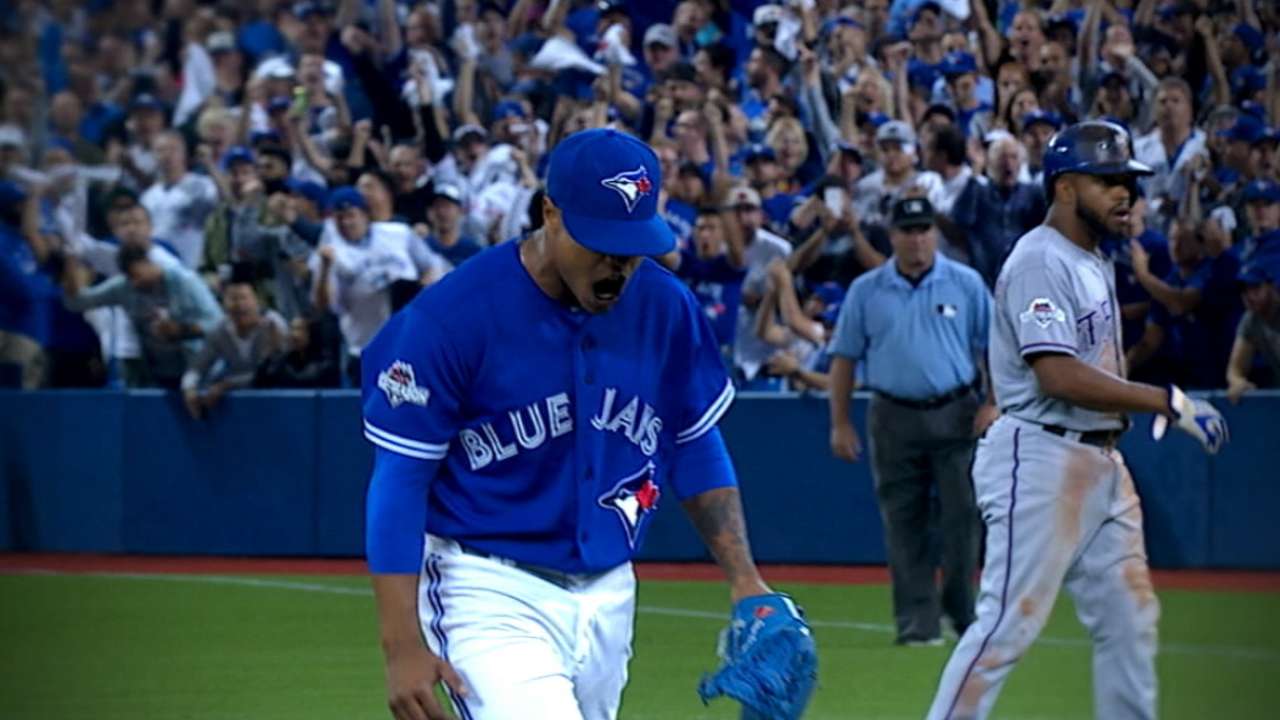 There's good news -- with a caveat -- for the Blue Jays as they head home to Toronto attempting to recover from a 2-0 deficit to the Royals in the American League Championship Series. Though they finished just 10th in the AL with a 4.41 ERA on the road this year, they finished tied for first in the AL at home, with a much better 3.22 mark. Since the offense scored a nearly equal number of runs both home and away, the improved run prevention was a huge reason why the Blue Jays won 53 games at home as opposed to only 40 on the road.
As to that caveat: Not all of that matters right now, because it includes full-season stats, and performances by pitchers who aren't on the ALCS roster -- like Mark Buehrle, Drew Hutchison and Steve Delabar -- just aren't that important at the moment. That being said, the pattern holds true for Marcus Stroman, who starts Monday's Game 3 (7 p.m. ET air time on FOX Sports 1 and Sportsnet, with game time at 8 p.m.), and R.A. Dickey, who is slated to go in Tuesday's Game 4.
Over his brief career, Stroman has a 2.35 ERA at home and a 4.97 ERA on the road; Dickey had a 3.11 ERA in Toronto and a 4.83 ERA away this season. Considering that Rogers Centre is generally considered a hitter-friendly park -- granted, Toronto's pitchers don't have to face Jose Bautista, Edwin Encarnacion, Josh Donaldson and friends -- that's a bit surprising. So, how have they managed that?
It'd be difficult to find two players more diametrically opposed than the hard-throwing 24-year-old from Long Island and the knuckleballing Tennessee native who turns 41 later this month, but Stroman and Dickey have managed to make this work in a very similar way. Their performances at home in the areas that a pitcher is considered to fully control (strikeouts, walks and homers) are either only slightly better or basically negligible, but the difference in what happens once the ball is in play in Canada is massive.
It's easier to show than to tell. Check out the duo's home/road splits in those three areas, and again we're using Stroman's 2014-15 stats (as opposed to just Dickey's 2015 numbers) due to the left knee injury that allowed him to make just four regular-season starts this year.
Dickey, home: 7.6 percent more strikeouts than walks, 1.01 HR/9
Dickey, road: 7.1 percent more strikeouts than walks, 1.09 HR/9
Stroman, home: 16.9 percent more strikeouts than walks, 0.36 HR/9
Stroman, road: 12.1 percent more strikeouts than walks, 0.78 HR/9
Though Stroman's home numbers are stronger, neither one shows the kind of massive differences that would lend themselves to those ERA numbers. Now look what happens when we look only at non-homer balls in play:
Dickey, home: .208 BABIP
Dickey, road: .307 BABIP
Stroman, home: .264 BABIP
Stroman, road: .342 BABIP
That's measuring "Batting Average on Balls in Play," which is just a fancy way of asking how often a batted ball finds its way into a fielder's glove for an out, and the differences are enormous, especially when it's noted that the MLB average was .296. Both were better than average in this department at home, Dickey to a stunning degree.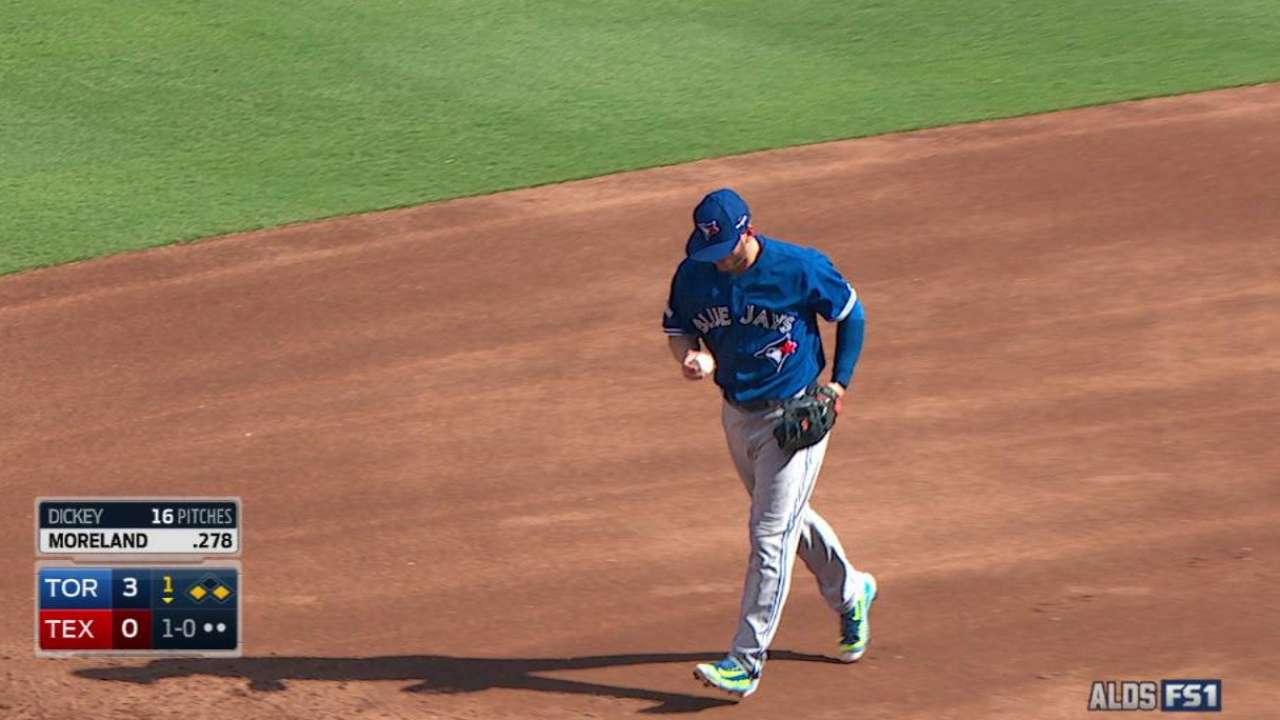 It's clear that when they're pitching at home, Dickey and Stroman have more balls in play that turn into outs. (At least this year for Dickey, who was actually somewhat worse at home than on the road last year). They aren't alone; Buehrle, Hutchison and Marco Estrada all had lower BABIP marks at home. In fact, the team's home BABIP of .259 is the third lowest of the Wild Card era, behind only a pair of Mariners seasons from 2001 and '03.
Now, a BABIP number can be influenced by a few things. Poor defense behind a pitcher will understandably turn fewer balls into outs. Sometimes it's just bad luck, meaning that a pitcher keeps getting victimized by well-placed grounders or bloops that fall in. But it can also tell you a lot about how hard or soft a pitcher is letting those balls get hit.
We can take a look at the Statcast™ exit-velocity numbers, and there is indeed some correlation there. At home, the Blue Jays allow an average of 87.9 mph off the bat, while on the road, that's up to 89.2 mph. For Dickey, it's a slightly smaller gap of 87.6 mph at home and 88.6 mph on the road. (Stroman isn't worth discussing in this context since we only have these numbers for this year, and he barely pitched).
Blue Jays pitchers doing a good job of preventing hard-hit balls would definitely be one factor, but here's another theory: If we limit the query to just grounders, Blue Jays pitchers allow an exit velocity of 82.6 mph, fifth best in the Majors. That number is just off the bat, not accounting for anything that happens after that. Now, remember that Rogers Centre had new turf installed last offseason, and there's a constant theme that comes up in reviews: slower batted-ball speed.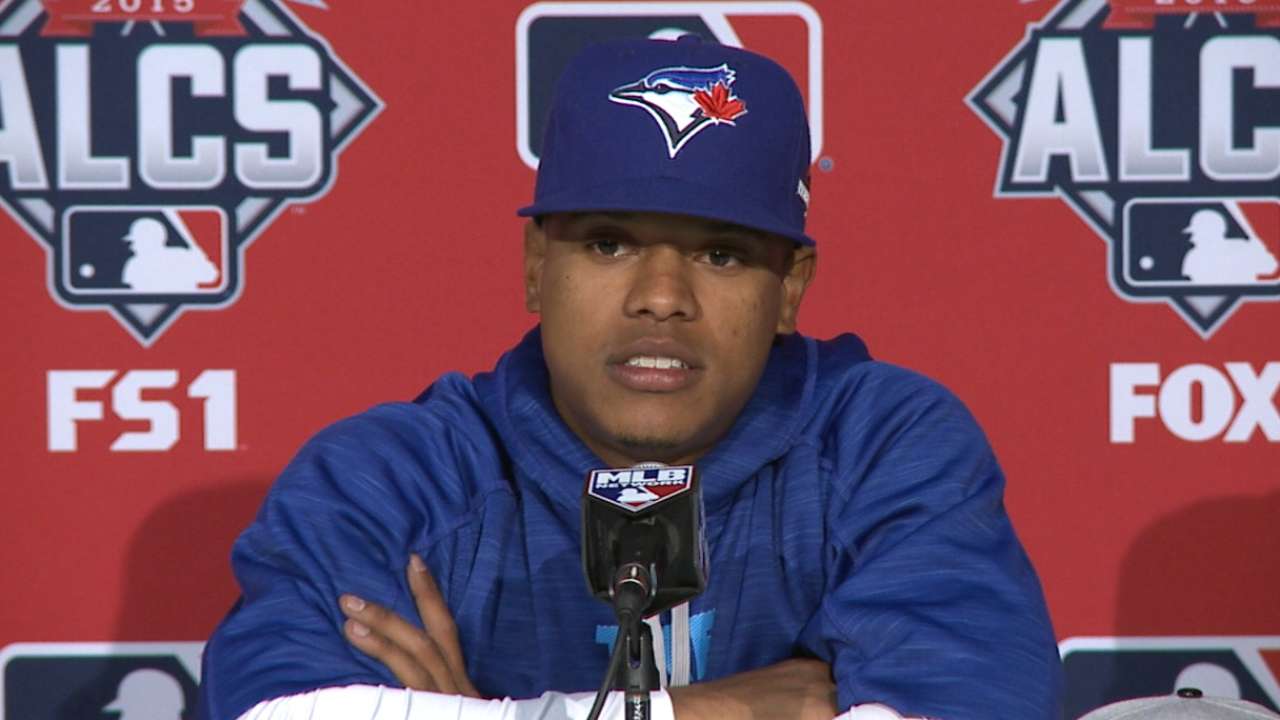 Just look at these quotes. In April, manager John Gibbons said "it'll definitely take away some hits," and players remarked that it was "noticeably slower and more likely to be a drag on grounders." On May 28, then-Toronto infielder Steve Tolleson said "for a speed team who pounds the ball on the ground, it's outs," which doesn't bode well for Kansas City.
Of course, both the Blue Jays and their opponents are playing on the same field, though familiarity may be helping Toronto's defense prepare and/or react in ways that the opposition can't mimic. ("It's not like anything I've seen," remarked White Sox manager Robin Ventura in May). If so, a pitching staff that limits exit velocity on grounders, playing on a surface that even further limits batted-ball speed and with quality defenders like Donaldson, Ryan Goins, Troy Tulowitzki and Kevin Pillar, might just be the perfect combination for success.
It's sure worked for Stroman and Dickey. It'll have to if the Blue Jays want to dig out of that 2-0 hole and get back into this ALCS.
Mike Petriello is an analyst for MLB.com and the host of the Statcast podcast. He has previously written for ESPN Insider and FanGraphs. This story was not subject to the approval of Major League Baseball or its clubs.