MLB.com Columnist
Marty Noble
Harvey narrows focus, powers past Cubs
Putting baseball first and moving forward, Mets righty tosses 7 2/3 frames in Game 1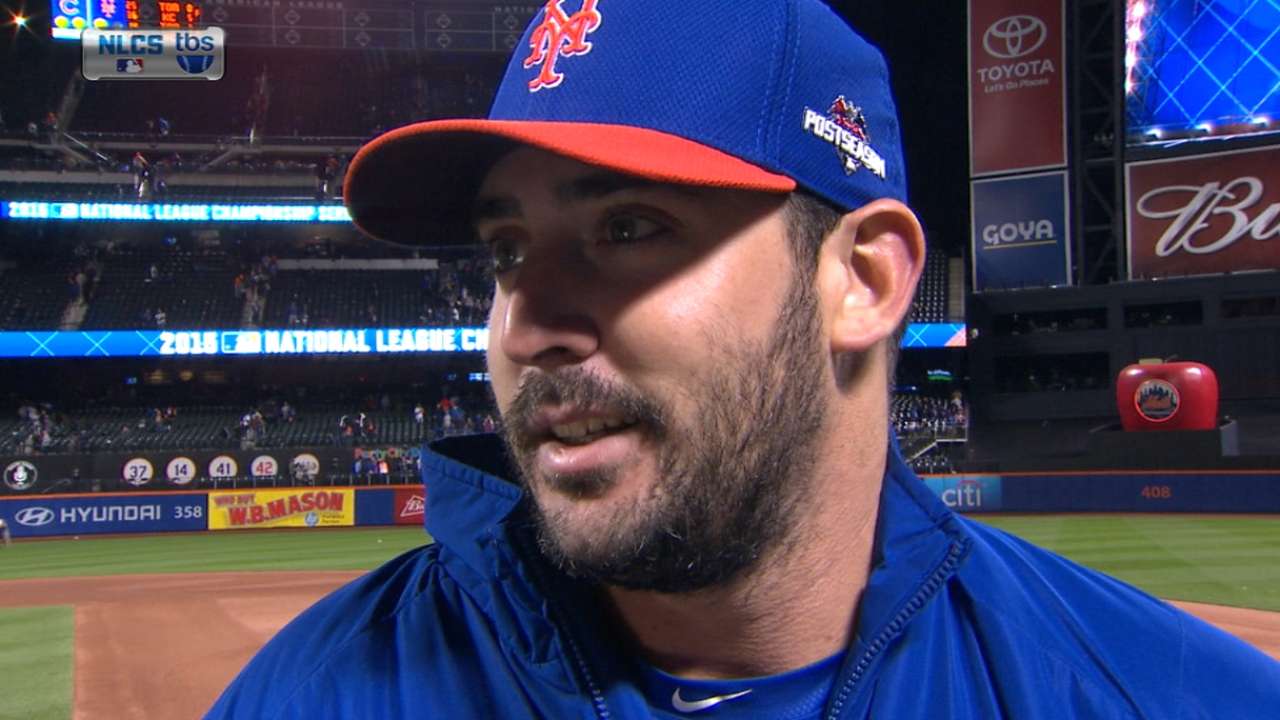 NEW YORK -- A sense had developed among those who monitor all Mets matters that pitching successfully had become something less than a stand-alone priority in the life of Matt Harvey, that his celebrity mattered to him, not more than his career, but that it had encroached on his field of focus and reduced his hunger.
That sense -- and it was no more than a sense -- suggested that the Mets' postseason endeavors might come to constitute something of a crossroads for Harvey, a show-up-on-time, put-up-and-shut-up scenario that, depending in his performance, could evict him from the pantheon of this generation of Mets or afford him a prominent place in it.
• Gear up for the NLCS: | Mets shop
Harvey began saying all the right things once his agent stopped talking and once his workout tardiness faded as an issue. But talk can be cheap. And he already had the beginnings of a baseball rap sheet -- all misdemeanors, no felonies. He needed to produce on the field in a way commensurate with the image he had forged in 2013, when he became a Citi Field darling and the names Seaver and Gooden were mentioned whenever he pitched. He needed to succeed -- no, dominate -- else the benefit of the doubt would be withheld from him.
We have seen the fickle monitors of all Mets matters execute 180s at the drop of a cap or a pop fly. See Luis Castillo, Doug Sisk, Carlos Beltran, Jason Bay and a few other lower-profile unfortunates. Scapegoating is a favored activity of Mets watchers. They still believe Beltran lost the 2006 season by watching Adam Wainwright's Lord Charles delivery.
Harvey acknowledged all that in words and head nods late Saturday night after he and Jeurys Familia had disposed of the Cubs in a 4-2 victory in Game 1 of the National League Championship Series. With a performance worthy of any Mets pitching ancestor, he cleaned up his Dark Knight image and sentenced the Cubs to a dark night and a deficit in the best-of-seven set.
Harvey turned the knob of public sentiment from "Now what?" to "Forgive, forget and go forward." It is a significant adjustment.
His priorities became quite clear in the afterglow of the Mets' win. He was pleased most, he said, by the team's victory and secondarily by his pitching into the eighth inning. The other numbers in his box score pitching line -- four hits, two runs, two walks and nine strikeouts -- pleased him. But 7 2/3 innings, that figure made him proud. Numbers aside, he was within his rights to identify his effort as a complete game. He accomplished all he had hoped to do.
• Harvey perfect through four innings in Game 1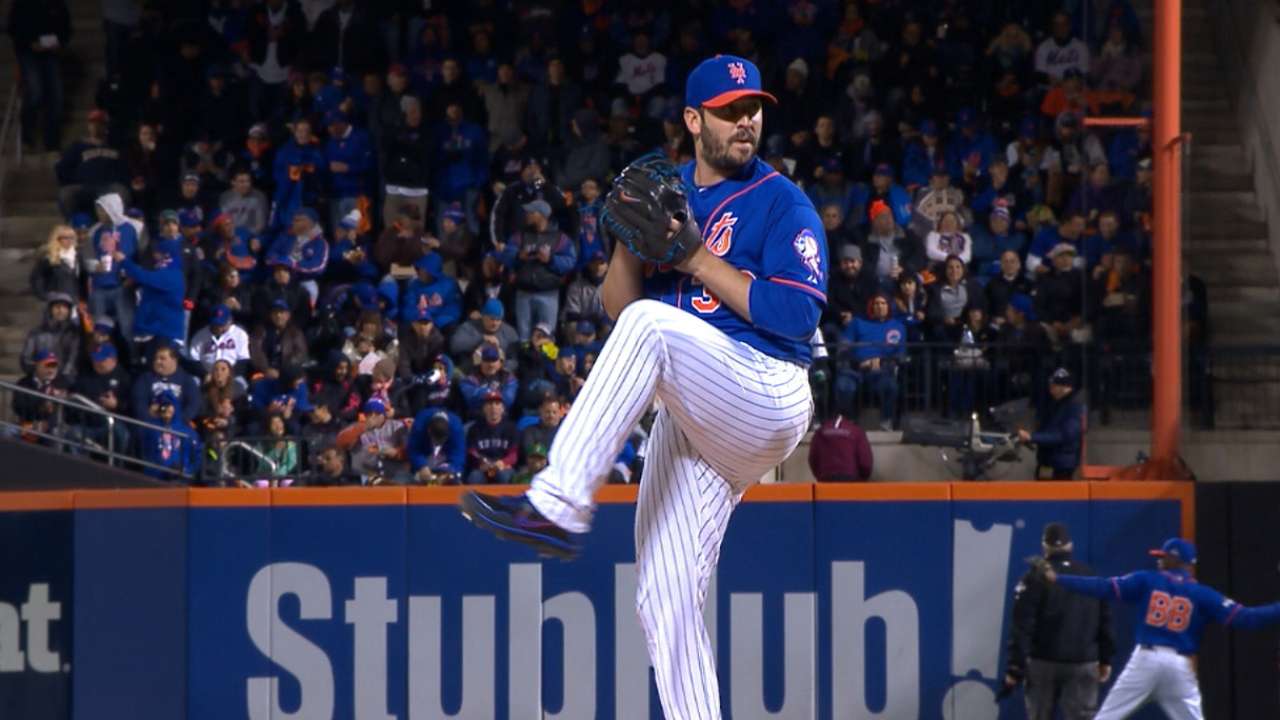 Mets manager Terry Collins acknowledged he hadn't dared to imagine a scenario in which he would deploy merely two pitchers -- starter and closer -- have his starter throw fewer than 100 pitches and win. "For us," Collins said, "it was the perfect storm."
Many of Harvey's postgame remarks were prefaced with acknowledgement of unnamed issues. "After all that's happened ..." he said once. And "I know there's been a lot of speculation or talk going around the past month, but I kind of wanted to kind of stop all that and ..."
And he seemingly did. If not? "Well," Harvey said later, "at least I moved in the right direction."
Harvey had wanted to share in the heavy lifting, not merely benefit from Daniel Murphy's daily home run, Yoenis Cespedes' strong-arm tactics and the rocket home run Travis d'Arnaud dropped into the center field apple basket. His didn't want a ride-the-offense victory similar to his against the Dodgers in the NL Division Series on Monday. He wanted to be the primary component in his team's success.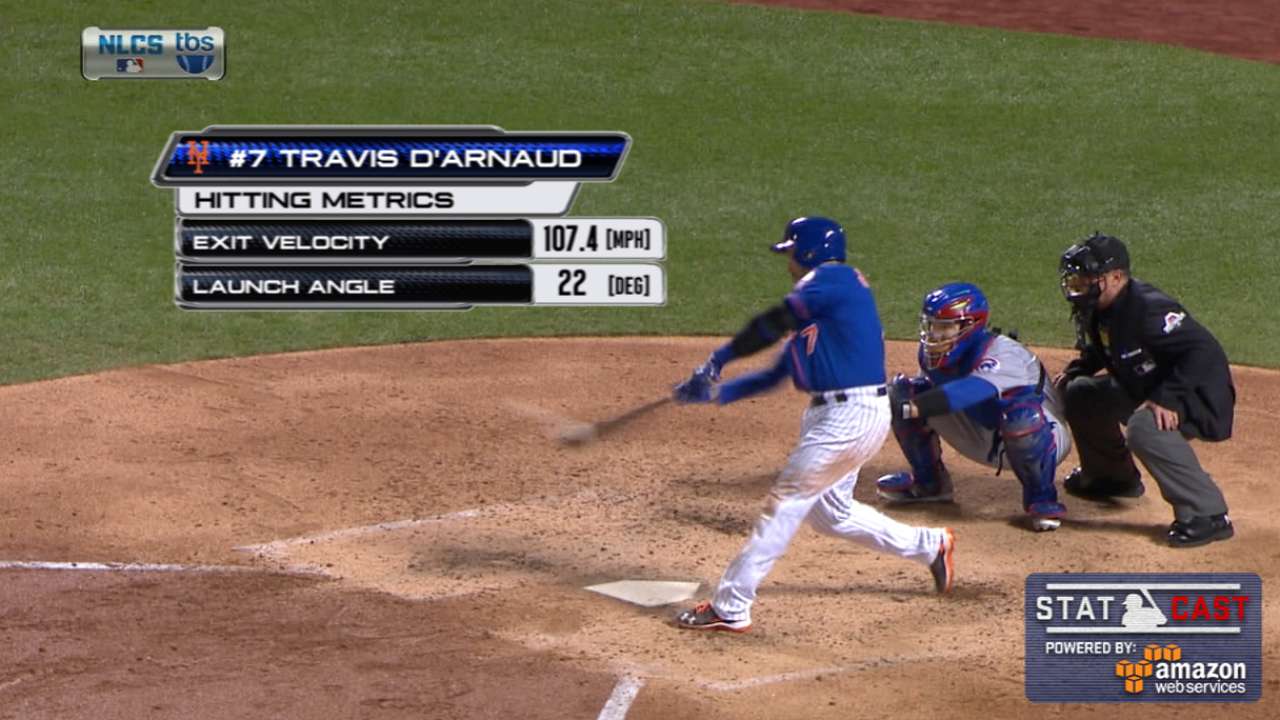 He was.
* * * *
Harvey's second postseason start, the second in six days, was issue-free. His agent, Scott Boras made no appearance. There was no Chase Utley subplot. Harvey's one-time tardiness was no more important than Bret Saberhagen's bleach adventure. That his innings total for the season (including the postseason) exceeded 200 went virtually unnoticed. This Knight was about fastballs, a rejuvenated and more precise curve, strikeouts and scoreboard zeros.
Too many bees had been buzzing around No. 33. Team confidence in him was far from shattered, though cracks had been detected. Whatever Teflon coating he had in 2013 had been thinned. His performance Saturday night zapped the bees, sealed the cracks, added some non-stick to his name and restored some of the "numero uno" image Harvey had as recently as June, an image he covets. He wants to be the man; that hasn't changed.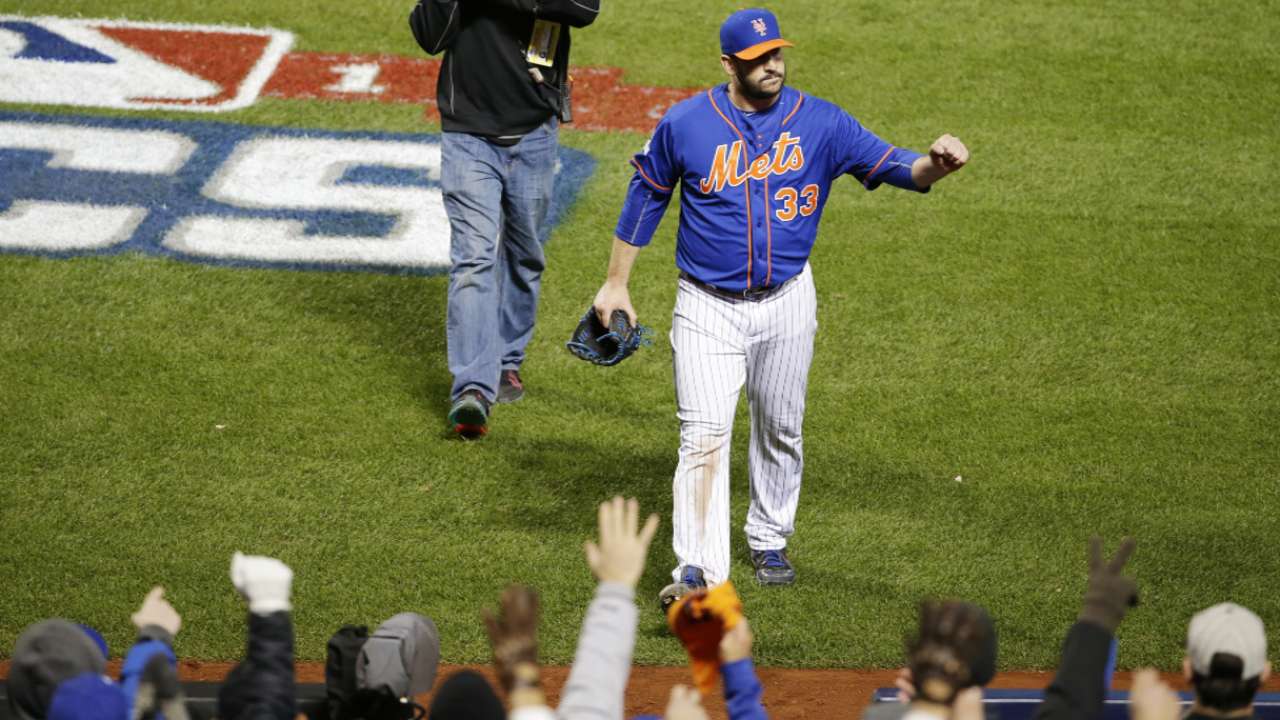 This performance against a batting order with left-handed power was akin to Jacob deGrom's start in Game 1 of the NLDS. And in throwing merely 97 pitches, Harvey set himself up for a start in Game 5.
"Seven and two-thirds and less than 100," Harvey said. "I couldn't have asked for better numbers."
For all Harvey had been before Saturday night, he wasn't Bob Gibson or Jack Morris. We suspected it was possible that he wouldn't succeed. And fear of that lives in all of us -- well, maybe not Jordan, Jeter and Jack Nicklaus. But most of us have a point at which competition becomes uncomfortable. And the heat of the eyes of the many impassioned can push the rest of us to that point prematurely.
That could have happened to Harvey. Instead, he put baseball at the top of his agenda and resumed his ascent to the top of the heap.
Marty Noble is a columnist for MLB.com. This story was not subject to the approval of Major League Baseball or its clubs.