Boom or bust? Not this lineup, Cubs say
Club points to bad luck vs. crafty pitcher in Game 1, not overreliance on home runs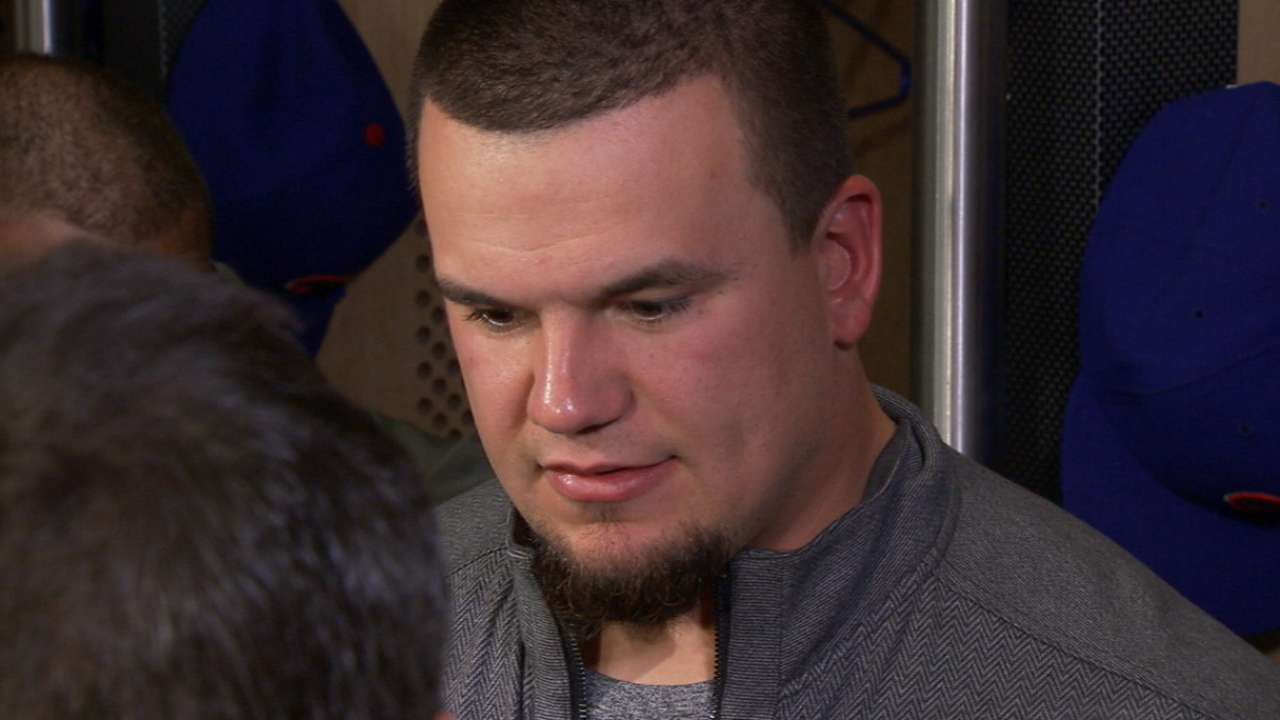 NEW YORK -- The problem wasn't the 48-degree weather. It wasn't the 15 mph wind. And it wasn't that the Mets' Matt Harvey was throwing more offspeed pitches than the Cubs anticipated.
"We hit balls hard, and they were right to people," Dexter Fowler said after the Cubs dropped Game 1 of the National League Championship Series, 4-2, to the Mets on Saturday night at Citi Field. "We'll be all right."
• Shop for Cubs postseason gear
The Cubs have relied heavily on home runs in the postseason, hitting 12 in the first five games. Kyle Schwarber added another in Game 1, his fourth of the postseason, but it wasn't enough against Harvey. The Mets' right-hander met with pitching coach Dan Warthen before the game and discussed the Cubs' hitters "a little bit more than normal," Harvey said.
"I think the biggest thing was, right off the bat, [Warthen] just said, 'Find your secondary stuff and kind of work off of that,'" Harvey said. "Luckily, I was able to throw it for a strike when I needed to, and kind of keep them off balance. They hit a couple balls hard, but luckily they were right at guys. I really just tried to throw strikes, and the guys made all the plays behind me, and they made it easy."
Cubs infielder Tommy La Stella saw that first-hand.
"[Harvey] did a great job keeping us off balance," La Stella said. "His stuff speaks for itself."
But if the Cubs don't hit the long ball, can they rally in the best-of-seven series?
"I know a lot is made of that," La Stella said of the reliance on home runs, "but I don't consider this an all-or-nothing lineup. Sure, we have guys capable of hitting the long ball, but I think top to bottom we're good hittters. A lot of guys run into some balls and run them out of the ballpark, but I think we're good hitters first."
Chicago's Anthony Rizzo wasn't surprised by Harvey's approach.
"No, because we're a fastball-hitting team," Rizzo said. "That's a good game plan. ... That's what separates him, that he can throw those pitches, and they're good pitches. Some guys are just 'throwers' and they're going to leave stuff over the plate, but he was hitting his spots. He did a really good job tonight."
In Game 2 (Sunday at 7:30 p.m. ET on TBS, with game time set for 8), the Cubs will face hard-throwing Noah Syndergaard, who made his Major League debut at Wrigley Field on May 12. The Cubs will likely see plenty of fastballs; the trouble is, they'll be coming at 100 mph.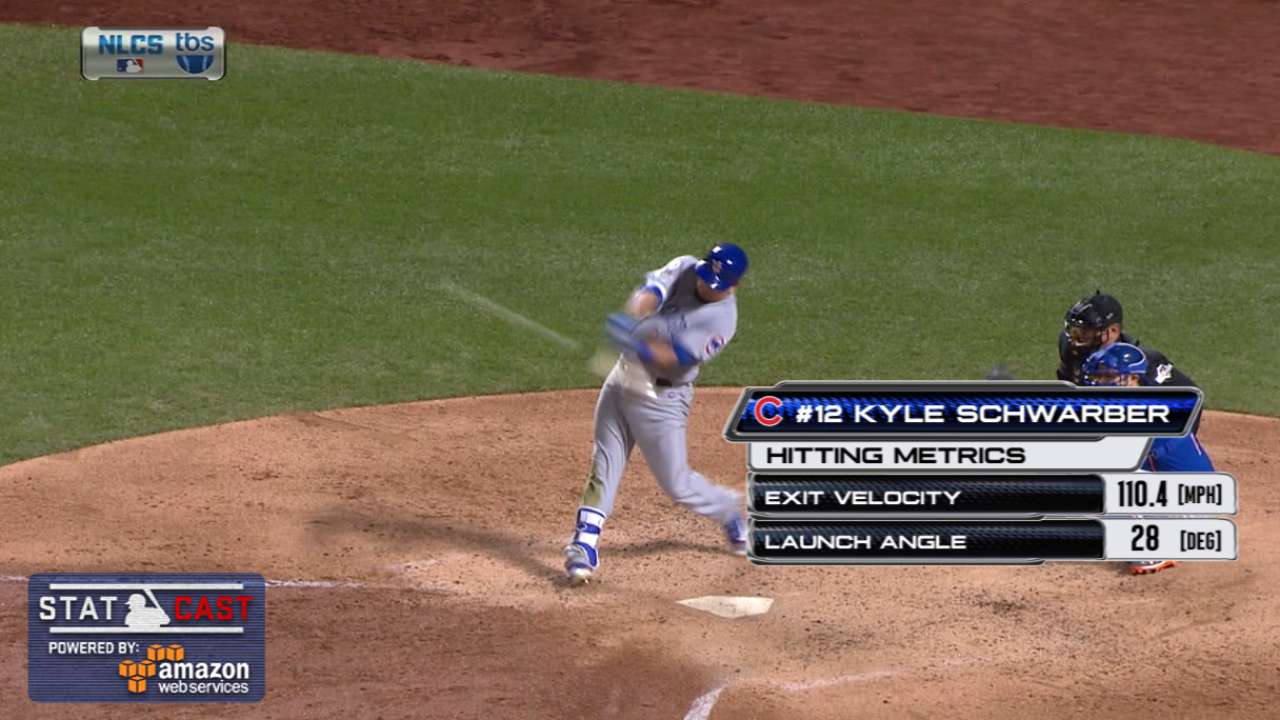 "It seems like there's been no break at all this year," Rizzo said. "There's no guy who's going to go up there and give you anything nice to hit."
Cubs manager Joe Maddon had no problem with his players' approach Saturday.
"If Harvey wasn't pitching, it would have looked a lot better," Maddon said. "Give him credit, because he had about as good of command as you possibly can of all his pitches."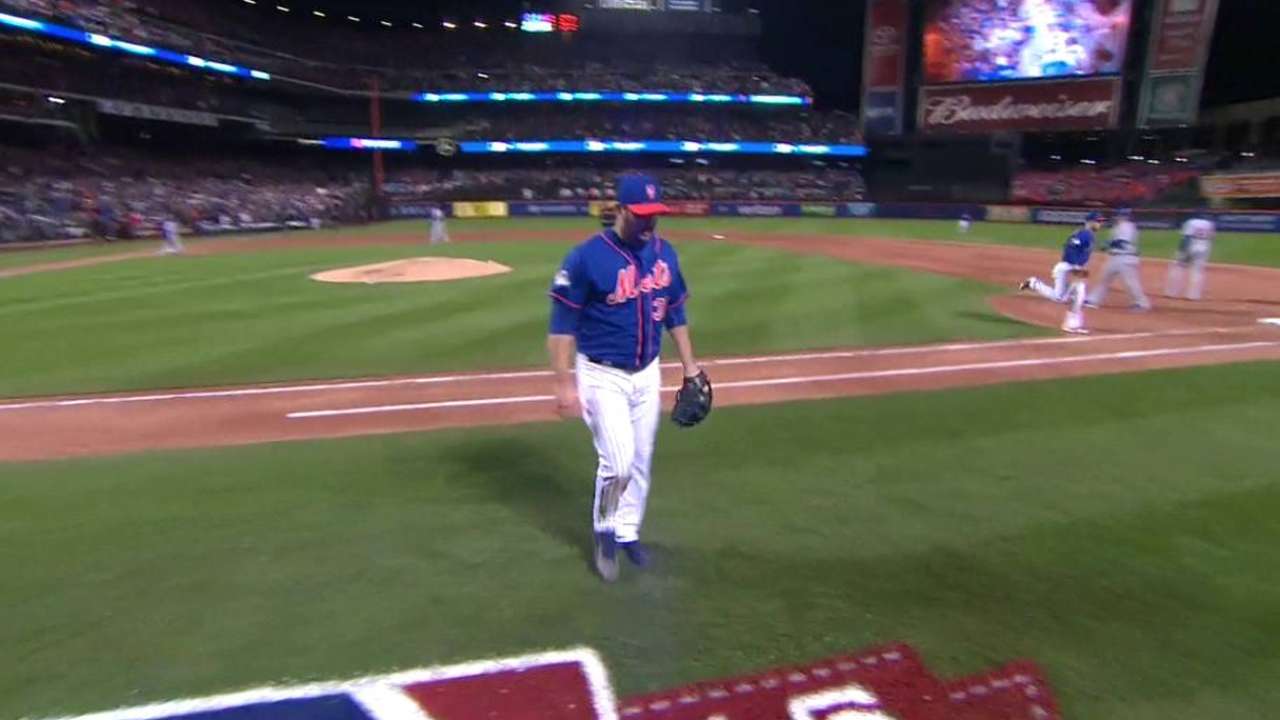 There was no panic in the Cubs' clubhouse. Keep in mind that the Cubs lost Game 1 of the NL Division Series to the Cardinals' John Lackey, then rallied to win in four games.
"You can't live and die on one game," Rizzo said. "That's the beauty of this series. We did live and die on one game [in the Wild Card Game] a few weeks ago, so now we get to breathe a little bit. We did lose our first game against St. Louis, and we bounced back. I expect no different this time."
Carrie Muskat is a reporter for MLB.com. She writes a blog, Muskat Ramblings. You can follow her on Twitter @CarrieMuskat and listen to her podcast. This story was not subject to the approval of Major League Baseball or its clubs.