Oct. 17 Curtis Granderson postgame interview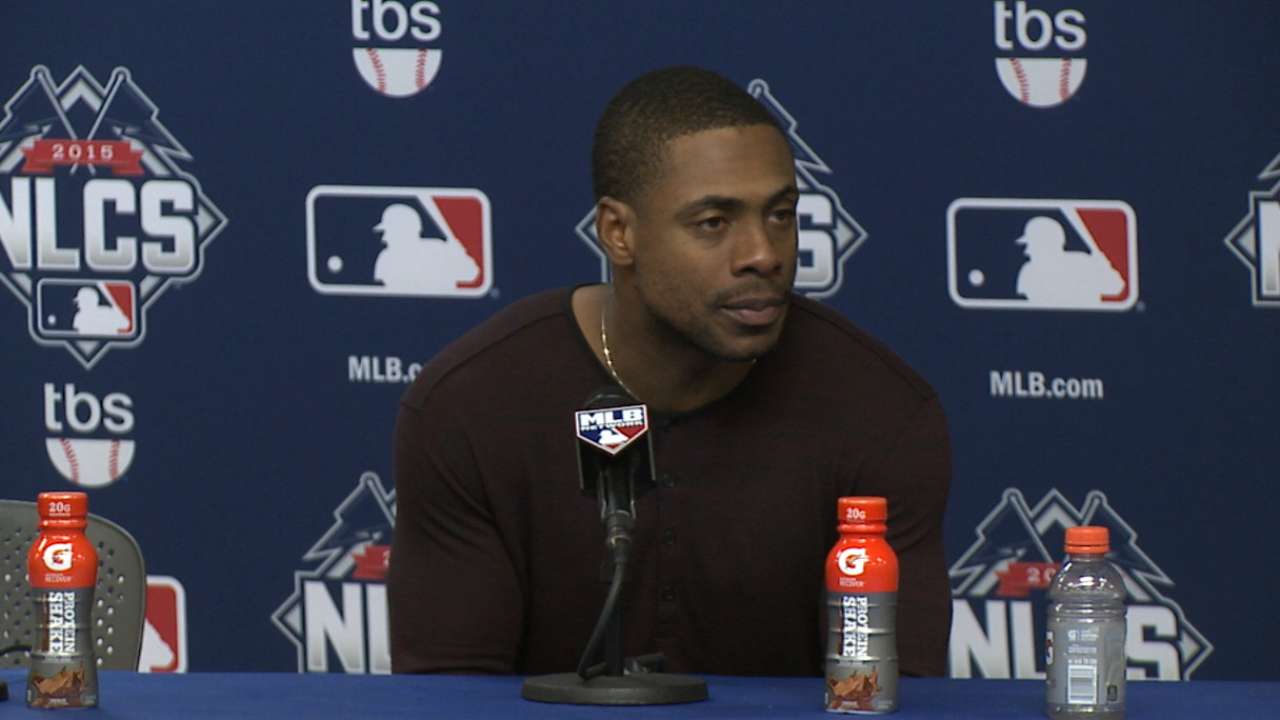 Q. Another big hit against a lefty tonight. I'm just curious, you've had years of success with that in the past, but it's been a struggle for a lot of the regular season. What specifically has been changing that's allowed you to not just have long at bats against them but come through in these spots?
CURTIS GRANDERSON: The big difference this year I've noticed, there weren't as many lefties in the National League that we faced consistently, from starters to even bullpen guys. I remember at one point in time I just looked up and Kevin Long and myself were talking, and he was like, When is the last time you faced a lefty? And they were so few and far between. But now over the last past six games I've faced Kershaw twice, Anderson, J.P. Howell out of the bullpen, Avilan out of the bullpen, and now today with Lester.
So the more at bats you get against left handers, you just get a sense of getting seeing it, and that definitely helps out. At the same time you've still got to find a way to put the ball in play and get a pitch you can handle. But the more times you see it, it doesn't look as awkward when the gaps come in like they were over the course of the regular season.
Q. Obviously you guys played a dramatic game a couple nights ago to extend your season, yet that could be physically and mentally tiring in a game like that. But tonight you guys came out with high energy from really the jump. Could you explain that? Really, how difficult that is to keep that energy up?
CURTIS GRANDERSON: A combination of things went into, I think, getting the energy level high. One, the off day yesterday timing wise was great. Getting a chance to fly back from the West Coast and rest and relax a little bit. Get with your family and friends and just cool down for a little bit.
Opening up here in Citi Field, another thing, with the energy that was in the air and the blue and orange just loud all game long definitely helps out. And it's the playoffs. You find some way, one way or another to find some energy, whether you have it or not. You're able to pull it out for three hours, that is, and rest up again tonight and come back and do it again tomorrow.
Q. Just curious if you've had a chance or a moment maybe during that kind of off day with your family to think about how far you've come, and just how close this is to what you probably envisioned when you signed here?
CURTIS GRANDERSON: Yesterday was just more relaxing and enjoying. But in general though going back to the off season before I signed here, meeting with the front office staff and talking about the young arms that were coming, knowing that Matt Harvey was going to be coming back from an injury, and obviously the guys that were already here such as David Wright, Daniel Murphy, Lucas Duda just to name a few, and the potential of things that were there, I wanted to be a part of. Obviously, you can't say, we're going to do this, that or the other from two years ago, but the confidence level was high right away when I met with them before I even signed. When I met with the guys, the confidence level stayed high and we move forward to this year and the confidence continues to stay high.
So a combination of realizing that, wow, there are a lot of things we talked about. A lot of it was true, the fact that there were young arms coming and they have come and they've arrived and they've been able to pitch amazing all season long, probably better than anybody expected, which has been a great thing for us. And the other guys that have been here and been doing it and will continue to keep doing it, you mix those in there, sign a couple free agents, make a couple trades, it ends up being a very good team that you put on the field day in and day out.