Don't run on Yo: Cespedes unleashes cannon
Mets left fielder throws out Castro to keep Game 1 tied in fifth inning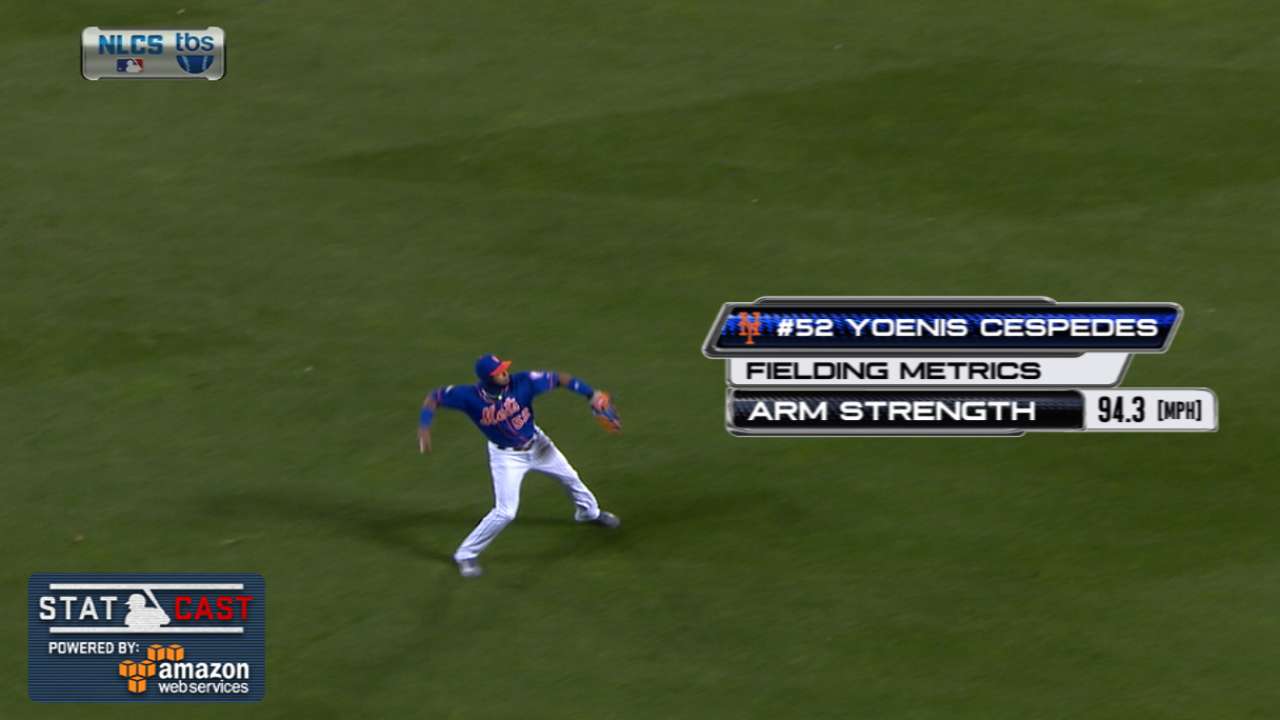 NEW YORK -- Starlin Castro motored around third, arms slicing through the Citi Field cold, the rocket lurking behind him on his mind. Yoenis Cespedes fielded the ball in left field, a base hit by Javier Baez, the game tied at 1 in the fifth, and suddenly felt déjà vu.
"I wasn't surprised," Cespedes said later, after his assist nailed Castro at the plate to keep the game knotted and helped the Mets to a 4-2 win in Game 1 of the National League Championship Series on Saturday night. "They did that once in Oakland."
• Shop for Mets postseason gear
Flip back the records and Cespedes is right. Castro tested him once before, on July 4, 2013, when Cespedes was with the Oakland A's. In the fourth inning of that game, Castro tried to score from second on an Alfonso Soriano single. Cespedes threw him out, and the A's won, 1-0.
That Cespedes remembered that in the moment Saturday speaks to his preparation, if not his pride. Cespedes often shrugs when asked about his immense five-tool talent, but he's particularly nonchalant when talking about his arm. Almost as if teams haven't seen the highlights of it before, and he doesn't understand why they keep trying it.
"I always feel good about it," he said.
And so he came up throwing, at a crucial point in front of the largest crowd ever assembled at Citi Field for a Mets game, to deliver a sight Flushing fans have gotten used to seeing. The near-freezing gusts at Citi Field affected the throws of fielders all night, and in line with that, Cespedes' throw home wasn't his most jaw-dropping or accurate. It pulled catcher Travis d'Arnaud decently up the line. But it also beat Castro by so much that d'Arnaud was able to push the runner into the baseline before applying an athletic tag.
That got Mets starter Matt Harvey out of the woods in the inning, as he intentionally walked David Ross before striking out light-hitting pitcher Jon Lester to end it.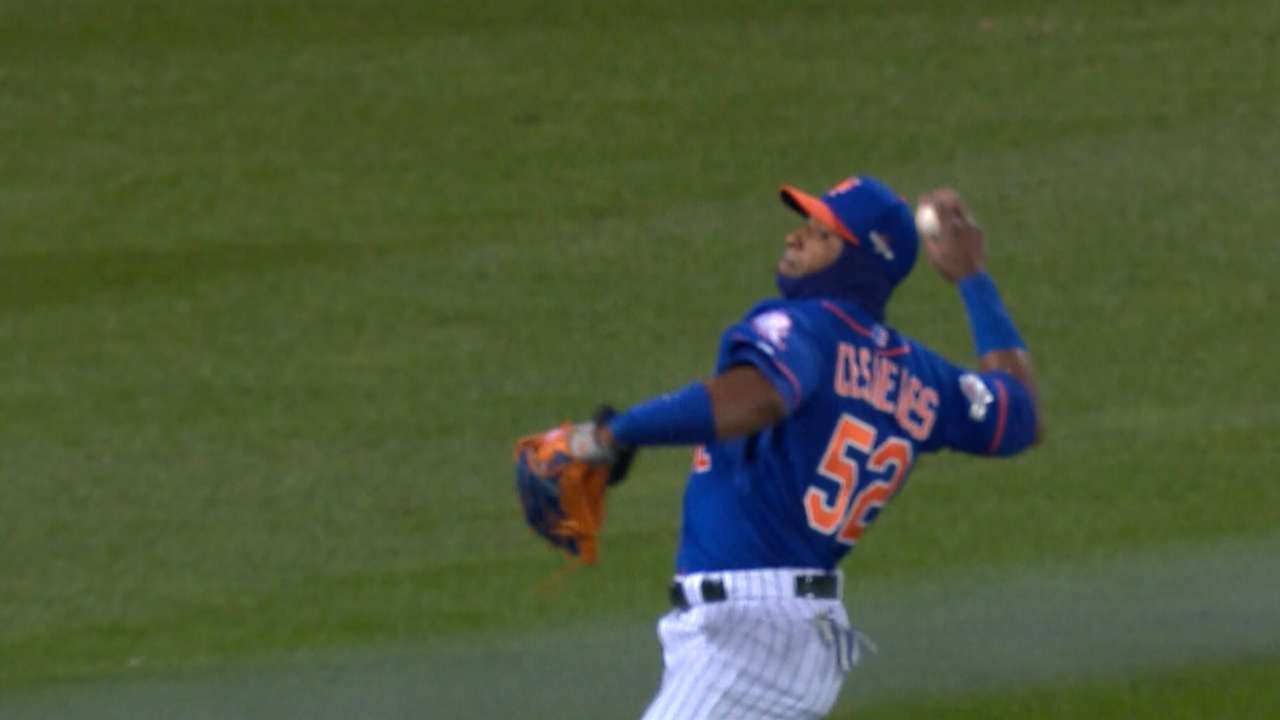 Cespedes' assist was his fifth since being acquired by the Mets at the non-waiver Trade Deadline, and the team's eighth from a left fielder since July 24, the day Michael Conforto was called up.
"I've been sending guys all year with that same play," Cubs third-base coach Gary Jones said. "It's one of those things where you take a chance. I took a shot, and he made a nice play. You give him credit."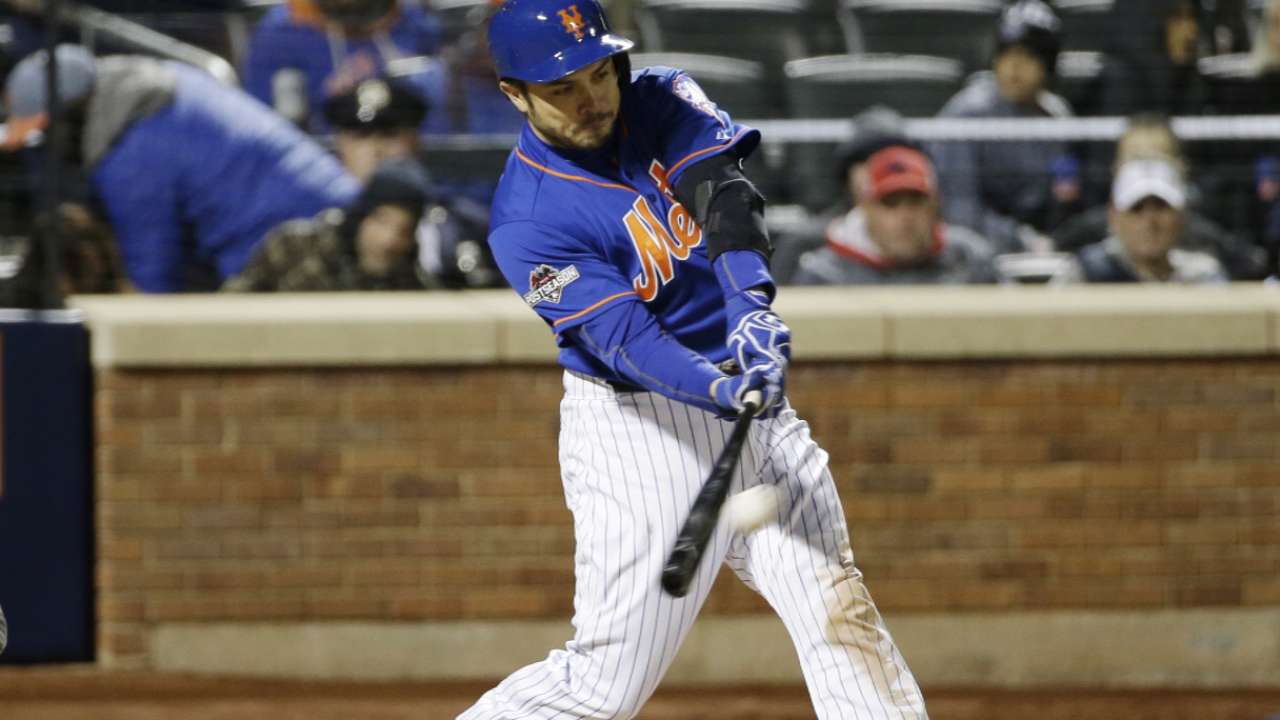 "When I saw the ball, the first step is back to the base because there were less than two outs," Castro said. "I don't want to be out if [the infielder] catches the ball. With two outs, it's different. But after taking my two steps back, I was just running hard in case he sends me.
"They blocked home plate, and I tried to go the other way but didn't have a chance to slide. That guy can throw."
Joe Trezza is an associate reporter for MLB.com. This story was not subject to the approval of Major League Baseball or its clubs.