Oct. 17 Matt Harvey, Daniel Murphy postgame interview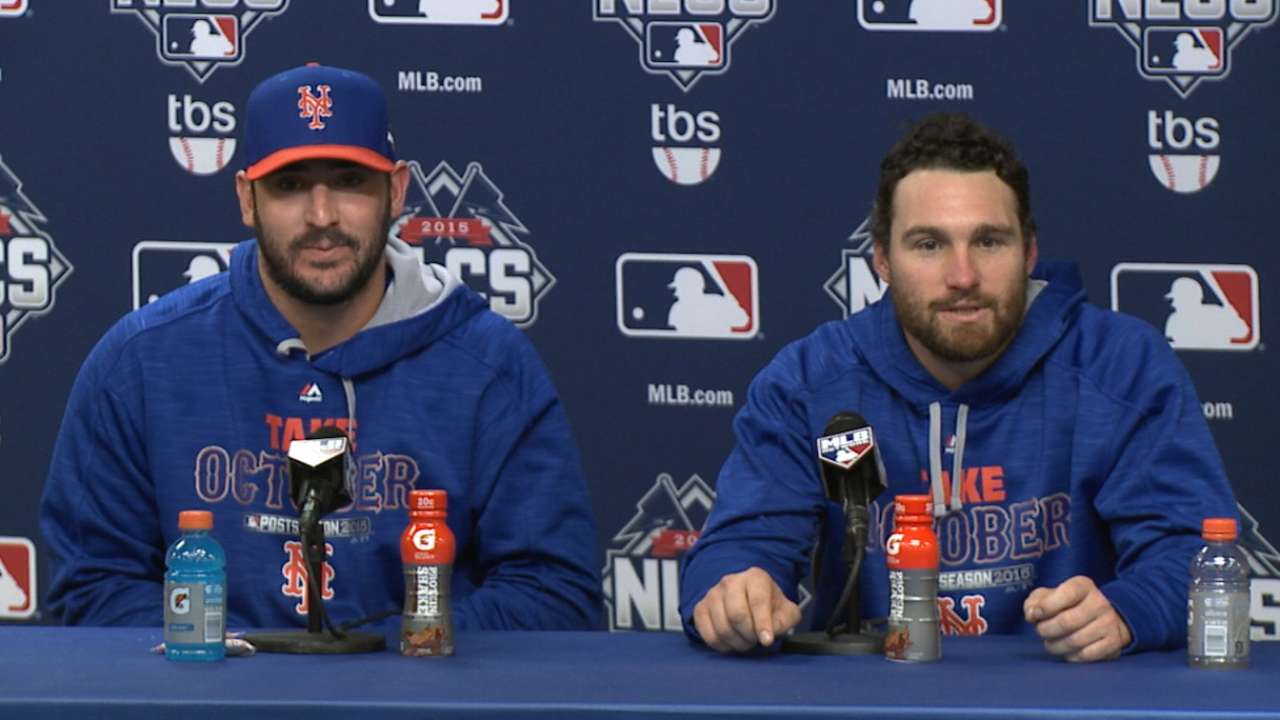 Q. On a night like this where weather was somewhat of a factor, were you conscious of that, and did you try to set up your secondary pitches early, making it much harder for the Cubs to kind of react to that?
MATT HARVEY: Yeah, I think that was the game plan going in. I know I don't like to watch video too, too much, but Dan Warthen came in a couple hours before the game and just we kind of went over the guys a little bit more than normal.
I think the biggest thing was right off the bat he just said, "Find your secondary stuff and kind of work off of that." Luckily I was able to throw it for a strike when I needed to, and kind of keep them off balance. They hit a couple balls hard, but luckily they were right at guys. I really just tried to throw strikes and the guys made all the plays behind me and they made it easy.
Q. Matt, first topic, the NLDS, obviously you weren't pleased with that performance. How gratifying was today? And secondary, where did you get hit exactly? Did it start swelling or stiffening at all?
MATT HARVEY: No, I think after the first go around I definitely wasn't happy. Obviously we won, and that was the most important thing. But I think I kind of said in the press conference yesterday that I really wanted to be back out there as much as I possibly could, and getting the ball the first game, I really wanted to start things off the right way and get us rolling. Fortunately enough I had things working pretty well, and we were able to do that.
The ball kind of dented my arm a little bit, got me right in the tricep. But I felt fine going out there again, and really felt fine through the rest of the game.
It's a little bit swollen right now, but the training staff will take care of that and we'll be all set.
Q. Daniel, I don't know if you know this, but throughout Cubs' history the name Murphy has come up a number of times in bad things for the Cubs. Were you aware of that? What do you make of that? Getting the Mets off to a good start tonight?
DANIEL MURPHY: Is that the name of the goat? Is that what it is? Somebody told me that today.
Q. Yes.
DANIEL MURPHY: What do I make of that? A unique coincidence. Fortunately, we played well today. I think starting with this guy here. He threw the ball so well. It was cooler to see from second base because he kind of started with the changeup on the secondary pitch, and then the second and third times through he's going to the breaking ball. So he did a great job, I think, keeping them off balance.
D'Arnaud hit one in the apple; I've never seen that before. I've been here for like I don't know. We've been in this stadium since 2009. I've never seen someone drop it in the apple like that. That was a great at bat. Let us extend the lead.
Juan Lagares stealing that base there, and then Grandy cashing him in. Grandy with another big swing, big two out hit and then to cash him in. So good team effort. I thought we played some good defense too, but Matt definitely kept the traffic to a minimum on the basepaths tonight.
Q. Matt, you've had an up and down month or so, even with the fans here. What did it feel like to be on the mound hearing them chanting your name in the 8th inning tonight?
MATT HARVEY: Oh, it was great. I think after everything that's happened, I think the biggest thing was really staying focused on what I had to do tonight. Regardless of what's happened, my job was to go out and give us quality innings and keep the damage down and really, like I said, get us starting off right.
I wanted to go out there. I wanted this game bad, and luckily we put up some runs. I was able to limit damage, like Murph said. It was a complete team win, and it was nice being able to contribute to that.
Q. Dan, you had one of the best seats in the house to see what his pitches were doing tonight. When you see him going like he was in the first few innings, what's that do for you guys just to know he's going to be in command like that from the start?
DANIEL MURPHY: Yeah, I think for us, for the offense it kind of takes some of the pressure off a little bit when you see how good he is and how good he was tonight from the first pitch. I mean, he threw some changeups to Dexter the first at bat that I think really had the lefties over there really aware of it. Like I said, threw some really good sliders, threw some really good curveballs. Knew when to throw his heat.
I thought when he had the chance to go to the heater, the Baez at bat was huge. He went three straight heaters away, and he had hit the breaking ball earlier. So to command that out there, I think for us as an offense, it kind of took some of the pressure off. He gave us an opportunity to try to extend the lead because of the zeros he was throwing up.
Q. What is it about you that's allowed you to not only thrive in this postseason element, but really enjoy yourself, it seems like, and not get overwhelmed by the moment?
DANIEL MURPHY: I don't know. I think I kind of joke, but tomorrow, I said this before to some of the beat guys, but tomorrow has enough worry for itself. So really try to enjoy the moment. We've worked so hard to get here, so why not enjoy it while we're here? We're going to enjoy this win tonight, and I'm going to go see my son and my wife, and we'll get ready for tomorrow.
But this is a sweet win, and I think for me personally, a lot of the peace during the game definitely comes from Jesus, that's for me.
Q. Murph, Sandy said yesterday, one, that you had a different approach the last two or three months of the season. That you were pulling the ball more, maybe taking more pitches at the plate. Is that accurate? Second, you only had one homer against a lefty in the regular season. You already have three in the postseason. Is that something different or just how it worked out?
DANIEL MURPHY: Saving the homers, I guess. No, really, I've said it before that if I knew what I was doing, I would have hit more homers during the regular season. But I think K Long we really started hunting pitches in the middle of the plate in. So that was the biggest thing that we did. I started getting a little more aggressive, so we kind of talked and found out what are my strengths, what are my weaknesses? And he really helped me to play as much as I could to one of my biggest strengths, I think, which is I don't swing and miss a lot. So if I can get a good pitch to hit, there is a good chance I should be able to hit it hard.
Q. You just said that, "I wanted this game bad." Is it possible to quantify that? I mean, how much? How did that feel? How does that manifest itself? And have you ever wanted a game more than you wanted the one tonight?
MATT HARVEY: Well, I think the most important thing is getting it started right as a team. I think you never want to go into a series like this and not give a good performance. Not keep your team in striking distance to win. I knew I had to kind of set the tone early. I know there's been a lot of speculation or talks going around the past month, but I kind of wanted to kind of stop all that and really go out there and do everything I could for the team and help us, like I said, start off right. Fortunately enough we put up some runs and I was able to do that.
Q. Matt, what was the conversation with Terry between the 7th and 8th? You wanted to go back out?
MATT HARVEY: I think right away he asked how the tricep was doing and if I was fine, and after I said the tricep was all good, it really wasn't much conversation after that. I give him a lot of thanks for trusting me to go back out there.
Unfortunately, I threw a ball over the middle, and that hasn't landed yet, but luckily Familia, who in my mind is the best closer in the game, came in and shut them down.
Q. Murph, you've been in this ballpark since 2009, as you alluded to before. What about the energy in this park with the fans? Both of you have talked about it all year and what it's done. But has it created kind of a 10th man for you guys? And if so, can you explain what that feels like when you're playing?
DANIEL MURPHY: Yeah, it's awesome, is the description I would give it. I thought the fans were unbelievable tonight. They've been so this entire year, and then even really starting in that Washington series at the trade deadline, I think they've been awesome.
It's definitely nice to feed off of that, I think, as a player. I think you can ask Matt over here, but when you've got 40,000 people behind you, I think it zeros in your focus a little bit and it helps you to, I think, focus on the task at hand, which is that pitch and executing that pitch at that time.
Q. You've been a popular player here for a long time, but to be the most popular player tonight, the one who got the most cheers, what was going through your mind as that happened in pregame? Do you remember sort of being in that preeminent position in your time here with the Mets?
DANIEL MURPHY: I think what was going through my mind is that they're cheering because we're still getting to play. That is the coolest part. There are only four teams right now that are still getting to play baseball and we're one of them. We went out to LA and played a good ballgame, and Jake grinded, and we got a win. We came home and started this series off unbelievable.
So that's what's going through my mind. They're cheering 25 guys, coaches, trainers, all of us because we're still playing baseball.
Q. Curious, it's the 9th inning there's two outs and a man on first. Your closer has thrown two innings two days ago, and the ball is just smoked to your left. I was wondering if you could sort of talk us through that, what you saw, how you felt about it? It had been the opposite way, it's almost like a walkoff with your glove.
DANIEL MURPHY: Got freaked out. I don't know if you saw, but I freaked out when I caught it, and then you've got to make the throw. Good thing Lucas is a fine target to throw to.
To tell you the truth, Tommy La Stella, he's from Atlanta so we have an idea. We played against him last year all season. He's a really good hitter. Stays on the ball well, and Familia right there went to the splitter, so I think I gave him about a half step step to the pull side of the 3 4 hole, and it ended up being just enough to get there. But Tommy's a really good hitter. He stays on the ball well. If you throw it away, he's going to hit it away. And I was hoping that he'd be cheating to the heater, and that the splitter would kind of he'd hook it a little bit, and I just happened to be in the right spot.