Oct. 17 Terry Collins postgame interview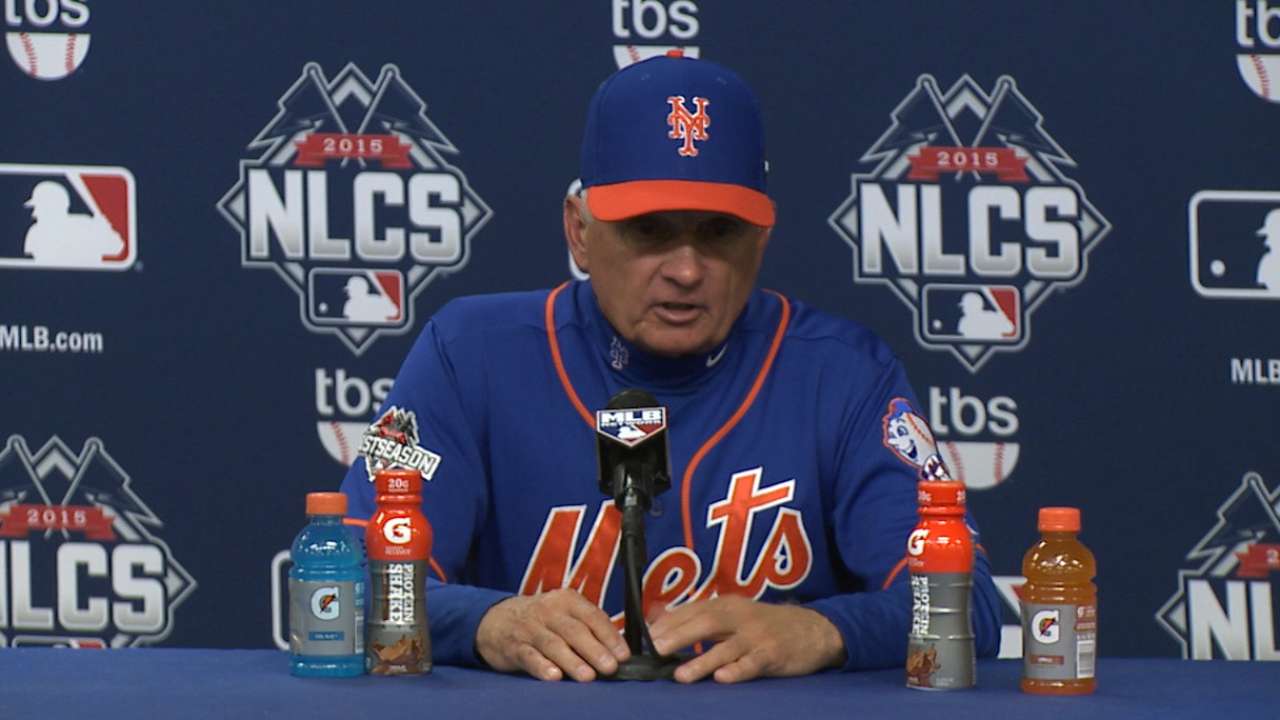 Q. Terry, great performance from Matt. It looked like he was really throwing all his pitches early, and when he has that going, have you seen him do that this season? And how effective that those secondary pitches were early.
TERRY COLLINS: Well, I've seen it more than this season, I've seen it a lot. I think what we talked about earlier today and going into this game was to try to get him some consistency and a routine, and the result is better command of his stuff, and you saw it tonight. He had better command. His changeup was outstanding early. He threw some curveballs, good curveballs early. On a night like this you're not going to really have your real, real good fastball. The weather just isn't conducive to it.
But he moved the ball around. Tried to go in on Rizzo when he hit him, but you need to do that. You need to get some of those guys off the plate. But he was very, very good. And after he got hit with the line drive, the next inning I thought he started out a little shaky, but, boy, then he still looked very, very good. He pitched a great game.
Q. Another big hit for Curtis against a lefty. Just in terms of the amount of times he's been able to do that in the playoffs, does that change and expand what you're able to do strategically or is it just that Curtis gives you such a good at-bat that you'd have him in that spot anyway?
TERRY COLLINS: Yeah, I'm going to have him in that spot anyway. He's continuing to do all -- even in the postseason, what he's done all year, and that is put good at-bats together. One of the things I like to think that he's doing, he's starting to use the field, hitting more balls left field. They've got the shift on him. He's hit some rockets into the shift that balls have been caught.
So if he can start to hit some balls the other way, I think he's going to drive some runs in, if we get some guys on base. We're having a little trouble doing that right now.
Q. How tough or easy a decision was it to send Matt back out for the 8th?
TERRY COLLINS: Yeah, it was hard. I just went and talked to him between innings, and he said, "Listen, I feel great." He's at 90 pitches. I just thought well, if he starts the inning, and if he gets in trouble with the three-run lead it was a little easier than it was with the two. But I just said, you know, if he gets two outs and anything goes on, I've got Jeurys ready.
So once in a while you've got to throw him a bone, and tonight was that time.
Q. With d'Arnaud's injuries and struggles this year, how big was that home run? And also the way he blocked the plate on Cespedes' throw and made Castro go around him?
TERRY COLLINS: Yeah, he's a good player, it's just when he gets hurt, he gets hurt for a long period of time it seems like. But he can swing the bat. We know that. We've always liked his catching, and the more he plays, I just think the better he's going to get because the confidence is going to be there. But he's dangerous. When he's at home plate, he's dangerous. He can hit a homer, he can hit one to all fields, so we're glad he's -- we've got to get some other guys swinging right now.
Q. And the play at the plate?
TERRY COLLINS: Yeah, I mean, our center fielder and our left fielder can really throw. They can really throw. Not only was it a great throw, it was an accurate throw. So therefore, you're not going to run into any situations where is there going to be any questions about blocking the plate? Is it too early? When the throw's right on, it makes the whole play easier.
Q. How much right now are you trying to circumvent anybody but starters and Familia touching the ball in these games? It seems you're using Familia --
TERRY COLLINS: I'm not trying to. I'm not trying to. It's just we've got pretty good starting pitching, and if they can get deep into the game -- you've got, again, what I think is one of the best closers in baseball. If you can get your starters to give you eight, and turn the ball over to him, I like your chances. But believe me, I like the guys that are setting up.
I don't know, maybe Jeurys tomorrow night will need a night off and we can close with Clip and set up with Addison. We've got options down there. But when you've got Jake who is going deep into games, and tonight Matt went deep in the game, I'm hoping Noah tomorrow goes deep in the game. That's the perfect scenario. Sometimes it happens and sometimes it doesn't, but when it does, I think you've got to go to it.
Q. When you're facing these good pitchers like you are, how encouraging or comforting is it to know that you can have the home-run power that you've had this postseason?
TERRY COLLINS: Well, that's how we win games. We win games because we hit the ball out of the ballpark, and they're very similar. They're very similar. That's why hopefully they make more mistakes than we do and we get some more chances to hit some home runs. But it makes all the difference in the world. I mean, when you've got guys that go up there and you know you can make it 1-0 or get back into a game, that's one of the things we haven't been able to do in recent years, is that we had a tough time getting back in games because we didn't have a lot of power. This year we do, and that's why I think we're sitting where we are.
Q. I'm sorry if you were asked this already, but does this win kind of embody how this is a totally different team than three or four months ago when those guys swept you?
TERRY COLLINS: Well, this is a different team. But we played them good. I mean, look at the game that Matt pitched in Chicago. He shut them out for seven innings. We took him out and they scored and ended up winning the game on a -- just we played them well. They have a good team. They have good pitching. We're just going to continue to try to change the outlook by having some different guys in the lineup with Cespedes, and David's back. We kind of like what we're running out there, and we've just got to start swinging the bats because we've got a big challenge tomorrow night again.
Q. I know you've had his back the whole time, do you think by going into the 8th inning tonight, Matt has put this whole thing to rest as far as the innings and convinced everybody he's all in?
TERRY COLLINS: Again, I try not to get too involved in some of that stuff because it's really nothing I can control. But I talk to this guy every day. I know exactly what he's made of. I know exactly what he's about, and he wants the baseball. He wants it. He wants to be out there tonight. If it comes down to a Game 7, and even though he probably won't be out -- he'll want it, believe me. That is not just a mask that he's putting out. This kid likes to compete. Tonight when I went to him between innings I said, "How you doing?" He said, "I'm going back out. Let me go back out." I said, "Listen, if you're getting stiff, because the thing, we're all set up." He said, "Terry, I'm fine. I feel great." So I let him go back out.
Because, again, as you said, I've got his back and once in a while you've got to believe in him. You've got to believe in them, and if you do, they give you a tremendous effort each and every time.
Q. We're in here for a lot of time and nothing's asked about Daniel Murphy yet who had a great game. Can you talk about him getting four homers in the playoffs and the type of pitches that he's hit them off of? These are All-Star pitchers that he's hitting home runs off of in playoffs.
TERRY COLLINS: Well, I think Dan Murphy is an All-Star. So I don't think it's something that's strange. I think Dan gets in the batter's box. We all know when he gets hot, he can hit anybody and he can do a lot of damage, and he's hot.
So tonight early he took advantage of it. Of course the last play he made -- this guy, he likes to be on the big stage too. Sometimes on this team you can get overshadowed by all the stars that are here. In the past when Jose and Carlos and Johan, and David, I mean, there's been a host of guys that have come through here, and Dan Murphy has been that one steady guy that you look up, he plays hard. He's always coming through for you. He learned how to play second; he's done a good job. You put him at first, he never says a word. He's a baseball player.
I'm not surprised at anything that he does.
Q. I know you said you like to have some other guys swinging the bat in the lineup right now. But as far as playing the most complete baseball you've played all year, starting pitching shut down at the end and some timely hitting and home runs. Do you think you guys are using the right formula or the best formula you've had all year right now?
TERRY COLLINS: I think everything that we're doing right now, we're playing pretty good baseball. And, believe me, when I say this, that adage in baseball that good pitching beats good hitting. We've got some pretty good hitters. But I'm going to tell you something, when you face what we've been facing lately, you're not going to get a lot of hits. I don't care what anybody says about grinding out at-bats. These guys are used to people trying to grind out at-bats against them, and they keep pitching three-hitters.
So what we've just got to do is continue to stay the course, and try to make them work a little harder and try to get something decent to hit. But it's not easy. I mean, it looks easy because they're great players, but it's not easy hitting these guys.
Q. We spoke about urgency, and seeing Jeurys for six outs for Game 5, four outs tonight. You had him go one-plus a handful of times this year. But is he, in your mind, your two-inning guy now for the remainder of the playoffs?
TERRY COLLINS: I can't answer that at the moment. As a matter of fact, as I said earlier, I'm not sure I have him tomorrow. He's thrown a lot lately. So what I'm lucky is that I've got some other guys down there that I can turn to.
But you know what, in certain games, the games that you've got to have, I'm telling you -- maybe it's just me, but I don't think you can end the game with your star -- your best relief pitcher standing on the mound in the bullpen warming up, waiting for a one-inning save. So we'll just see how it goes.