Wrigleyville faithful undaunted by Game 1 loss
Fans soak in atmosphere at home as Cubs take on Mets in New York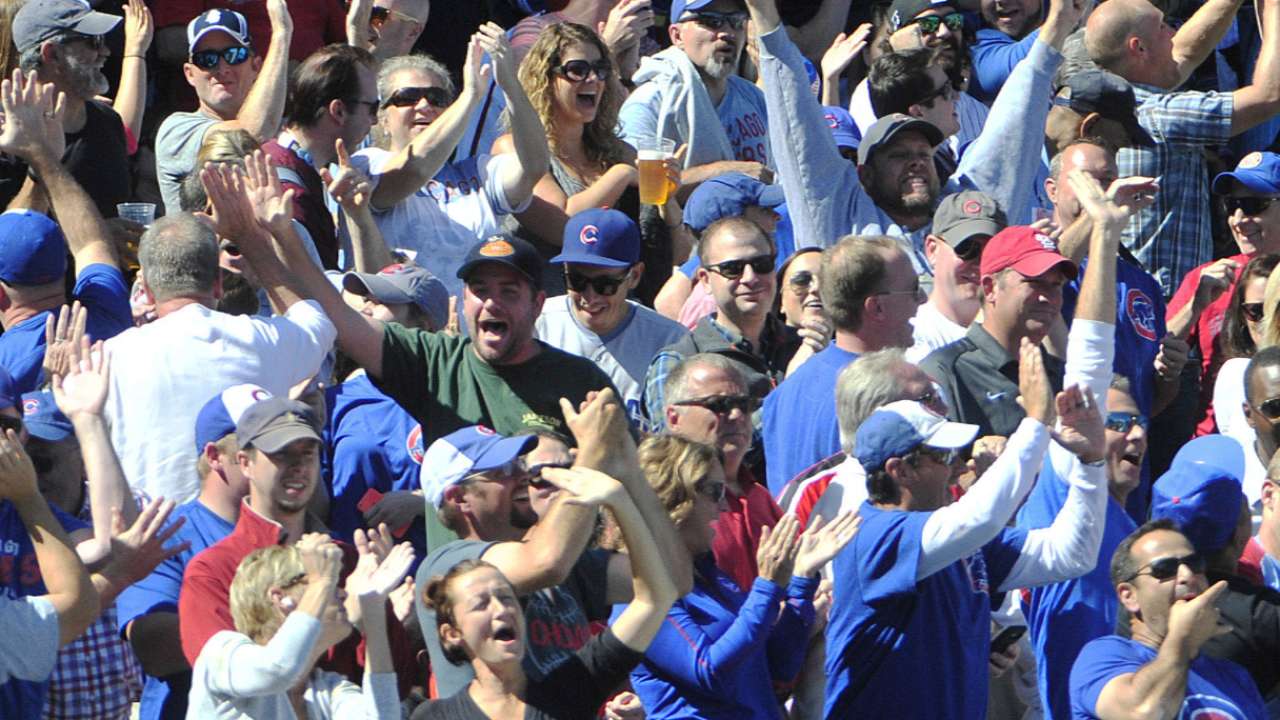 CHICAGO -- It was one of those chilly fall nights, the ones where the sky is clear and the cold seems to bite at your toes, but there was John Rees walking outside Wrigley Field in shorts and a pair of tights.
The Cubs lost to the Mets, 4-2, in Game 1 of the National League Championship Series, but there was Rees with his sign -- "Schwarber's Ball Trumps Goat" inscribed on a white couch cushion. It wasn't anything fancy, he admitted, some black marker used for the writing and a cushion he stapled to a plank of wood.
He was one of a few Cubs fans taking in the scene at Wrigleyville -- the neighborhood outside Wrigley Field -- on Saturday night as Chicago continued in the postseason. It was a relatively mild night at Addison and Clark streets, but there were still those who walked by Ernie Banks' statue for pictures or gathered in front of the Wrigley Field marquee.
• Shop for Cubs postseason gear
"I love the Cubs and I'm just having fun," Rees joked. "I looked at these cushions and thought, 'I'm not going to use these.' I'm crazy, but I'm not insane."
Rees came in from Oak Park to soak up the atmosphere, but there was neighborhood favorite Ronnie Woo Woo out in his customized jersey to take in the scene. His first game at Wrigley Field came as a kid when he saw Jackie Robinson. Woo Woo has been coming to games ever since.
Patrons waved and called out to Ronnie outside of Murphy's bar on Waveland and Sheffield. Outside, the sign read, "Black Cat Scratch Fever." He's keeping a positive attitude, citing Game 1 of the National League Division Series, which the Cubs dropped to the Cardinals.
"Everything will be all right," he said, wearing one of his 45 jerseys with his last name on the back. "They're still young, but they're good. We'll win this year, and next year."
Chicago natives Joseph Serrano and Monique Cruz came out for the camaraderie as well, dressed from head to toe in Chicago apparel. Joseph wore his Chicago Bulls jacket, but as a White Sox fan he couldn't bring himself to wear Cubs gear as Monique did.
He said he'd follow closely, but the bigger fan was Monique. She missed out on her first Cubs game this year, but as a Cubs fan her entire life, she's hoping to witness history.
"He's smart and roots with me," Monique joked.
Fans slowly trickled out of bars and restaurants after the final out, including friends Jennifer Ksepka and Nicole Villiard. They stayed for the duration of the game, unable to make it out for Monday's game and Tuesday's game of the NLDS.
Saturday didn't produce the huge crowds that were out earlier in the week, which is why they plan to come back for Games 3 and 4 of the NLCS, when the Cubs play host.
"If you're a Cubs fan, this might never happen again," Jennifer said. "It's an intangible experience."
Greg Garno is an associate reporter for MLB.com. This story was not subject to the approval of Major League Baseball or its clubs.