Defense, dingers take top billing in LCS GIFs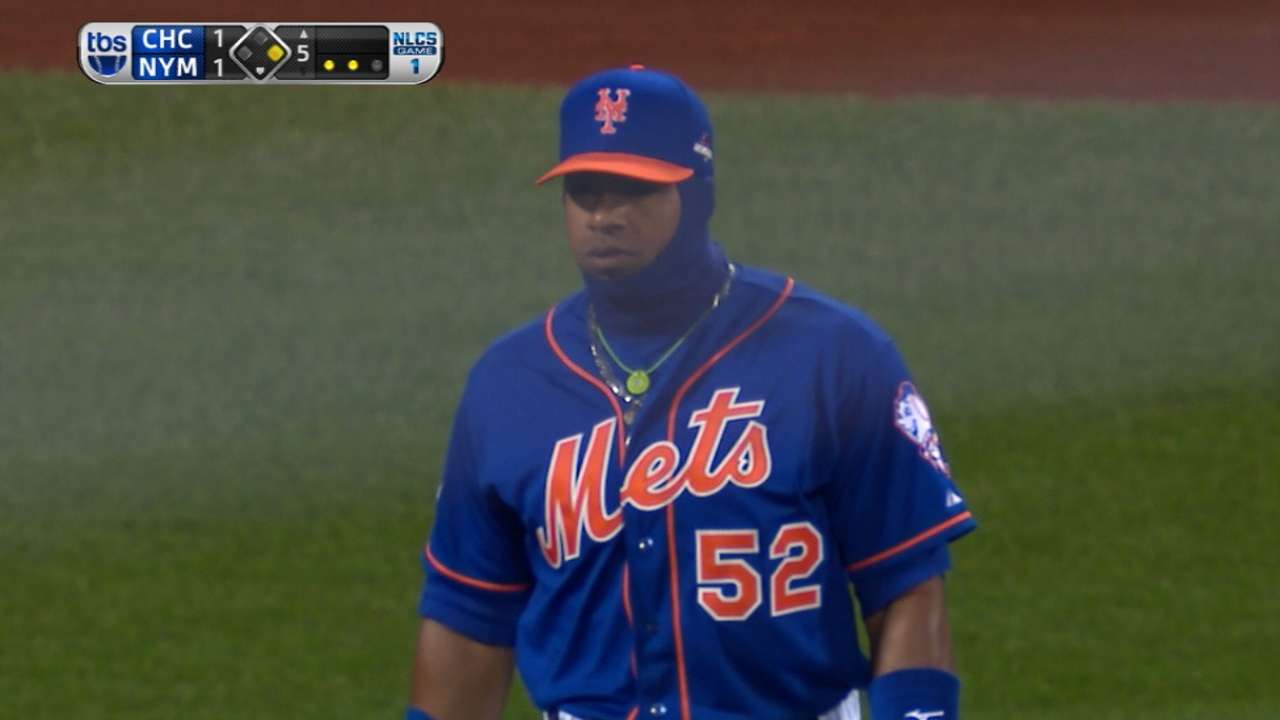 Here are the top GIFs, courtesy of @MLBGIFs, from Saturday's Game 2 of the American League Championship Series, which the Royals won, 6-3, over the Blue Jays, and Game 1 of the National League Championship Series, a 4-2 Mets victory over the Cubs.
1. Cespedes saves a run
The Mets played great defense in their win over the Cubs, including this strike from left fielder Yoenis Cespedes to nail Starlin Castro at the plate and preserve a 1-1 tie in the fifth inning.
2. The Big Apple
Travis d'Arnaud launched a solo home run that hit the Citi Field apple in center field, giving the Mets a 3-1 lead in the sixth inning.
3. Harvey stays with it
Mets starter Matt Harvey recovers to make a tough play on a comebacker that hit the back of his head for the first out in the top of the sixth.
4. Murphy goes deep again
Daniel Murphy got things rolling for the Mets with this first-inning homer, which was his third dinger in as many games.
5. Hug it out
Salvador Perez and Ben Revere share a moment at the plate in Game 2 of the ALCS.
6. Batman in the building
With Harvey, the Dark Knight, on the mound in Game 1 at Citi Field, these Mets fans showed up looking like Batman.
7. Royals fired up
The Royals' dugout had lots to cheer for during their win the Blue Jays, which gave them a 2-0 lead in the best-of-seven series.
8. Rizzo reaches into crowd
Cubs first baseman Anthony Rizzo ran out of real estate in foul territory, but that didn't stop him from catching this foul popup.
9. Maddon face
The cameras caught Cubs manager Joe Maddon deep in thought during his team's loss.
10. Bautista face
Blue Jays outfielder Jose Bautista appears miffed after a defensive miscommunication allowed a shallow popup to drop for a hit and ignite a Royals rally in the seventh inning.
Austin Laymance is a reporter for MLB.com. This story was not subject to the approval of Major League Baseball or its clubs.